Back on the work saddle today, things seem slow - many still hungover from the holidays - and I don't blame them. Waiting for responses to all drafts and correspondences sent out over the holidays, and all packed for a short trip to HK, I may as well post my first blog entry for 2013 - on the first dinner of the year, naturally.
Dinner of the 1st January 2013 was at home with my Dad, Tad & Chako, Catha & the children (Reena spending the holidays with Pia, Harry, & Yinny in the US). It was a simple and quiet affair, as it usually is after a raucous New Year's Eve. Having kept the house staff up until the wee hours, we took the lead in cooking dinner.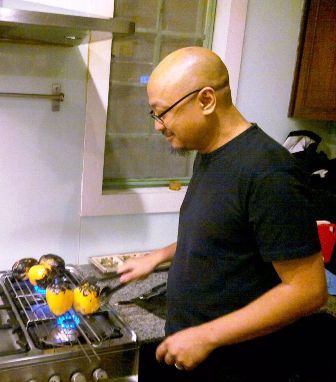 Tad roasting the peppers.
Chako prepares the salad.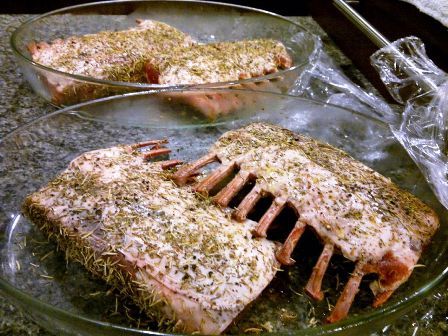 I prepped the lamb racks Dad had sent over 2 days earlier.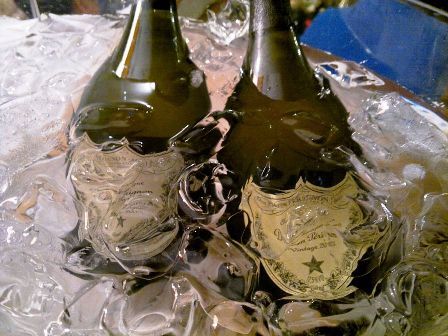 The night's bubblies chilling out.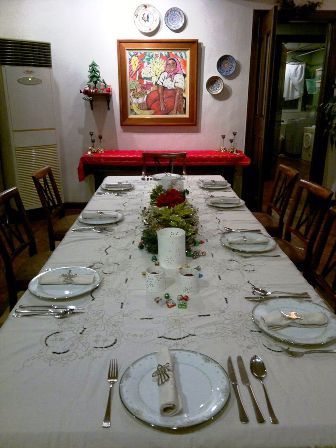 The table.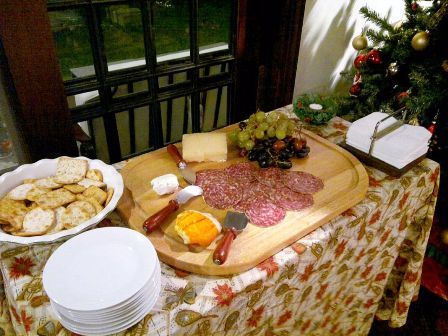 Pica-picas.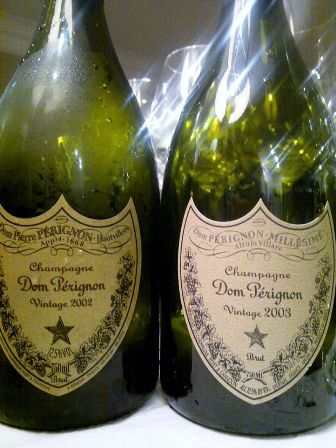 While having our pica-picas, we compared Moët et Chandon's two most recent releases of Dom Pérignon (both purchased locally -
nb
: for some reason, top label vintage champagnes are, in my experience, usually priced better here than in the US):
2003 Dom Pérignon
- Fleshier than any DP that comes to mind, a dull, stewed theme to its yellow apricot, bit of over-ripe peach, lemon curd, underlying caramel and café crème. Catha and Chako noted an unappealing bitterness, which I liken to over-cooked caramel (Catha ditched her glass of it in favor of the 2002). Balance is off. Too sweet and not bright. Will this improve with age? I really don't know, only time will tell. Fortunately, I have another bottle of this given as a gift by Rocky & Apple, which I shall let age and we'll see after some years (good thing too as, judging from this subject bottle, I do not anticipate my buying any more of this vintage).
2002 Dom Pérignon
- a vintage I have had very often in the past year. Vastly brighter, purer, livelier, with markedly better freshness of fruit and over-all balance than the 2003 (even my teenagers noted this immediately). More lemon/citrus than past bottles, but neither obtrusive nor unpleasant. Refreshing, celebratory. This is eminently more enjoyable now and, I'd hazard, possesses much better ageing potential than the 2003. Love it.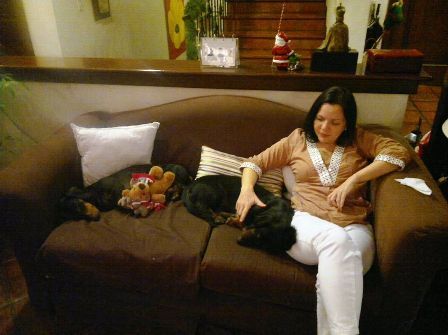 The dachshunds got sleepy quite early...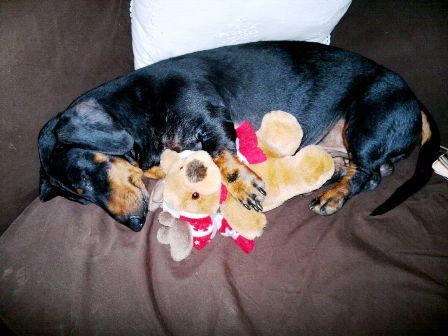 ...Sparky, especially.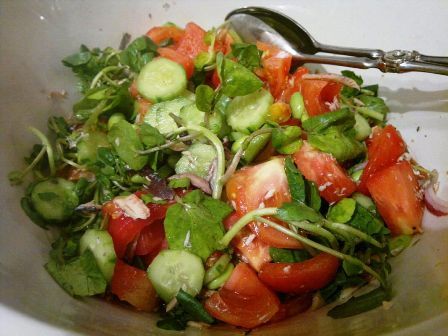 Chako's Salad (para healthy).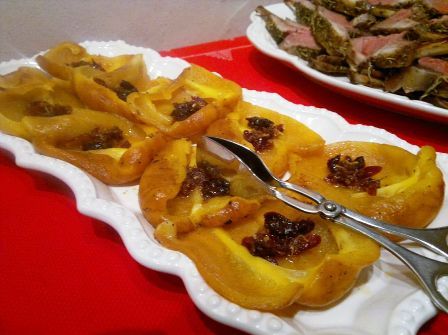 Tad's Chili-Garlic Roasted Peppers.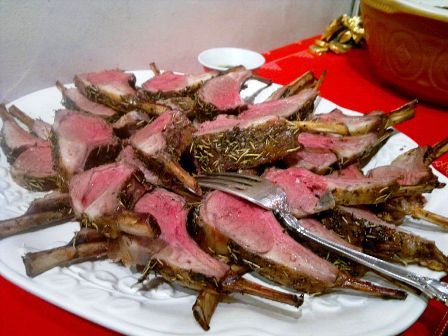 My Roasted Herb-Crusted Rack of Lamb.
Two reds for the lamb that night: one old one (for the year past) and one young one (for the year just begun):
1964 Bodegas Faustino Faustino I Gran Reserva
- I've written about this jewel of an aged, traditional tinto Riojano many times in the past, and, since Aaron and I still bring this in, still have to refrain from commenting. Suffice it to state that, despite its not being cheap, it enjoys a healthy demand from true Rioja
aficionados
. Everyone loved it, especially with the lamb (as well it should be).
2008 Gérard Bertrand Grand Terroir Montpeyroux Languedoc-Rousillon
- one of two different bottles sent to me as Christmas gifts by Future Trade's head honcho, James du Vivier (thanks, James!), decanted for aeration in my cav for 4 hours. The grenache component is easily apparent on the spicy, pepper-touched (from the syrah), sweetishly ripe "grapey" nose. Full-bodied, concentrated, robust, easily accessible sweetly ripe, juicy, blackberries, black cherry, bit of kirsch, cinammon, mocha, black pepper. Darkly fruity, but good freshness, and adequate acid balance.
This is an inexpensive, good value-for-money red that one can open anytime and/or for large parties; to be paired with roasted and grilled red meat, US-style BBQ, burgers, etc.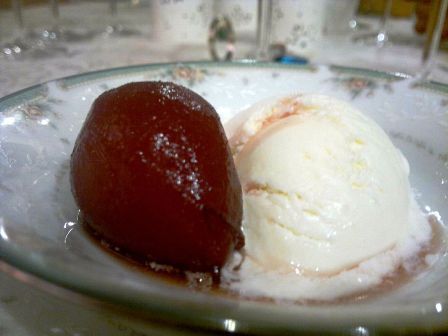 Light yet delicious: Pears in Wine (by Marc Aubry) w/ Vanilla Ice Cream.
Everyone having been up into the wee hours the previous day, we called it a night relatively early. Dad left by around 10pm, while Tad & Chako lingered with us until around 11pm. In the above photo, Coffee receives a farewell scratch from Tad.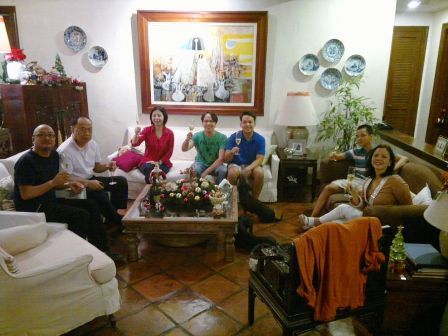 Happy New Year to all! Until the next!