Last night, 27th September, we attended Miguel and Barbara's dinner at La Régalade in belated celebration of Miguel's birthday. The Doc and the Stockbroker were also there, with wives, naturally. The Vigneron, currently in Bordeaux to oversee Siran's harvest, was ably represented by his better half. Together with other well wishing family members (Melissa and Cristina) and friends (Kim and Felicia), we occupied a long table in the fully-packed restaurant.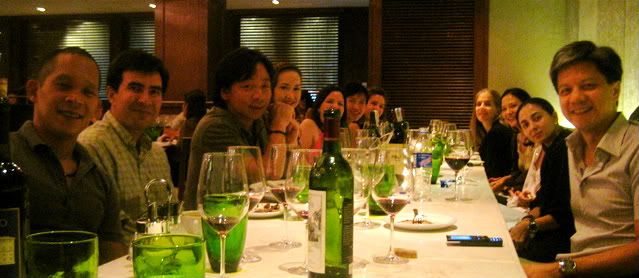 After an initial Taittinger champagne toast to the celebrant, assorted appetizers of foie gras, Manila clams with chorizo, escargots, parmesan tarts, pork rillettes, etc. were served. I stuck to the escargots and had a bit of the Manila clams with chorizo (the latter the best of the appetizers to my mind) washed down with well-chilled glasses of: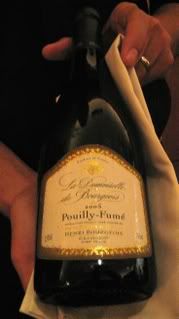 2005 Domaine Henri Bourgeois Pouilly-fumé "La Demoiselle de Bourgeois"
- My bottle, several of which I purchased from Bacchus after having it at last year's
IWFS 25th Anniversary dinner
. I've mentioned before that Pouilly-fumé is an
appellation
in the Loire that, together with
Sancerre
(across the river), is famous for crisp, clean, minerally sauvignon blanc-based wines. My old notes state: "clean citrus, mild gooseberry/guava tang and inherent white minerality...faint celery nuance...."
Still fairly accurate, except that now, it appears to have put on a little bit of weight and roundness in the middle, it seemed less linear, and the fruit seems a touch riper (more typical of the vintage), but still brightly dry. Nice purity, lift and balance.
Unfortunately, this was my last bottle and, as far as I know, I picked up the last of the 2005s in Bacchus. I believe, though, they have the 2006 version currently available which should be more sharply focused and defined, judging from the 2006 Sancerres and Pouilly-fumés I've tried over the past year.

La Régalade's main course servings are pretty generous, so several dishes were ordered and placed in the middle for sharing "family style". At our side of the table, there were dishes of rib-eye steak, duck in fruits, boeuf bourguignonne and apricot lamb stew. I wasn't aware of what the other dishes were on the far side; neither did I know what bottles of red they had opened over there.
I do know that, on our side, we had 1996 Château de Fieuzal (Pessac-Léognan) from me, 1996 Argiano Solengo (a Super Tuscan from Montalcino) from the Doc, and, three Napas: 2004 Pahlmeyer and 1998 Château Montelena from the Stockbroker, and 1999 Duckhorn Howell Mountain Merlot from Miguel.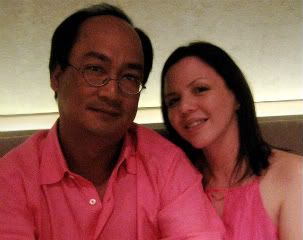 Engrossed in the food and conversation, I was a bit remiss in documenting this evening's wines and didn't get to taste the Argiano Solengo and Duckhorn. It didn't help that said bottles were swiftly "commandeered" by the ladies. Well, too bad for me; I would have liked to. But, really, though, I already had more than enough as it was. I could have all too easily (not to mention eagerly) over-indulged myself yet again if not for the influence of...*uhurm*...influence.

In any event, as to the wines I did have...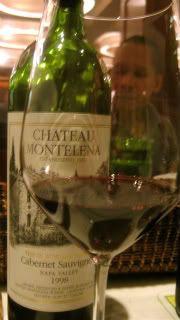 1998 Château Montelena - The Stockbroker's bottle. One of the better wines from Napa, in my opinion; certainly one of the very best from California wineries not French-owned, controlled or similarly or historically influenced (until, of course, mid this year when Montelena was purchased by Michel Reybier, the owner of St-Estèphe 2nd Growth, Château Cos d'Estournel).
I've always considered Montelena's reds as made with considerably more finesse (i.e., easy on the sweet over-ripe berry syrup, vanilla shake, coconut cream and chocolate bars) and proper restraint than most of its bretheren (two other exceptions are Dominus and Araujo, among a few others).
This wine was true to form. Though 1998 is not considered an exceptional year for Napa, the few I remember having tried (notably the 1998 Mondavi Cabernet Sauvignon Reserve) suited my tastes well - not syrupy, "goopy", over-ripe, over-alcoholic or over-done.
Cedar-laced, comfortingly warm, masculine, earthy-toned cassis, dark fruit, undertones of black coffee, slight nuances of mushrooms and well-worn leather. Small red berries surface just past mid-mouth. The faintest whisper of toffee/spiced oak on the finish tell you it's from California. Again, a testament to the quality of an under-appreciated Napa vintage.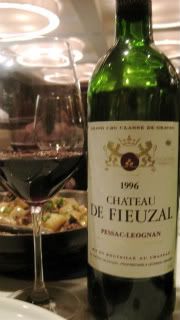 1996 Château de Fieuzal
- My bottle. I've long enjoyed the wines from this low-profile château from Pessac-Léognan and have gone through several bottles of the 1996. As mentioned before, I find it superior to the more famous and higher Parker-rated
1995 version
. Pessac-Léognan, where hails first growth Château Haut Brion, is a relatively recent
appellation
, previously lumped into Graves before being granted its own separate classification/status in 1987.
My notes from December 2007, I feel, are still accurate and I find no need to alter or add to them:
Already a lot of bottle-age sweetness to this medium-bordering-on-full-bodied,
ripe, red currant-and-kirsch-laced, cassis/tar/earth dominant wine with finely
knit, with a vaguely smoky, sweetish roasted herbs and cedar surfacing mid-mouth
and following through on the finish.
As earlier stated, this is not a particularly well-known, much less famous, maker, and I, for selfish reasons, am thankful for it. Its relative anonymity, especially in light of the international fame of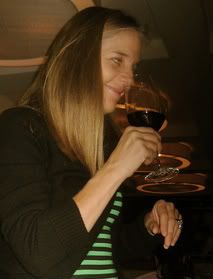 riper/oakier/more modern-styled, Parker-anointed "stars" Smith-Haut-Lafitte and Pape-Clément, helps keep their wines under-valued and comparatively more affordable.
I recall the first time I made the Vigneron taste this, he enjoyed it greatly, and, after I told him how much it cost, he had only three words to say: "Buy them all."
Mrs. Vigneron came back for seconds of this wine and the Doc told me he liked this the most among the other reds that evening. I believe my wife felt the same way. I know I did.
Säntis still sells this for around P3300 per bottle where I bought several until a year and a half ago when I got a badly corked one. Thereafter, I started ordering them from selected US shops where they are materially cheaper and in better condition.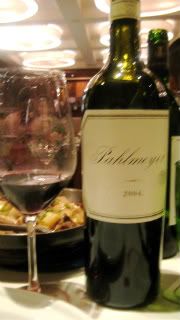 2004 Pahlmeyer
- The Stockbroker's bottle. Pahlmeyer is a high-end Napa producer with Helen Turley at the helm. I have tasted their wines barely a handful of times. I recall a couple of their chardonnays had in the early days of Mezzaluna (Serendra), they were typically big, rich, buttery, vanilla-oaky yet somehow acceptably balanced wines which my wife likes (she also likes the chards of Newton, Darioush, Saintsbury's Brown Ranch bottling and Beringer's Sbragia Limited release).
I also recall having one of their reds with a rib-eye steak a couple of years ago, the vintage of which escapes me, but I remember it was a big, hugely curved wine with super-ripe/extracted flavors and hefty doses of chocolate and oak/vanilla.
The 2004 was cut from the same cloth. In contrast to the calm and collected '98 Montelena, this was a thick, dense, over-stuffed, no-holds-barred Napa red that has its way with you using bodacious sex-bomb curves, sweetly super-ripe (virtually candied) viscous dark fruit/cassis, kirsch, black coffee and dark chocolate undertones, with a heavy dose of vanilla/oak. There is also some sweet toffee in the finish. Whew! For some reason, I had an irresistible urge for a cigarette after drinking it.
The ladies then ordered desserts, I saw plates of tart tatin with ice cream and tart citron. I only noticed the Doc, however, partaking of them. The rest of the fellows stuck to espressos. Lots of fun. Thanks, Miguel!