We tend to eat out often in just a handful of restaurants and most always in Makati and the Fort area. So, for my wife's birthday, she wanted to eat someplace we don't often go to and chose
Antonio's
in Tagaytay. Though we've been going Antonio's since it was relatively newly opened, because of the distance and traffic, we rarely eat there. Since she wanted to have dinner with the children, she opted for an intimate lunch with long-time friends, Tonji & Sylvia, who we haven't seen much of recently. Tonji offered to drive us all there and back, for which I am very grateful.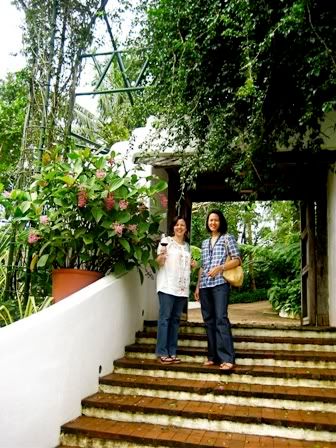 Last time I was at Antonio's was over a year ago, in May 2008. I understand there were some renovations made and it is even more beautiful than ever.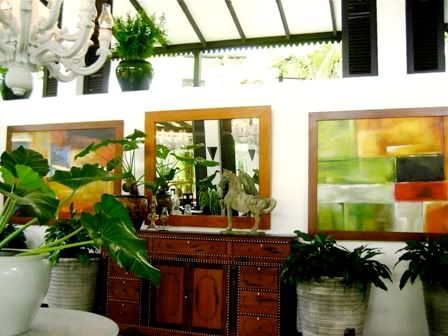 We ate at where we most always do, at their upstairs veranda, overlooking the gardens.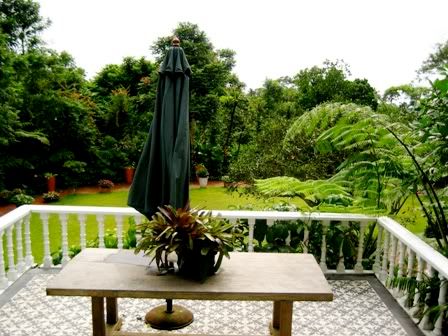 For starters, we shared plates of
Chanterelles with Foie Gras
,
Raclette
and, since Miguel said it was the best he's tried in the country,
Steak Tartare
...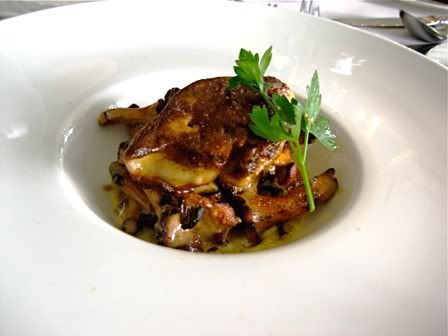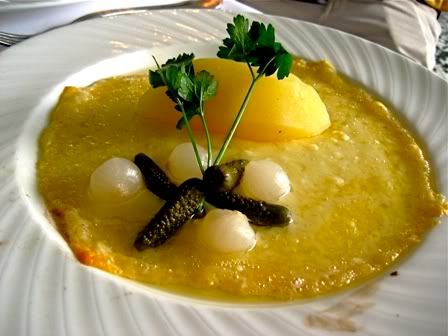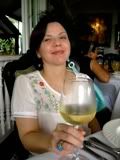 ...which we enjoyed with a bottle of
2006 Saintsbury Brown Ranch Estate Bottled Carneros Chardonnay
. My wife likes the fuller, buttery style of good California chards, so a bottle thereof at her birthday lunch was definitely in order. Anticipating this lunch, I picked up a few bottles of this in Premium Wine Exchange after this past Tuesday's
Rosés and Reds lunch
.
Pretty typical Cali chard, the dominant flavors are lightly buttery, baked apple, pear with a light touch of ground hazelnut, spice, bit of vanilla/oak and discreet white floral notes. Not as big and opulent as, say, the Beringer Sbragia Limited Release, Newton Unfiltered Chardonnay or Ramey Hudson Vineyard, but with marginally better acidic balance in my opinion. It went well with the foie and chanterelles, the steak tartare, and reasonably well enough with the raclette.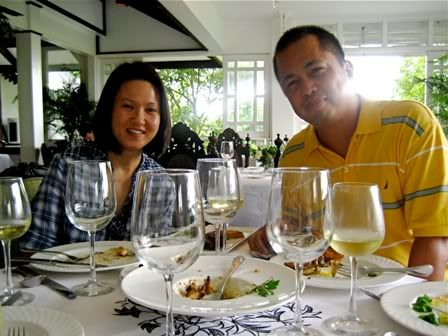 Appetizers done, we moved on to the soup course...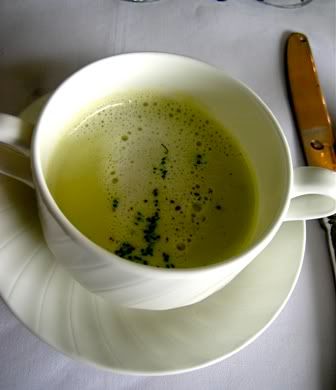 ...and, then, to an excellent, super fresh and crisp garden salad, both of which come with the main courses.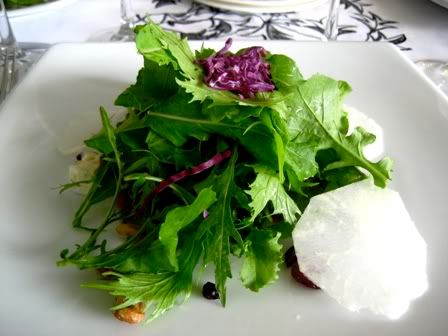 For our main courses, my wife had a
Duck Confit
, Tonji & Sylvia shared a
Rib Eye Steak
(it's served for 2 persons) and I had the
Magret de Canard
.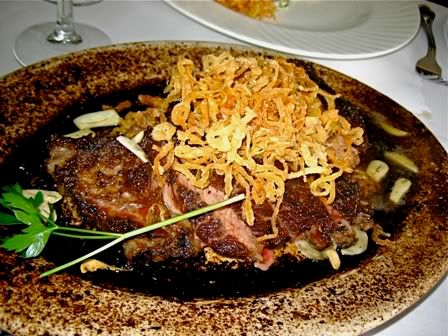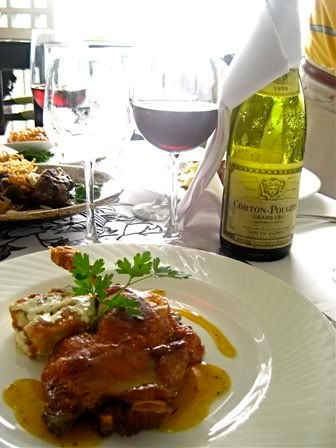 ...all of which was paired with a bottle of
1999 Louis Jadot Corton-Pougets Grand Cru
. I've written about this wine twice and recently: from
a post-golf dinner at home
and
a dinner at Sala with Apple
. My notes then were:
From Jadot's own south-eastern exposed vineyard situated on the Rognon de Corton (literally, the "Corton kidney"), just below the vineyards of Corton-Charlemagne.
A bit reticent, initially, after around 15 minutes in the glass, this attractive dark red wine started opening up with sweetly-spiced raspberry, cherry and fine cedar - eventually developing into a nicely perfumed bouquet.This wine was alluringly, seductively feminine in character, with very notable finesse - from the attack to finish, there is definitiveness, but elegantly understated. In the mouth, notes of dried cranberry, red beet and a whisper of violets are intricately intertwined with the mirrored sweetly spiced red fruit/berry aromas - making for a very enjoyable wine indeed.
I can add now, since the wine had more aeration in bottle and glass this time, that it exhibited more openly the power, breadth, body and push expected of grand cru status and more depth in its deep, pure and well-defined cherry and raspberry flavors - but all in a polished and poised manner.
With this bottle, I noted that the cherry/raspberry were obviously tarter and not as sweetly spiced than the previous two bottles and the bouquet took a longer time to display (around 35-40 minutes), whereas the other bottles displayed almost immediately after being popped and poured.
After all that, we were all so full that my wife wanted to walk around the gardens before we had dessert. We, thus, ordered our desserts of
Crème Brûlée
,
Tartufo Nero
(my favorite of the desserts),
Poached Pears
, etc. to be served 20 minutes later at the lower veranda.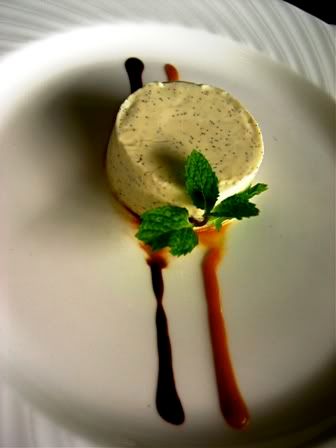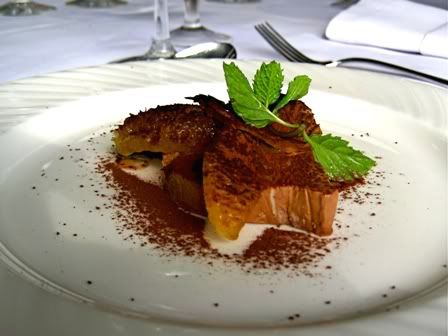 We had all these with a half bottle of
1988 Hugel Gewürztraminer Selection des Grains Nobles
.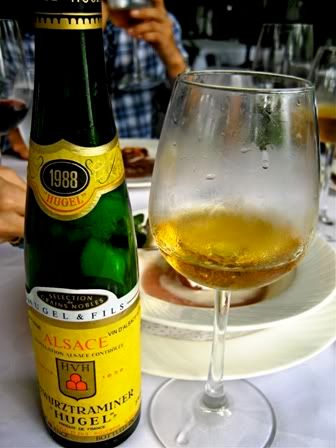 I've had this twice before: the first time at Domaine Hugel in Riquewihr on the
27th September 2007
, Alsace, and the second time over lunch at Je Suis Gourmand in
late December 2008
. My last notes were as follows:
Ethereal, light, airy, soaring, joyful lychee and flowers. Beautiful, very openand generous. I will definitely get this for my wife and enjoy it with her. This was probably the best in the tasting for me. It was certainly the most memorable. This would be dessert by itself.
I add now that its lively botrytised fruit and minerals just danced on my tongue and was an excellent counterpoint to the mildly sweetish earthiness of the chestnut soufflé. Excellent acidic balance. Wonderful match. I loved the soufflé alone, the wine alone and the both together. Undoubtedly my gastronomic apex of the lunch.
This third bottle was still quite nice, but, noticeably, the fruit was not quite as fresh or lively as before. I had been saving this bottle for a long time, maybe I should have opened it sooner. In any event, it added a sweet note to the close of a lovely lunch, in a beautiful setting with my wife and old friends. I can't really ask for anything more than that.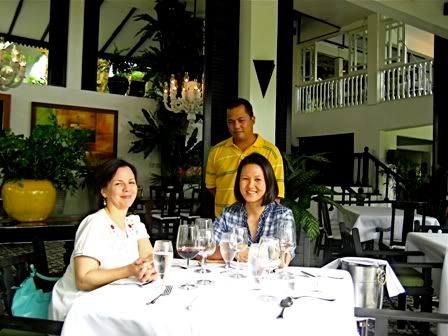 An excellent double espresso pick-me-up saw me off home.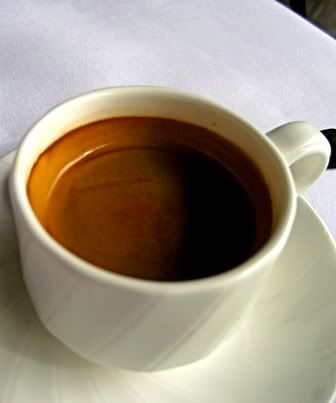 Happy birthday again, Catha. I wish you many more to come (at least one more than me, heh heh).