Dinner this past Thursday, 27th November 2008, was back at
Je Suis Gourmand
(surprise, surprise) for paella. Yes, I know, paella by a French chef. Marc said he'd make some for us, so I figured "Why not?". Robert and I sent out a few text messages and filled a table of 10. Johnny R said he'd join and inquired if Marc would be putting escargots and foie gras in the paella. Funny guy.
At a little past 7 pm, things kicked off with welcome glasses of bubbly
Sieur d' Arques Aimery NV Cremant de Limoux "La Bulle de Limoux".
I didn't try any as I was tending to the other bottles, so cannnot post any notes on it.
This very affordably priced sparkler from Premium Wine Exchange went very fast though and disappeared in a trice
.
Thereafter, with platters of phyllo-wrapped bacalao, phyllo triangles with a tapenade-like stuffing and small tarts of spicy gambas we had: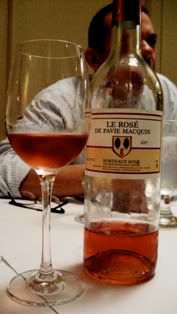 2007 Le Rosé de Pavie Macquin
- From Johnny R. As its name indicates, this is the Bordeaux rosé of Château Pavie Macquin. Because of the château's location (St-Emilion), color (a comparatively deeper and darker red than most rosés), relatively plump roundness mid-palate and soft, vaguely plummy strawberry, cherry, touch of raspberry flavors, the general consensus was that this wine was predominantly merlot. Probably a touch of cabernet sauvignon in there as well.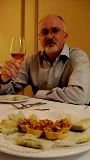 Very friendly, immediately pleasing and accessible. It would have been all too easy to finish off several bottles of this at the outset, but there were many other bottles waiting their turn in line.
At only P700 per bottle in Premium Wine Exchange, this pedigreed rosé is a definite buy
. Jen Burroughes said she'd make it a point that Robert buy her many bottles of this.
I've had this before, liked it well, and, actually, brought along an identical bottle for the evening. Johnny got to open his though since his was already properly chilled.
~ oOo ~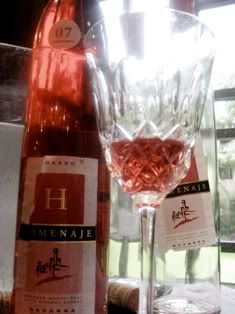 We also had a couple of bottles of deliciously crunchy-red fruited
2007 Homenaje Rosado
.
I've posted on this before
and recommended it highly for virtually unbeatable value-for-money, to wit:
2007 Homenaje Rosado (Bodegas Marco Real) - From Olita, Navarra, made of
grenache. I've enjoyed several bottles of this since I first tried it at Terry's
Segundo Piso over a multi-tapas lunch (angulas, gambas al ajillo, charred
chorizo pamplona, Joselito ham, assorted cheeses, etc.) a couple of months ago.
As you can see, it is a clear, translucent celebratory cherry-red. Served
properly chilled, this simple, honest, straightforward rosé will easily charm
you with its fresh, clean, dry, virtually crisp, well-focused dominant flavors
of (in order of prominence) ripe strawberry, raspberry, light hint of cherry.
Definitely dangerously drinkable.
Finally back in stock in Terry's at around P400 per bottle and going fast
!
~ oOo ~
Next came the seafood course of a ceviche of salmon and goodly-sized scallops on a brightly-dressed, fresh salad with which we had: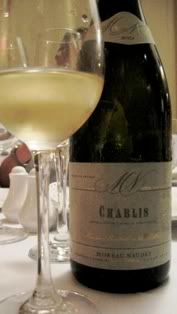 2005 Domaine Moreau-Naudet Chablis
- Courtesy of Jérome Philippon who, unfortunately, couldn't join us that evening due to a previous engagement.
This is a very charming, accessible village Chablis with lean and agile, well-focused, fresh, juicy green apple and pear with very subtle citrus notes. The clean fruit flavors, true to
terroir
, readily display the typical flinty and cold stone nuances of Chablis. Good balance. Proper, with nice typicity. There seems to be a whisper of oak, but I'm not 100% certain, because it is very subtle and well-integrated. Likely, there is a bit of oak treatment, but not new barrels and not over-done.
I just checked Sommelier Selection's website and see that this is
affordably priced at P1400 per
bottle - very reasonable for a solid, go-to-anytime village Chablis. As such, it's a buy for me. Thanks Jérome!
~ oOo ~
A huge paellera, heavily laden with a riot of colors and flavors, then made its entrance and the proud Spanish reds began to pour.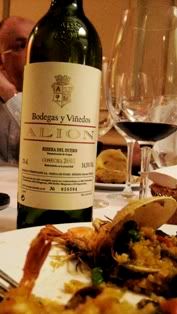 2003 Alion
(Ribera del Duero) - I have just written about this rich, young, ripe, opulent, modern Ribera del Duero 100% tinto fino from the same owners of the legendary Vega Sicilia. For ready reference, however, my notes from last Sunday's dinner are as follows:
The 2003 Alión is a bold, serious, muscular wine with a modern feel to it that
makes it easily accessible and pleasing despite its quiet, smoldering intensity.
Broad-shouldered, heavy-boned, very ripe dark cherry, blackberry, a touch of
cassis underneath, some ripe raspberry highlights, nuances of mocha,
vanilla/oak, licorice, cedar and violets. After added time in the glass,
cinammon traces surfaced but more in the nose.
John H noted that, after proper decanting, one couldn't really notice the 14.5% abv this wine carries - and named it his favorite of the night. It actually came out a close second best red wine of the night by the collective votes.
Lovely wine, indeed. Not cheap, but it more than repays every single peso of its P3500+ per bottle ticket price in terms of pleasure. John H, as well as friends from last week's birthday bash, obviously agree as they immediately bought some bottles for themselves.
If it is within budget, by all means buy it
.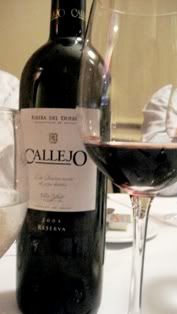 2004 Callejo Reserva
- Donated by the Stockbroker since he also couldn't join us that evening. 2004 was an excellent year for Spain, or so I understand. Since this is still very young, the Stockbroker advised me to decant it before serving. Obedient donee that I am, I made sure it was decanted for aeration for approximately 1-½ hours before serving.
Another modern/international 100% tempranillo from Ribera del Duero: dense, powerful, very ripe (not as sweetish as the Alion), full-bodied with generous toasty oak in its mouth-coating, darkly spiced blackberry, cassis, black cherry, black coffee and licorice. This is also a forward wine but in a more no-holds-barred, pedal-to-the-metal style. Huge drive and push on the palate, with a comparatively fiesty character and firmer structure.
At
P2200 per bottle full retail at Premium Wine Exchange
, it is one of their best-selling wines. Many thanks, buddy, much appreciated!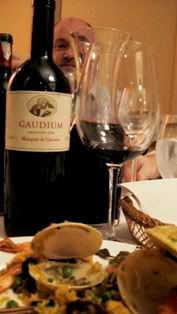 2002 Marqués de Cáceres Gaudium
- As I've written previously, this is Marqués de Cáceres' Bordeaux-esque, all new French oak aged, top of the line bottling. This is made in a sleek, patrician and stylishly reserved, medium-bodied style as opposed to the previous two rich, open, opulently full-bodied wines. 95% tempranillo & 5% graciano.
The influence of Bordeaux is quite apparent in this red Rioja - which is not surprising at all since the Forner family also owns and runs 1855 Classified 5th Growth, Château Camensac, in the Haut Médoc.
Well focused, vibrant, deeply-veined, earthy dark fruit with notes of dark cherry, raspberry, strawberry, dried thyme, touch of cinammon (with long decanting) and slight anise. Finely knit, nicely complex, with soft, well-integrated tannins; the oak influence readily apparent but subtle and refined. This, I felt, paired better with the main course as the first two wines easily over-powered the paella's flavors.
P2900 per bottle full retail at Terry's, currently on sale less 25%
.
~ oOo ~
With the cheese in pastry course, two mature Riojas made their entrance:

1996 Bodegas Beronia Gran Reserva*
- Both bottles brought by Robert. A blend of 87% tempranillo, 8% mazuelo and 5% graciano, made only in good years, of which 1996 certainly was for Rioja. Aged 24 months in a blend of French and American oak casks, and further aged for 3 years in bottle before release. A "mere" 13% abv.
Refined, silken, complex and ethereal in character compared to the previous 3 youngsters. Even without material decanting time, it displayed beautifully a bouquet of sweet Spanish cedar, dried cranberry, raspberry over a slim base of silken blackcurrant. There are also subtle nuances of rancio, thyme, licorice, spiced wood and violets.
Nice acid balance, elegant. Lovely wine. Astounding value for a mature, classic Rioja Gran Reserva
at approximately P1900 per bottle at Barcino's in the Fort
. The collective group results revealed this as the favorite red wine of the night.
*Photo from www.oxfordwine.co.uk.
1998 Marques de Murrieta Castillo Ygay Gran Reserva Especial
- JayLab's bottle, I know this wine won one of his regular wine group's blind competitions a couple of months ago so I was quite was happy to be able to try it, especially since I used to, several years ago, enjoy magnums of the 1989 version until rotten cork issues forced me to give up on it. Composed of 85% tempranillo, 13% mazuelo and 2% grenache; it spent an astounding 41 months in American oak as I understand.
Graceful, ethereal, complex and elegant Rioja with a sweet Spanish cedar-and-camphor-laced bouquet of cherry essence, dried red berries (over) cassis, with a shade more rancio and oak notes, slight crème de cacao and (likely from the American oak) toffee and nutmeg notes. Exquisitely woven silk on the tongue. Loved it.
Between this and Robert's '96 Beronia Gran Reserva, it was extremely difficult to choose, but I eventually named this Ygay my red wine of the night, as did JayLab and Johnny..
~ oOo ~
For dessert, a refreshing bowl of pears poached in red wine, topped with ice cream. I made a mental note to have my wife try this in the future as she loves pears poached in red wine.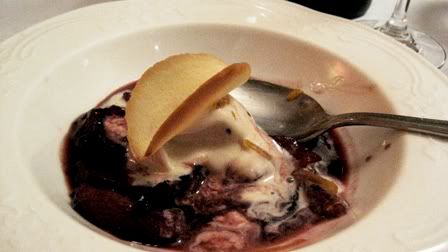 ~ oOo ~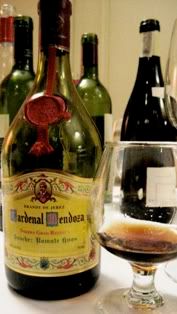 We then enjoyed glasses of JayLab's
Cardenal Mendoza Brandy de Jerez Solera Gran Reserva
(by Sánchez Romate Hermanos)
- Eminently memorable, sweet bouquet of rancio, cocoa, aged Spanish cedar, pine, dried fruit and sultanas. I recall that these aromas held true in the mouth in a pure, warm, smooth, comforting stream - the cocoa, rancio and aged wood holding sway over the fruit, nutty nuances emerging just past mid-palate.
Absolutely lovely. Though I rarely have more than one glass of spirits at any given time, having pretty much given up on after-dinner cognacs due to acid reflux issues, I kept re-pouring for myself, stopping only after four or five - and only because it wasn't my bottle and I didn't want to finish it myself. It was also a most pleasant surprise that I experienced no acid reflux that night.
I simply must buy some of this - it would be perfect for the (hopefully) cool Christmas nights.
As the evening wound down, yet another bottle of
2007 Domaine Tempier Bandol Rose´
was popped open, as well as Max's "straggler" red from Bordeaux, the maker and vintage of which I can no longer remember.
I must mention that fellow food-and-wine blogger
Chinkee
was also at
Je Suis Gourmand
that evening with Matt, her fiance, and their group of friends. It was very nice bumping into them again and Robert, who reads Chinkee's blog, was happy to finally meet her in person. We chatted intermittently throughout the evening on our quick cigarette breaks between courses.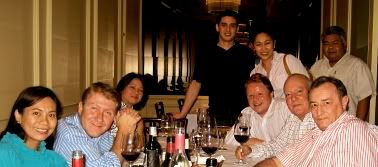 I made sure that Chinkee and Matt joined us in the above photo before they continued on their way to whatever the younger set does to celebrate Thanksgiving - just to show that it's not only us "slightly more mature" people who are crazy about good food and wine.
Many thanks to all who joined that evening, it was great fun.