Dinner last night, 30th January 2010, was at my father's place - in commemoration of my late mom's birthday a few days ago. He wanted steaks, and I was to cook them. Since it's easier for me to make them at home (I also have more and stronger burners for proper searing), he sent the meat over - anyway, he also lives in the village, so bringing them back to his place already cooked is not an issue.
My two older sons had their respective parties to attend, so we were just 7 in all: Dad, my youngest sister Reena, brother Tad, sis-in-law Hisako, my youngest son, my wife & I. We arrived a little past 7pm, the others finishing up their beers and pica-picas, then dinner was served.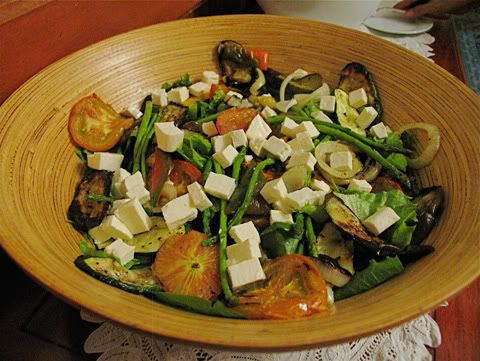 R's
Grilled Vegetable & White Cheese Salad
- she had intended to make a fresh green salad and dad wanted some grilled vegetables, so she just combined the two into one dish. Very nice, actually - a good mix of fresh and smokey. Aside from the fresh greens and white cheese, there were grilled tomatoes, eggplant, onions and asparagus. I'll suggest she add a bit of grilled red peppers to the salad next time.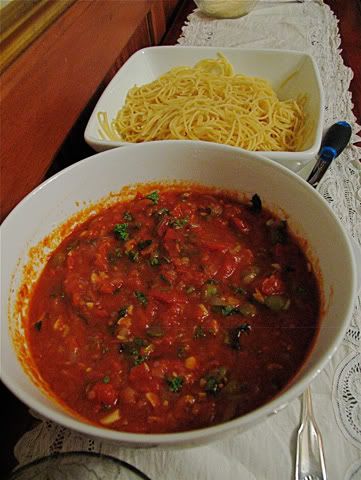 Spaghetti Tomato, Basil, Olives, etc. Sauce
. There was also a bowl of mashed potatoes which I didn't bother to photograph.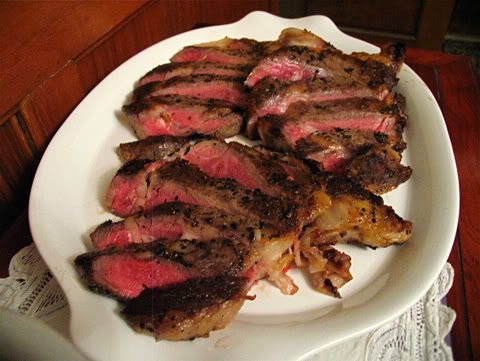 US Prime Grade Rib-Eye Steaks - There is no secret to making good steaks.
1. The most important factor is meat quality - buy good quality beef. These are real prime grade US rib-eyes which
South Supermarket Alabang
carries (at other South Supermarket branches, you'd have to order 2 days in advance). There are frozen pre-sliced ones readily available, but these are sliced too thinly for me. We ask someone in the meat section to slice up some
at least 1-¼ to 1-½ inches thick
. This, for me, is the thinnest for a nice juicy steak.
2. When using frozen steaks, thaw them slowly in the refrigerator. For steaks this thick, I transfer them from the freezer to the ref at around 9pm the night before the steaks are to be served for dinner.
3. Around an hour before they are to be cooked, I season them on both sides with a very simple dry rub of McCormick Broiled Steak Seasoning and cracked black pepper, pat them down gently but firmly so that the rub sticks, then drizzle very lightly with a high-burn-temperature oil (usually canola or corn oil). Then I stick them back in the fridge.
4. Around 15 minutes before cooking, I bring them out to warm. In the meantime, I am heating heavy cast-iron pans and pre-heating the oven to maximum heat.
5. Once the oven and pans are at proper temperature. I sear the steaks for around 45 seconds on each side (flame on maximum; 1 minute per side for steaks 1-3/4 to 2 inches thick) and pop the whole thing (steak and pan) into the oven for 4 to 4-½ minutes for just under medium rare. 5 to 6 minutes for thicker cuts and for more doneness if desired. Personally, the most done I will have steak is medium-rare. Anything more than that is a waste of good meat in my opinion.
6. I then let the steaks rest, covered loosely with foil for at least 15 minutes (if you cut them before they are properly rested, the juices will all run out).
7. Since it's been years since I or any of my friends can finish one whole of these steaks (we used to though), I normally serve them diagonally sliced on the bias. I also make sure to have sea salt on the table for those who care.
8. Serve it with a good red wine. During the subject dinner, I picked out from dad's wine cav a bottle of...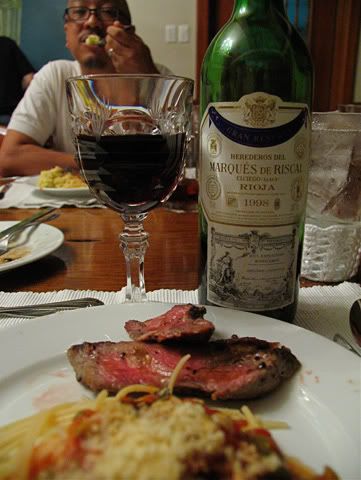 1998 Herederos del Marqués de Riscal Rioja Gran Reserva
- This '98 Rioja gran reserva is notably Bordeaux-esque in its smooth, medium body, silken texture and its firm structure, healthy acid balance and typically austere, dry, minerally dark fruit, black cherry, bit of underlying warm asphalt, violets, licorice, cedar and leather. The wood is very well-integrated, and I suspect French oak is used rather than American. In the finish, there was licorice, dry black cherry, cedar, violets and, to me, a suggestion of blueberry (the latter a note I cannot remember ever before encountering in a Rioja). I like this wine's quiet, dignified style. It is very food-friendly, and, though I had some apprehensions at first, it stood quite well against the rich, fatty steak.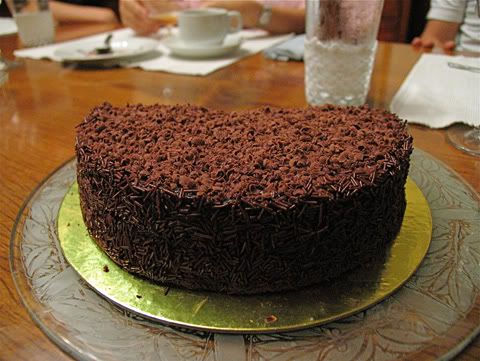 Dessert was a
Super Moist Chocolate Cake
which easily lived up to its name, and then some.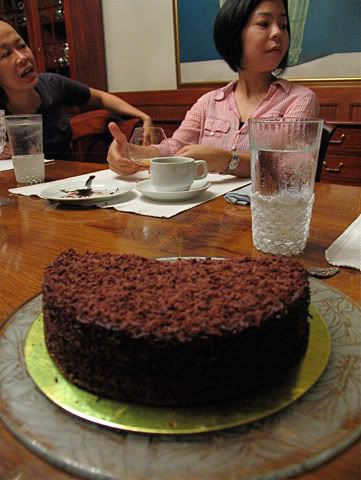 Hisako had tried this a few years ago at The Diamond Hotel in Manila, but found the source too geographically inconvenient to buy it regularly. Lately, though, she found that the hotel opened a shop at Rockwell called "The Cake Club" and so got one for us to try. Very moist, deeply chocolatey but not sweet, overly rich or heavy. This cake is right up my alley. Loved it.
We finished up with some fresh fruits, then some glasses of Martell XO Cognac, cups of coffee, and, out on the lanai, a few cigarettes.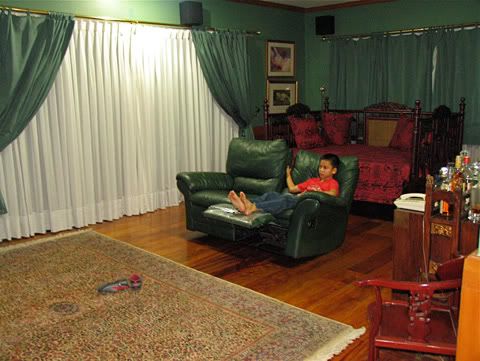 My youngest, though, had finished his dinner quickly and hied off to the video room to watch 2 back-to-back movies of Naruto. I guess with his brothers away, the adult conversation didn't interest him much.