The 29th October 2009, was a day of work and wine - work first, of course, and, in the evening, wine and lots of it.
~ Part I: Chilean Carménères Blind ~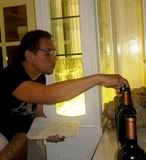 I left the office a quarter past 6pm and went straight to
Café Ysabel
for Gene Gonzalez's Blind Carménère Tasting Dinner of 15 wines locally available or under consideration for local distribution. I understand that actual and prospective distributors presented the bottles for evaluation. We were 10 tasters for this event: Gene, Arnie del Rosario, Aaron Palileo, Cecille Mauricio, Dicky Boncan, Marty Villarica, Johnny Revilla, Ivo Dualan, myself and J-Lab (who arrived quite late and so was not in the group photo below).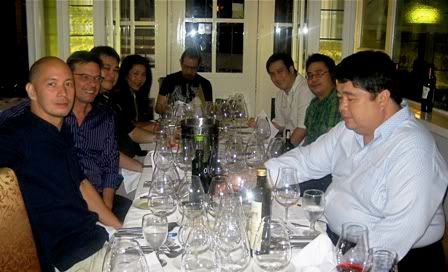 After a brief lecture by Gene on the history and nature of the carménère grape...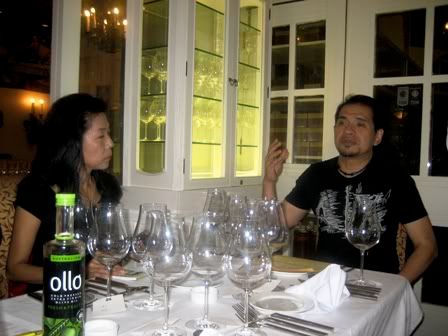 ...we tasted in 3 flights, grouped according to price. Because of the speed the tasting and voting was conducted, I could not really make as definitive notes for each wine - mere scribbles really - so I will only give the basic results of the groups' collective top 3 wines in descending order.
1st Flight - Below P500/bottle; 6 wines tasted
: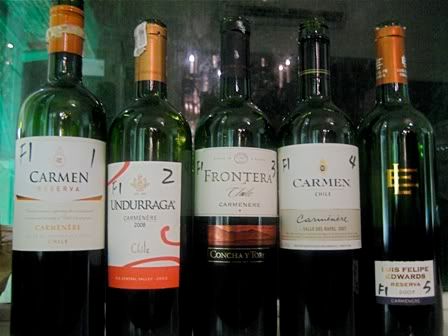 L-R: 2008 Carmen Reserva, 2008 Undurraga, Concha y Toro Frontera, 2007 Carmen Valle de Rapel, 2007 Luis Felipe Edwards Reserva and 2008 Ventisquero Reserva (not in photo).
# 1 Choice - 2008 Carmen Reserva (P335)
# 2 Choice - 2007 Luis Felipe Edwards Reserva (P410)
# 3 Choice - Concha y Toro Frontera (P300)
The 2008 Carmen Reserva as the top wine was virtually unanimous. If I'm not mistaken, per Arnie (who tabulated the votes) the only person who didn't vote it #1 voted it #2.
2nd Flight - P500-P1000/bottle; 5 wines tasted
: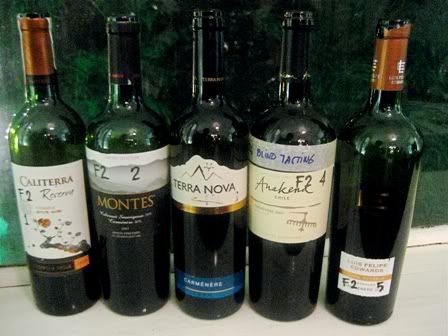 L-R: 2008 Caliterra Reserva, 2007 Montes Cabernet Sauvignon-Carménère, 2006 Terra Nova, 2007 Anakena, 2006 Luis Felipe Edwards Gran Reserva.
# 1 Choice - 2007 Montes Cabernet Sauvignon-Carmenère (note: majority cab sauv, P675+)
# 2 Choice - 2006 Luis Felipe Edwards Gran Reserva (P510)
# 3 Choice - 2007 Anakena (P530+)
3rd Flight - Above P1000; 4 wines tasted (no photo of the bottles taken)
:
# 1 Choice was
a tie
between 2007 Antu Ninquen Cabernet Sauvignon-Carmenère (note: majority cab sauv, P1100) and 2006 Ventisquero Grey (P928). Johnny was happy with the result since he buys and enjoys a lot of the Antu Ninquen. The other wines in this flight were 2006 Arboleda (P1200) and 2004 Albis (P1800).
I note that the (majority) cabernet sauvignon blended carménère wines fared best in their respective categories.
~ Part II: Classified Bordeaux ~
At a little past 9pm, I had to skip dinner and rushed to Bodjie Tobillo's birthday party at his recently opened Decanter Wine Bar along Tomas Morato, the only wine bar in Quezon City. It was my first time at Decanter, a good-sized wine bar with live music on Tuesdays and Wednesdays. I noted that the bar was decorated in a Halloween theme and there was a band playing for the occasion.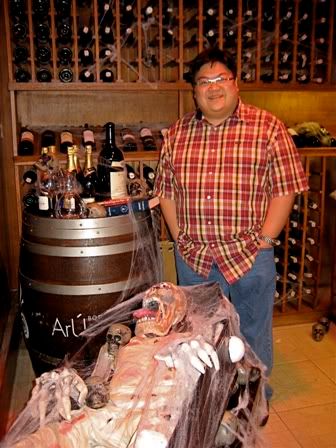 The evening's host and celebrant in Decanter's 1500-bottle, 24/7 temperature-controlled wine room complete with its own back-up air-conditioning units and generator to ensure all bottles are kept at proper temperature at all times.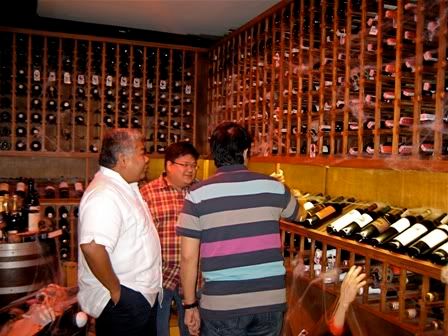 Bodjie with Usual Suspects J-Lab and Greg Clavano
Many friends and familiar faces were there when I arrived (aside from Bodjie of course): Greg Clavano, Nelson Uy, Jay-Jay (Bodjie's partner in Decanter), William Siapno; plus I got to meet, among others, Jason (Bodjie's brother-chef, back from a US stint, who runs Decanter's kitchen) fellow WSCP members Willy, Gino and Eric all of whom I greatly enjoyed chatting with. It is always a pleasure to get to know those with a genuine and honest love for wine. Speaking of which, several French wines were on the table in various stages of consumption. Greg, however, thoughtfully reserved glasses for me and J-Lab of...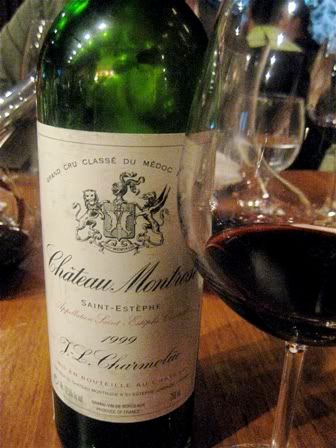 1999 Château Montrose
- Greg's bottle, a 2nd growth from St-Estèphe. Château Montrose, together with Cos d'Estournel, are generally considered the top producers of St-Estèphe, the former known for its masculine and long-ageing wines. I've long favored Montrose's wines, their vintages 1986, 1989, 1990 and 1996 vintages all excellent in my opinion. I believe Greg's bottle was only the 2nd or 3rd time I've had the '99 vintage.
It is no secret that Bordeaux is my palate default setting, and, after academically tasting 15 young carménères, this wine was a great comfort. Familiar earthy, leathery, cedar infused cassis, bit of plum, with rasperry and cherry highlights eased me into things. The wine's structure is there, undoubtedly, but on a noticeably lighter frame than usual, typical of general vintage assessments. Properly austere and correct. Very nice. Thanks for saving me some, Greg, much appreciated.
Next, Bodjie poured us some...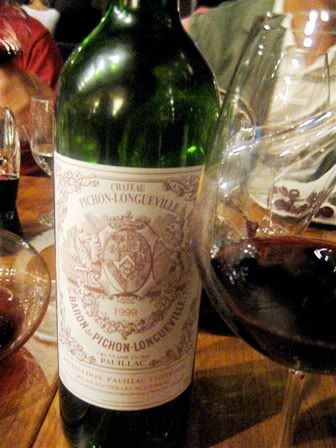 1999 Château Pichon Longueville Baron
- Nelson Uy's bottle, another 2nd growth but this time from Pauillac. I believe this is the 2nd time I've had this wine, but the 1st time was at a blind academic tasting, so this is really the first time I got to analyze and enjoy this at leisure.
At first whiff, this was very expressive of Pauillac with distinct scents of pencil shavings, gravelly earth, black currant/cassis and cedar leading the way. Another very comfortingly familiar wine that holds true and proud to its
terroir
. This one I imagine I could easily identify as Pauillac if served blind. On the palate, it was more open, broader and with the most heft and pronounced middle amongst the Bordeaux I had at this party. It's finish was long and confident. Again, great typicity in this - something I believe is very important to a wine.
Next was the evening's most anticipated wine...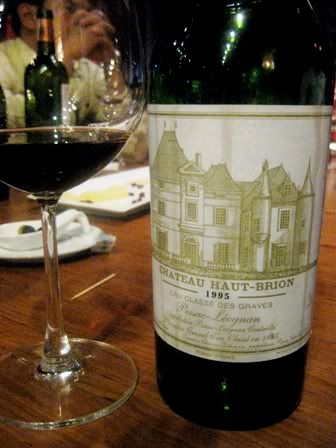 1995 Château Haut Brion
- Bodjie's bottle, a 1st growth (the only non-Médoc in the 1855 Classification - and in the top echelon, no less) from a heralded vintage. We noted that the cork broke in half, the bottom portion slightly soaked on the sides, but no soaked-through wine markings in the cork's cross-section. The wine was poured from bottle, so after a few sniffs, I let it air in my glass. J-Lab arrived a few minutes after and got a hefty glass of '99 Montrose courtesy of Greg and the last pour of the '95 Haut Brion courtey of Bodjie.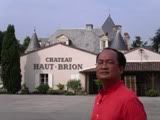 Initially, J-Lab and I found this wine quite tight and reticent. I noted the aromas not fully developed into a proper bouquet were led by sweet cedar, bit of a minty topnote, whispers of dried herbs (I recall thyme) and minerals. In the mouth, its discreetly cedar-lined fruit (sweet plum, raspberry over blackcurrant) was pure, lightly silken but not very expressive. I had to work the wine in my mouth to get at the mentioned nuances.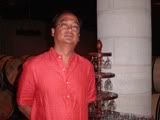 After around 30-45 minutes more (a rough estimate at best since I already had quite a bit by that time), the dried herb nuanced fruit became marginally more expressive and a subtle gravel/tar/asphalt emerged from within. I still couldn't help but feel that the wine was not "giving all it could", as it were (mentally comparing it to
the Stockbroker's '94 Haut Brion that I voted 1st place in Blind Bordeaux Challenge IX
over my own '82 Gruaud Larose). It probably should have been decanted for 2-3 hours before serving as I read in an account of a recent Haut Brion vertical in the US held by the château itself.
That said, I admit I am nit-picking and debating degrees of excellence as this was clearly an elegant wine - so much so that despite my comments, this was, to me, the finest red of that night. Haut Brion, like Cheval Blanc, Lafite and Margaux, is, to me, never about opulence or smoldering power however refined or complex (like, say, Latour) or "blockbuster", but about depth, contemplativeness and elegance (ok, I'll grant the '90 Haut Brion has one foot in the "power" category, but not the '82).
A revelation of the night was that Bodjie is a very good singer and used to be in
Kundirana
and, later on, a professional singing group in the mid 90s before taking up law. Here's proof positive, an excerpt of his cool rendition of "Just the Way You Look Tonight":
Ever game and fun, Greg responded with his take on Bread's "Guitar Man":
Thereafter, Bodjie had opened and poured
a magnum of
Piper Heidsieck Brut Champagne
(from Nelson), and, honored me by opening my gift of
Taittinger Champagne Brut Rosé Prestige
when the clock struck midnight on his birthday itself. More bottles were opened from Decanter's stash, courtesy of Bodjie's generous guests (I apologize, but I no longer recall who opened what)...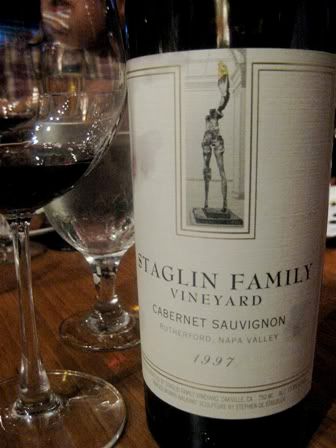 1997 Staglin Family Vineyard Cabernet Sauvignon
- Having tried the 2003 and 2005 versions before from the Stockbroker, this was my first taste of an older Staglin cab. I've found the 2003 and 2005 far too forward, alcoholic, syrupy and candied for my taste, but this older one opened my eyes to how truly good Staglin cab can be.
Rich, opulent, yet moderately sweet (so much more dialed down, probably by age), viscous, luscious, dried red fruit, plum, crème de cassis, vanilla bean, slight anise and dark minerality, it is full-bodied but not at all loud or screaming for attention. Seamless, rich, yet smooth and, dare I say, seductive. It had a luxuriously sexy, malleable texture and heft mid-palate that made me enjoy lolling it on my tongue. J-Lab and I were very impressed.
Unfortunately, J-Lab had left when the next bottle was opened...
2004 Corté Riva Vineyards Merlot Napa Valley
- From a Napa winery owned and run by 2 Filipino-Americans, the wines of which are exclusively distributed in the Philippines by J-Lab's company. Honestly, I've never been a fan of California merlots, but this wine was a very good one - surprise no. 2 for the night to me. Another indulgently rich and luxuriously smooth-textured Cali wine displaying concentrated very ripe plum, cherry, mocha, toasty oak notes of cinammon and toffee, with a dark chocolate and creamy dark fruit underbelly.
Despite this seeming top-heaviness, the wine somehow pulls off good balance and is undeniably enjoyable. It called to mind a thick, fatty, juicy, rare slab of rib-eye. I was told then that Corté Riva actually is specialized in merlot - which J-Lab confirmed the day after. I can see why.
There were 2 more bottles opened after these, but, I no longer was capable of analyzing or commiting them to memory. I was just enjoying the company and stories, much appreciating how these younger budding
connoisseurs
and collectors are finding their ways well through the wonderful world of fine wine.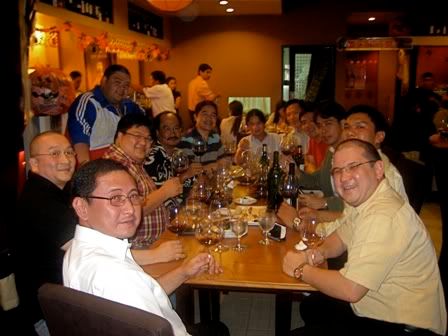 We finally broke up way past 3am. It was a most enjoyable night (and morning). Many thanks Gene, Bodjie and everyone else for inviting me and generously sharing your company and wines. As always, until the next (but not until I recuperate for the following few days, I haven't gone home this late from drinking in well over a decade).