Yesterday's lunch (Friday, the 27th March 2009) was back at my favorite French restaurant,
Je Suis Gourmand
with Miguel, Rene and Santi. We had earlier requested Chef Marc Aubry to make a dish similar to
Daniel Boulud's Escargots, Chicken Oyster and Hazelnut Spatzle that Miguel recently had at Boulud's Brasserie at the Wynn in Las Vegas
. I e-mailed Marc Miguel's photos and description of the dish the week before so he could approximate the dish. Marc graciously agreed to do it for us.
I also brought along a 1978 Château Siran (Margaux) to serve blind to show Miguel and Rene how well Siran's wines can age. Santi already knew about Siran's wines' longevity since he was there with us when we tried, among others, the 1928 and 1953 Siran. I didn't tell him what I'd be bringing though.
By around 12:45, Miguel opened his already chilled bottle of
2007 Domaine Raimbault-Pineau Pouilly-Fumé
. Ever since Rene introduced us to this domaine's P-F, we've bought and gone through so many bottles and I've written about it in my blog so many times (both the 2006 and 2007 vintages), readers of my blog know well enough how much I love this fresh, fruity, extremely charming sauvignon blanc-based eastern Loire wine - especially when paired with goat cheese and simply prepared, fresh shellfish dishes.
Our much anticipated escargot dish was then served.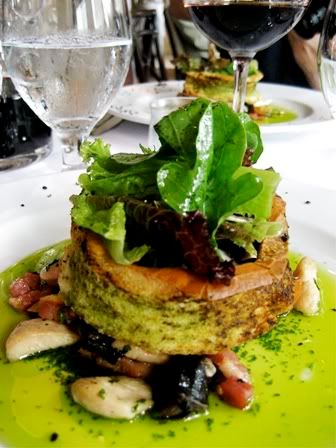 Boulud Escargots à la Marc
There is a poached egg hidden by the ring of crunchy toasted bread and greens...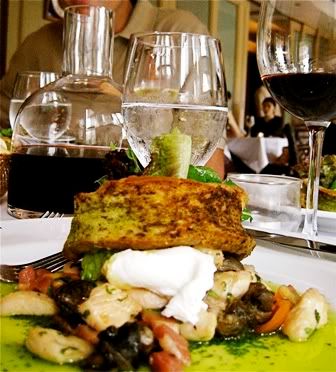 Miguel said that in Boulud's original dish, the poached egg was also hidden and not mentioned in the dish's description, so, when he cut into it and saw the yolk oozing out, it was a wonderful surprise. "Like finding liquid gold" he said.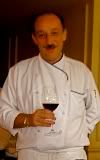 Though Marc couldn't source chicken oysters
per se
and so used readily available parts, added some lardons, and I noted the absence of hazelnut
spätzle
, I loved it. Nothing short of superb. Santi liked it so much, he got a second order of it for his main course, and, Rene swore to bring Aimee and Tita B over to try it.
Not having tried the original dish by Boulud, I, personally, wouldn't know how it would compare; but Miguel, who did, wiped his plate clean and pronounced it delicious. I think he even ate the the plate's embossed design.
Marc assured us that he could make it again given a day's prior notice. We then discussed the possible variations on this dish. Rene suggested that added seared foie gras would go well - but, then, he'd probably want foie gras on anything. I'm sure Miguel was silently having red dreams of this dish with steak tartare. Heh heh.
I love it the way it is, but imagine that a sprinkling of crunchy animal (crisped pork belly bits or duck or chicken skin cracklings?) would add nice touches of textural contrast and saltiness. In any event, that dish was, undoubtedly, the star of our lunch. I'm mentally re-savoring it as I write.
~ oOo ~
We then shared a dish of
Pan-Seared Foie Gras Salad
and ordered our main courses - a dish each of
Cassoulet topped with Duck Leg Confit
for Rene and myself....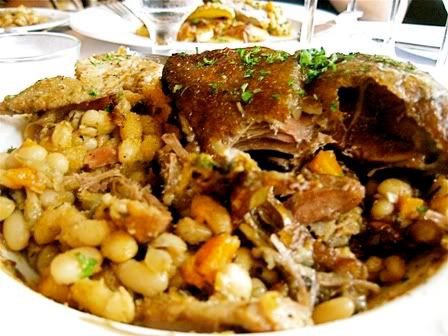 ...while Miguel opted for the
Provençal Lamb Loin.
As earlier stated, Santi got a second order of the escargots for his main course. Before and together with these dishes, we enjoyed bottles of...
1978 Château Siran
- My bottle,
ex-château
(i.e., straight from the château's cellar), a gift to me from the Vigneron around a month ago when he arrived from Bordeaux. Since this is a 30+ year-old bottle, Marc and I watched carefully as one of the staff uncorked it.
It turned out, though, that there was no reason to worry since the cork was relatively new - bearing the words "Rebouché en 2005" (see below) - meaning "re-corked in 2005". It is a practise of the better châteaux to have corks of their old bottles changed after a few or several decades.
I last had this wine in early January 2007 (also in Je Suis Gourmand) and it was absolutely in fine form.
My notes then
were as follows:
Chateau Siran 1978 - straight from the chateau's cellar, it was a Christmas gift from Edouard. I had it with duckling in foie gras and wild mushroom sauce. With no available decanter in the restaurant, I poured and let it breathe in the glasses while we had the Corton Charlemagne with our appetizers. A darkish, medium brick-red slightly lightening at the rim with a slight red-orange tinge. The bouquet and taste were typically Siran: mildly earthy cassis base, touches
of violets, small red berries to the rear, cedar and leather, masculine for a
Margaux, with just a slight touch of the sweetness of bottle-age to the red
berries. Good balance, this wine proudly wears its years well; and can go on for
many more. To my mind, with more bottle-age sweetness, elevation of the red
berries and the seams easing out in the process.

Good, well-aged wine is always a special treat for me. This was no exception.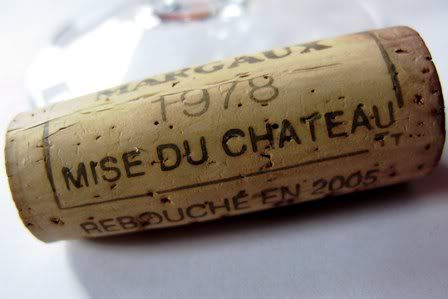 I didn't decant this bottle and just left it open for around an hour or so - any more aeration it would need could be had in our glasses. Served blind, the bottle's label was covered with paper and taped firmly, the tell-tale foil completely removed and the cork hidden in my pocket.

The guys noted the wine's dark brick red/red-orange tinted with mahogany color of age, and, after a few sniffs, gentle swirls and a couple of tastes, Santi called it very closely to be from 1976 more-or-less, and maybe from St-Julien. Rene called it as a wine from the Margaux appellation (a stone's throw south of St-Julien). After more breathing time, Santi agreed that it was from Margaux. Pretty impressive, together they got the appellation and were just 2 years off the true vintage.

As far as this bottle went, it was more advanced than the one I had back in 2007 - more than an additional 2 years of bottle age could probably justify. A bit of bottle-age sweetness, spicy dark cherry, led the way over old-pressed violets/leather/iron -infused somber dark fruit and cassis. Surely showing its age and, after around 25-30 minutes in the glass, the wine started to fall apart, and its spicy/violet/licorice/sour dark cherry/raspberry medium finish shortened noticeably. Still and all, an enjoyable wine with a bit of nostalgia and history thrown in -1978 was the year I graduated from elementary school and entered high school. The other guys were surely still in short pants.

The next 2 reds were Rhônes from Miguel and Rene: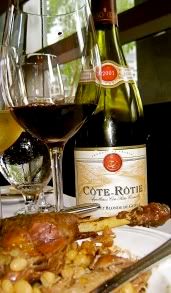 2001 E. Guigal Côte Rôtie Brune et Blonde - From arguably the finest area of syrah-dominated Northern Rhône, a very good Rhône vintage and one of the most highly-reputed makers; the last notes I have on this particular wine were from 23 April 2008 during Je Suis Gourmand's Night of Rhône Cuisine & Wine:
2001 E. Guigal Côte Rôtie Brune et Blonde - I must say that I appreciated this properly refined, medium-bodied Rhône (none-too-alcoholic unlike many other modern Rhônes), such as it was: laced lightly with dried/roasted herbs/pepper; red berry-dominated (red currant (or was that the sherbet haunting my
palate?)/raspberry/hint of strawberry, mild tobacco and dark spice, woodiness and just a dash of pepper. Very mild earthiness. Finely and delicately layered. If there is any criticism I can make, it would be that the middle is a bit weak. But that's about it.
This bottle, decanted for around 40 minutes, was similarly earthy, spicy but had a confident middle unlike the one I last wrote about, with a strong roasted herb accent as well as a good dose of
garrigue
. Robust and masculine. Great pairing with the earthy and robust cassoulet with duck leg confit.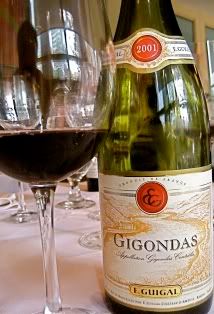 2001 E. Guigal Gigondas
- Belatedly opened as Santi is still watching his wine intake (if not that of other forms of alcoholic drink), from the southern Rhône, neighboring better-known Châteauneuf-du-Pape. The wines from said areas are made up of a mix of several grapes, usually with more of grenache.
I've had several of bottles of this wine in the past 2-3 years, but, curiously, I only have my handwritten notes (none in my blog or other vino-centered websites I post in ) from the Manila Gentlemen's Club's 22 February 2008 Cantonese Night at the Ming room of Tower Club's Taipan restaurant. I know for sure that I opened more of them at Mamou (with the huge steaks of course), home and friends' houses.
In any event, I have the Stockbroker to thank for recommending this wine for pairing with the spicy
Deep Fried Pork Ribs with Salt & Pepper
course of the immediately aforementioned dinner. It was an absolute hit, especially with the club's resident Aussie, Richard Everingham.
This bottle, like the past ones, had a generally rustic, earthy, spicy character to its dark red cherry, raspberry and licorice, with underlying black coffee and minor notes of pepper and iron. This wine, purchased by Rene and Miguel at Bacchus (as well as the above '01 Côte Rôtie) is excellent value for money. Unfortunately, to my knowledge, this vintage of the Gigondas is already all sold out. There just
may
still be some of the pricier and more imposing '01 E.Guigal Côte Rôtie though, but I'm not sure of that.
After a quick smoke outside, we returned to find dishes of
Pears Poached in Red Wine topped with Homemade Nougatine Ice Cream
. Marc confirmed to us that this dessert contained fine laces of lemon peel and a touch of anise as well.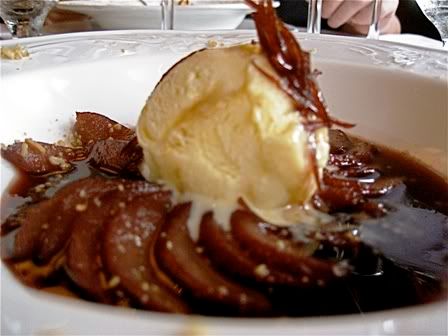 Knowing that pears poached in red wine is a favorite dessert of my wife, Marc thoughtfully gave me a serving of them to take home to her - which is very much appreciated. With Marc's hallmark personal touch that permeates all aspects of Je Suis Gourmand, how can anyone wonder why this is my, and many others', favorite restaurant?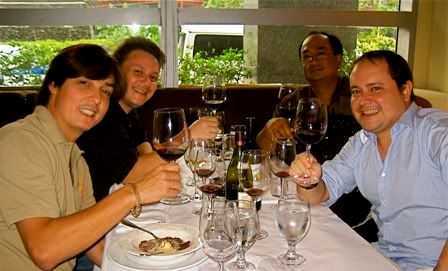 Though Santi left at around 3pm to return to the office (or so he said), we lingered over the wine and double espressos until a little past 4pm. What a great way to end the work week. Many, many thanks again to Marc for his indulgence and the great dishes.
Merci bien!