Another recent dinner at home with family and longtime friends was all cavas and a couple of reds. I do enjoy cavas very much. True, many I've tried seem to exhibit jutting grassy, at times green-beany (haricots verts, in particular) notes, but I've been enjoying some locally available, higher bottlings from Freixenet that I even prefer to some locally available non-vintage champagnes. Not only are good cavas notably fresh, fun and light (and, thus, well-suited for our warm weather), they offer very good value for money and don't give me hangovers as well.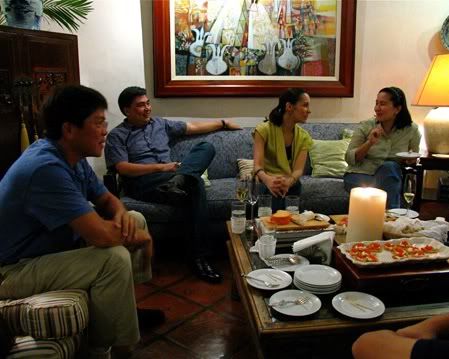 Blini w/ Smoked Salmon, Sour Cream & Red Caviar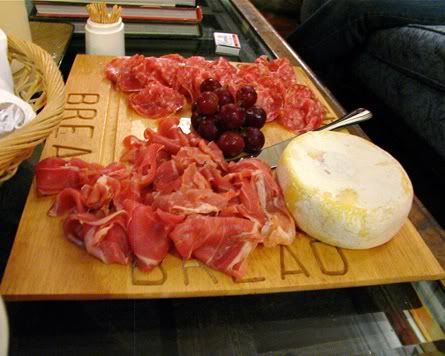 Jamón Serrano, Salami Milano, Grapes & Livarot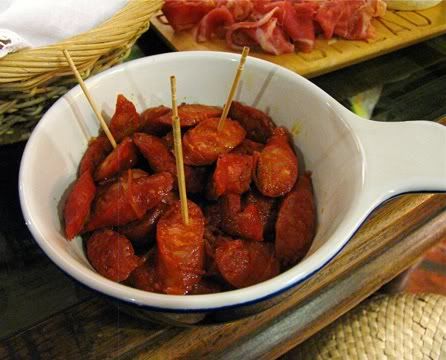 Morcilla con Arroz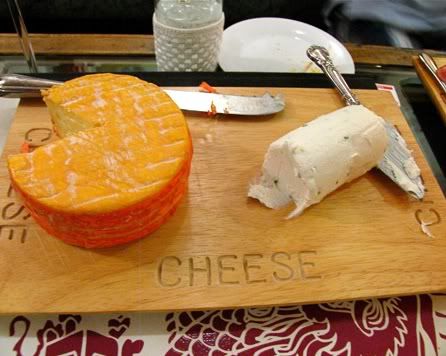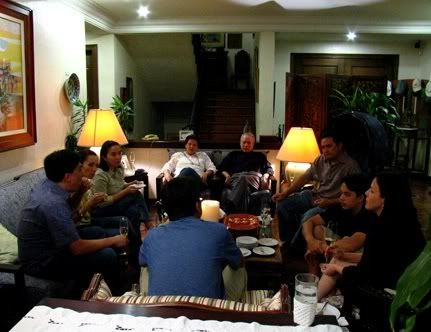 These were washed down with a few bottles of a cava that I enjoyed a few times before, and, most recently, around a week-and-a-half ago at
Miguel's advanced birthday lunch
.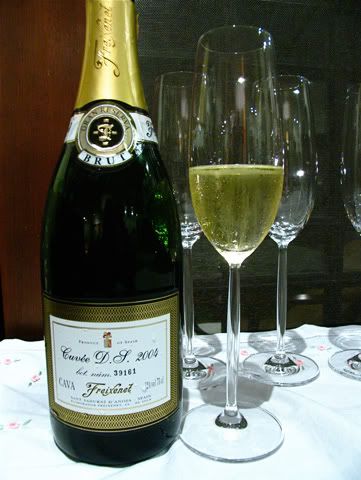 2004 Freixenet Cuvée D.S. Gran Reserva Brut Cava
- So named after Dolores Sala, a former president of the giant Freixenet conglomerate, this special gran reserva cuvée started being produced in 1969 and is made only in exceptional years. The 2004 is only the 17th bottling of Cuvée D.S. since inception. This cava displays a very fine, persistent mousse, more and readily apparent depth to its fresh, dry white fruit and has a notably firmer structure as compared to most all other cavas I've had. There is also a good deal of complexity to this, all the while maintaining a bright, fun and exuberant personality. This is locally available from
ADP Industries
, the exclusive Philippine distributor of Freixenet.
I could drink this all night - and we actually did - through the pica-picas, with the soup, salad, fish course - switching to reds with the meat course - and returning for more after dessert.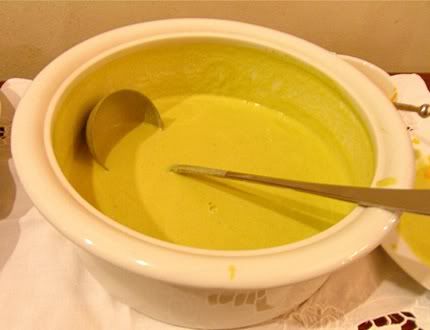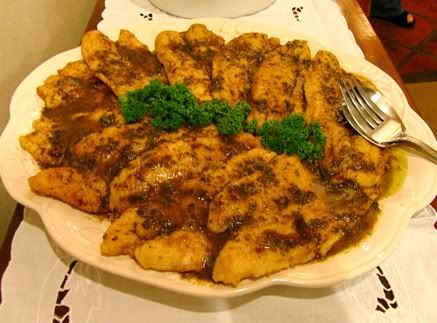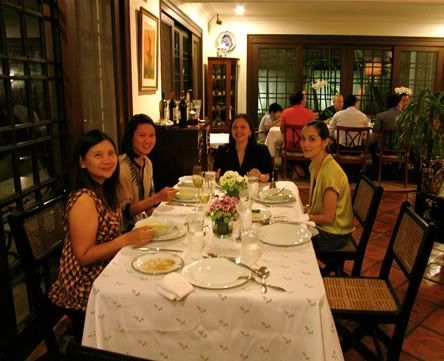 There was also Catha's
Salad with Feta Cheese, Olives, Grapes & Caramelized Pili Nuts
, but I forgot to take a photo of it. As mentioned earlier, several of us (notably Ken, Tonji, Maxie, Maricel and Sylvia) continued with the cava throughout the foregoing dishes.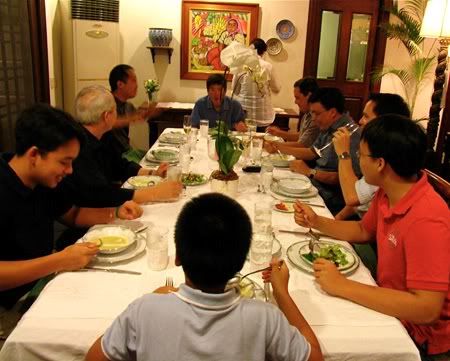 We then switched to the reds with the meat course of...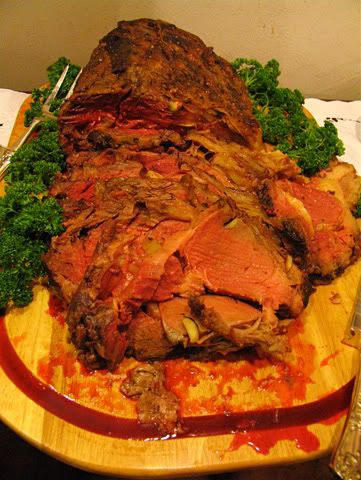 Medium-Rare US Angus Roast Beef.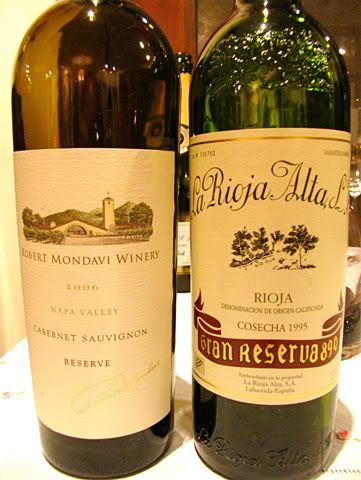 2006 Robert Mondavi Winery Napa Valley Cabernet Sauvignon Reserve
- This was a gift from Rocky & Apple last Apple was here. I thought of opening it since Boozze. confirmed Napa-head that he is, said he'd bring (and did, in fact, bring) a bottle of 2006 Beaulieu Vineyard Cabernet Sauvignon Georges de Latour Private Reserve (which we didn't get to that night). Due to its youth, I decanted the 2006 Mondavi CS Reserve for around 2 hours before service.
This was surprisingly ready for business considering how very young it is. Yes, it is typically Napa in its marked ripeness, concentration, density, heft and full-body, but, like several other Mondavi CS Reserves (notably the 2001 for me), but it is also distinctive in its sleek, clean lines, freshness, comparative refinement, harmony and notable balance. Crème de cassis, black cherry, bit of ripe raspberry, dark/ripe plum underbelly, touches of mocha, licorice, chocolate, violets and well-knit/moderately creamy oak/vanilla. Acidity was just enough to balance the wine. Very nice with the steak, it was a rich-on-rich pairing.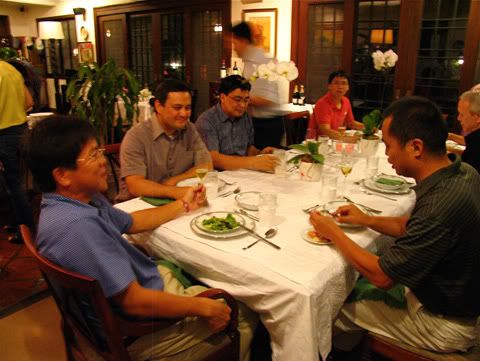 1995 Bodegas La Rioja Alta Gran Reserva 890
- I've been enjoying this so much lately, I simply had to open another with the roast beef. My
most recent notes on this
were as follows:
1995 La Rioja Alta Gran Reserva 890 - This wine I've posted on several times in the past few months (most recently
here
) so it is no secret how much I love this wine - so elegant and expressive with great typicity. Since I've written about it last just over a week ago, there is no need to repeat myself. Besides, the entire stock of PWX of this sold out almost immediately (at P6500/bottle SRP), so no more is currently/locally available. The Stockbroker said PWX may likely try to get more stock though. The last several bottles have been set aside for the coming event.
It is, thus, no secret how much I love this wine: its focus, purity, structure, remarkable balance; the way its seductive cedar-balsamic notes exquisitely intertwine with the clean, slightly red-spiced cherry, dark raspberry and underlying blackcurrant, leather and violets, etc. Tonji, who takes his time with his wine like I do, couldn't help muttering every so often how good it was. Just a few notches over medium-bodied, but firmly structured, it's acidity was on point and cut through the roast beef's richness perfectly. Loved it then, love it now. Excellent specimen of a Rioja.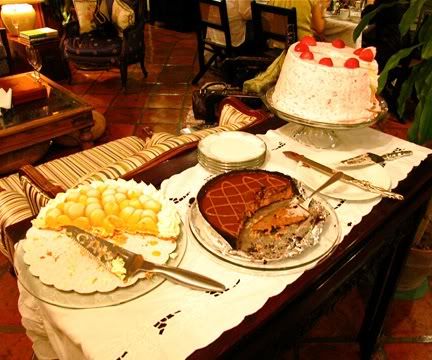 The Desserts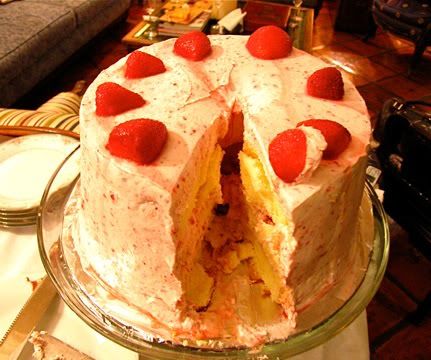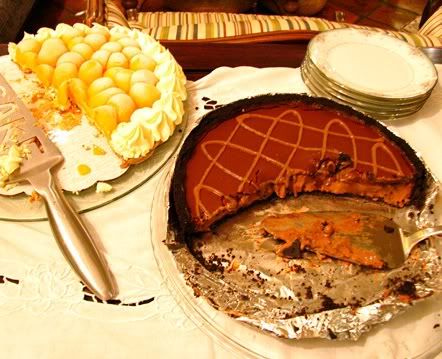 Yulo's Turtle Pie
&
Cuerva's Mango Torte
After the desserts, I re-poured some more of the Freixenet Cuvée D.S. and I recall Ken and a few of others returned to the cheeses and grapes with it. After the 3rd bottle was killed, I switched to the equally good but slightly less dry
Freixenet Elyssia Gran Cuvée Brut
- another
locally available favorite cava of mine
which I drink very often at La Tienda. For some reason, I simply must have this with Javi's
chistorras
. We managed to go through two more bottles of this before the dinner's eventual end past 2:30 am.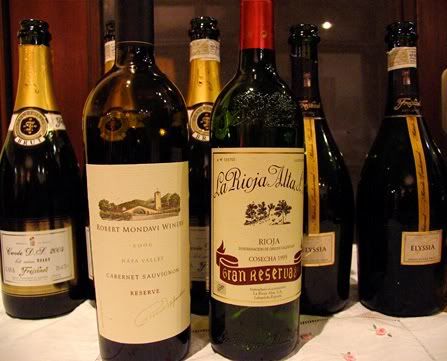 Wonderful evening with lots of stories, laughter and wines well into the morning after with family and longtime close friends. Evenings like these are precious indeed. Until the next....