Joaqi, my youngest, became a teenager yesterday and chose
Brasserie CiÇou
as the venue of his celebratory dinner (all my 3 sons will be teenagers only until mid-April next year). Aside from the immediate family, the celebrant invited his closest cousin, Zach, so we were six in all for dinner. Cyrille kindly took care of our reservations and made arrangements for a dish no longer on the regular menu.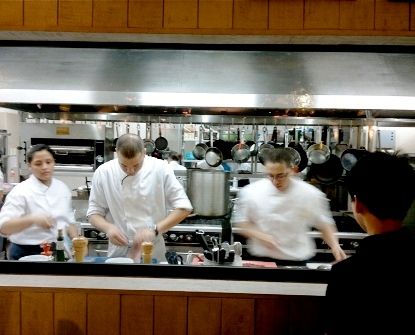 Joaqi watches the kitchen staff at work...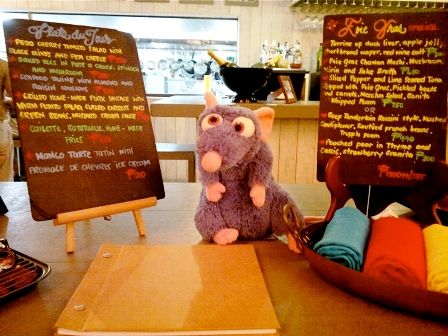 ...as the restaurant's secret chef monitors the front of the house.
As usual, we started off with many appetizers and a bit of bubbly, the latter being some
Perrier Jouët Grand Brut
- even my two older sons immediately noted that this markedly accessible, plump, well-rounded bubbly had more sweetness in its fruit than those they are used to. I replied that I chose this because the restaurant had extended its promotional foie gras menu and, knowing Joaqi's fondness for foie gras, anticipated pairing the bubbly with dishes centered on the same.
Notably ripe, slightly honeyed, yet fresh and lively enough pear and apple with brioche nuances - almost (but not quite) like a demi sec. Its acidity adequate to keep it in balance, and even go decently with the above-depicted
Fresh Oysters
(one of the two orders we had).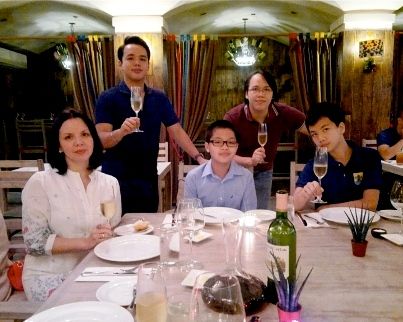 A bubbly birthday toast. Cheers!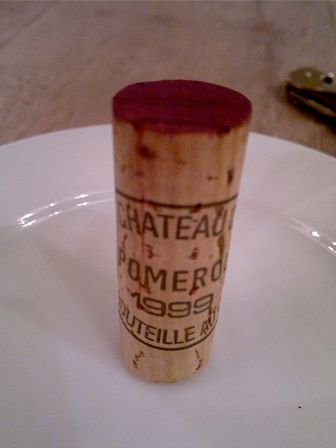 Upon our arrival, I uncorked the evening's red to let it breathe...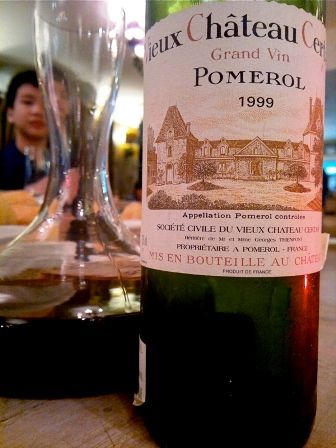 ...a 1999 Vieux Château Certan, from Joaqi's birthyear.
CiÇou's always excellent Mini-Baguettes.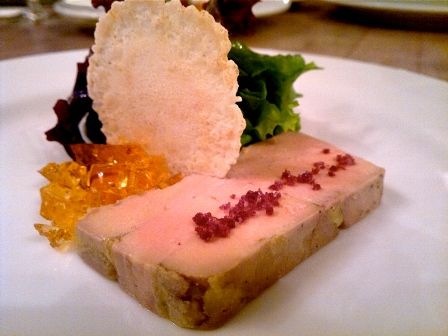 Duck Foie Gras, Apple Jelly, Shortbread Wafer, Red Wine Salt (2 orders)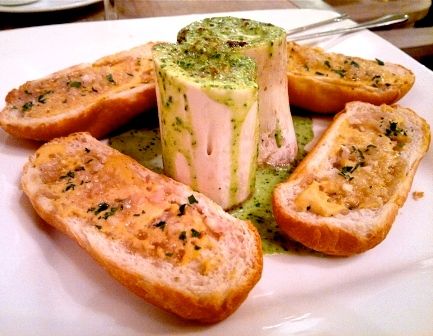 Roasted Bone Marrow (2 orders)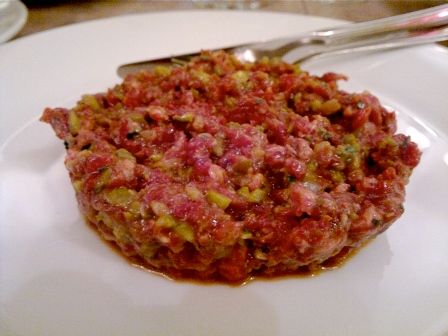 Steak Tartare
Above is the dish no longer on the menu that Cyrille arranged for us to have:
Grilled Scallop, Fricassée of Mushrooms, Duck Liver Cromesqui, Squash Soup - fantastic as always. Since Joaqi likes grilled scallops and squash soup, I knew a combination of the two would be right up his alley. There were only 3 orders available, and we could have easily had 3 more. Everyone loved it.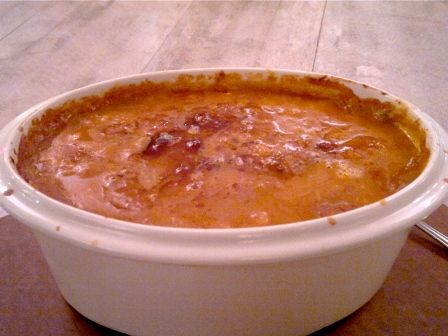 Cassoulet (one order good for 3-4 persons)
Lorenzo is very fond of
cassoulet
and almost always orders this at CiÇou. One order is large enough for an entire family to share, which is what we did. The beans had melted into a sauce, but the flavors were superb.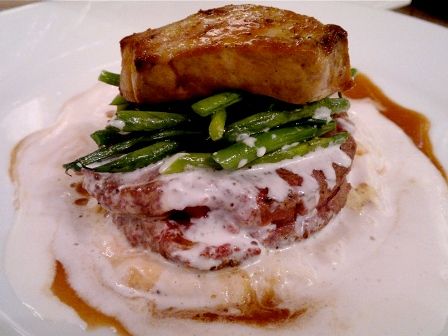 Tournedos Rossini on Cauliflower Purée, with Haricots Vertes (2 orders)
Duck 3 Ways:
Pan-Seared Duck Breast with Orange Sauce, Duck Leg Confit with String Potatoes, & Duck Pies
(one order good for 3-4 persons). With the main courses I served the
1999 Vieux Château Certan
- A couple of shades under full-bodied, this is an elegant wine with clean lines, good focus and definition, quite neat. Minty notes adorn a developing bouquet of violets, cedar, sweetishly-ripe black cherry, midnight plum, dark raspberry, and a bit of tobacco. These were mirrored on the palate without the overt fruit sweetness of the nose. Not a particularly powerful Pomerol, this is possessed of a stately, soft-spoken, patrician character. Notable balance. Respectable length. One of the best of vintage 1999 that I've had.
Close up of the Duck 3 Ways.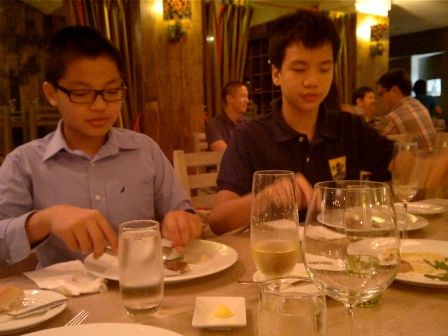 Joaqi & Zach dig in.
My three teenagers. ¡Salud!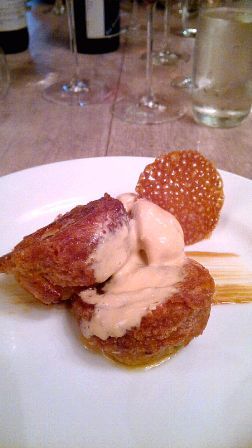 Cyrille's famous Kouign Amann w/ Salted Caramel Ice Cream.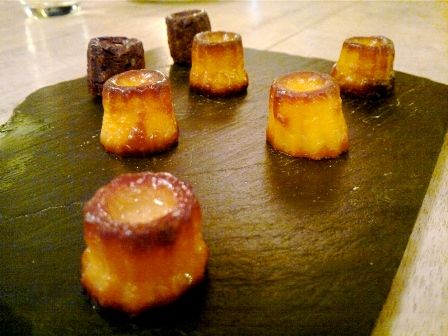 Friandises of Chocolate & Vanilla Cannelés...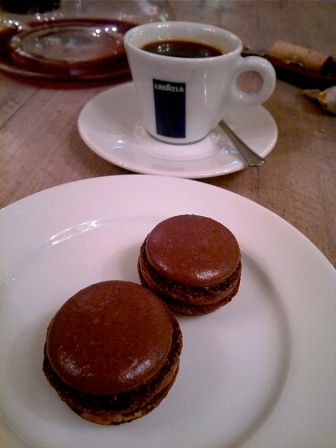 ...& assorted Macarons (dark chocolate ones with my double espresso).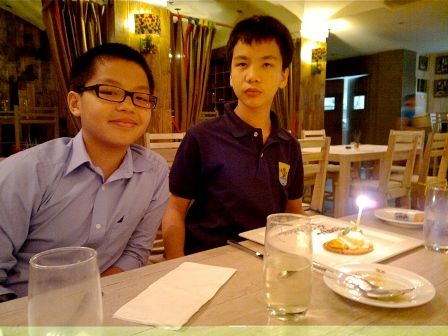 Brasserie CiÇou had an extra treat for Joaqi.
Happy birthday again, Joaqi! Many, many more to come! Until the next!