Last night, the 23rd August 2012, was back at
Impressions
(Resorts World, Pasig) with some of the Usual Suspects. We were only four that night: Aaron Palileo, Jojo Madrid (a.k.a., "the Stockbroker", who called for the get-together), Rene Fuentes, & myself. Chef Cyrille Soenen made sure we were well taken care of, as usual...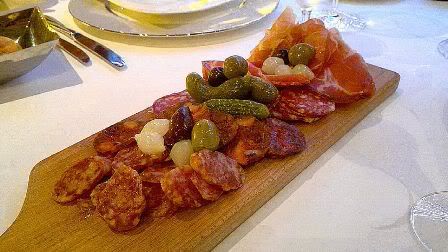 ...and graciously sent us a complimentary platter of Charcuterie...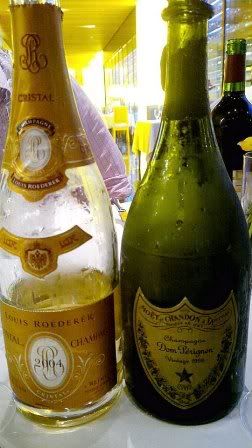 ...with which we started the night's two champagnes.
2004 Louis Roederer Cristal
- My bottle, a gift from Apple & Rocky Villadolid. I knew it is still exceedingly young, but I wanted to get a handle on it and see if I should get some for stocking purposes. Although unsurprisingly tight in the attack and mid-palate despite breathing in a bucket for around 35-45 minutes, then in glass for more (
nb
: the flutes used for this were very narrow), this bubbly expanded well just past mid-mouth, releasing prominent
pâte sucrée
and hints of white chocolate and honeysuckle into the primary apple, crunchy pear, vanilla, and emerging
brioche
. Good potential in this for what I, at this point, perceive to be a luscious, heftier, pastry-laden crowd-pleaser in-the-making.
1998 Dom Pérignon
- Jojo's bottle. Undoubtedly the most advanced 1998 DP I've had, and I do admit that I prefer it this way (compared to past, citrus-aggressive bottles). Underlying café crème to its minerally apricots, baked pear, bit of peach, slight caramel and a breath of oxidation, comparatively heftier (especially mid-palate) and more rounded than the above-mentioned bubbly (
nb
: the flutes for this one were nowhere near as narrow nor high). With these two champagnes we moved on to...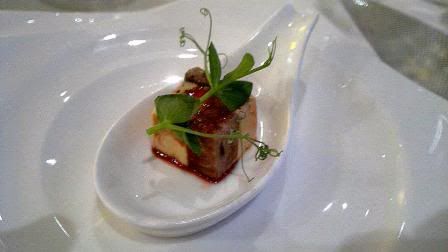 ...the amuse bouche...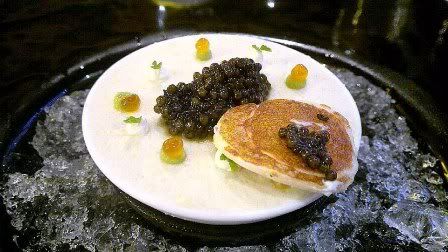 ...and 1st courses of Oscietra Caviar on Crab Meat with Blini (for me)...
...and Fresh Pamora Farm Egg Topped with Avruga (for Rene and Aaron).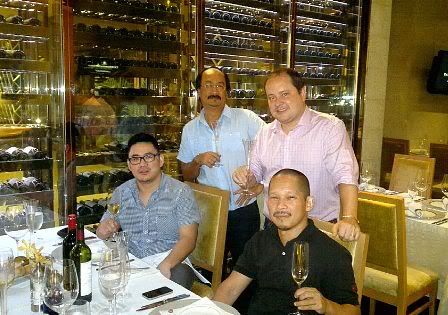 A bubbly toast.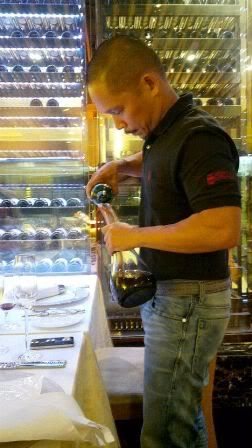 In the meantime, Jojo had decanted his and Aaron's reds...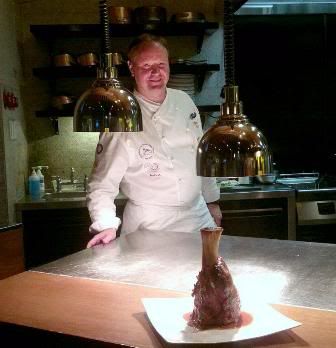 ...for our main course of Cyrille's deservedly famous 24-Hour Sous Vide Veal Shank...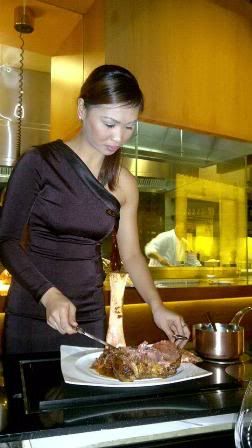 ...which simply falls off the bone upon being carved tableside.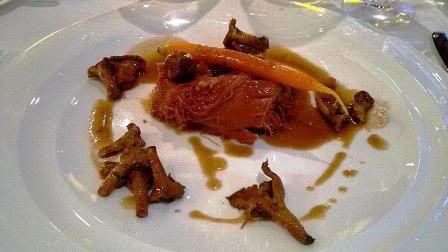 Voila, with in-season chanterelles, and Imperator carrots.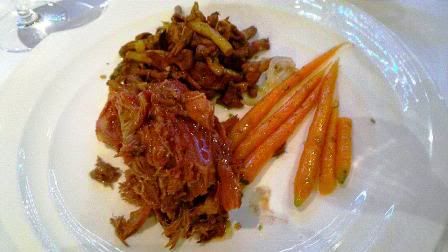 More for seconds - wiped out. The evening's reds were: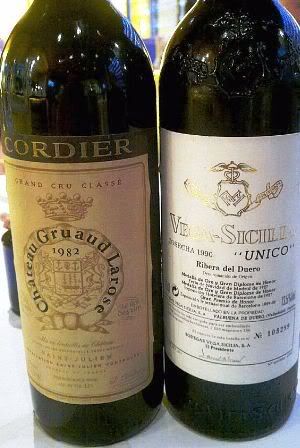 ...and...
First of all, let me just state that every single red that night I greatly enjoyed. We were on a definite roll.
1982 Château Gruaud Larose
- Rene's bottle. I've had this at least twice before (that I documented, anyway:
here
, and
here
), and it has consistently been one of my favorite 1982 Bordeaux 1855 classed growths, as well as one of the most gracefully (and slowly) ageing ones to boot. This bottle showed more truffle, animal and sanguine notes than the previous ones, but, to me, was all the more complex and captivating for it. The earthy cassis-dominated base was solid and cedary as ever; with black cherry, hint of fig, violets, licorice, underlying warm asphalt, and violets seamlessly woven in. Smoothly muscular. Remarkable harmony and unquestionable balance. Loved it more than ever. Jojo's and Aaron's wine of the night.
1990 Vega Sicilia Unico
- Jojo's bottle. Rich, ripe, dense, full-bodied, multi-layered, red-spiced, dark wild cherry, dark plum, molten ripe strawberry over crème de cassis, leather, cedar, violets, licorice, bit of ceps, hints of chocolate and vanilla. Healthy acidity, rigid structure, the rich, velvety fruit to last, big and molten tannins. Superb wine - one that I believe will keep going much longer than any of the night's others. Stunning. This was my wine of the night.
1996 Château Lynch Bages
- Aaron's bottle. I've enjoyed this vintage of Lynch Bages countless times, the last documented one being
just under 11 months ago during Jojo's birthday dinner at Mamou Too!
. From the first scents of its bouquet, it was all Pauillac - Spanish cedar-lined, pencil lead shavings-infused earthy dark black currants, whisper of mushrooms, licorice and violets. Slight vanilla. Warming, familiar, and comfortable. Notable backbone, fine tannins, typical 1996 left bank masculine rigidity. Then, as now, this is one of my favorite vintages of Lynch Bages.
We then shared a platter of Impressions' Dessert Sampler...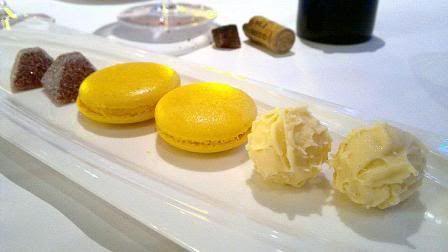 ...and delectable Mignardises.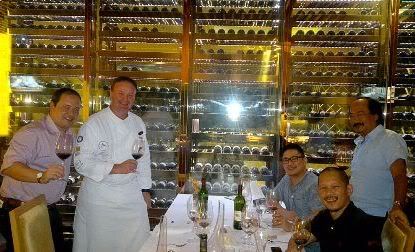 My usual double espresso rounded off this evening of fine wine, food, and friends as Cyrille joined us for a glass of the 1996 Lynch Bages. Excellent evening, guys. Many thanks to all for such a wonderful evening vinous fraternity, and, to Cyrille, of course, for yet another memorable meal. Until the next!