Catha & I have always celebrated our wedding anniversaries, usually having 2 or 3 separate dinners for family, in-laws and sets of friends. This year, though, since my mom-in-law has been very ill, we just had an impromptu one on the day itself at nearby Studio Kitchen, just us (more on that some other time).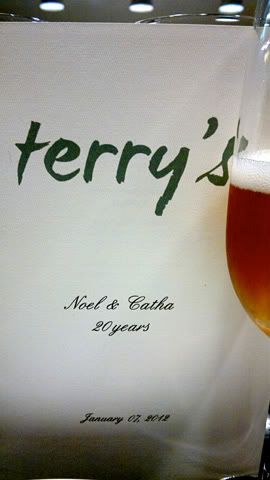 On the 7th January 2012, we held only one more, this time at
Terry's 2ºPiso
with some friends. Good friend and mentor in all things Spanish,
JC de Terry
, personally created and executed the menu, and, did all the wine pairing as well. All Catha and I had to do was walk in and enjoy with our guests.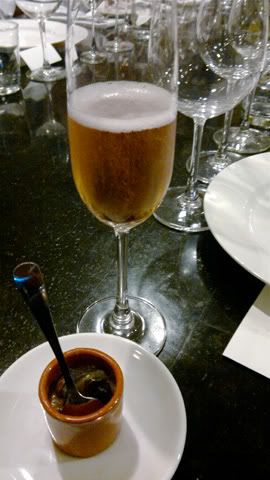 Upon arrival, JC and Rene & Aimee Fuentes started us off with flutes of well-chilled, bright, refreshing, appetite-enhancing
Masachs Cava Brut Reserva Kir Royal
. In the photo above is also
Escargots on Red Bean Stew
, one of the delectable special pass-around tapas JC prepared for the dinner.
Rene & Aimee Fuentes with Catha & JC.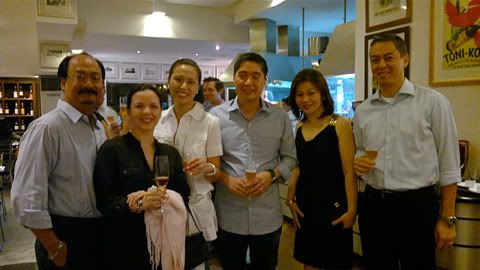 Catha & I, Jay & Lance Gokongwei, Ann & Mike Tan.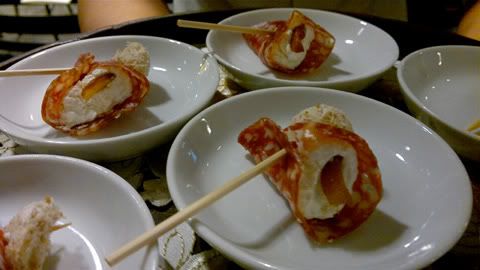 Pepper Salami "Cornet" Filled w/ Truffled Goat's Milk Cheese Cream & Dates Confit
.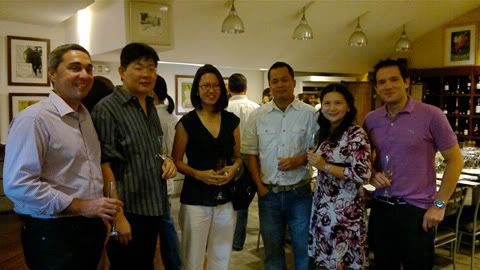 Tonico Climent, Johnson Uy, Sylvia & Tonji Ramos, Maricel & Maxie Abad.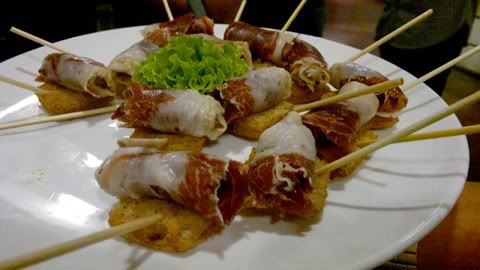 Muscat Figs Wrapped in Jamón Ibérico de Bellota
.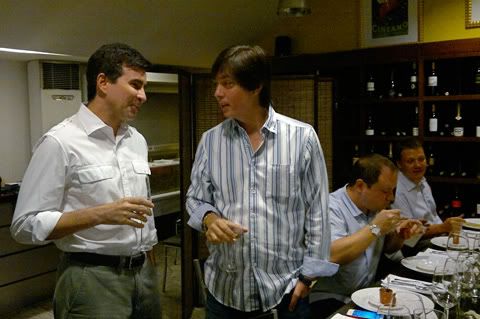 Miguel Aboitiz & Santi Araneta.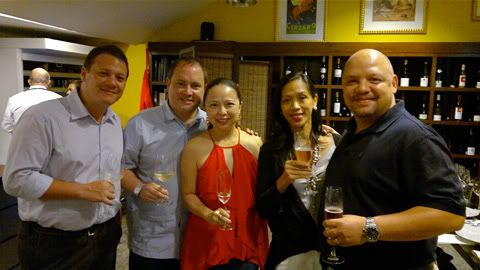 Miguel Vecin, Rene & Aimee Fuentes, Mayette & Enki Rey.
As we settled in and chatted over cocktails, JC got back to work.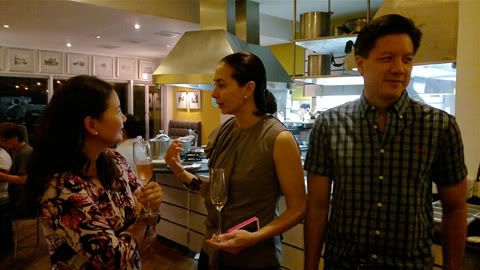 Maricel Abad with Tina & Gerry de Jesus.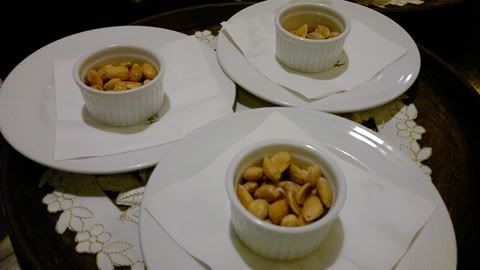 Home-Made Roasted Almonds.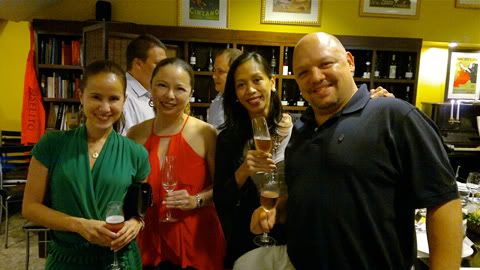 Maite Araneta, Aimee Fuentes, Mayette & Enki Rey.
Ken Quintal & Lance Gokongwei.
By around 8:15pm, we were complete, so we took our seats for dinner proper.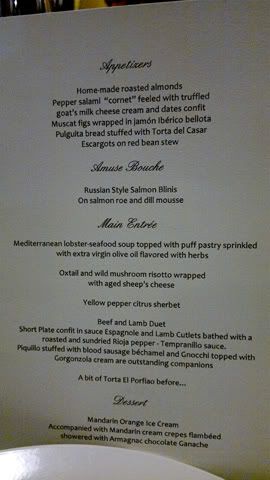 The Menu.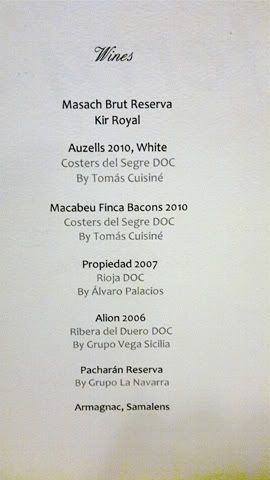 The Pairing Wines.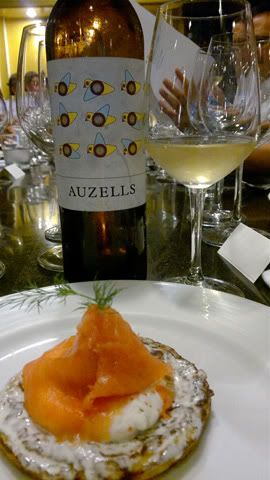 The amuse bouche was
Russian Style Salmon Blinis w/ Salmon Roe & Dill Mousse
paired with
2010 Auzells (Costers del Segre DO) by Tomàs Cusiné
. Mike and Ann commented that this was the largest amuse bouche they'd ever seen - indeed, surely for the rest of us too. The capers, onions, etc. were infused in the blini itself. I loved this. I remembered then JC's reply to his sister-in-law, Gema, when once, in the past, she commented how big his portions always are: "I do not know how to make
miniature food
" - and thank God for that.
The
2010 Tomàs Cusiné Auzells
hails from the comarcas of Pallars Jussà, el Segrià, l'Urgell, les Garrigues, la Noguera and la Segarra within Lleida and Tarragona. The wine itself is a blend of, as I understand, macabeo (28%), viognier (25%), sauvignon blanc (19%), chardonnay (14%), parellada (7%), müller turgau (2%), muscat frontignac (2%), albariño (1.5%) and riesling (1.5%).
As such, it is really quite difficult to describe. I, personally, can recognize the viognier, chardonnay and macabeo in it (apple, yellow apricot, pear, slight peach, bit of ripe grapefruit, underlying unsweetened almond paste, hints of honeysuckle and orange blossom essence, bit of a viscous, slightly oily mouthfeel, etc.), but that's it. Has a definite, softly rounded tropical character and, though a buxomly fruity white, it is in balance. An intriguingly enjoyable one, to be sure.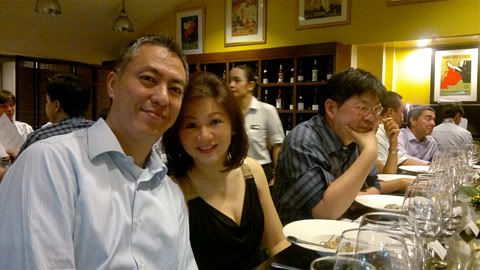 Ann, watchful of Mike's eating, cautioned him to pace himself as the amuse bouche's size foreshadowed a heavy meal. Johnson, however, was undaunted.
Catha with Barbara Aboitiz.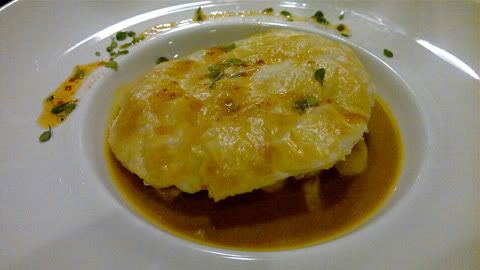 The next course was
Mediterranean Lobster-Seafood Soup Topped w/ Puff Pastry, Sprinkled w/ Extra Virgin Olive Oil, Flavored w/ Herbs
- an incredibly complex soup course with a quiet, serenely balanced depth of flavors. Superb. This was paired with...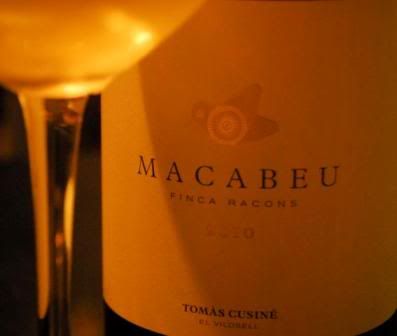 ...
2010
Macabeu Finca Racons Costa del Segre DOC by Tomàs Cusiné
(thanks, Juan Carlos, for the photo, as I forgot to take one). This is a blend of macabeo (96%) and albariño (4%). Toasty-leesy-vanilla topnotes to this heftier, but more firmly structured white. There is a smokey, almond-creaminess to the pear, nectarine and ripe pineapple. The vanilla-oakiness is apparent, but well enough integrated. This is, apparently, higher in alcohol (13.8% abv) than the Auzells, but the former has the freshness and acidity to keep things interesting.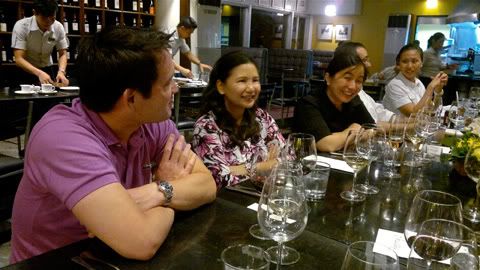 Maxie & Maricel Abad with Lisa Quintal.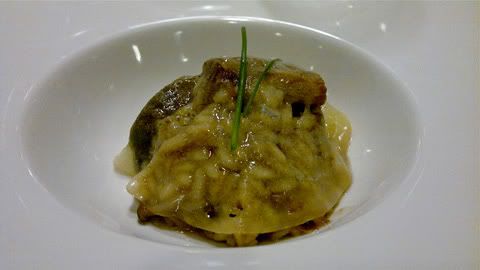 The following
Oxtail & Wild Mushroom Risotto Wrapped w/ Aged Sheep's Cheese
was a runaway hit with the group (as it was at the earlier Gran Cena Homenaje a Extremedura of the Spanish Chamber of Commerce). Earthy, indulgently complex, everything in harmony, the risotto cooked to perfection, with an exotic touch of pungent gaminess from the aged sheep's cheese. Lovely.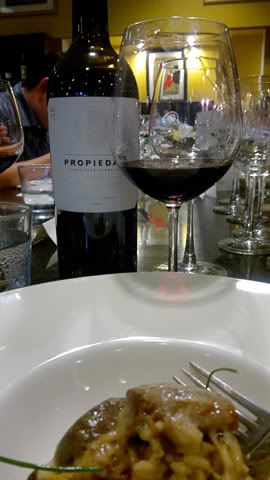 This was paired with
2007 Propiedad Rioja DOC by Álvaro Palacios
which JC kept breathing in bottle at least 4 hours before service. A young Rioja with commanding presence, awash with spicy, rich, ripe strawberries, black cherries, flecked with pepper and herbs, a slight tobacco undertone and added violet and cedar notes.
With notable lift and cut, Tonji called it "bold" and commented that "(it) stood up well to the cheese.". As a pairing wine he opined: "Fantastic". I couldn't agree more. It had the precise amount of push, body and acidity to complement without over-powering, plus a touch of spiciness in its vinosity to balance everything. ¡
Olé
!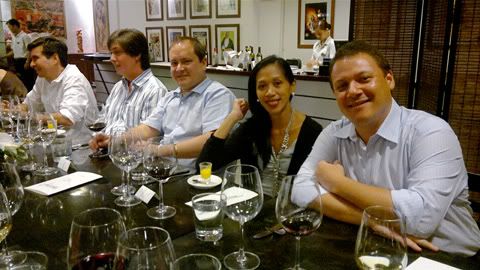 Miguel A., Santi, Rene, Mayette, Miguel V.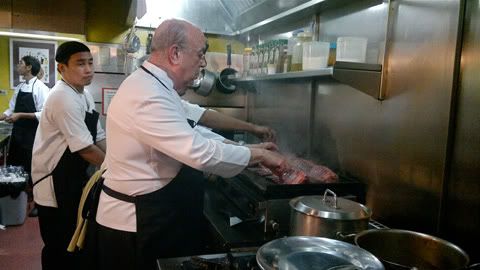 El Maestro Grills the Lamb Cutlets.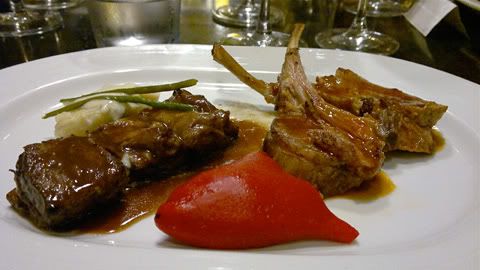 After a
Yellow Pepper Citrus Sherbet
, our main course arrived:
Beef & Lamb Duet: Short Plate Confit in Sauce Espagnole and Lamb Cutlets Bathed w/ a Roasted and Sun-Dried Rioja Pepper-Tempranillo Sauce - Accompanied by Piquillo Stuffed w/ Blood Sausage Béchamel & Gnocchi topped w/ Gorgonzola Cream,
paired with
...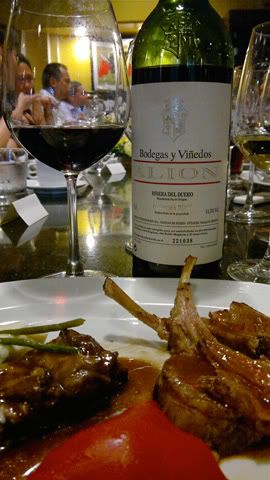 ...
2006 Alion by Grupo Vega Sicilia
. I and others were actually already quite full by then, but we somehow managed to make good headway into this indulgent dish. I absolutely loved the piquillo stuffed with morcilla cream - I'm thinking about it until now. Some appetites are more prodigious than others - Johnson finished his meat course and ate some of Ann's as well.
As regards the 2006 Alion, it is a serious, smoldering, ruggedly handsome youngster that, even at this early stage, readily gives us a glimpse of its depth, power and structure. I had it once before
from Gino Garcia during an IWFS BYOB lunch
, and my notes then are still applicable:
2006 Bodegas Alión

- Gino's bottle (which I forgot to photograph), a more modern line of the legendary Vega Sicilia of Ribera del Duero. I recall this was decanted for aeration for 2-3+ hours before I tried it. Though still very young and primary, one can note the superior balance and remarkable structure in this wine. Nicely ripe, firm, precisely concentrated dark fruit (black cherry, bit of raspberry, underlying blackberry, some sweetish tobacco, dark chocolate and oak spice. Tannins are very apparent, but fine enough. It shows more restraint and better structure than, say, the 2003 - as well as comparatively more refinement than the 2001.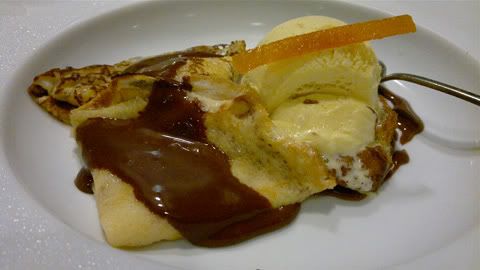 After some deliciously warmed and pungent
Torta "El Porfiao"
(which I ate before remembering to take a photo), dessert was a wonderfully indulgent
Mandarin Orange Ice Cream Accompanied by Mandarin Cream Crêpes Flambées, Showered w/ Armagnac-Chocolate Ganache
. Superb.
No matter how filling the meal is, I always manage to finish JC's dessert creations. After all these, we had pours of
Pacharán Reserva by Grupo La Navarra
and
Samalens Armagnac
. Thank you so much, JC, for making this celebration so memorable with an excellent meal and wine pairings. It wouldn't have been the same without your passion and grand orchestration. Un millón de gracias.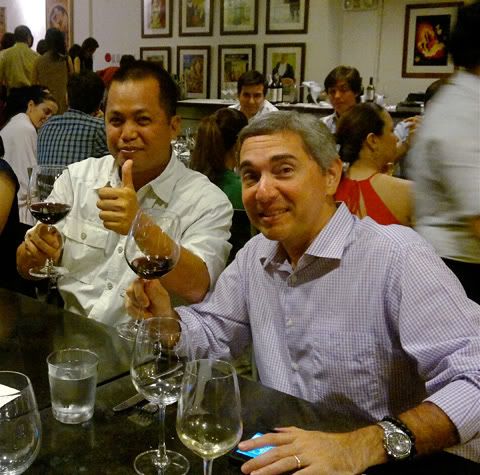 Until the next!