Started working early yesterday, Monday the 10th February 2014, and put in a lot of hours to be able to fully enjoy dinner at
Champêtre
with The Usual Suspects, called for by longtime wine buddy, Jojo Madrid. There seems to be a lull this morning, so I take the opportunity to quickly write up some notes.
Most of the guys were already there when I arrived (we were 7 in all), already making headway into a bottle of
2006 Deux Montille Meursault 1er Cru Charmes
- from J-Lab; no photo, unfortunately. Initially showing off more of Chablis-reminiscent white minerality and fresh, well-focused, crisp apple & citrus; it later on fleshed and rounded out showing moderate butter and hints of nuttiness in a comparatively fleshier, riper, creamier mid-palate. A readily pleasing Meursault.
We then belatedly moved to the
Champagne Delamotte Blanc de Blancs NV
- one of the several I picked up from Jojo's
Premium Wine Exchange
. I've been going through a lot of this notably balanced, fresh, clean, lively, and pure non-vintage blanc de blancs over the past few months (as well as the vintage 2002 blanc de blancs and the basic brut NV). White flowers, precisely ripe fruit, and subtle white minerality make for a solid performance from attack to finish make this my go-to non-vintage blanc de blancs these days. At P4500/bottle full retail, I don't know of a better deal for a locally available non-vintage blanc de blancs.
With the bubbly and white I had a nice
Salad of Greens, Lardons, Chèvre & Hard-Boiled Eggs
(para healthy).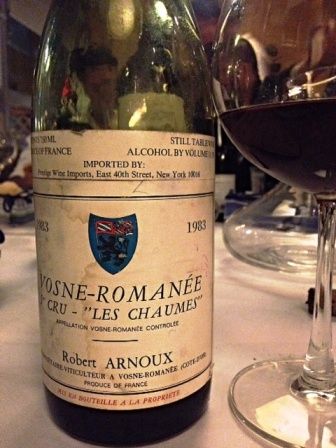 Alex, raring to go (as usual), quickly called for the reds to start pouring, so, upon Jojo's suggestion, we started with a couple of aged Burgundies, the first being the
1983 Domaine Robert Arnoux Vosne-Romanée 1er Cru Les Chaumes
- My bottle (decanted for approximately 45 minutes before serving). 1983 vintage Côte de Nuits generally takes prudent selection because of less than ideal weather then (Volnay and Pommard in the Côte de Beaune are generally more even), so it is better to stick to tried, tested, reliable makers - and Domaine Robert Arnoux is one of such producers in my book.
Deep, dark, medium-bodied, a slight over-ripeness/pruniness to the fruit, interwoven with loam, Burgundy decay, slight mushroom and sanguine notes. Slightly rustic texture. Freshness could have been better, in my opinion, but that is the vintage speaking I believe. J-Lab and Aaron both expressed admiration of its bouquet, the former noting that it smelled sweeter as it sat in glass. Drink up if you have any of this. I had also brought along a
1995 Château Grand Puy Lacoste
as a back-up, but, happily, there was no need for it.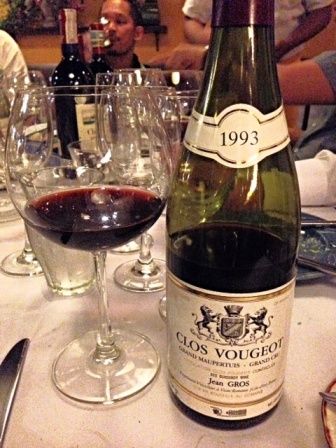 The next aged Burg was a
1993 Domaine Jean Gros Grand Cru Clos Vougeot "Grand Maupertuis"
- Jojo's bottle. Bigger-bodied and heftier than the preceding red, this was more cleanly ripe, showing better definition and focus as well. Notable typicity too. Its Burgundy decay just on the onset, no sanguine notes detected, this was fruitier/showed more red berries above darkly ripe plum. No rush with this, but it is already quite enjoyable.
Aaron and I had a soup course - an order each of Marc's signature
French Onion Soup
. Deeply flavored, lots of caramelization in the onion base as always, no trace of burning at all. Aaron and I agree that Champêtre serves the best French onion soup in the country. I've not had one better here, in any event.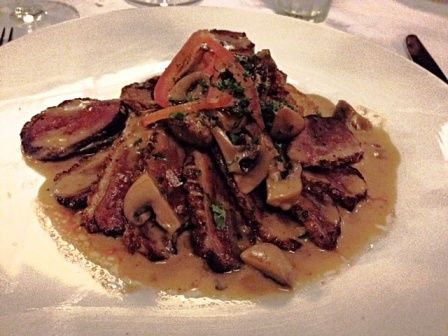 My main course: Roast Magret de Canard w/ Pan-Seared Foie Gras.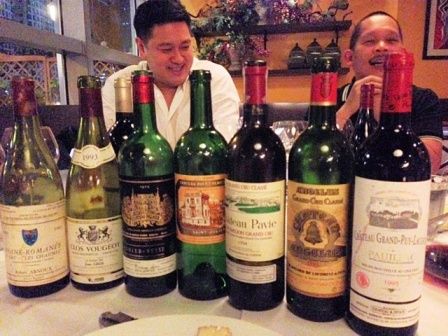 Several more reds were opened:
1975 Château Palmer
- Alex's bottle (a birth-year wine for him). In good form for a wine over 38 years from harvest. Slightly over medium-bodied, the bouquet on the shy side (unlike the bottle's owner), smooth, good typicity, slightly dusty, the middle could be more pronounced, but, that said, it was in good form, its red fruit (cherry and raspberry) showing nice bottle-age-sweetness over a serene, self-possessed asphalt/gravel, whisper of licorice, cedar and pipe tobacco touched blackcurrant base. Medium finish.
1995 Château Angelus
- Aaron's bottle. Big, decidedly full-bodied, stylish, strappingly youthful, broad, rich, luxuriously textured, with slight milk chocolate/mocha/vanilla in its ripe plum, cherry, raspberry, and crème de cassis underbelly. Easily and readily pleasing, this may gain in complexity after, I'd guess, 10 more years.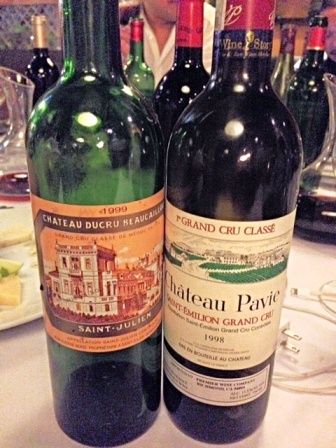 1998 Château Pavie
- Gani's bottle. Another modern, stylish crowd-pleaser of a St-Emilion, but even more modern, bigger, riper, with markedly more pronounced oak-related chocolate and vanilla notes in its indulgently rich fruit. Big, broad, long, yet comes off as more advanced than the older 1995 Angelus.
1999 Château Ducru-Beaucaillou
- Greg's bottle. Good, clean lines, with a slight minty topnote in its nose of cedar-touched gravelly cassis, slight licorice, and violet flowers. Its scents mirrored in the mouth, on a slightly over medium-bodied frame. I heard some, Aaron in particular, note its St-Julien typicity. Notable focus, definition, and balance. A classy performance from a fine specimen of vintage 1999. I'd say this will age gracefully for many, many more years, and would likely gain more complexity. In any event, I certainly wouldn't mind having more of this as-is.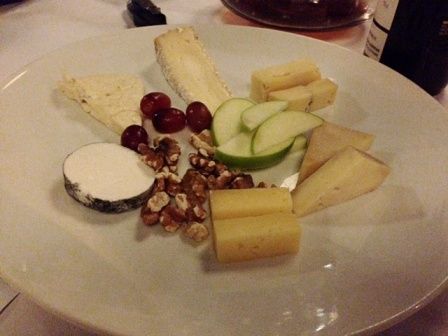 Three platters of assorted French cheese followed...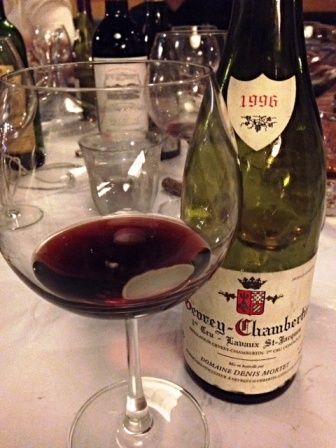 ...with which I enjoyed some
1996 Domaine Denis Mortet Gevrey-Chambertin 1er Cru Lavaux St-Jacques
- Jojo's bottle. Slightly rustic, decidedly masculine, this is a ruggedly handsome wine. Firm structure, vintage acidity there but not obtrusive. Discreet leather and warm asphalt line the black cherry, dark raspberry and plum, with of whispers of anise and black olive. Good freshness and balance; its balancing acidity appreciated with the cheese.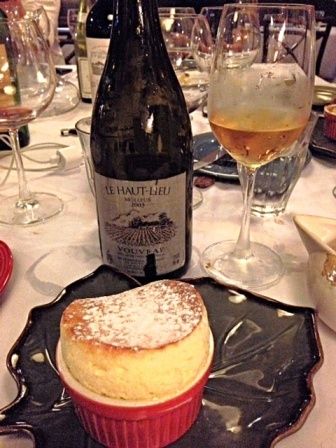 Only 4 of us ordered dessert, one each of the excellent
Grand Marnier Soufflé
, with which we enjoyed pours of
2003 Domaine Huet Le Haut Lieu Moelleux
- J-Lab's bottle. Bright, vivid, lively, palate-refreshing honeyed-and-spiced quince, peach, lemon. Squarely a wine for desserts, Huet's hallmark thrilling acidity a bit toned down compared to less hot vintages, true, but, for what it is, it is a very enoyable wine indeed.
Excellent evening, guys! Until the next!