Dinner of Thursday, the 27th February 2014, was one to bid OC, California-based wine buddy, Clem Nieto, bon voyage on his trip back home. Upon Alex's suggestion, we held it in the venerable, old
Tivoli of the Mandarin Oriental Manila
, catching the tail-end of visiting Michelin-starred chef, Richard Toix's, week-long stint there. We were six in all: Clem, Alex, J-Lab, Sanju, Apa, and I.
Mandarin Oriental Manila's ever-charming Director of Communications, Charisse Chuidian, kindly made our reservations for us; and dapper F&B Director, Peter Pysk, took great care of everyone, to the extent of personally managing our bottles' chilling, decanting, service, and recommending the sequence for pairing with Chef Toix's special dégustation menu.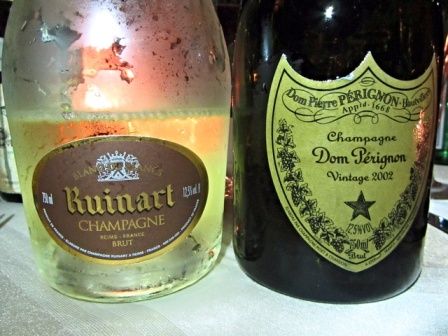 We started off with a couple of champagnes:
Ruinart Blanc de Blancs Brut NV
- Sanju's bottle. Notable freshness, focus, vibrancy, and purity of fruit in this - green apple (mainly) and citrus. Healthy acidity makes this quite bright on the palate. Some time warming down in the glass added the needed bit of heft/body in the middle. I made a mental note to have this with some fresh oysters next time.
2002 Moët & Chandon Dom Pérignon
- Alex's bottle. I've gone through so many of these the past year or so. Though young, it is already extremely enjoyable. To my mind, DP really hit it out of the proverbial park in 2002 - wonderful balance, body, fruit, creaminess, everything. I was so disappointed when the 2002 vintage eventually disappeared from local shelves. Though, as earlier stated, I did buy a lot of these - they weren't enough; and, sadly, I simply couldn't keep my hands off them, and, so, drank them all. Unless some distributor here brings more in (I'm hoping, but not holding my breath), I'll just have to bring in my own from abroad.
Clem (with his bottles lined up) and Sanju listen intently to the description of the night's special dégustation menu, which all of us, save for Apa, went for.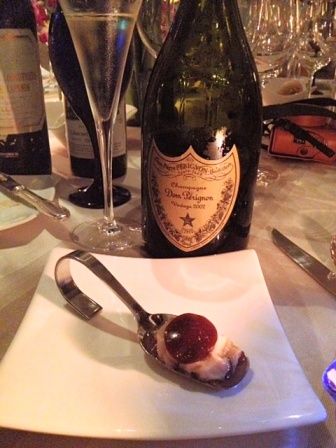 I continued with the 2002 Dom for the amuse bouche
of Oyster & Beetroot Jelly...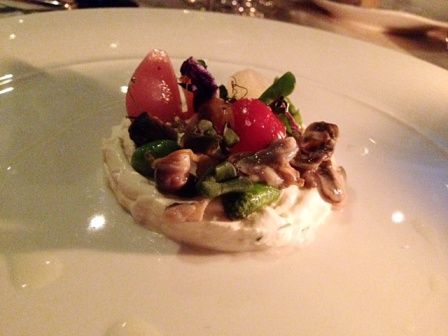 ...and the Chaud-Froid of Young Vegetables & Shellfish.
With the
Potato & Black Truffle Croustillant
, we moved to the
1996 Domaine Coche-Dury Puligny-Montrachet 1er Cru Les Enseignères
- Clem's bottle. My glass of this had been sitting/warming for quite a while before I got to it with this dish, though I did give it an initial sniff and sip after it was first poured (I, typically, have always proceeded much more slowly with my meals/wines than most everyone else - which most always holds everyone else up during evaluative blind tastings - but that's how it is).
Indulgent on the palate, but with proper progression from attack to finish, good crescendo, fine middle, a refined, polished, complete white. Everything is properly in place here. Slightly honeyed/spiced ripe/baked apple, ripe pear, bit of peach, little yellow apricot past mid-mouth, the butter note emerges in the middle and follows neatly through the finish. Remarkable balance, the acidity kept everything interesting - no flabbiness here. Lovely, lovely wine.
With the same white, I continued with the sweetishly-savory
Chestnut Velouté
. J-Lab felt this cream-enriched soup course was too sweet for the wine, but I felt that its richness and ripeness, together with its acid balance made for a good, though admittedly particularly indulgent "running-with-the-ball" pairing.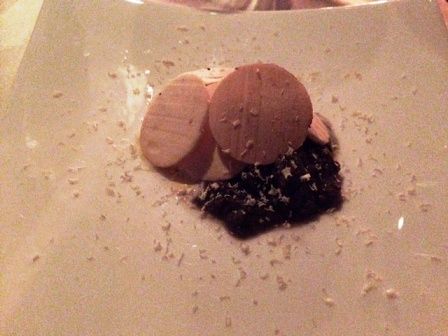 Remise en bouche: Mushroom, Bacon Ice Cream, White Chocolate.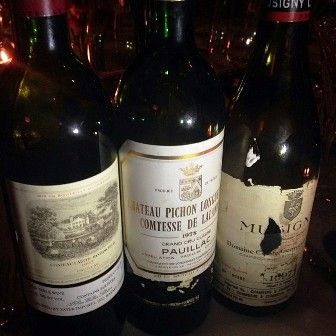 The night's reds (photo by Sanju)...
...all meticulously decanted and served by Peter Pysk.
Served first was
1978 Château Pichon Longueville Comtesse de Lalande
- My bottle. This was a particularly expressive, masculine bottle, presenting a confident bouquet and flavors of typical, warm gravel, pencil lead shavings, mushrooms, dark fruit, and cedar. Meaty, almost (but not quite) chewy mouthfeel, soft, mellower on the palate than in the nose. Over-all, it could have had better focus, but that's picking nits - this was a fine aged Pauillac. I've had very many of this vintage, and this was a very good specimen - one of the better ones, really - but was, to me, overshadowed by the two other reds.
1997 Domaine Comte Georges de Vogüé Grand Cru Musigny
- Alex's bottle. Oh my, but this was a beauty from the get-go. Ripe and ready, precocious at a mere 16+ years from harvest, it presented a fresh, perfumed nose of sweetly-ripe dark berries, whispers of
sous bois
and truffles, dark flowers - no Burgundy decay (yet) detected - but, then, this is but a teenager - and I imagine that will develop eventually. Lovely texture, youthful, nonchalantly sexy curves. Though acidity is a bit lowish for me, it is extremely difficult not to gush over this wine. Unanimously and almost immediately proclaimed the wine of the night. Will it age gracefully over the next, say, 20-25 years? Maybe, I think so, but, if I had any of these of my own right now, it would be virtually impossible to keep my hands off them.
The main course was
Nori Crusted Lamb Loin
. This is the first time I had a
nori
-encrusted lamb dish, and its flavor was quite evident - a bit strange to me at first, but it grew on me. More interesting than anything, but, then, at this stage, I am quite set in my ways. I liked it, but, for meals such as this, I'd stick to the "usual" herb crust - but that's just me.
1995 Château Lafite Rothschild
- Clem's bottle, one he generously decided to bring to share when I much earlier mentioned that, of vintage 1995's 1855 classified first growths, Lafite Rothschild's was the only one I hadn't had yet.
Muchisimas gracias
, Don Clem. Definitely still young, but this shows its pedigree - a patrician red, it is a few notches over medium-bodied, but presenting an elegant, self-possessed character. Minty topnote to its properly reserved, fresh nose of dark berries, violets, and cedar; it is still primary, but remarkable depth, harmony, and balance are pretty obviously there. It is a "total package" to me, albeit a youthful one. Already lovely, but will definitely improve through many years in the future. A keeper, for sure.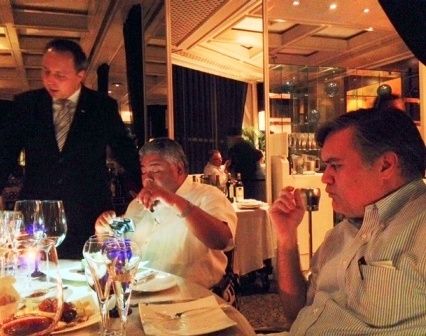 J-Lab as cameraman & lightsman all at once.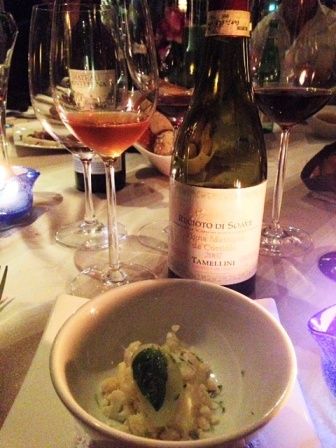 With the pre-dessert Cauliflower-Basil Sorbet...
...and the dessert course proper, Chef Toix's spin on
Black Forest
, we had glasses of
2007 Tamellini Recioto di Soave Vigna Marogne de Costiola
- J-Lab's bottle. Moderately intense/sweet, light-footed, this was a neat, sweet white showing honeyed sultanas, preserved golden apricots, and a mild, underlying suggestion of orange rind. Good acid balance. The acidity keeps things fresh and light. Very charming wine.
Meanwhile, Peter had joined us for some glasses of the reds, and discussed each dish with Sanju. In the foreground, on the right, are two more bottles of red that were handed suspended sentences: Clem's
2001 Guigal Côte Rôtie La Landonne
& my
1985 Chateau Montelena Estate Cabernet Sauvignon
.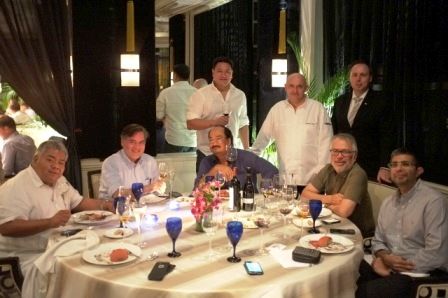 Cheers! Us with visiting Chef Richard Toix & Mandarin Oriental
Manila's F&B Director, Peter Pysk (photo from Apa).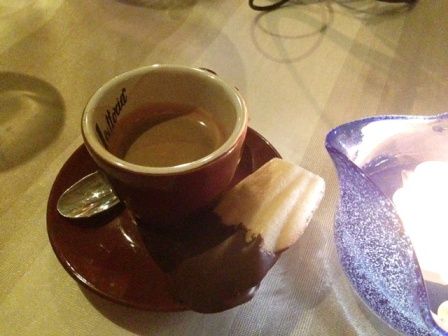 However, after my usual post-dinner espresso...
...Clem offered up a closing bubbly:
2002 Champagne Philipponnat Clos des Goisses Brut
- Laser-focused, steely lines of bracingly vibrant, white grapefruit and citrus. Edgy, racy acidity, this may have fleshed out and gained heft had we allowed it some time, but the toasts were quick as we hurried downstairs to
Martinis
to catch the sets of...
...The Blue Rats...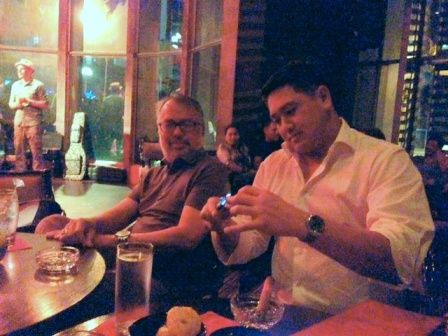 ...while enjoying some stiffer drinks and Cuban cigars.
I was also able to catch up with longtime buddy, Johnny Besa, in between sets (Johnny plays the bass, and, occasionally does back-up and lead vocals for certain songs), over some doubles of Macallan 12-year old single malt.
Thereafter, during the final set, upon Alex's "persistent suggestions", we moved to
Kipling's
(the hotel's whisky and cigar bar) for more single malt (from Alex's stash there), cigars, and stories shared. I don't recall what time we finally called it a night, but I got home past 2am. It was a great night, certainly a lot of fun, and, if I may say so, a fine and fitting send-off for Clem. Until the next!