February the past several years has been marked by California-based fellow wino's, Clem Nieto's, annual visit to Manila. This time, Clem had only 2 successive free nights in Metro Manila, so some of us Usual Suspects made sure to have dinner with him both those nights; the first one, the 25th February 2016, being at Miguel & Tinchu's
Bar Pintxos, Tapas y Más
(which everyone just calls "Pintxos").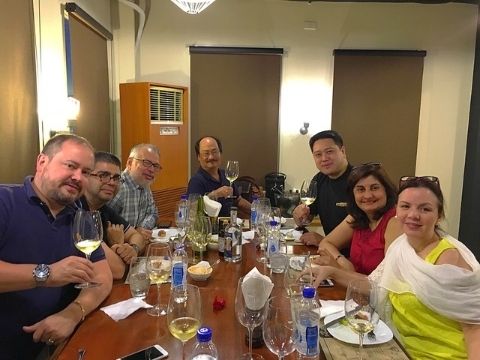 L-R: Rene, Sanju, Clem, me, Alex, Cutie, & Catha.
For purposes of efficient drinking, we started early at 6pm; kicking the early evening off, as usual, with a couple of bottles of Ayala champagne, both courtesy of Alex:
NV Champagne Ayala Blanc de Blancs
(no photo, unfortunately) - Edgy, nervy, appetizingly dry, racy; a rather linear, light-bodied champagne dominated by notably pure, keenly focused green apple & citrus, infused with a Chablis-esque white minerality.
2002 Champagne Ayala Cuvée Perle de Ayala Brut
- Similarly pure, focused, crisp, vibrant and racy as the immediately above mentioned NV Blanc de Blancs, but obviously heftier, creamier, with more of a pronounced middle, creamier texture, and added notes of nuts and brioche.
Both bubblies were enjoyed with the first few pintxos of: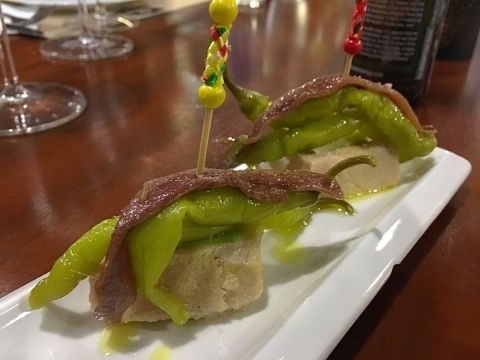 Fresh Tuna, Guindillas & Anchovy.
As we know Clem prefers lighter seafood dishes over heavier meat-based fare, almost the entire menu revolved around seafood.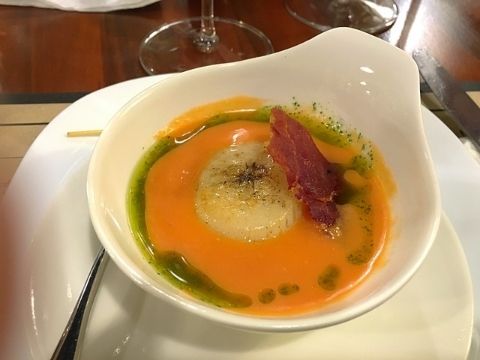 Salmorejo with Scallop & Crisped Jamón Accent.
By then, a few of us had started on Alex's bottle of
2008 J-M Brocard Chablis Premier Cru Montée de Tonnerre
which presented good freshness in its cold limestone & seashell laced green apple and Korean pear. A shade or two lighter than medium-bodied, with a nice roundness to the fruit.
Next was a platter of Miguel's more recent creations: Pintxos of Boquerónes, Uni (flown in fresh from Japan) & Caviar.
Clem then opened and shared his bottle of
2002 Champagne Piper-Heidieck Cuvée Rare
- A broader, more expansive, riper style of bubbly compared to the two previous Ayalas, featuring creamy, softly-baked apples and pears with a touch of almond paste. Good complexity and heft. This went very nicely with the following heftier...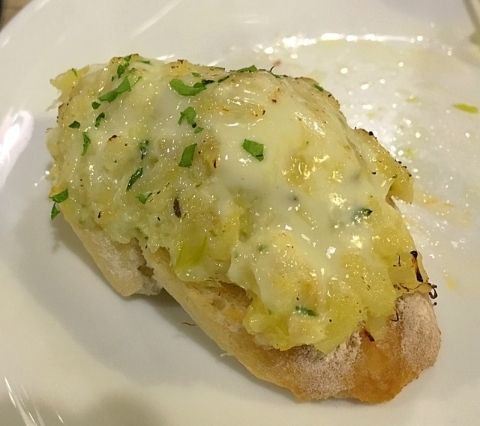 ...Pintxo de Bacalao con Crema de Ajo, and...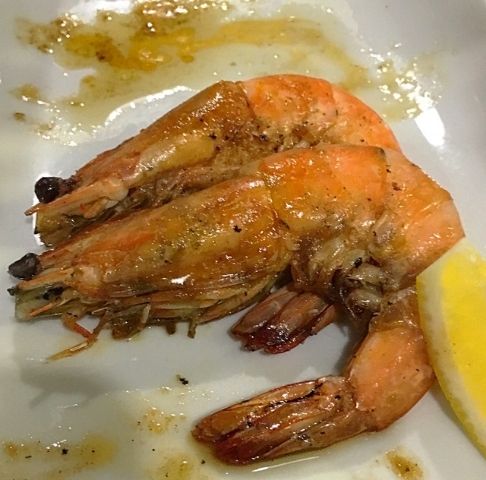 ...Gambas a la Plancha.
The
Besugo a la Oriotarra
bears special mention - a recipe taught to Miguel by our Basque friend, Javi Lecumberri (a.k.a., Xabi Lekunberri), who hails from San Sebastián. The fresh besugo is cooked in the style of Orio, a fishing village a short drive west (following the coastline) from San Sebastián (towards Getaria), its western perimeter on the river Oria. Incredibly succulent, moist, gently laced with olive oil, a bit of cooked vinegar, garlic and a bit of chili. Simplicity at its best. Loved it.
Moving on to more substantial fare, we had a few orders of
Huevos Estrellados con Patatas y Chistorra
. This is one of the typical comfort dishes I favor in Bar Pintxos...
...and it went great with the delicious bottles of
Russian River Blind Pig IPA
that Clem brought along.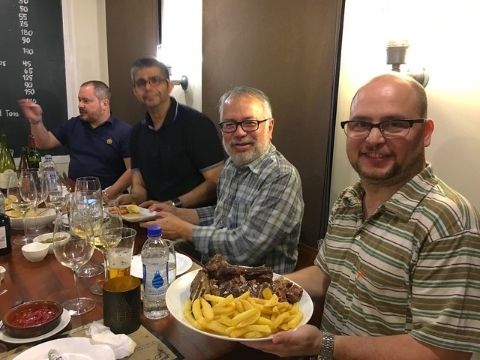 Bar Pintxos partner, Tinchu, proudly serves...
...one of two huge dry-aged
Chuletónes
, served, as is traditional, with sides of fries and confited piquillo peppers. The beef was from
Carnicería Asensio
in San Sebastián, flown in for us by Xavi during his previous trip to Manila.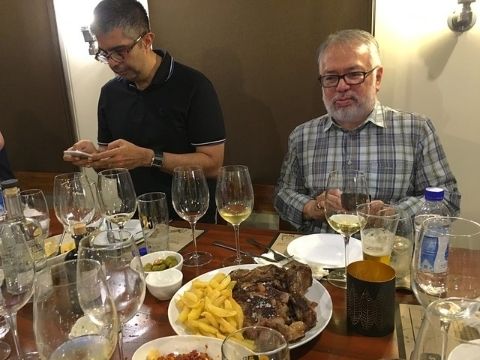 Clem looks a bit intimidated by the chuletón's size.
With the hearty beef course, we had some
2003 Bodegas López de Heredia Viña Tondonia Reserva
(care of yours truly) - Notable riper, denser, lusher in fruit and fuller in body than the usual Viña Tondonia, the unusually hot vintage weather is obvious indeed. It is still quite primary, with just the merest hints of balsamico and the producer's distinctive oxidative style, but, to my mind, already enjoyable with a big, juicy steak.
I note that many other producers went a bit wild in oak exposure in this vintage (maybe because they figured the fruit could take it), but, in López de Heredia's case, it maintained its judiciousness as far as oak goes.
Meanwhile, Sanju had already opened his bottle of
Sipsmith London Dry Gin
, with which we had as many Gin-Tonics as the bottle allowed. I also shared a bottle of
Monkey 47 Gin
, but I forgot to take a photograph of it. Both bottles were gone by the evening's end.
The gang with chef-patrón Miguel (4th from right). ¡Salud!
Dinner done, we refused to call it a night; so, 5 of us intrepid imbibers made our way back to Alex's place (very near where Clem, Sanju & Cutie stay) for some Cuban cigars, cognac, single malts & more gin-tonics. I vaguely recall Clem got pretty smashed, so I made sure to get him back to his place before 2am (barely), so he could recuperate well for the following dinner.
Great night; great to see Clem again. Until the next (night)!