Since my blackberry recently and suddenly crashed, I lost the exact dates of when I had many of these bottles. All I recall is that, unless otherwise indicated, they were all during the period of November to December '07.
1999 Grand Cru Charmes Chambertin by Domaine Taupenot-Merme
- Sometime in late December 2007. At my acquisition price of just under $90, it would be difficult, in my opinion, to find a better Charmes Chamberin from '99. Though only 8 years from vintage, it is already exhibiting its bouquet of age - a forshadowing of even better things to come, I'd say: deep, darkish pinot noir fruit primaries very discreetly and intricately laced with well integrated oak/vanilla and seductive earthy/truffle notes.
In the mouth, what I recall best is its luxurious texture, a relatively full Burg but lithe, not heavy at all. Superior balance and purity. Focus and length were adequate, could be better; but, over-all (considering its price) I was very happy with it and would recommend it in a trice.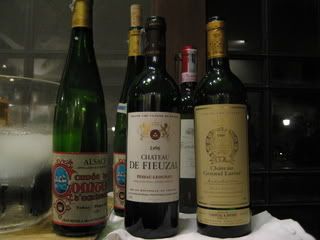 1995 Gruaud Larose
- Early December 2007. Bottle from budding collector Santi Araneta during a dinner at my place. This was at least the 6th time I have had this wine in the past 5 months. Very nice, typical Gruaud Larose: warm, earthy, comforting, dark fruit/cassis with touches of pure ripe red fruit, merest hints of licorice. Marginally, yet noticeably softer' less minerality and less bold than the '96 (the vintage of course), superior balance/harmony. "Classy" performance. At its price, again, very difficult to beat for a fine 2nd growth.
1996 de Fieuzal
- During the same dinner immediately above-mentioned, my place. A pristine bottle (the last one I opened a month before was musty and tired, though still drinkable). Already a lot of bottle-age sweetness to this medium-bordering-on-full-bodied, ripe, red currant-and-kirsch-laced, cassis/tar/earth dominant wine with finely knit, with a vaguely smoky, sweetish roasted herbs and cedar surfacing mid-mouth and following through on the finish. Edouard particularly favored this wine during said dinner.
Gruaud Larose Dinner:
November 8th, 2007 at RED, the continental restaurant of the Shangri-La Hotel, Makati, with the château's representative, David Launay, as a special guest. I misplaced my old notes and came across them only today.
2000 Larose de Gruaud
- Not the second wine Sarget, a different one, exactly how is unclear to me. I've seen it available in the US for around $32 more-or-less. Though it is a decent red, charming enough, quaffable, considering you can get the '95/'96 grand vin at only around $50 more-or-less if you search properly, I see no reason to purchase this.
1995 Gruaud Larose
- Notes consistent with those above. Second best of the evening after the '89.
1989 Gruaud Larose
- My favorite wine of the evening. Mature, with hallmark earthiness to its lightly truffled, bottle age-sweetened cassis, fig, minerals, hint of tobacco, mild cedar layers. Understated and elegant. Nothing like the monstrously generous and ripe '90, and, all the better for it in my opinion.
I told David Launay that I liked the '89 much more than the '90 (elegant and refined rather than boisterously hedonistic), opining that it is very easy to see, though, that RP and those with so-called "California palates" would prefer the '90 over the '89.
1998 Gruaud Larose
- Not an interesting wine, comparatively diluted, green and disjointed. I took only a few small sips and set it aside. I noticed Edouard, Sevrine, the Doc, the Stockbroker and my wife left a lot in the glass as well. Perhaps it was aerated too long and fell apart? I'll try this again soon to re-validate.
2001 Gruaud Larose
- This must have been decanted for at least 2 hours prior to serving as I recall the last few bottles of this I opened from 2006 to early 2007 (just for snapshots) were just too tough and unyielding (though with good ripeness to its fruit) with aggressive tar and licorice and healthy minerality.
Be it as it may, this bottle was much more approachable than my previous ones. I believe it will grow up well and come into its own in around 4-5 more years.
Since they were pouring the '95 and '89 liberally, the Grand Crew's glasses of the '01 also, like the '98, remained barely touched.
1985 Palmer
- From my good friend, Franck Alby, whose son-in-law's family are still shareholders in Palmer. I recall that, for a time, Edouard's family were also minority shareholders in this chateau.A serene wine, wearing its 22 years very well, supple and refined on the palate, medium-bodied silk of seamlessly woven plum, cassis with a bit of red cherry, laced by discreet, earthy dark spice and a whisper of sweet camphor. Very elegant. The
1997 La Mondotte
I brought to dinner seemed pedestrian and ham-handed in comparison.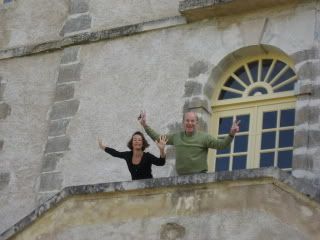 This bottle was all the more memorable since it was the last dinner Franck tendered for us in his Philippine residence (early-to-mid September 2007) before he moved to Dijon beginning October.Wine dinners in Manila will not be the same without him and his most charming wife, Françoise. They are dearly missed.
1989 Lynch Bages
- This was the second bottle of this wine Edouard and I enjoyed that week, and probably the most pristine and youthful '89 Lynch Bages I have ever enjoyed. This bottle was from Pierre Barberis, during the above-mentioned dinner at the Alby's.
A study on how great a well-kept Pauillac can be, this still youthful looking/tasting, sleekly muscular 18-year-old has near perfect balance in its hallmark fine mineral-infused cassis/dark fruit/violets, graphite nuances with alluringly hints of earth and fleeting leather. Power and elegance reminiscent, to me, of Latour.
Excellent.
1996 Rauzan Ségla
- Mid-December 2007, at Elbert's Steak House for dinner with my wife and the Villadolids from San Francisco. What struck me most about this fine Margaux was its mouthfeel: so smooth, seamless, flexible and vibrant mid-palate, I kept holding it there much longer than politely possible, enjoying the layers of well-extracted (yet not over-the-top), well-rounded, sweetish, small red berry/ripe cherry over cassis, dark plum and cedar undertones. I kept thinking of dark violet flowers at its finish. Exceptional balance and harmony, with good depth. A fine wine indeed, one I will definitely buy more of.
Extremely better than when I tested it out it last in mid-to-late 2000, when it was hard, angular and wholly unenjoyable. A little over 7 more years 0f bottle-age did it wonders.