Mrs. Doc's *cough*th birthday and my wife's and my 16th wedding anniversary celebration was held last Friday, 6th January, at Pepato, a heavily Italian-influenced continental restaurant favored by our group. As Mrs. Doc and my wife are close, aside from being first cousins, the Doc and I organized a joint dinner party in their honor.




It was the Grand Crew and wives, plus the Doc's cousin and his wife, so we were 10 in all.

With assorted appetizers of lightly battered tempura squash flowers, roasted bone marrow and bruschetta topped with baby arugula and small, fresh Italian tomatoes:

2000 Weinbach Gewürztraminer Grand Cru Furstentum Vendages Tardives (Magnum) - From the Doc. Perfumed, honeyed lychee and peach bouquet exquisitely laced with sweet spices and scents of jasmine and roses. Absolutely graceful in the mouth, the flavors, holding true to its bouquet, fell in delicate layers with added whispers of alluring orange rind-bitterness and petrol towards the back. Excellent balance of its botrytis sweetness/tanginess and bracing acid.

Everyone raved over this Alsacien nectar, even Edouard, and that's saying a lot.

I have a bottle of the 2004 version of this wine sleeping in my wine keep, a gift from Catherine Faller. I hope it grows up like the 2000.

With rare-to-medium-rare rib-eye steaks cooked alla Fiorentina, with sides of potato wedges, rock salt and tender zucchini strips:

1995 Château Cheval Blanc (Magnum) - My bottle, kept upright 12 hours before, opened at 5pm just to check as the cork was protruding ever so slightly. It smelled fine so I just re-corked it for later. I had mentioned the slight protrusion to the Stockbroker the day before and he assured me it should be fine since magnums are generally sturdier.

This was an elegant wine. Neither flambuoyant nor overly showy, this was not a "blockbuster" by any means...but that is a good thing for me. It is more of a contemplative wine, one I had to pay attention to to unravel its virtues.

Silken, seamless black cherry, cassis, violets and a bit of raspberry, discreetly underpinned by rounded dark plum and merest whispers of clove, espresso and sweet cedar. Lovely.

1995 Château Calon Ségur (Magnum) - From the Doc. He had to remind me that he had opened a bottle (750ml) of this a few months earlier before I could properly recall that warm, comforting, medium-bodied, mildly earthy/truffled, leathery, cassis/small red berry/iron laced, slightly smoky cedar bottle of his.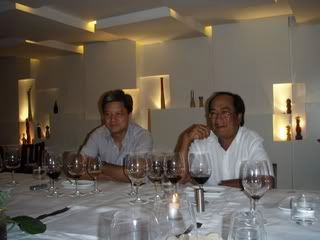 This time, the wine was quite reticent, reluctantly giving up hints of cassis wrapped in a mild chemical scent reminiscent of unripe green pepper and plastic. The Doc whispered to me that he thought the mag was corked. Edouard agreed with the Doc. The Stockbroker said it was apparent in the nose but not in the mouth.



Honestly, I think the bottle was slightly off, it certainly didn't taste like the previous one, but I do not think it was TCA-infected. My first thought was that it was definitely closed, yet there was no escaping that bothersome chemical element which I detected even in the mouth as I revisited the wine later that evening.

1986 Château Pichon Lalande - From Edouard. My old notes revealed that I last had this wine sometime in July 2000 and found it to be atypically hard and the most masculinely austere Pichon Lalande I had ever tried. This bottle had the same character, decidedly masculine, austere with more dominant earthy,leathery notes than I have ever encountered in PL.

It wasn't hard like the one over 7 years ago, but it definitely could not be characterized as feminine and graceful like the typical PL. The Stockbroker said it was because 1986s are generally more austere and muscular - a vintage thing.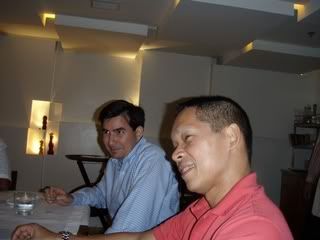 He's most probably correct. A comparison with '85 and '89 (which I found to be comparatively less feminine PLs) flashed in my mind, but those were still a lot lusher and nowhere near as austere as the '86.

Don't get me wrong, though, I liked the '86 a lot and greatly appreciate the chance to re-try it. I'm just a bit amazed how far removed its character is from all the other vintages I have tried. Wine is truly a wondrously, mysterious thing.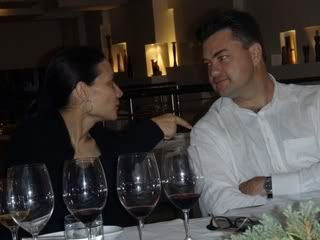 With a delectable cheese plate paired with various fruit compotes:




1997 Château Guiraud - My bottle. Dark, burnished bronze-gold, light-heavyweight Sauternes with forward, generous, yet well-focused and balanced, typical sweetly bortytised apricot-dominant, orange marmalade, candied orange rind, slight dark caramel with beurre noisette nuances towards the end.

On the whole, I thought it was a wonderful evening. How better to celebrate such occasions than with good friends and family?