Having missed celebrating the Vigneron's birthday due to his month-long working trip in Bordeaux, Madame Vigneron held a belated birthday dinner with the regular wine group this past Saturday, the 18th October. The usual cast of characters were in attendance: our hosts, my wife and I, Mr. & Mrs. Doc, the Stockbroker sans the Mrs. as she was at a function of her alma mater, and Mr. & Mrs. Powers.
The only ones coming from the south, we were the last to arrive, greeted by smiling friends, glasses of chilled, crisp champagne to go with some pica-picas. After having played 18 holes without riding a cart, and skipping lunch at that, I was ravenous and killed around a quarter of the serving dish of mildly spicy fish appetizer with some toasted bread.
Were eventually seated for dinner, typically French-style, with nobody seated beside his or her spouse; I between the Stockbroker and Mrs. Powers. I've gotten used to this manner of dinner seating and quite, honestly, emulate it during dinners at home. It certainly promotes more mingling and encourages more varied, lively discussions.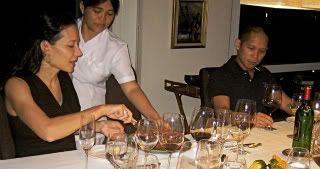 With multiple helpings (for me, anyway) of nicely savory salmon crêpes, a nice white premier cru from Burgundy. I was very happy to see this being served. I went very easy on the champagne for fear of getting hit too fast, so my mouth still yearned for some cool, refreshing white.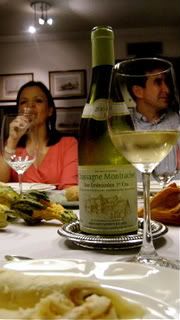 2004 Bernard Morey et Fils Chassagne Montrachet Premier Cru Les Embrazées
- The first thing I noticed was the name of the premier cru "Les Embrazées". Although I've had Bernard Morey's wines before, I'm not familiar with this particular premier cru (though Edouard said I'd tried it before) - not that I pretend to be any kind of Chassagne-expert. In any event, I find a lot of finesse, focus and definition in this particular wine reminiscent of Puligny Montrachet (as compared to usually heftier, richer-fruited, often biscuity Chassagne Montrachet). I imagine I could have very easily mistaken it for a P-M if tasted blind.
I'd have to try more of Les Embrazées from different makers and vintages to make an educated guess as to whether this is really the particular vineyards, and/or the vintage that reminds me of P-M. I don't think it's the maker's style as I've had their wines before. At this point, it's still young and probably will flesh out more into a more typical C-M, as I know it anyway.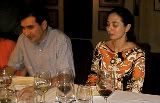 In any event, with virtually no breathing time, it is a dry, light-footed, graceful wine that displays well focused apple and pear (just the merest touch of baked aspect) and a faint nuance of lemon, refined/moderate minerality. Not at all masculine like a Morgeots, yet not quite as feminine as Caillerets. Not sweetly fruited like Les Chaumées. Very intriguing. Definitely worth digging deeper into. Very nice pairing with the salmon as there was judicious use of cream, with the crêpe adding a nice sweetish touch.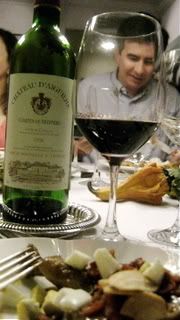 With the main course of Chicken Curry and a plethora of condiments (chopped, boiled egg, crumbled bacon, excellent mango chutney, etc.), a
"mystery wine"
from Madame Vigneron: Very ripe, truffled black cherry/kirsch/black fruit base and somewhat smoky cedar aromas; mirrored on the palate with baked fig and espresso nuances and lots of chocolate and vanilla/oak, all in an indulgently super-ripe and extracted, modern, fullish body. Extremely forward, wantonly sexy.
Off the bat, without taking proper time to think things through, mainly because of the gobs of chocolate, I hastily mis-identified it was a wine from Branaire-Ducru. I usually am more circumspect than that, but, there you go - an illustrative case of the mouth not being properly connected to the brain, talking without thinking things through. The red fruit and cherry dominance, coupled with the chocolate and espresso should have tipped me off to a merlot-dominant wine from the right bank. Instead, I second-guessed myself and assumed our Bordelaise hosts would serve only Médocs...that, plus lots of chocolate made me say "Branaire Ducru".
Be it as it may, it is a crowd-pleaser-styled wine which is very accessible and easy to appreciate. Madame Vigneron revealed it to be one of her excellent value finds at The Wine Club at a very reasonable under-P2000 per bottle.
It turned out to be the
1998 Château d'Aguilhe from Côtes de Castillon.
~ oOo ~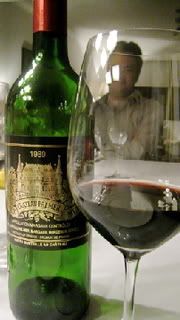 1989 Château Palmer
- What could we say? A generous treat for us all. The last one I had was a few years ago at Pepato with the Doc and Stockbroker, I bought it when it was "only" barely $14o per bottle. I'd be extremely lucky to find it at only double the price now. The Vigneron has tons of this stuff, as well as even more famous vintages thereof, both younger and older. I mentioned before that his family, years ago, were minority owners of Château Palmer; hence, their Château Siran's cellar has a lot of Palmer wines. In a shrewd transaction, he traded off with Palmer some of his famous old vintages for a lot of younger and equally famous vintages.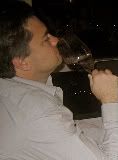 This bottle was much better than my last one. The Stockbroker remembered and agreed. Surely with impeccable provenance, it was fuller, more confident, vibrant, not tiring in the least.
Perfumed bouquet of violets, cassis, plum, sweetish-mildly smoky cedar, hint of licorice, merest whispers of earth and truffle. Properly poised and balanced, approaching full-bodiedness, lithely curved, very complex. Long, lingering finish with violets and faint licorice trailing.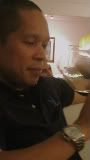 Wonderful. I certainly hope the Vigneron didn't bring more of this to Manila for the next Bordeaux Challenge. Anyway, just in case, I've filed it away in my memory; so, if he enters it - Bang! Last Place. Heh heh heh.
Kidding aside, this was incredible - a contemplative wine and equally one to enjoy for sheer pleasure - a rare balance - a treat for the eyes, nose, mouth and mind. Just look at these fellows taking it in. The pictures say it all.
Desserts, aside from the birthday cake, were Mrs. Doc's trademark plum cake (which I happen to love) and a rum cake (which happens to be one of my favorite cakes to have with espresso) brought by Mrs. Powers.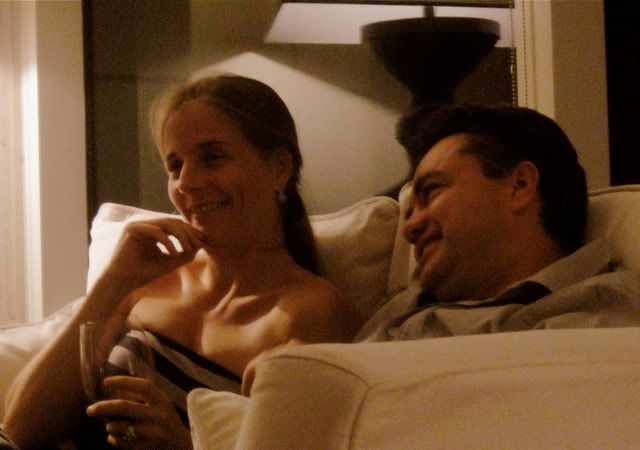 Unfortunately, the Doc was, yet again, called to the hospital so he had to leave early. The rest of us proceeded to the living area and continued chatting. The evening didn't last much longer, our hosts were tired and jet-lagged. So ended a nice, quiet dinner among friends.
Welcome back, my friend. And, again, happy birthday.