Another of the Stockbroker's "I'm supplying all the wine" lunches; and, again, I was lucky enough to be invited. Lunch this past Thursday was at, yes,
Je Suis Gourmand
once again. Including our generous host, we were 8 persons in all, the guests being: Bernd, Johnny R., JayLab, myself; and, the roses among the thorns: Madame Vigneron, Felicia and Laraine (the manager of Premium Wine Exchange, of which the Stockbroker is part-owner).
As always, the Stockbroker was hands-on, meticulous and precise in his wines' service - something I am always thankful for. Serving wine at improper temperature is a crying shame - good wines deserve proper respect.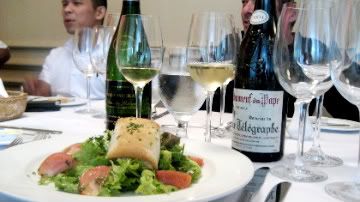 With my appetizer of
Crottin de Chauvignol
atop a nice simple salad:
2004 Domaine Sainte Anne Côtes du Rhône Blanc
- 100% viognier I was told. I've had minimal experience with viognier wine, the most at any one time during a lunch at
Le Wy
, the restaurant of the huge, then brand new, wine complex, La Winery in Arsac-en-Médoc (a very short drive from Margaux - especially the way the Vigneron drives his 5 series) last year where I had an all-viognier-pairing lunch. The food was good, but the four glasses of pairing viogniers I had were all too cloyingly/strangely peachy-sweet to me to be food friendly - I didn't even bother noting them down.
This particular wine was not anywhere near as sweet or cloying. At the outset, the Stockbroker told me he and JayLab noted some slight oxidation in it. After a couple of initial sniffs, there was, indeed a tinge of varnish/nailpolish remover to its floral, peach nose (indicative of
ethyl acetate
due to contamination of
acetobacter spp.
, and, possibly, other bacteria, during the winemaking process) - quite noticeable, but not quite aggressive enough to be unpleasant. On the contrary, I thought it added a bit of interesting character to the wine and drank my glass down.
Initially, the nail polish was slight on the nose, not readily apparent mid-mouth, and came out more towards the back and finish. It faded a bit after some time in the glass though. Otherwise, it the wine was just slightly off-dry, with notes of peach, a hint of apricot and a whisper of pine.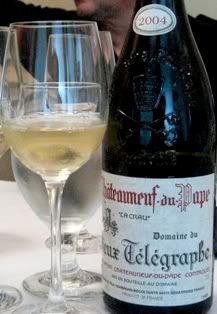 2004 Domaine du Vieux Télégraphe Châteauneuf-du-Pape Blanc "La Crau"
- I recall Johnny R, the Stockbroker and JayLab wondering why this wine looked much older than the preceeding one. I wondered the same thing so did some checking later on and found out it's made up mainly of clairette grapes (which produce wines that mature fast and should be consumed young) - hence, most probably, its advanced appearance.
In the mouth, however, it was fresher and had a distinctly more minerally (slate?) character. There was obvious oak treatment and notably more heft/breadth as well. Pleasantly ripe, slightly sweetish stone fruit base, some white peach, healthy extraction. Nice. With its comparatively drier, more minerally character, it matched marginally better with my
Crottin de Chauvignol
than did the previously discussed wine.
~ oOo ~
First Flight
With my nice, earthy, wine-friendly dish of
Goose Leg Confit atop Mushrooms with Baby Potatoes
(sauce on the side please):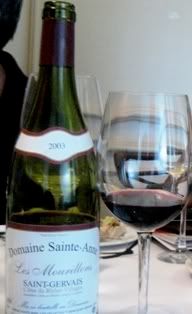 2003 Domaine Sainte Anne Côtes du Rhône Villages Saint-Gervais "Les Mourillons"
- I told the Stockbroker I'd had this before from him before at
Blind Non-Bordeaux Challenge III
, but, after checking, found out that it was the 2001 version, not the 2003 that he brought. My mistake. My notes on the 2001 were:
Wine#2 - comparatively mute nose, profiles of dark red fruit, slight raisin,
nicely hefty mid-palate, quite tannic, a bit of a drying finish. On the low side
of full-bodied.I ranked it 3rd best.It turned out to be the Stockbroker's 2001
Domaine Sainte-Anne "Les Mourilons" Saint-Gervais Côtes du Rhône Villages.
The 2003 was of medium weight, very ripely/sweetly fruited (dark raspberry dominant with red cherry, blackberry and cassis), a bit hot (i.e., alcoholic), a slight topnote of tin, mildly peppery and minerally, with mild anise and slight camphor notes. Very vintage expressive.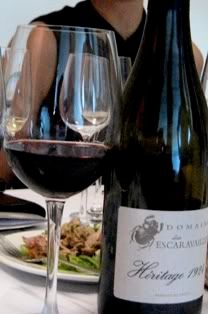 2005 Domaine des Escaravailles "Heritage 1924"
- The word "escaravailles" is the Occitan (a language spoken in the Val d'Aran in Catalonia) plural for "beetle" (similar to the French "scarabée", or, in English, "scarab"). The domaine's name comes from the nickname given to the 17th century landowner-priest who always wore long black robes. That explains the beetle prominently depicted on the label.
From Rasteau (in Southern Rhône, northeast of Châteauneuf-du-Pape) that uses a lot of grenache and is famous for its chocolatey, fortifide
vin doux naturel
. Peppery, minerally, ripe, fruity - mostly cherries, red currant and raspberry, then blackberry, kirsch, chocolate, a hefty dose of anise (much more pronounced than in the Mourillons). Youthfully alcoholic, tannins unresolved. Fruit seemed deeper-veined than the previous wine, body fuller and noticeably heftier as well. Feels modern to me, but that could be the vintage.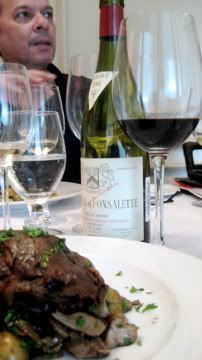 2001 Château de Fonsalette Côtes du Rhône Reservée
- From the same family that owns and runs the legendary Château Rayas, apparently (I picked that up from
JayLab's notes on the same lunch
, obsessed-note taker that he is). 2001 (as well as 1998) was generally an exceptional vintage for the Rhône. Personally, I find that the 2001s drinking earlier and, therefore, currently more approachable/enjoyable than the 1998s (e.g., Domaine du Pegau's Châteauneuf-du-Pape Cuvée Laurence).
At the outset, Felicia noted pronounced "tar" on the nose. I heard someone else (I don't recall who) saying that its aroma is reminiscent of Graves. I agree, definitely prominent in the nose are black gravel and asphalt. Garrigue as well.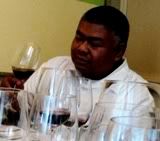 My handwritten notes are short and definitive: fresh asphalt, pepper, slightly pruney, cherry, blackberry, cassis, dried herbs. Best in the mouth so far, smooth, with added violets, plum, kirsch and black coffee...long cherry/raspberry/violet finish. Very expressive. Without doubt, this was the red of the day for me.
~ oOo ~
Second Flight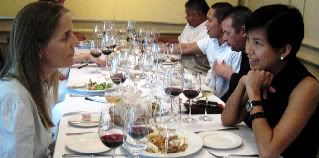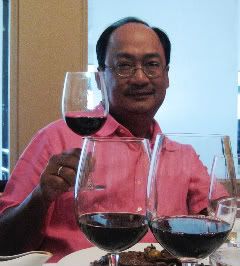 1998 Clos du Mont Olivet Châteauneuf-du-Pape "Cuvée du Papet"
- I, unfortunately, forgot to take a picture of the bottle. Fortunately, Johnny R. took a picture of me holding up a glass of the subject wine - so that will have to suffice. No autographs please.
Slight iodine on the otherwise nice, earthy bouquet of dried Provençal herbs (thyme, sage and rosemary detected). Richly extracted, deeply veined red fruit, kirsch, moderate anise, tobacco, nuance of cough drop, a bit medicinal, quite minerally, wood could use more integration.
Good structure and more than decent balance. Well-crafted but found the Fonsalette far too hard an act to follow.
1998 Château de Saint Cosme Gigondas "Valbelle"
- I and the Doc had this a couple of years ago from the Stockbroker during a dinner at Lili (the Chinese restaurant of the Hyatt Casino) with our wives. Unfortunately, I can't find any of my notes on it - that is, if I wrote any. I remember that night vividly because, at the early part of our dinner, this waitress spilled a glass of cold water on my right shoulder and, a bit later, spilled piping hot tea on the floor, missing Mrs. Doc's foot by a couple of inches.
Macerated cherries, cranberry, blackberry, a bit of dark raspberry and even blueberry, underlying mild pruniness, topnotes of sweetish wet tea leaf. Quite woody even 10 years after vintage (will that ever integrate sufficiently?). Surprisingly light-footed on the palate compared to the two previous wines.
The finish starts off well enough but the fruit puts on the brakes halfway through resulting in a drying, tannic finish. Comes off a bit simple and rustic compared to the last two wines.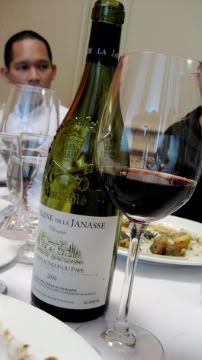 2000 Domaine de la Janasse "Chaupin" Châteauneuf-du-Pape
- Someone said it smelled like a New World wine. I seem to recall it was Johnny R.
I sniffed and there was readily apparent creamy oak on the nose (new oak used I believe, but not excessive) over peppery, sweetish, almost dried cherry, craisin, raspberry, cassis, dark spice, mild licorice and a touch of violets. These were mirrored on the palate with the craisins on the surface and the cassis as a base. Good length.
Over-all, yes, probably the most fruit-driven, low acid, modern, international-styled wine of the bunch. This is not necessarily a bad thing. As a matter of fact, it seems to be the style that delivers at blind tastings and garners high scores from some of the most influential preofessional reviewers.
Personally, I find it quite enjoyable enough - not intellectually - but hedonistically - and the occasional hedonistic indulgence never hurt anyone.
~ oOo ~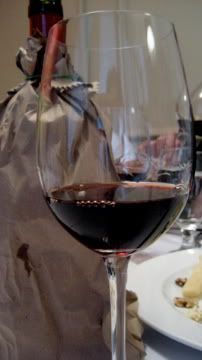 The Mystery Wine
- An extra-special and fun treat from the Stockbroker. I just love it when wine is served blind. Unfortunately, I always take a lot longer to identify a wine and everyone else wanted it revealed long before I felt comfortable enough to specifically identify what it was (i.e., year,
appellation
and maker).
A couple of us of us (JayLab, Madame Vigneron and I to my recollection) guessed it was Bordeaux because of the shape of the bottle. To me, it looked and tasted at least 30 years old - clear, medium-dark brick red turning lighter and taking on a red-orange blush towards the rim. I think it was Johnny R. that commented that it had the appearance of a red Burgundy.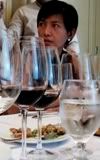 A soft and well-melded elixir on the palate with more red fruit/berry than black. Quite silky, it glided coolly across the palate. Lots of alluring bottle age sweetness. Cedar was mild, sweetish and finely integrated. Medium-bodied at best, no crescendos, but consistent and lovely.
JayLab identified it as a left-bank, while Madame Vigneron went so far as guessing that it was a Graves from the mid-1980s, specifically 1985 or 1986. I opined that it was a wine older than the 1980s, probably late 1970s. It turned out to be a...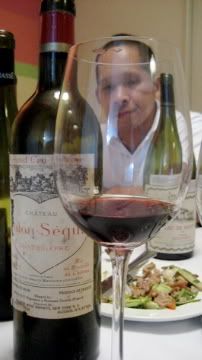 1982 Château Calon-Ségur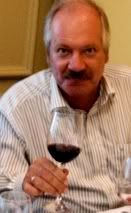 NB
: This was definitely the most advanced 1982 Bordeaux I have ever had, 1855 classified or not, and I've had quite a few. However, since this is the only 1982 Calon-Ségur I've tried so far, I can't really generalize on it.
Possibly there are fresher, younger tasting bottles than this, but, somehow, I doubt it. I've had a few bottles of 1989 and 1990 Calon-Ségur over the last 6 or 7 years (since it is one of the favorite wines of my old friend Tonji) and I can't imagine them ageing more gracefully than this 1982. Drink up now or very soon if you have any, or, at the very least, crack one open and try it out.
~ oOo ~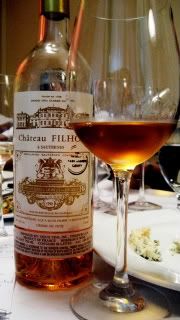 As if all these were not enough, the Stockbroker administered his
coup de grâce
, simply killing us with kindness. With the cheese plates, everyone zeroing in on the roquefort:
1990 Château Filhot Crème de Tête
- Though I think I've had quite a bit of experience with the wines of Sauternes and Barsac, I've had only one previous taste of Filhot's wine (i.e.,
their 2003 at an all Sauternes/Barsac dinner
), and never their top Crème de Tête. As you can see, it's old, dark amber-reddish gold color makes it look much older than a 1990 Sauternes normally does, but its vibrancy and freshness in the mouth, indeed, vehemently bely its appearance.
Candied apricot, tangy wild honey, sweet orange marmalade, vanilla and white flowers. Rich, extravagant flavors, but not heavy or cloying at all on the palate. Its balancing acidity and lift simply carry the wine so gracefully, its complexity dances on the palate. Absurdly good.
Johnny R., in a moment of inspiration, asked a waiter to bring over a bit of honey for the roquefort. I thought it excessive as the wine was plenty sweet enough - that is, until he urged me to just give it a try, saying that the bit of honey gives the wine's finish a bit of slightly burnt caramel and beurre noisette nuttiness. I tried it, and, by golly, he was dead on right. It simply pushed everything over the epicurean edge.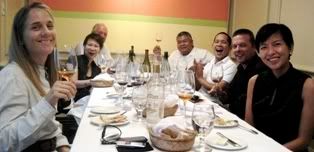 Many thanks yet again, buddy. What a blast!