Yesterday, the 14th March 2013, was Jim's Russian River Blind Pig IPA & Pliny the Elder Imperial IPA Event at
The Bottle Shop
, and, concurrently, Santi's belated birthday celebration for friends at nearby
Kublai's Rock
.
That day started off unusually early for me as I had to go to the French embassy to renew my visa and get some for my sons. I literally had to go the extra mile (several miles, actually) to help ensure I get another 3-year one. That finally done, I returned home for a couple of hours' rest before heading to Paseo de Magallanes for Jim's event.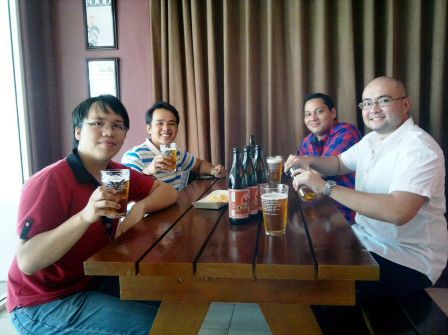 Mauro, Lorenzo, Mon, & Paolo.
It was scheduled to begin at 6pm, but some of us simply couldn't wait. With Jim's green light, we, the earliest birds there, got to start at 5pm. I seem to recall Mon and Paolo starting off with lighter fare before hitting the Russian River Ales over a few of the day's featured
porchetta
sandwiches together with my sons.
The "long-lost" Ancheta twins, Tere & Thea, finally rejoin the craft sessions.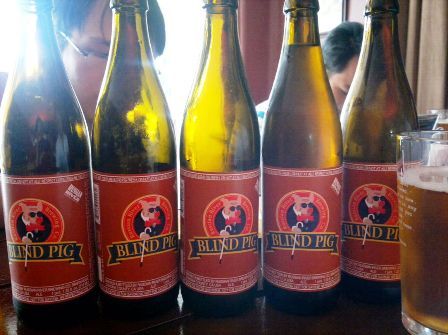 A bunch of us (Jim, Mags, & myself included) actually had some Russian River's Blind Pig IPAs (and many more) back on the evening of the 9th September 2011 at Elbert's Steak Room, care of visiting friend Clem Nieto. We had so many fine ales, though, I got too drunk to clearly remember the details, so I didn't post on that dinner. This time, however, although I admittedly got really smashed as well, I had only 3 kinds of beer, so I remember enough to post on them.
Russian River Blind Pig India Pale Ale
- As also noted by Eli in his well written
beer-centric blog
, this is an openly fragrant ale, fresh, ripely sweet citrus, and dried-fruitiness, with notes of pine, freshly cut/dewy grass in a moderately malty theme. Smooth, fresh and very easy to drink although the typical IPA hoppiness does kick in past mid-palate and follows through to the finish. Dangerously drinkable at a relatively modest, easy 6.1% abv.
By this time, our orders of Kublai's ever delicious and reliable
Chorizo Sisig
and
Buffalo Chicken Wings
had been delivered to be enjoyed with our ales, as well as cold cuts courtesy of the Ancheta twins. Needless to state, our
Thin Crust Shakey's Specials
followed not long after.
Russian River Pliny the Elder Imperial India Pale Ale
- "Blind Pig IPA on steroids" sounds a bit too flippant, I know, but, a somewhat fair assessment I think. Deeper, more robust, denser, and fuller bodied, this wasn't (as also noted by Eli) as openly fragrant as the Blind Pig (or as a fresh Ballast Point Sculpin IPA for that matter), but, on the palate, it was so much more serious and commanding.
The fruit profile is more of the dried fruit type, the hops are jacked up several notches, and it is less ripely sweet. The resiny pine notes are also more forward, and, at 8% abv, it is more powerful and packs a stronger punch. What I particularly love about this, however, is, despite its power and almost exaggerated pine resin, everything is still in balance. Always a treat to have this elusive ale. Many thanks again to Jim for finding a way to bring some in.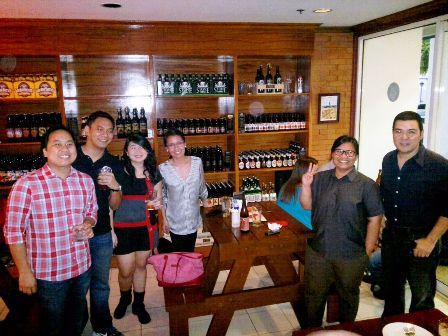 More regulars (Christian, Eli, & Nicole) check in for their prized ales.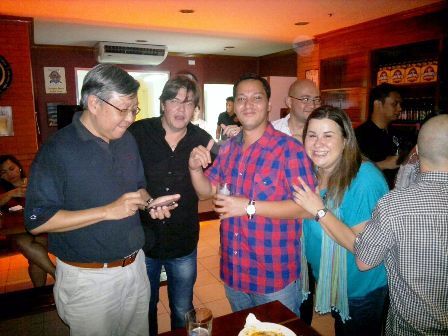 Dino, Nena, & Tinchu, and many others join in the fun as well.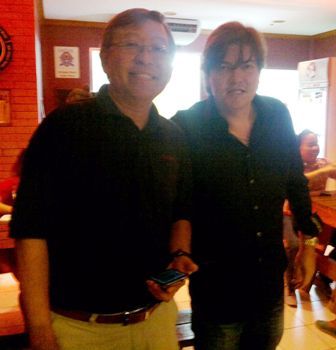 I recall Dino enjoying the IPAs and believe he'll be visiting The Bottle Shop more often.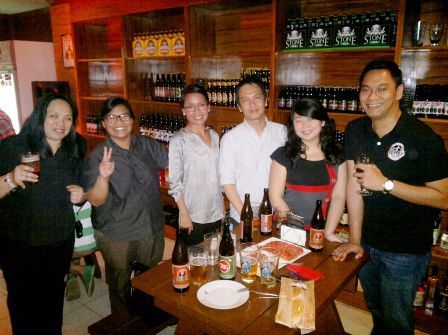 Cyrene & Bryan finally show up to join the happy hop-heads.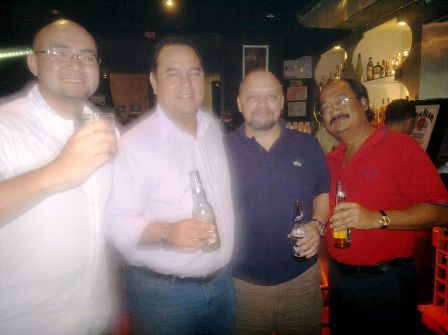 Paolo, Carlos, Enki, & yours truly.
A bunch of us then transferred to Kublai's Rock for Santi's belated birthday bash. I was, by then, well on my way to an altered state, so forgot to take photos there (one of the waiters took the above shot).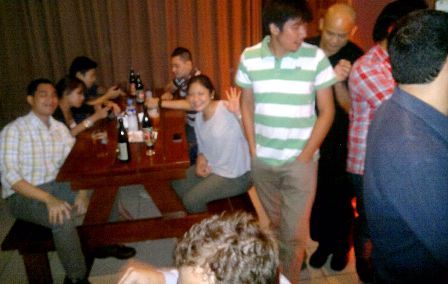 The young ones also packed The Bottle Shop (Gretchen waives "hi").
I had to leave by 9pm as I was already quite inebriated, passed by the Bottle Shop again to say goodbye to the ones there, and quickly got my final beer gin-spiked by the Alex, our resident evil spirit. Way past caring, and, indeed, feeling no pain, I downed it anyway. Good thing Mauro hung around to drive his old man home, as I didn't bring a driver that night and was certainly in no state to drive.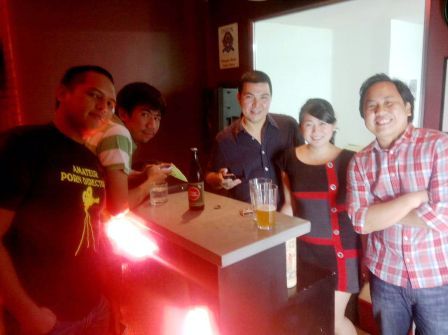 What a fun, drunken night! Until the next!