Despedida dinner for Clem with the winos last night, the 28th February 2013. Since Clem, who is to return to California tomorrow, brought some special white Burgundy, lobster was definitely on the menu. I suggested that we hold the event again at Impressions, and, unsurprisingly, everyone immediately agreed. We were six in all: Clem Nieto

, Rene Fuentes,

Alex Tiu

,

Richard Joye

,

Jay Labrador

, and myself.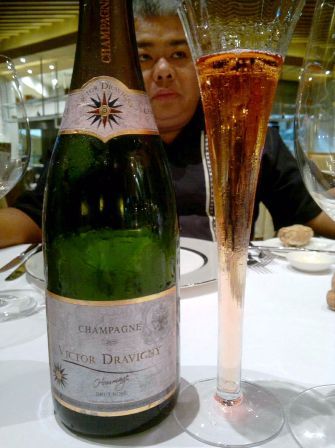 Apéritif of (grower) Champagne Victor Dravigny "Hommage" Brut Rosé - J-Lab's bottle. Lively, perky rosé showing straightforward, nice purity with clean lines of juicy ripe strawberry and red currant. Well made, charming, if rather straightforward.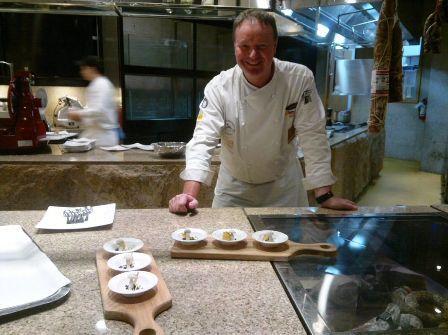 Executive Chef Cyrille Soenen hands on as always.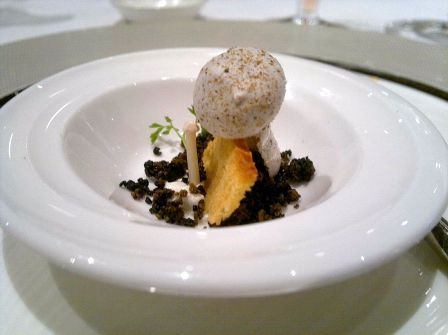 Amuse bouche #1 - Mushroom Meringue on Truffle "Soil" - probably the prettiest, cutest amuse bouche I've ever had anywhere. Whimsically earthy, tasty and entertaining.
By this time, we had started on the 2000 Champagne Billecart-Salmon "Cuvée Nicolas Francois Billecart" Brut - My bottle, in lieu of a 1999 Champagne Billecart-Salmon Blanc de Blancs Brut per J-Lab's advice re: drinkability (I just pretty much follow anything J-Lab says when it comes to champagne as bubblies and sweet whites are within his expertise and I somewhat know by now his palate preferences). Opulent, big, rich, generous, openly toasty, brioche & pastry buttressed, slightly honeyed baked apple, pear and peach. Very hefty. Eager to please, very stylish. Still coming together, but may be enjoyed now.
Amuse bouche #2 - Turkey Confit with Beetroot Purée and Potato Allumettes - I think the very first time I've had turkey confit. This reminded me of the old Restaurant CiÇou in Makati for some reason.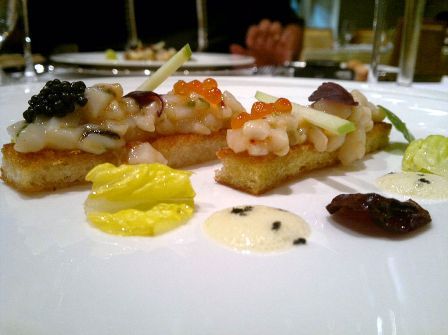 The star of the evening for me: Gillardeau Oyster & Scallop Tartare on Tartine, with Avruga and Citrus Dressing. Absolutely superb, complex, and wonderfully balanced. It blew me away.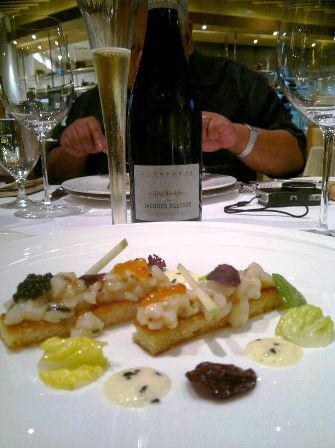 With this outstanding shellfish 1st Course, we had moved to the evening's 3rd champagne, namely, Champagne Jacques Selosse "Initial" Brut - Clem's bottle. Fresh, vibrant, lively, clean lines of ripe green apples, pear and citrus fruits, white minerality, notable focus, streamlined, neat. Precise acidity. Remarkable balance. Easily the best champagne that night, and a stunning pairing with the dish. Superb.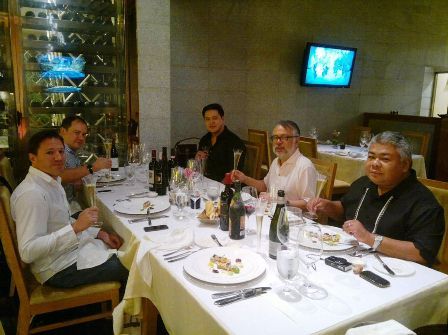 Champagne cheers from Manila!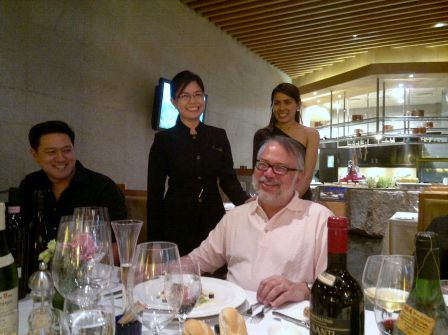 Service was crisp and attentive as always.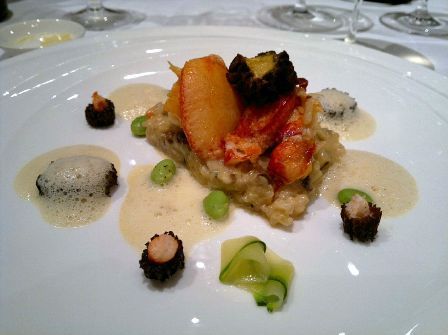 The 2nd Course was another seafood delight: Pan-Seared Brittany Lobster with Mushroom Risotto and Sea Urchin Foam. The description alone tells one how delicious it was.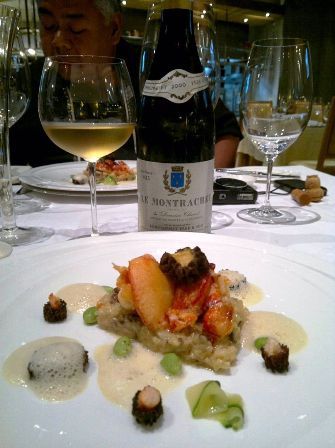 With it, 2000 Remoissenet Grand Cru Le Montrachet du Domaine Thénard - Clem's bottle. Sublime in its fresh bouquet of honey-and-butter-touched ripe apple, pear, & hazelnuts. Mirrored on the palate in a buxom, luscious body with additional nuances of minerals, underlying orange rind and lemon curd. Unctuous, delightfully oily mouthfeel, perfectly rounded, with precise heft and length. A big, remarkably balanced white Burg; it just had to be a Montrachet. Absolutely beautiful in itself and with the lobster dish. What a treat.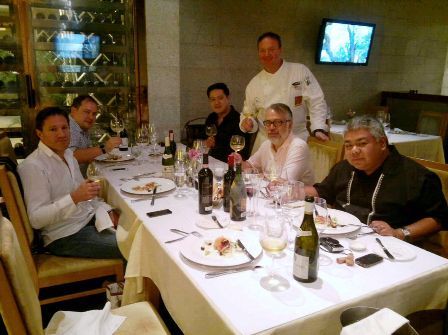 Maraming salamat muli, Don Clem!
The night's champagnes & still white.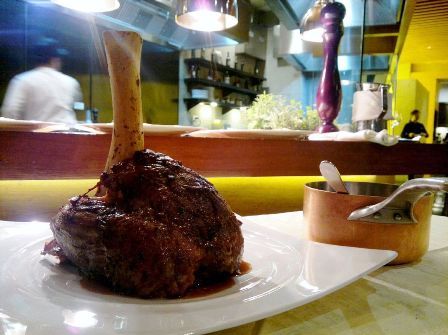 Our 3rd (Meat) Course was Cyrille's signature 48-Hour Veal Shank served with...
Carrots & Mushrooms; Garlic & Shallots Confit.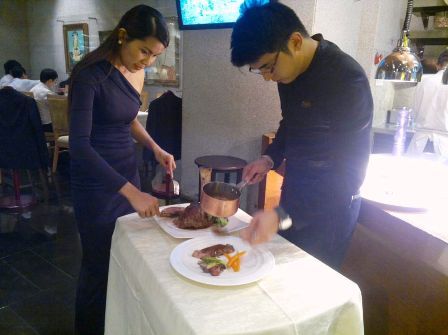 Table-side carving & plating.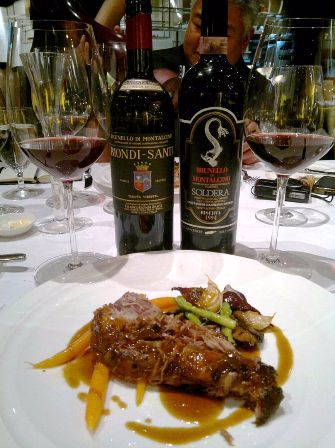 Among the many lined up, only three reds were selected to pair with the meat course:
1993 Biondi-Santi Tenuta Greppo Brunello di Montalcino
- Richard's bottle. Concentrated, viscous, dense, with a loamy bouquet of mildly spiced dark raspberry, strawberry, cherry compote, and a moderate sanguine-meaty touch. In the mouth, it mirrored its bouquet in a soft, slightly low acid manner, with underlying dark, molten fruit. There is bottle-aged sweetness; nuances of sweetish tea join in the back and moderately long finish. The general assessment was that the subject bottle is a bit past peak, but still quite nice.
1994 Soldera Brunello di Montalcino Riserva Case Basse
- Clem's bottle. Its bouquet and dominant flavors similar to the above-discussed wine, but slightly more reserved, more masculine, fruitier, spicier, with added tar, cedar and violets. In the mouth, it was comparatively more rigidly structured, fresher, and with healthier acidity. The dark red fruit evidently more youthful, neater, and focused. It is also marginally less earthy, but with similar sanguine and meaty notes. Virtually no bottle-age tea leaves or sweetness in this one. We all agreed this can go for quite a bit more than the previous Brunello di Montalcino. Impressive.
1986 Château Palmer
- Alex's bottle. I last had this (also from him) during
a year-ender lunch at Tivoli for Keiichi on the 27th December 2012
. My notes from that lunch are as follows:
1986 Château Palmer

- from Alex. Another silently serious, masculine wine with particularly notable freshness at 26 years from vintage. Wonderfully balanced, smoothly full-bodied, molten dark fruit, walnuts, pipe tobacco, warm black gravel, bit of anise, clean leather, hint of truffles. Impressive depth in this. I could fall into this wine and you'd never find me. Loved it.
This bottle was more confident, expansive and with a more pronounced crescendo and longer finish. A suave, handsome, manly wine. More impressive than the previous bottle. Excellent. It was pretty much unanimously the red of the night.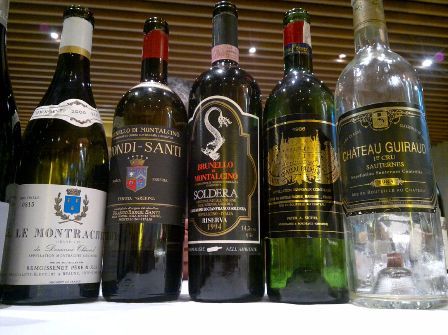 There were several other reds up at bat (among others, a 2000 Carruades de Lafite from Rene, and a 1964 Bodegas Faustino Faustino I Gran Reserva from me), but we stopped at three. Well, four, actually, since Alex simply had to have a "pre-red red" (a young CdP, the name of which escapes me as I didn't have any) which he popped together with Clem's earlier mentioned 2000 Remoissenet Le Montrachet.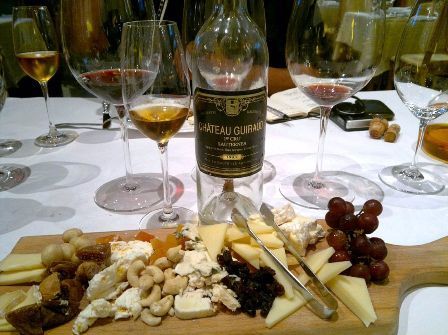 With the 4th (Cheese) Course...
1983 Château Guiraud
- Richard's bottle. Bouquet and flavors of wild honey and spiced touched dried apricots, orange marmalade, crème brûlée and vanilla bean. Slightly over medium-bodied, moderate concentration, good balancing acidity & viscosity, decent freshness. A solid, dependable Sauternes that, unsurprisingly, worked well with the
bleu
(especially), dried figs, nuts, and grapes.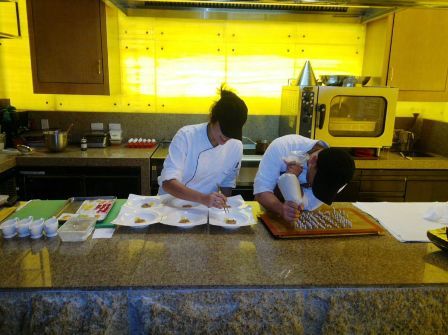 My niece, Nicole, & friend at the pastry station.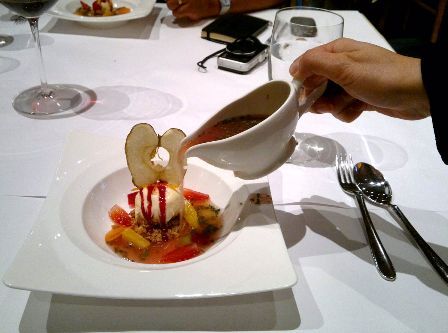 Our dessert - a palate-resuscitating, cleansing, lightly-footed, brightly fruited Minestrone of Compressed Fruits with Fresh Strawberry and Mint Broth. Lovely dessert after such an indulgent meal. Good show, Nicole!
I had finished my share of Richard's Sauternes with the cheese course, but Richard opined that the Sauternes went well even with this dessert.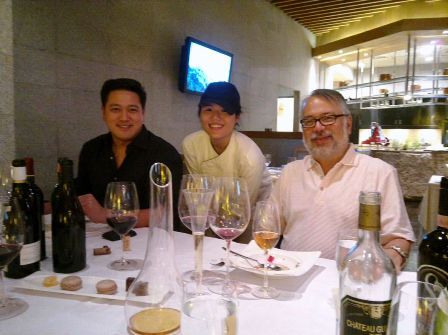 Alex, Nicole, & Clem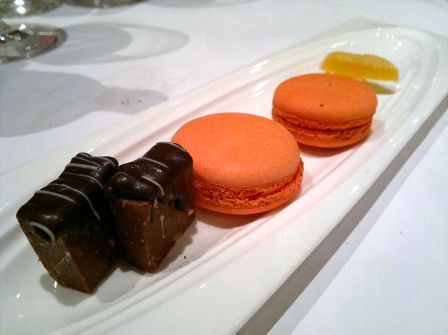 Mignardises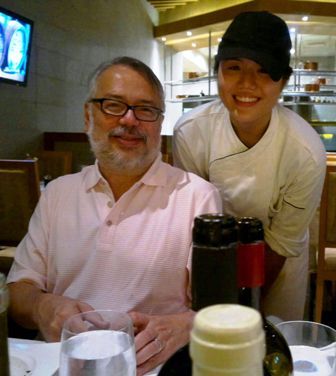 Clem with Impressions' young pâtissiere.
Clem, J-Lab & the bottles.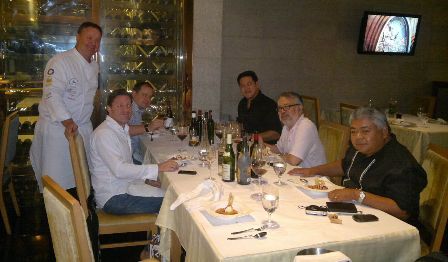 Cyrille eventually rejoined us at the table for a chat and a couple of glasses of Sauternes.
Thanks again, Cyrille & Team Impressions for yet another superb dinner! Bon voyage, Clem! Many thanks again, and have a safe and pleasant trip! ¡Salud! Until the next!