No Sunday lunch at the in-laws' today, the 14th July 2013, since my father-in-law is out of town. My dad took the kids out to a late breakfast, so they were too full for lunch. Thus, it was just Catha & I who went to
Mamou
. Since we just had a lot of steak the night before last, we figured to try out their weekend brunch menu.
Catha went for the
Eggs Benedict
(a favorite breakfast dish of hers). I followed suit, but opted for Mamou's smoked salmon version (in lieu of the ham). To accompany my breakfast, I had the
Bloody Mamou
(the house's version of a Bloody Mary).
My
Salmon Eggs Benedict
was ok - I finished it, large as it was. I noted, though, that the poached eggs were a bit over-done, such that the yolks, though still moist, wouldn't run. Catha's was the same. That said, it was still pretty good - certainly very filling. The
Bloody Mamou
was acceptable, if a bit salty for my taste - but, then, again, I have been on low salt for many years due to my hypertension, so I may be more sensitive to salt than most.
Funny, one of the waiters (named "Rome") said: "Sir, wala kayong dalang wine ngayon." This is the second such comment I've received in 2 weeks (the other from my regular waitress at Hanakazu). Waitstaff at restaurants I frequent must really think I'm some sort of lush.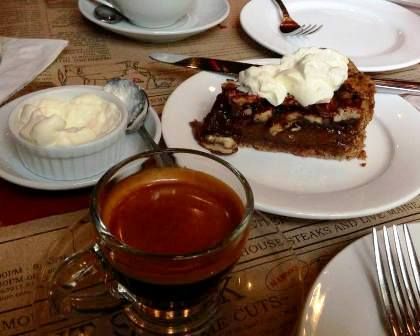 Though we were both quite full, I couldn't leave without having my favorite Mamou dessert of
Pecan Pie w/ Schlagsahne
(thoughtfully comped by Annie - thanks again, Annie) and my usual
Double Espresso
. The pie, unsurprisingly, was as good as ever - but what struck me in particular was that their double espresso was much nicer than ever before.
I most always have a double espresso after meals, and certainly have had countless ones in Mamou in the past, but this one was remarkably full, rich, almost chocolatey, robust, yet velvety on the palate - without the burnt notes many others show. So notable an improvement it was that I told Catha: "The coffee is particularly good today."
Annie stopped by after a few minutes and asked me what I thought of the coffee, to which I replied that I had just told Catha how much it had improved. It turned out that they had changed the coffee brand, and they are now using
Tommy's Freshly Roasted Coffee
*
(for orders: 0917 533 8792 or tommyvill@gmail.com). I do not profess to be any sort of expert in coffee, but this stuff is really good.
*
nb., It just so happens that Tommy, the owner, is a friend of mine from high school, but that is purely coincidental. His products' quality speaks for itself, and, credit where credit is due, deserves mention.
Stuffed to the gills, Catha & I headed back home. Next we're free for Sunday brunch out, hopefully my kids will be with us so I can order the
Steak & Eggs
- which surely would be too big for me to tackle alone. In any event, until the next!