While visiting Vosne Romanée this past October 2007, my wife and I stayed at Anne Gros' maison and got to taste some of her '06s. At nearby Prémeaux-Prissey (just a few minutes drive away), I also got to taste some of the wines of Domaine Daniel Rion through the kindness of Pascale Rion.

Domaine Anne Gros

Anne's whites weren't quite ready to taste yet, so we started with her basic Bourgogne.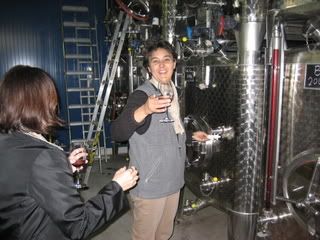 Anne's basic '06 Bourgogne is, well, pretty basic and basically pretty - but obviously fuller and noticeably deeper than any other basic Bourgogne I have ever tried, with distinctive plumminess and a dose of violets to the fruit. Her 2006 is noticeable better knit, more focused and polished than her '03 - less ripe too, but anyone even somewhat familiar with the past several vintages of Burgundy would know that, so I won't belabor the issue.

In all, it is a very good basic Bourgogne. If I were to be in the market for basic Bourgogne, I would definitely get some of this (I actually did buy a few of her 2003s for afternoon quaffing in Vezelay).

We then descended to her barrel room for the grand crus. Here she is with her wine thief dipping into her '06 Clos de Vougeot as I (a bit too) eagerly look on.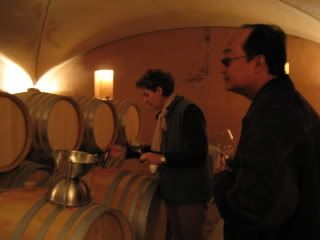 Her Clos de Vougeot is on the full side of medium-bodiedness, rich, ripe and deeply-veined, well-focused with nicely clean, neat layering of primary fruit - the mildly spicy oak/vanilla touch, delicately executed. Wonderful balance. The plumminess to the fruit I noted in the basic Bourgogne and, below, the Richebourg, did not play a major role in the Clos de Vougeot.

We then moved on to her '06 Richebourg. This wine was decidedly full-bodied, rich, lush, generous, with a touch more masculine earthiness and decadence to its (again) plummy dark fruit, mild dark spice and alluring violets, as compared to the Clos de Vougeot. The violets here were sweeter and laced the fruit rather than permeating it as in the basic Bourgogne. The oak/vanilla was marginally more obvious in the Richebourg as compared to the Clos de Vougeot.

In 2007, Anne made an Echézeaux that I hope to get to try next year when it is ready. Madam Gros, Anne's energetic and most hospitable mother, joined us while we tasted the Richebourg.
Domaine Daniel Rion

Pascale Rion at first seemed a little shy, serious and soft-spoken. She has assured me, though, it was only because she was incredibly busy that day (and, indeed, she was as I saw myself). Despite this, however, she still took the time for a brief interview with me at her office, after my tasting. I look forward to meeting her again soon and tasting through her wines.


Anne, on the other hand, is very friendly, has a sharp, dry, mischievous wit, a meltingly charming smile, doesn't take herself seriously and speaks English very well.

Since my wife was a bit groggy from lunch, she didn't join me at Domaine Rion, and I, naturally, forgot to bring my camera. So, no pictures.

Together with one of Pascale's wine analysts, a charming young lady with sandy blond hair, wine-stained jeans and perfect English, I started with the '06 Chambolle Musigny Beaux Bruns - A touch of delicate femininity (which I found characterizes all the wines I tried from this domaine's '06s) to its medium-bodied, black cherry laced dark fruit with mere hints of dark raspberry and hint of cocoa. Good, pleasant, nice clean lines, definitely well-made, very discreet spicy wood; but, somehow it just didn't interest me much.

The '06 Vosne Romanée Beauxmonts was quite alluring, I could say seductive. What grabbed me most about it was the exceptional purity and silkiness of its sweet, dark fruit, dark violet petals and sweetly spiced, gracefully integrated demure wood notes. Elegant wine, definitely. Great balance.

The '06 Clos de Vougeot, as expected was richer, more generous, fruitier than the previous wine, but neither as perfumed, pure nor as fine/elegant as the Beauxmonts at this point. I suspect, though, that this will gain more finesse after several years in bottle.

The '06 Echézeaux, on the other hand, though even bigger and deeper, seemed to have better balance now, with darker fruit and a touch of black berries and red currants, as well as hints of clove to the pinot fruit. Still, there is that underlying feminine sweetness and grace. The oak is more noticeable in this but not to the point of being obnoxious. I suppose this will greatly improve over time - I'd try it again in around 8 years to see how it comes along.