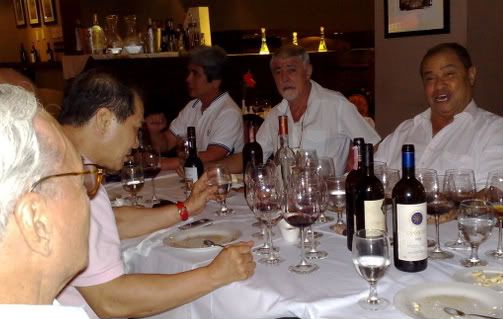 13 June 2008 at l'Opera.
I was invited to join the International Wine & Food Society's (IWFS) board members for dinner, hosted this month by Oscar Ong. All the food and wines (well, all but two) were on him.
The IWFS Board
, L-R: Oscar, Bill Stone, Rene Fuentes, Sunny Gracia, Markus Ruckstuhl, Freddy Wieneke, Bernie Sim, Freddie Pio de Roda and Fil Juntereal.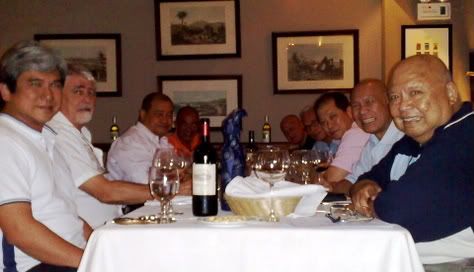 The Wines.
After some glasses of dangerously drinkable
Bisol Crede Prosecco di Valdobbiadene
:
2004 Garofoli Verdicchio dei Castelli di Jesi Classico Superiore "Podium"
- Dry, slightly crisp attack, fleshing out incrementally with suggestions of tropicality mid-mouth. Some demure grapefruit and mild citrus. Suave on the palate with decent structure and balance. Mild fennel and an appetizing slight almondy bitterness surface towards the back, through to the finish.
2003 Isole e Olena Cepparello
- Bernie brought this bottle to share, and we had it with a light onion and tomato soup. This wine looked bigger than it tasted, gentle and serene (almost soft) despite its ominous darkness, lithely medium-bodied, ripe red berries lace blackcurrant, cassis, merest hint of anise and wood. I honestly thought it would be too young and heavy since it looked darkly intense, but I was wrong. Good pairing.
Grilled meats were served (rib-eye, lamb, etc.), and Oscar started pouring the big boys: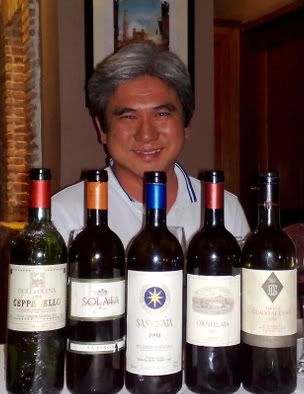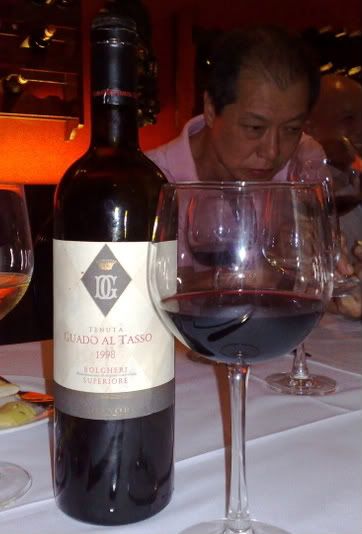 1998 Antinori Tenuta Guado al Tasso Bolgheri Superiore
- Though obviously heavier-boned than the preceding wine, again, it was not as big as I thought it would be, but that is a good thing (for me, anyway). Mildly earthy, smoky and herbaceous; nicely warming blackcurrant-and-cassis-dominated with light touches of raspberry liqueur and alluring black olive, sweetish tobacco, mild vanilla and dark spice notes. Good weight, nice balance.
1998 Tenuta San Guido Bolgheri Sassicaia
- Marginally heftier/more masculine than the Guado al Tasso but, seemingly, a bit lighter on its feet, with better structure, more noticeable slightly dry wood notes, earthier (touch of truffle) and more definitive/confident all-around. Black coffee and hints of mushroom underpin the dark fruit. Violet notes surface towards the back. Nice depth, firm structure. Beside this, the Guado al Tasso seemed sweetish with riper fruit. This cut the grilled steak very nicely and ran with the earthy ball. I think this paired best with the grilled meat.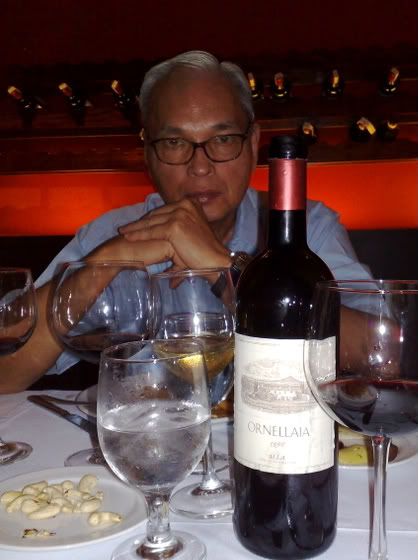 1998 Tenuta dell'Ornellaia Bolgheri Superiore
- This was, to me, the most enjoyable/"crowd-pleaser" wine of the night. Bigger, fleshier, more forward/accessible than, though not as firm/definitive or masculine as, the Sassicaia. The Ornellaia had a lusher, more amiable character to it. With a more rounded and pronounced mid-palate, cherry/kirsch highlighted velvety, molten dark fruit with luxurious notes of leather, espresso and dark spice underneath. Very enjoyable (dare I use the word "hedonistic"), if not as contemplative as the Sassicaia.
1998 Antinori Solaia
- I had this before during my birthday dinner in 2006 and, while I enjoyed it well enough, I then found the thick, viscous black fruit (infused with sweet tobacco, spice box notes and vanilla/oak) base a bit over-ripe, over-extracted, almost pruney. I didn't get to re-taste it this night though as the bottle emptied out before it reached my glass.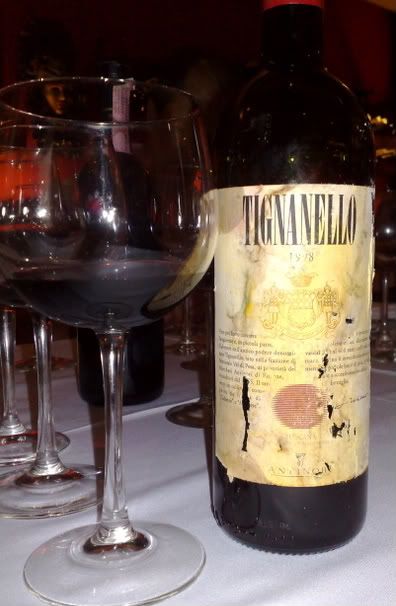 1998 Antinori Tignanello
- Masculine wine, not as somber as the Sassicaia, but of a similar serious nature. Its dry, strawberry/raspberry surface over earthy cassis, slight pencil lead and leather notes were displayed on a comparatively dense (not cumbersome though), fullish body. Admirable length and balance.
1990 Bruno Giacosa Barbaresco
- I had this comparatively (much) lighter wine while Bernie and Rene discussed its composition and origins. There were 2 bottles of this, Bernie brought one too. Ironically, the wine from the scruffy looking bottle tasted fresher and younger than the one from the pristine-looking one. Though obviously lighter in appearance and in weight, this wine acquitted itself well with its smooth, though potent, truffled, black olive, graphite, earthy, tar-touched flavors over thinning fruit.This had a nice, rustic, nostalgic feel to it. I think I enjoyed this more than the others. Lucky me, I poured and enjoyed at will.
With dessert of, probably the best panna cotta in Manila: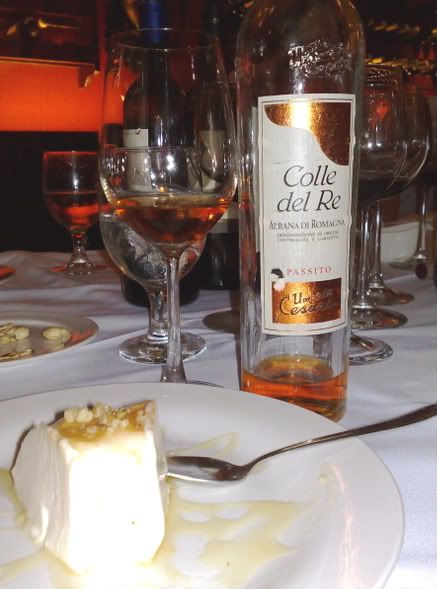 Umberto Cesari Colle del Re Albana di Romagna Passito
- I didn't (and don't) see any vintage on the bottle, so I wouldn't know what vintage it is from (if, indeed it is a vintage wine). In any event, it is a straightforward, unpretentious, sweet, viscous, honeyed, vanilla-laced, white raisiny wine that I enjoyed greatly with my panna cotta - an overly-indulgent dessert pairing which was right up my alley. With all the over-indulgence that already took place, why stop now?
I understand it is quite inexpensive and locally available at Bacchus. Definitely good news: an inexpensive dessert wine in a small format that one can pop open any time.
Thereafter came a curious digestif: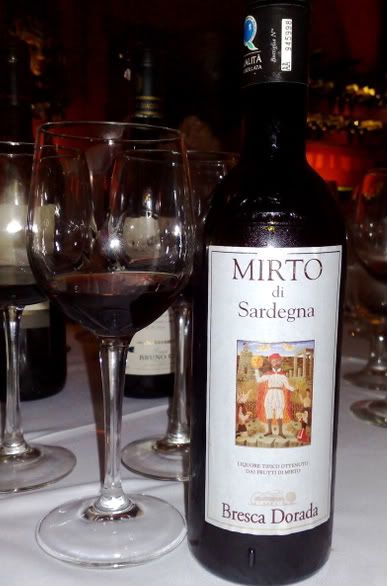 Mirto di Sardegna
- Bernie warned me that it would, to put it nicely, guarantee expeditious digestion. A thick, dense, herby, syrupy liqueur that tastes of anise and dark molasses. The herb-bitterness surfaces far in the back and continues to a bittersweet finish. If anyone has tried the anise-laden German digestif called "Underberg", think of a thick and sweetened version of it and you've pretty much gotten what this tasted like. Amusing, a novelty, and effective. My over-worked-stomach discomfort was noticeably eased. I think only Oscar and I appreciated it though.
What a night! Molto grazie, Oscar! Bravo!