The first evening of this year's Vinexpo held in HK, I was invited by Edouard and Château d'Issan's Emmanuel Cruse to attend the
Commanderie du Bontemps
Dinner (27 May 2008) at the Hotel Grand Hyatt. The event was extra special since Emmanuel was inducted as the new head of the
Commanderie
, replacing JM Cazes. Here's Emmanuel onstage in the traditional garb, cradling his new scepter.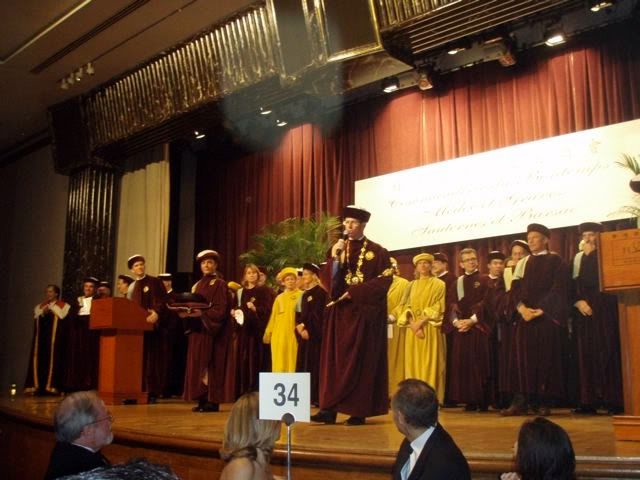 Due to rush hour traffic, I was a bit late, and, thus, missed most of the cocktail portion and got to try only one of the whites served that evening:

2005 Château Villa Bel-Air Blanc (Graves) - A winery in southern Graves owned by JM Cazes, I understand. I'd never had any of this wine before. I think it was a pleasant enough wine - very approachable - with slightly honeyed and waxy, ripe stone fruit and vanilla in the forefront. A bit tropical, really, I suspect it is the vintage speaking - either that or there was more semillon in this than other whites from that area. I, personally like my Bordeaux blanc with more crispness and acidity; but it wasn't bad.

Here at the cocktails are (L-R): Gérard Chesnel (the French Ambassador to the Philippines), Sevrine, Edouard and Judy Leissner of Grace Vineyards. IWFS Philippine Chapter President, Bernie Sim, was busy chatting with others, so is not in this picture.


Not long after I arrived, I was seated at the table of Château Lagrange, and, after the induction of (far too) many new members of the Commanderie, the first course and accompanying wine was served.


With Warm Lobster Salad and Mixed Scallops:

2003 Château Malarctic-Lagravière Blanc (Pessac-Léognan) -Now this was a blanc more up my alley. Brighter and on the palate, notably crisper, fresher and better acidic balance. The fruit had definite round ripe belly to it - moreso than other years (it is a 2003 after all), but, then, this was perfect with the dish since lobster does need a white with a bit of heft, and the scallops, some bracing crispness. A precise pairing.

Three reds were served with main course of Landes Duck Pot-au-feu in a Lychee and Bordeaux Wine Sauce.
1999 Château Poujeaux - The most nostalgically warming and rustic wine of the three, with alluring slightly gamey, meaty, truffle, smokey cedar notes in the nose which blended seamlessly in the mouth with an earthy cassis/blackberry/blackfruit base laced with raspberry liqueur - licorice/mild tobacco/spicy wood notes towards the back - all in a body on the full side of medium. Very nice.

1995 Château Haut-Bailly - One of my favorite producers given quality and price, this, curiously looked to be the oldest wine - even beside its 22-year-old neighbor - with a limpid red-orange hue to the rim. Marginally less earthy than the '99 Pojeaux, sans the gamey/meaty notes, this was a comparatively refined and well-heeled wine with typical Graves dried herb/tar/tobacco/leather notes to its sweetish dark cherry/kirsch intertwined with smooth cassis, black fruit and smokey cedar. Lovely.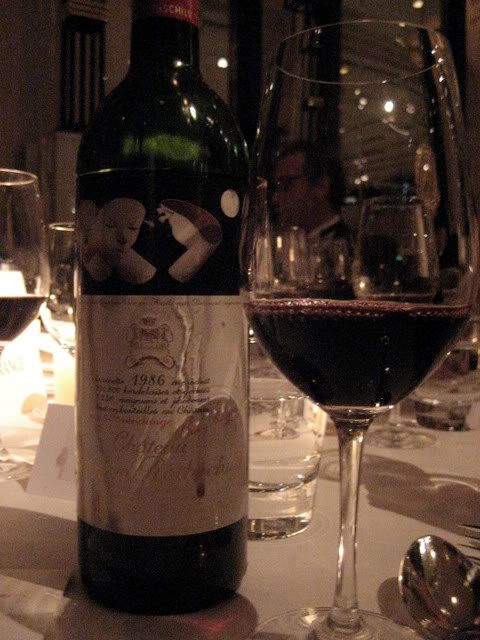 1986 Château Mouton Rothschild - We had two bottles for our table of 10. The first bottle was the best 1986 Mouton I have ever had. The second bottle, though still very nice, was not as lush or generous as the first. The first tasted amazingly young, was wide open and welcoming with absolutely buxom, luscious, creamy (though not over-the-top) cassis, sweet molten black fruit, dark spice, touch of espresso, hints of leather and dark, unsweetened chocolate. Through all this, it somehow maintained proper balance without tripping all over its generous endowments.

I've had this wine twice before in the past 2 years and, though I much enjoyed them, I could simply not get why Parker rated it 100 points. I used to think it was because even in blind tastings, I never really seem to particularly favor its style. Well, with this first bottle, I now understand Parker's enthusiasm over it. It was, quite possibly, the most luscious, generous, yes, hedonistic, red wine I have ever had without being vulgar or over-the-top. Amazing wine.

Note: The difference between the two bottles sparked two separate, intresting discussions I had; one with Bernie Sim during a hiatus between courses, and, another with Eric Hosteins (of Château Cissac) over a cigarette(s) break outside. Apparently, I'm not the only one who notices seemingly prevalent bottle variation for the '86 Mouton. Eric says this bottle variation is well-known in Bordeaux and that a good bottle of it can last at least 30 more years. Given the first bottle of the evening, I believe him.

As regards pairing, I drank my share of '86 Mouton after I finished my main course and before dessert, choosing to have only the '99 Poujeaux and '95 Haut-Bailly with the food.
I was seated beside Charles Philipponnat (of Champagne Philipponnat, a most friendly and amiable fellow who knows and enjoys his food and wine extremely well) and we had a very interesting discussion on the pairing of the first 2 reds. He asked me which I thought went better and I replied I preferred the pairing of the '95 Haut Bailly because its sweetish red cherry/berry notes gave the duck pot-au-feu added lift and contrast. Charles, in turn said he preferred the pairing with the '99 Poujeaux because it was a hearty /gamey country dish and the rustically gamey wine flowed and ran with it well.

We then discussed the "running with" and "cutting through" pairing principles briefly and I told him that the '99 Poujeaux made me feel like I was the one who caught and cooked the duck we had, while the '95 Haut-Bailly made me feel like it was served to me "on a silver platter", as it were. My thoughts seemed to amuse him, or so I think (either that or he thought this strange brown Asian must be off his rocker).


Dessert was a Pudding of Brie de Meaux and Brioche en Croûte of Black Truffles and a delightfully creative raspberry and pistachio dim sum, paired with 2001 Château Suduiraut (of which I already described at length in my recent post on Chinese Cuisine with Sauternes and Barsac).

The "dim sum", on the left, looks like the ubiquitous char siu bao (i.e., roast pork bun), but is smaller and stuffed with rapberry sauce enveloping cooked-soft pistachios. First of its kind I'd ever seen or eaten.

At around 11:30pm, I said my goodbyes and hopped in a cab back to my hotel. It was a wonderful evening thanks to Edouard, Emmanuel and all the charming people I met. I won't be forgetting this anytime soon.