I recall it was over dinner at Sala in early June (Doc and I were home alone as my wife and kids were in HK while his were in Germany), when the Stockbroker and Doc decided we organize a 1996 top growths (1855 Classification) dinner for the 29th June.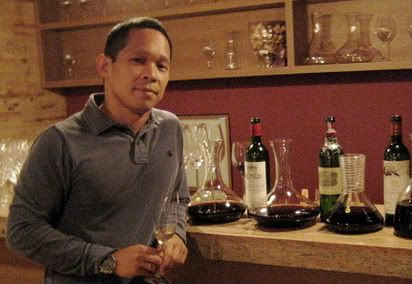 I told them it would be all up to them as I didn't have any on hand and wouldn't have time to import any and have them rest properly (as a general rule, I let bottles rest for a month after being flown in so they may "re-stabilize").
The Stockbroker took the lead in organizing this event, and, later on, informed me that, for our dinner for 7 persons, the final line-up of reds would be as follows:


1996 Haut-Brion - from Eric R.


1996 Lafite Rothschild - from Uncle David


1996 Latour - from the Doc


1996 Léoville las Cases - from Gentleman Joe


1996 Margaux - from Dapper D.


1996 Mouton Rothschild - from the Stockbroker

I was to provide the champagne to start which was to be a couple of bottles of
1996 Veuve Clicquot "La Grande Dame"
, and, the Stockbroker, a half bottle of
1996 Yquem
for dessert. As it turned out, Gentleman Joe also brought a
'96 Dom Pérignon
which we could compare with the La Grande Dame, as well as a
'01 Rieussec
to stand beside the Yquem. The pairing dinner menu was meticulously prepared and executed by Tippi Tambunting.
With pass-arounds of
Sautéed Scallops with Braised Oxtail
and Microgreens,
and,
Beignet de Brandade with Tomato Confit
: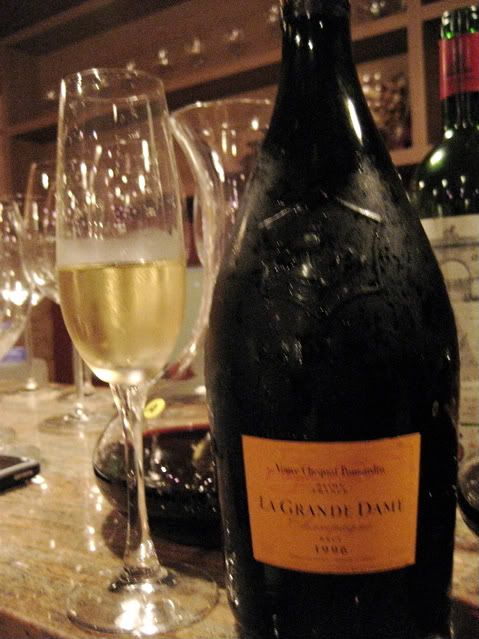 1996 Veuve Clicquot "La Grande Dame" - I think this is the first time I tried this vintage of La Grande Dame as, to the best of my (ailing) memory, I recall having had only the '89, '90 and '95. Clean, pure white fruit attack turns floral, very toasty and mildly yeasty the moment it hits mid-palate, where it expands generously and gains substantial creaminess towards the back. Sucking in a bit of air once the bubbles allow emphasizes the toastiness. This bubbly certainly wasn't shy; it was eager to please, displayed proudly mid-mouth with a funneling exit of added citrus notes.
1996 Dom Pérignon - We've had this many times and I've written at least 2 tasting notes since early 2005 when I first tried it, the last written notes I've found being from early December 2006:
Dom Perignon 1996 - A gift to me by the Doc, I brought it to go with the
starters. We've gone through many, many bottles of this over the last couple
of years, and it remains as bright and linear as ever. My old notes state:


Toasty young citrus with easily detectable yeasty/bread dough notes
trailing. Bracing, bright, crisp, linear, firm yet enthusiastic primary
flavors of pineapple, apricot and lemon. Acids pronounced in the finish.
Still quite young, a long way to go, very precocious but charmingly
so.

I add now that the apricot is very faint and the wine is noticeably toastier
than before. A very good Dom Pérignon.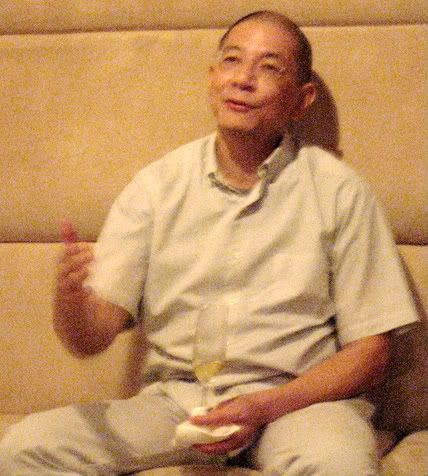 What I can further add is that, in comparison to the Grande Dame (though most enjoyable and entertaining in itself), the Dom has obviously better focus, much finer mousse, a tighter-knit body (beside the Grande Dame, the latter seems slightly loose and scattered), purer fruit and a healthier, bracing acidic edge.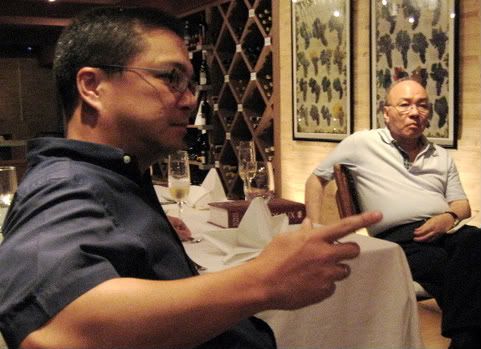 In all, I say the Dom was a neater, finer, more complete and streamlined package. At this stage, I'd open the Grande Dame for joyous frivolity and the Dom for more refined occasions and contemplative moments.

We were finally seated and dinner proper began with Essence of Pot-au-Feu Bone Marrow, followed with a salad of Mixed Greens, Reblochon, Toasted Walnuts and Truffle Vinaigrette. I didn't have any of the reds yet as I rarely have reds (or whites for that matter) with soup courses and actively avoid mixing reds with any type of vinaigrette.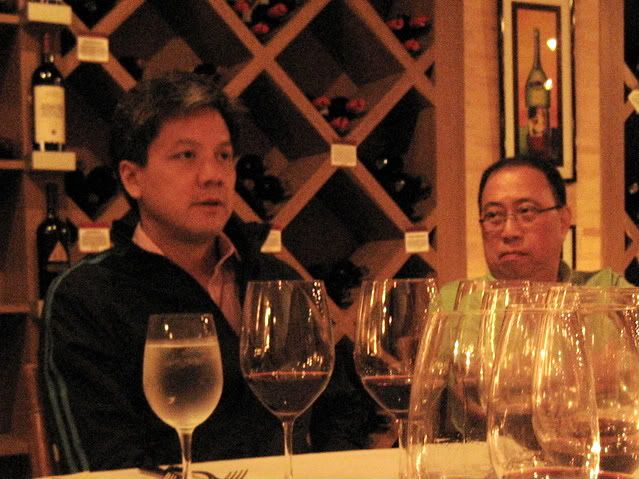 A tip of the hat to the chef, however, for serving a somewhat "lighter" yet full-flavored comfort soup, and incorporating reblochon and walnuts into the salad (both of which are usually served with cheese platters in Bordeaux). Needless to state, the hint of truffle in the dressing was, most likely, designed to run with any earthy/mushroom notes of the Pauillacs.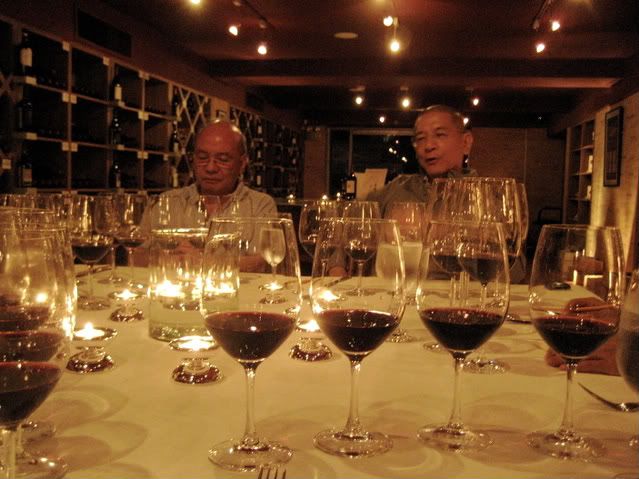 Next was a dish of Portobello and Goat Cheese Ravioli in Sage Butter with Parmesan Cheese. This dish was a study in meticulous pairing as portobellos, sage and parmesan cheese are well-known to be red wine complementary. Though, personally, I like goat cheese with Pouilly-Fumé or Sancerre blanc, it is served with reds in Bordeaux; and, with a particularly gamey red, it is a "run-with-the-ball" type of pairing.

I skipped the Dalandan Sorbet to preserve my palate for the reds...and what reds they were.

With a main course of Roasted Prime Rib-Eye Au Jus, Potato Lyonnaise, Dwarf Bok Choi, the wines were served and ranked semi-blind (i.e., we knew what the wines in the line-up were but were not told which was which):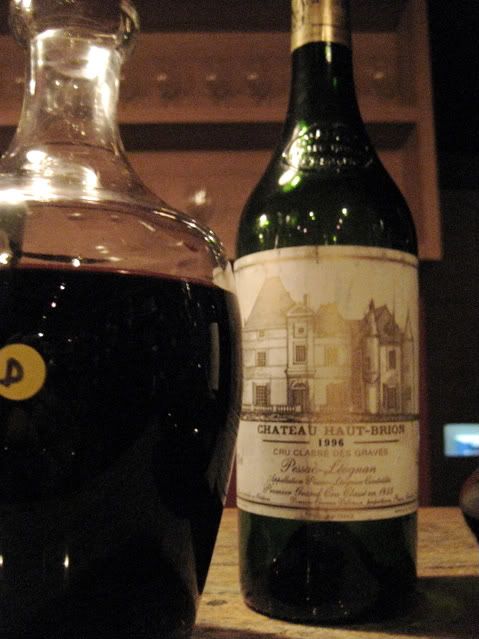 Wine A - I immediately noted readily apparent roasted herbs in the nose and Gentleman Joe pointed out the slight scent of chocolate (Eric said mocha while I leaned more towards milk chocolate). Sweet cedar, touch of camphor, mild gravel infused the dark fruit/cassis. Ripe cherry/mild raspberry highlights. Long finish, warm and comforting feel.

The only 1855 first growth not from the Médoc was Haut-Brion, from Graves (since 1987, over 20 years ago, 10 communes in Graves were "lumped into" a more prestigious appellation called Pessac-Léognan). Wines from this area normally have roasted herbs touches and gravel/"tar" notes to the cassis/dark fruit base beneath red fruit. The herbs and gravel gave this one away, most likely. I and others guessed it to be the Haut-Brion.

It turned out, in fact, to be the 1996 Haut-Brion.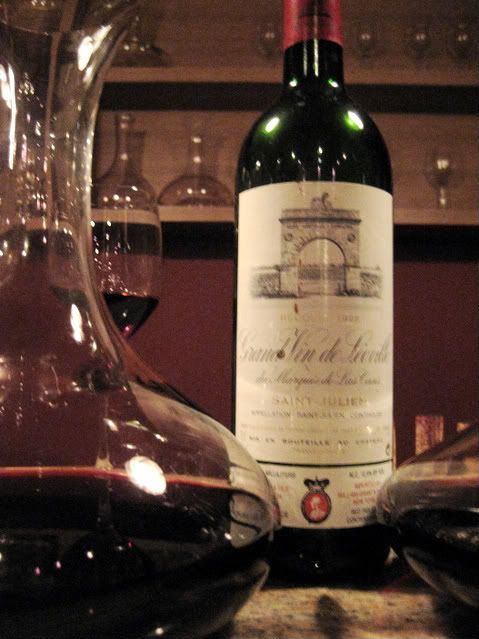 Wine B - Deep, dark, layered fruit, mild licorice, lead pencil. Sweet tea nuances surfaced later on. Not very expressive at this point and there is a detectable gap between individual flavors that, to me, indicates that the wine still needs material time to come together. Very good structure noted though. Solid bones in this.

I couldn't guess what it was (Eric was constantly pestering me to hurry up), and it was later on revealed to be the 1996 Léoville las Cases.

I'm not surprised now that this wine hadn't quite come together yet as las Cases (dubbed a "Super Second" growth in US wine circles due to its quality consistently rivaling that of the 1855 first growths) , in my experience, takes a very long time to reveal its true harmony and resulting beauty.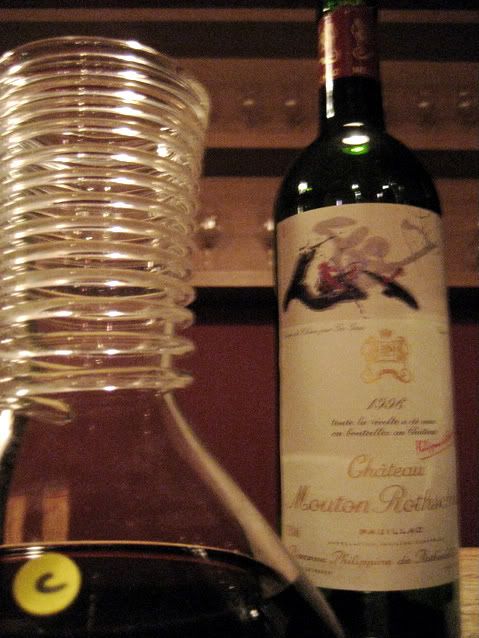 Wine C - Big, wide, a bit muddled at first but eventually settled down after many more minutes into its ripe, luscious, opulently rounded, full-bodied self. Dark chocolate, camphor, Spanish cedar notes. The most open and forward of the reds. Dapper D noted a bit later that it was an especially good pairing with the steak.

Due to its comparative forwardness and openness even at this young stage (for a Médoc first growth, that is), together with its pronounced dark chocolate and luscious mouthfeel, I guessed it to be the Mouton Rothschild.

Mouton Rothschild, nurtured for decades by the late Baron Phillipe de Rothschild, was originally the highest ranked second growth in the 1855 classification. It rose to the rank of first growth in 1973, the only one to ever change rank in the 1855 classification.

The wine turned out to be the 1996 Mouton Rothschild.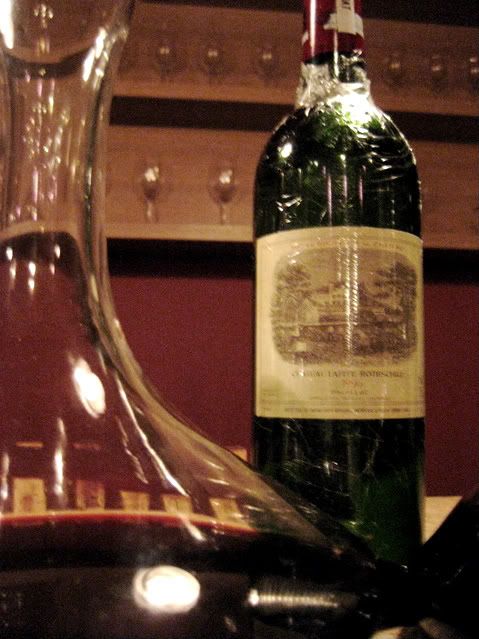 Wine D - Minty nose with ripe cranberry nuances over ripely sweet cassis. Broad and elegant mid-mouth with whispers of anise, tea leaf and violets hanging in the long black fruit finish.

After a while, I noticed unresolved tannins in the finish, but this is hardly surprising for a first growth this age. I jotted it down as the Lafite.

It was later revealed to be the 1996 Lafite Rothschild. It must have been a lucky guess since I don't recall ever having bought a Lafite grand vin myself due to its astronomic prices; I used to drink my father's bottles (memorable were his 1978s and 1979s). Luckier still was I for having been able to try this from generous Uncle David, the 1985 from NSF and, once, the 1982 at the house of Dapper D.

I recall, though, at an IWFS blind tasting of 10 Médocs from vintage 1999, I ranked the Lafite 3rd place after Margaux (1st) and Latour (2nd).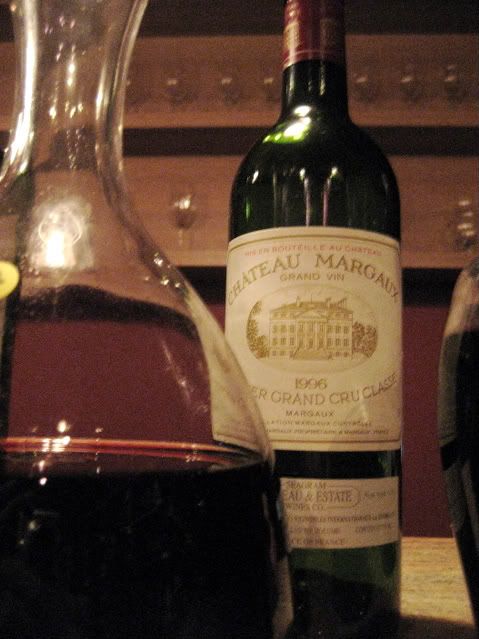 Wine E - My notes become even more telegraphic at this stage since everyone else was starting to vote and I hadn't finished my rankings yet. At blind tastings, I am most always the last to submit and usually feel embarrassed holding everyone else up. The only reasons I take long, though, is because (1) I wish to see how each wine evolves over the evening's span; and, (2) I make several passes on each wine in attempt to give justice to each's merits.

In any event, I recall sweetish herb notes (marjoram?) hovering above a perfumed aroma. Like Wine B, I noted a bit of a diffused feel to it and noted that it still was "not come together".

I was quite surprised when it was revealed to be the 1996 Margaux because, as mentioned, I ranked Margaux 1st place in the 1999 blind tasting and, back in July 2006, wrote that the 2005 Margaux, though an infant, already showed its hallmark elegance and feminine grace. I also predicted that it would turn out to be the most elegant of all the 2005 first growths.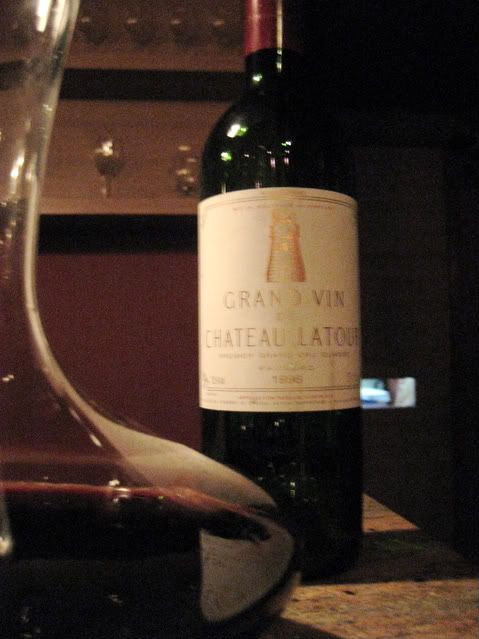 Wine F - Approaching the generosity, weight and fullness of Wine C, but in a more somber, properly reserved manner. Masculine. Neither opulent nor flamboyant, the wine glares back at you, challenging, seemingly daring you to drink it. Layered dark fruit, minerals, graphite, cassis, earthy. There is red berry/fruit on the surface, to be sure, but seems to be wanting to sink deeper into the middle. More terroir driven than fruit, to me. No material chocolate notes noticed.

Again, being rushed, I couldn't write down an educated guess but fleetingly thought it to be the Léoville las Cases. I was wrong. It was the 1996 Latour.

The afternoon before the dinner, I recalled, upon the Doc's prompting, that we had this before at an IWFS Latour vertical held at Bianca's a few years ago. Unfortunately, due to too much wine, I lost the notes I took of that evening. Good thing the Doc reminded me as I had forgotten that I ever had this wine before.

I'm not one who pays much attention to professional scores (my own notes are totally bereft of them), but, since many others are, I looked up Jancis Robinson's (a Masters of Wine degree holder who uses a 20-point scale) ratings from two tastings of the 1996 vintage held in September 2006, as well as the Robert Parker ratings (on a 100-point scale) circulated by the Stockbroker a day or two before the dinner. Here are my own results and the group's collective ranking with the respective scores given by Jancis Robinson ("JR") and Robert Parker ("RP"):

My Own Ranking:

Wine #1 - Wine C, Mouton Rothschild (JR 19, RP 94+)

Wine #2 - Wine F, Latour (JR 18, RP 99)

Wine #3 - Wine D, Lafite Rothschild (JR 18.5, RP 100)

Wine #4 - Wine E, Margaux (JR 17.5, RP 99)

Wine #5 - A tie between Wines A and B: Haut-Brion (JR 18, RP 95) and Léoville las Cases (JR 17, RP 98+)

The Group's Collective Ranking (only until 3rd favorite wine):
Wine #1
- Wine F,
Latour
(JR 18, RP 99)
Wine #2
- Wine D,
Lafite Rothschild
(JR 18.5, RP 100)
Wine #3
- Wine E,
Margaux
(JR 17.5, RP 99)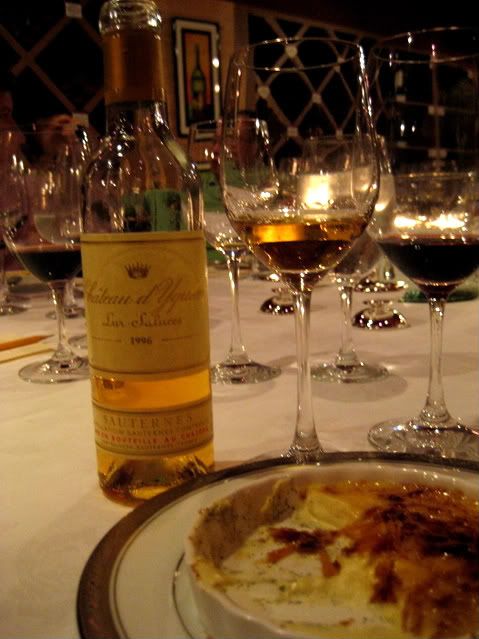 At the beginning of dinner proper, I made it clear that, as far as I was concerned, ranking this group of wines was an exercise in debating degrees of excellence, and, reiterated after votes were cast that all were quite wonderful in their own ways.
The aftermath was just as
wonderful. We enjoyed the Stockbroker's Yquem and Gentleman Joe's Rieussec with a simple
Vanilla Bean Crème Brûlée
with
Candied Orange Zest
. At that point, I was a bit mentally exhausted from analyzing the reds so I shamefully neglected to write down any notes on these vintages of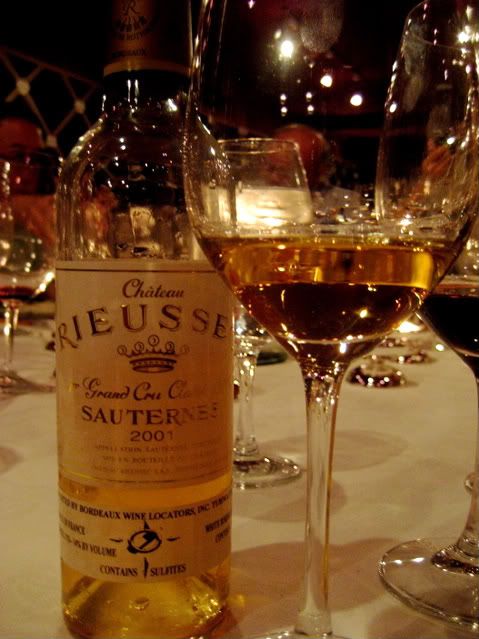 the King and Crown Prince of Sauternes. You'll just have to take my word for it that they were both sublime.