A few months ago, over a lunch at Aubergine with Robert Burroughes, Lawrie Martin brought a
1998 Château de Mont-Redon Châteauneuf-du-Pape
which we didn't get to open. Thus, a suspended sentence was handed down that bottle, to be implemented with couscous during our next lunch.
Ever since I followed the Stockbroker's recommendation to pair Southern Rhônes with couscous
, I became fixated on having Châteauneuf-du-Papes with that dish.
After several attempts at scheduling, we finally got to it today at my favorite
Je Suis Gourmand
through the gracious indulgence of Marc Aubry who agreed to make couscous for us - and an excellent couscous it was, at that - but I'll let the pictures speak for themselves.
Lawrie expressly forbade me from bringing any wine as he said he and Robert would take care of it. I have materially cut down my drinking, and have limited it to only 2 non-successive wine meals per week due to hypertension issues (my wife made me do it), so I got a bit worried when I saw them arrive armed to the teeth. Fortunately, Mike Whiting was able to join us and help with the drinking load. Still, I was quite relieved when Robert suggested that a couple of their of bottles be left for another day.
Though couscous is quite a heavy meal in itself (at least in the quantity I eat it), we couldn't help but have a few appetizers before tearing into the main course. With Marc's ever-enjoyable
escargot bourguignonne,
terrine of
foie gras
and onion tart with Emmental cheese salad: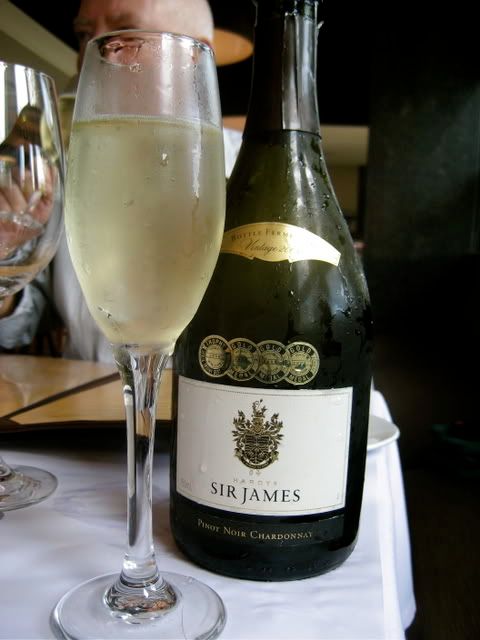 2003 Hardy's Sir James Pinot Noir Chardonnay
- Our friend, James du Vivier, imports this fresh and lively Australian sparkler. I don't know the proportions of the grapes in this, but neither seems to dominate on the palate - there is the crisp, green apple, mere whisper of lime and tropical fruit notes (with a hint of leesiness) of chardonnay and the very subtle "milk-chocolatey" undertone of pinot noir.
I'd guess that the proportions of the two grapes are close to equal.
If this was a Champagne
, I'd say that the pinot noir was,
at most
, 1/3 of the
cepage
. Then, again, I could
very
easily be wrong as this is probably only the second or third Australian bubbly I have ever had in my life.
Bright and bushy-tailed, this is an exuberant and very approachable, if not complex, vintage bubbly that one could drink a lot of at the beach. Very nice with the onion tart and Emmental salad, it brightened the dish and refreshed the palate.
Then, the couscous came.
A large bowl of the mildly spicy light "soup" chock-full of chicken, meat and vegetables was set in our midst and we were served a plate each of couscous topped with a Megrez sausage and a rib of grilled lamb. I foolishly blurted out that I hoped we could ask for more of what was on our individual plates. I say "foolishly" because I really should have known better than to think Marc would ever let me go under-sated - for no sooner had I uttered those words, when a heaping serving platter of couscous, sausages and roast lamb chops, and a large gravy boat of the extra-spicy sauce landed in front of me. Manners to the wind, I tore into it with: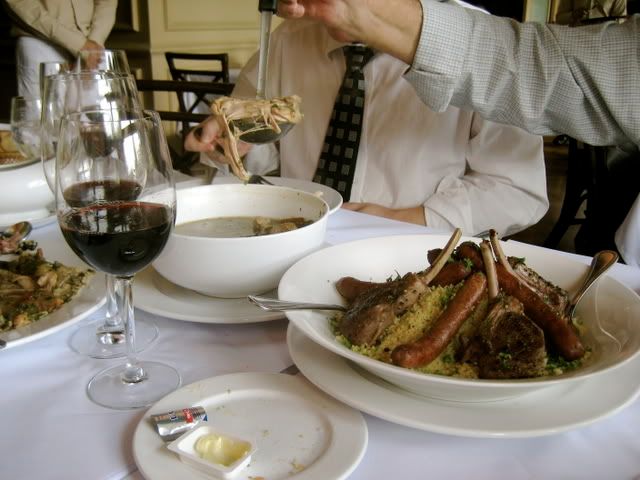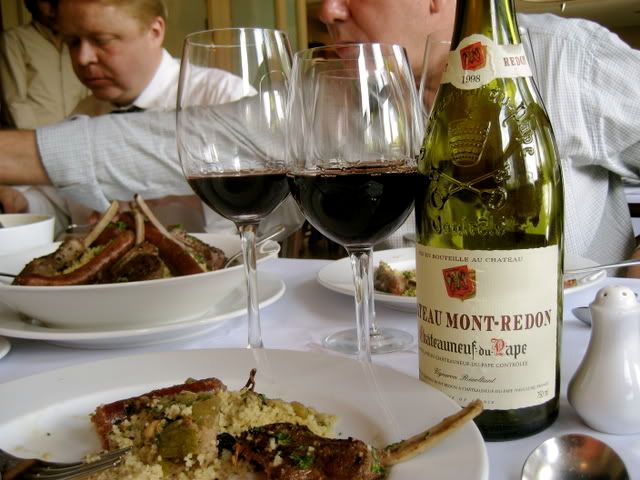 1998 Château de Mont-Redon Châteauneuf-du-Pape - Lawrie's bottle, as mentioned earlier, from one of the oldest (since the early 14th century) domaines with the largest estate of the appellation, with just under 100 hectares of vineyards. I understand that the average age of the vines is 40 years. The wine itself is from an excellent vintage for Châteauneuf-du-Pape, and is made up of grenache, syrah, mourvèdre and cinsault grapes.
Decanted for only around 20-25 minutes, this medium-bodied wine was wide-open and displayed a perfumed bouquet that called to mind dark cherries, raspberry, cranberry, sweetly toasty-spiced wood, dark violet flowers, lavender traces, black pepper, a slight whisper of reductiveness, all of which were seamlessly mirrored on the palate over earthy cassis and blackberry undertones. Good complexity.
Lots of bottle-age-sweetness and femininity to this. I think this wine (this particular bottle, anyway) is fully mature and at its prime; waiting much longer on this would not be wise. Light-footed, it glides on the palate. Definitely good typicity and, to my mind, in the more elegant, traditional, "old-school" style of the appellation. Not too many of those left these days.
For whatever it's worth, research shows that Tanzer bestowed this with a score of "92" and the Wine Spectator a "90".
- and -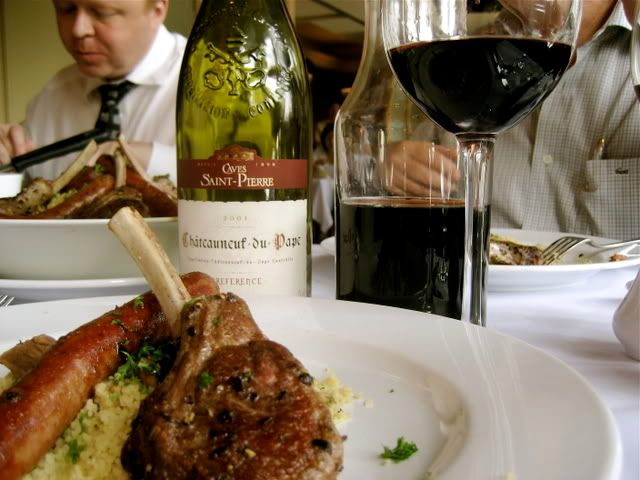 2001 Caves Saint Pierre Châteauneuf-du-Pape "Preference" - Robert's bottle, from another excellent vintage for Châteauneuf-du-Pape. This wine played its cards closer to its chest, not nearly as open or generous with its aromas or flavors, but not at all stingy. Rather, it was a masculine, somber sort - one I had to actively engage in conversation with to appreciate fully.
Actively engage I did, and was rewarded with getting to know this heftier (stepping into the full side), earthier, warmer (I guess a higher alcohol content than the Mont-Redon), comparatively riper-fruited, more modern wine. Deep-veined, vaguely pruney darkly-spiced fruit, cassis and violets played a marginally bigger role in its flavors, but the dark cherry, kirsch, ripe raspberry and craisin were still at the forefront; its smoothness, harmony and good balance make this very easy to drink.
Happily, this wine is locally available at
Terry's Selection
for around P2200, which is good value for such a wine (Unit 2, Building B Karrivin Plaza, 2316 Pasong Tamo Extension, Makati, (632) 729 79-06/07 Lower Ground, The Podium, 18 ADB Avenue, Ortigas Center, (632) 638 57-25/26).
I gorged on the couscous in a major way...but that didn't stop me, intrepid glutton that I am, from having dessert. Since I knew we had a botrytis-touched dessert wine (these wines almost always have ripe, candied or dried apricot notes to them), I had an apricot crème brûlée with the: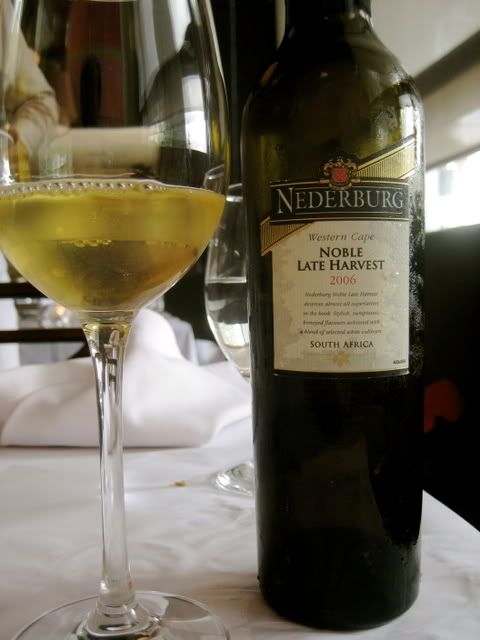 2006 Nederburg Noble Late Harvest - Robert's bottle, the very first dessert wine from South Africa I have ever tried. Research shows that this is made up of chenin blanc (60%), riesling (27%) and muscat (13%). If there is one word I can use to sum up this dessert wine, it would have to be "racy".
Clean, fresh, floral and tangy/spicy lightly "botrytised" (as compared to the level of botrytis of dessert wines from Sauternes) and flavors of ripe (but not over-ripe) sweetened peach, white grape juice, apricot, melon. Crisp, palate- resuscitating acidic balance. The fruit is very pure and keen-edged.
With the conspicuous absence of the rich vanilla bean/oak notes of Sauternes and Barsac dessert wines I am familiar with, I was not surprised at all to read that this saw no oak-ageing.
Reminded me somewhat of the chenin blanc-based sweet whites of the Loire, but not as deeply-veined or complex. Quite charming, indeed.
A round of double espressos and complimentary glasses of Eau de Vie de Prune brought an end to a most enjoyable lunch. What a wonderful way to end a work week.
Many thanks, Robert and Lawrie.