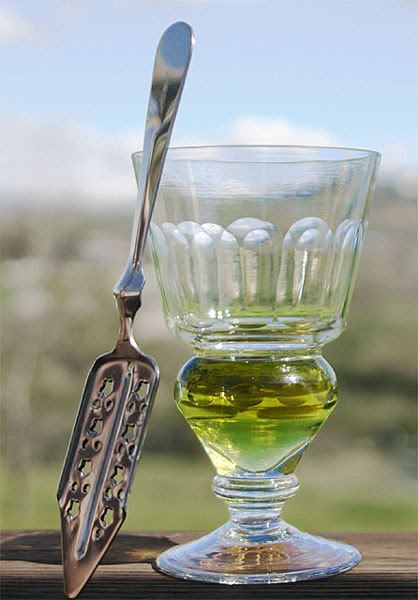 Absinthe
, called "The Green Fairy", because of its vaguely luminous emerald hue and its reputed hallucinatory effect, is a potent distilled liquor of Swiss origin, the influence of which is said to have been instrumental in Hemingway's creating "For Whom the Bell Tolls". Among other notable writers and artists reputed to have gained inspiration from the Green Fairy (if not sought the same therefrom) are Baudelaire, Van Gogh and Manet.
Absinthe is typically around 120-150 proof (60%-75% alcohol) and primarily flavored with the herb named grande wormwood (
artemisia absinthium
) which contains the chemical, thujone. Anise, star anise and fennel, among others, are also used in this emerald liquor.
For various reasons, by the early 1900s, absinthe was banned in the US and most of Europe, though no study can clearly show it is more harmful than any other strong alcoholic drink. By the 1990s, the EU slowly began allowing production thereof. Thujone is considered toxic and the US FDA
to this day
does not allow it in any foodstuff.
There are, however, several "absinthes" sold (and even produced, I hear) in the US. These so-called "absinthes" are, for lack of a better term, "un-thujoned"; e.g., Ted Breaux, the producer of an "absinthe" called "Lucid" (which sells like hotcakes in the East Coast), admittedly manipulates the wormwood component to bring Lucid within FDA standards of acceptability. Breaux also admits to adjusting the traditionally pronounced anise flavor to cater to American palates.
Purists opine that this is
not
real
, or, at the very least,
not traditional or authentic
absinthe, therefore. Case in point, aside from Lucid, Breaux also manufactures
Verte Suisse 65
, which is "
unmanipulated
", and, consequently, still illegal in the US. Lucid retails at around $60 per bottle, which is approximately a third of the price of Verte Suisse 65.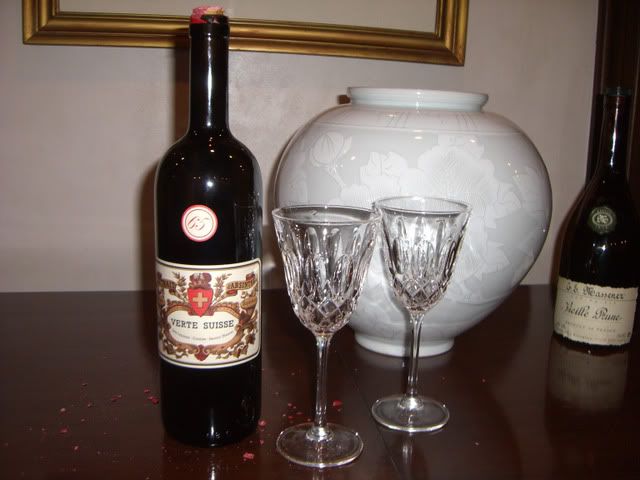 In mid-May this year, friends Rod and Debby Schiffman came over for a visit and bestowed upon me some special bottles of red wine and, as an added bonus, a bottle of
Verte Suisse 65
. Being much more familiar and experienced with absinthe than I, Rod lectured me about its origins, history and serving method.
As I understood, absinthe is traditionally diluted by adding cold water (from 3:1 to 5:1, depending on how strong you like it) poured over a sugar cube, through a slotted spoon. The non-soluble components of absinthe (i.e., anise, fennel and star anise) turn the mixture cloudy/milky white but with a telltale limpid green tinge.
Rod and I had a couple of glasses each of it after dinner in mid-May, no sugar cube for us, just 3:1 H2O dilution. The hit was long, liesurely and mellow, but, boy, did I have strange dreams that night - nothing unpleasant, but quite bizarre.
After another wine dinner at home later that month, with our wives, the Doc and Stockbroker, Rod demonstrated the traditional preparation under the Stockbroker's careful eye (there is a sugar cube on a fine mesh atop the recipient glass).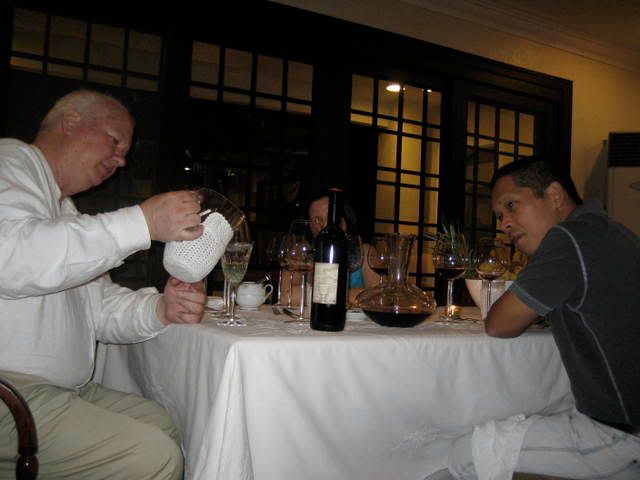 I had mine
sans
the sugar cube again. It tasted like an ultra-refined, smoother, deeper and much more complex pernod - but with the familiar anise theme notably more elegant, nowhere near as aggressive as in pernod, with fennel whispers flitting about.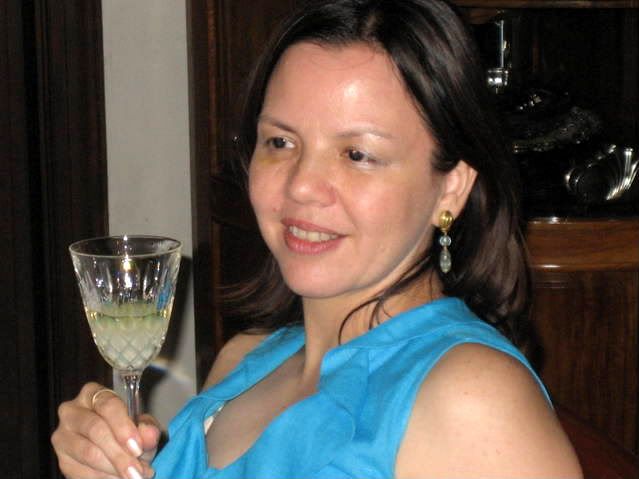 Fine stuff, indeed. I must admit that I just love its mellow hit. Conversation took a silly turn thereafter. I recall the Stockbroker's comment to the effect that his teeth felt like they needn't be flossed for a week elicited a hysterical roar of laughter. My wife, obviously, liked its effects as much as I....