~ 5th September 2008 at Terry's Segundo Piso, Makati ~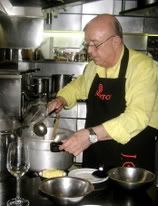 Juan Carlos de Terry (a.k.a., "JC") graciously invited my wife and I for a dinner in honor of Bodegas Protos' Head of Exports, Carlos Villar Bada, who was in town for a short visit. I eagerly confirmed our attendance. We always greatly enjoy JC's events as he is an excellent chef, and, aside from being a Phd in oenology, an expert in Spanish cuisine and excellent pianist, more importantly, he is a good friend.
Bodegas Protos (meaning "First" in Greek) is located in the town of Peñafiel, in the province of Villadolid, Spain, at the foot of XIVth century Peñafiel Castle and is one of the oldest and largest, if not the oldest and largest, producer(s) of Ribera del Duero. Those interested in learning more about Bodegas Protos may click
here
.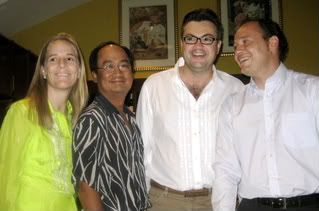 We arrived at the appointed time and chatted with the other guests. As usual, JC was busy in the kitchen preparing our feast while, at the same time, greeting guests, checking the wines and making sure all the other customers of his jam-packed restaurant were well taken care of. We were seated with Carlos, Uncle David, Belinda, the spouses Vigneron and Cecile Mauricio as the parade of delights began. And, what a parade it was.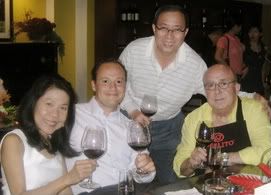 "Comer sin vino es miseria y desatino"
With 2007 Protos Rueda Verdejo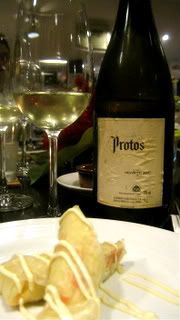 Ensalada Fria de Salmón y Arroz de la Huerta
A cold creamy salmon salad with eggs , carrots and apples, all wrapped in rice paper
Pavía de Ostra Estilo Cadiz - Crispy-coated New Zealand oyster topped with salsa Aji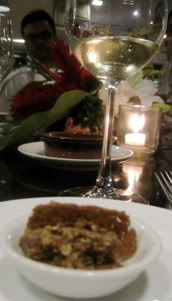 Trilogía de Cecina de Léon, Paté de Jabali y Chicharron de Cordero - Slices of Cecina air-dried beef and paté atop a mini galette sprinkled with crushed lamb crackling
With 2007 Protos Rosado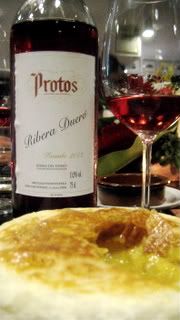 Sopa Mediterránea de Crustáceos al Protos Rosado
A hearty bisque of crab, shrimp and grouper scented with Protos Rosé, covered in crisp pastry
Arroz a la Crema de Alcachofas Confitadas
A creamy risotto of blended artichoke confit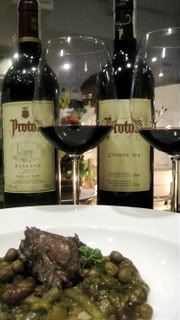 Ragout de Cordero al Estilo de Burgos
Lamb confit atop a bed of slow-cooked mélange of vegetables
With 2005 Protos Selección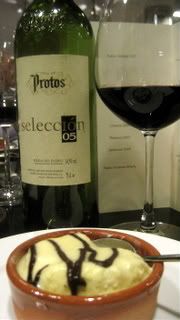 Soufflé de Queso de Sardón del Duero al Aroma de Romero
A soufflé of cheese from Sardón del Duero gratinated with Cereta del Cadí and drizzled with a blend of puréed prunes from Agen and Protos Reserva
With Pedro Ximénez Sherry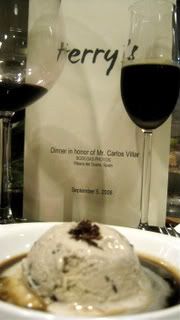 Helado de Aceitunas Negras al Aceite Orgánico Extra Virgen
Freshly made black olive ice cream with extra virgin olive oil from Jaén
with a thyme-scented Muscat syrup
2007 Protos Rueda Verdejo - 100% verdejo, the main white grape of Rueda. Fruit profile: pure and clean green apple with mild grapefruit undertones; some tropicality in the middle and pineapple more apparent slightly past mid-palate. There are hints of fresh grass in the nose and, to a much lesser extent, on the palate (nowhere near as aggressively grassy as many Marlborough NZ sauvignon blancs though) . The attack is crisp and firm enough, turning somewhat softer mid-mouth as the tropicality (and a slight leesy nuance) sets in. The underlying grapefruit lends a hint of bitterness towards the back, which, to my mind, makes it a nice apéritif as such bitterness whets my appetite - much like a very dry prosecco or Campari soda. Over-all, it is nicely dry and has good purity and brightness.
It didn't taste or smell to me like it spent any time in oak and Carlos confirmed this. He said they intend to eventually marry their verdejos in oak to make them age longer. I replied that I, personally, prefer verdejos pure like this one and not (or at least minimally) oak-touched or laden - but, that's just me.
The wine's crisp attack and dryness was a good foil to the creamy salmon salad, it's purity of fruit and focus an entertaining counterpoint to the crispy, tempura-esque oyster, and its middle's soft tropicality and pineapple notes providing the same with the savory air-dried Cecina beef and lamb cracklings.
At P570 per bottle, it is easily affordable for those who want to explore and/or continue to enjoy Rueda Verdejos (Note: "Rueda Verdejos" are at least 85% verdejo, while "Verdejos" are only at least 50% verdejo).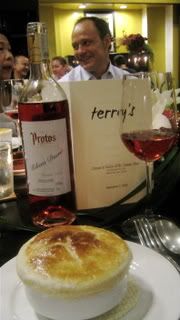 2007 Protos Rosado - Fresh, well-balanced, straightforward, honest, fruity rosé - a bit high in alcohol content for a rosé, but only apparent on the label and the nice rounded heft mid-palate. Good extraction (I never thought of a rosé as well-extracted, but there you go). Fun to drink - strawberry/cherry/raspberry (in descending order) with a faint red beet nuance underneath. Its magic, though, was in the pairing with the richly and complexly flavored crab/shrimp/grouper bisque. Absolutely wonderful match - difficult to describe - the freshness of the fruit cut the richness where needed and cleansed at the finish, while the rounded middle fruitiness added nice weight and "meatiness" to it mid-palate. Bravo! My and my wife's favorite pairing of the evening.
At a mere P475 per bottle, it's a definite no-brainer. Back up the truck, guys, and head for the beach or a picnic...or a beach picnic. In addition to the foregoing, I have time and again opined that rosés are extremely versatile and generally good matches with slightly spicy Filipino dishes like adobong snipes or pork and/or chicken.
2004 Protos Crianza - Super-ripe, mildly earthy dark fruit base and cherry/red berry surface notes, there was a permeating slight torrefaction to this as a whole. Licorice, bit of toastiness as well. It must have been quite a hot year in Ribera del Duero well into harvest time. Lots of extraction. Well-integrated slightly toasty oak, sweet tobacco and slight dark chocolate notes became more apparent after material breathing time in the glass. I noted a bit of American oak used as there was that tell-tale coconut cream scent hovering about (the use of which was confirmed by Carlos - around 30% I think he said) - not obtrusive though - it blended in well, adding complexity, depth and body. Hint of toffee in the finish (something I usually notice/associate more with Napa cab sauvs). A bit of a tailored, modern touch that I note in many Spanish reds these days - which, likely, makes it easily accessible and readily pleasing.
Still and all, good heft, body an length, quite easy to like and drink. At P1300 per bottle, I'd buy this to serve at parties where caution is thrown to the wind. As to the pairing, while I tend to serve ripe Chassagne-Montrachets or oaky California chardonnays with risottos, the pairing worked well due to the earthiness of the dark fruit base and that of the risotto - a hand-in-hand match primarily, with the surface ripe red berries adding a bit of contrasting highlights.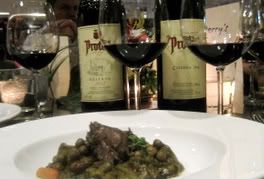 2003 Protos Reserva - I expected the dominant fruit component of this to be even riper and more roasted than the 2004 Crianza. Surprisingly, it was not. While the fruit was plenty ripe enough, the Crianza was moreso. The cherry notes casi licoroso. The flavors were similar except this had slight plumminess underneath, but, somehow, I felt this wine had marginally more freshness to its fruit, and marginally better depth, structure and finesse. It was a bit lighter on its feet as well, but I really had to strain to detect that - these were both somewhat full and definitely ripe, rounded, international-styled reds, make no mistake. Suave on the palate, almost velvety.
I recall, at this point, the Vigneron asked me which grape in France, in my opinion, would be somewhat close to the tempranillo (known as "tinto del pais" or "tinto fino" in Ribera del Duero). Cecile suggested the cabernet franc of the Loire. I thought about it for a while but couldn't come up with any based on my personal experience.
Had this and the Crianza with the earthy lamb confit and they both matched very well - more running with than contrasting. I recall Charles Philipponnat prefers the "running with" kind of pairing. At P1905 per bottle, I consider it still reasonably priced and would do well with roasted meats, rich confits (as what we had it with) and stews.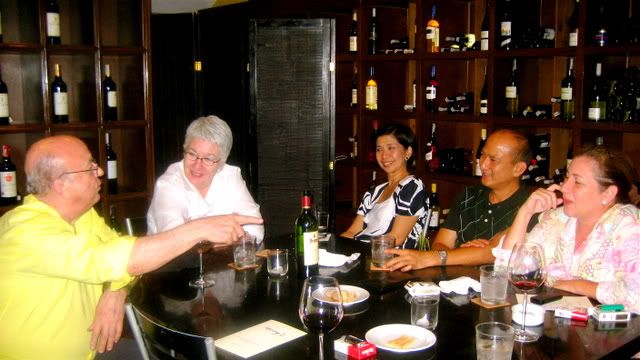 2005 Protos Selección - Evidently deeper flavors (without being overly extracted or super-ripe) and clearly better focus in this wine, likely from much older vines. Much finer and more apparent typicity than the two previously mentioned wines - no modern coconut cream or toffee nuances, purity and complexity seem to be more the game here. There is a dark spiciness to it and apparent but very well-integrated oak/vanilla. More refined, contemplative and properly reserved rather than eagerly pleasing.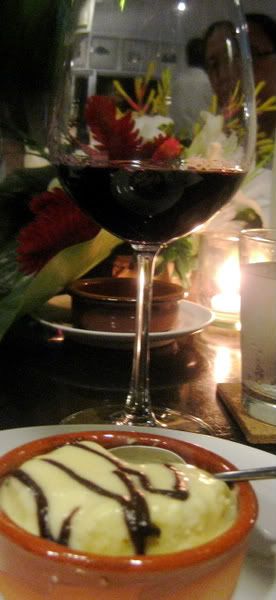 The match with the dual cheese soufflé was very fine and seemed very Bordeliase to me. The cheese soufflé was ethereal. Lovely. At P2660 per bottle, it's probably not one for everyday consumption, but will do very well for nights of celebration or contemplation.
I simply must make special mention of the dessert course of JC's own black olive/olive oil ice cream on a thyme-scented muscat reduction. I also must add (because it is not mentioned in the menu) that it was lightly topped with crunchy, candied, finely chopped green olives. It was absolutely ingenuous, heavenly, a truly inspired work of art.
I remember wishing the Doc (who first introduced me to the wonders of olive oil gelato) could have been there to enjoy this - he would have loved it. My wife
and the Vigneron were most impressed as well. We can't imagine how JC thought up this incredibly complex dessert and the effort he took in orchestrating the flavors - but we are happy he did.
Phenomenal indeed, and, with the Pedro Ximénez, a symphony completed. The Vigneron proclaimed that JC "is truly an artist", and we all agreed.
A million thanks must be accorded to our generous and inspired host for a dinner amazing and memorable in every way.