It had been several months since my former regular golf group (with spouses) all got together for dinner again after a "reunion" round of golf. "Former" because several moved on to biking, sailing, too much work and whatnot. Last night (12 September 2008), however, attendance was complete at
B
and
M
's new house for one of their not-to-be-missed steak dinners.
B,
born and raised in the US, is a confirmed Napa cab man, while
M
is of Spanish extraction. Since the former always serves Napa cabs at their dinners, I thought to bring along a reliable Rioja for the latter.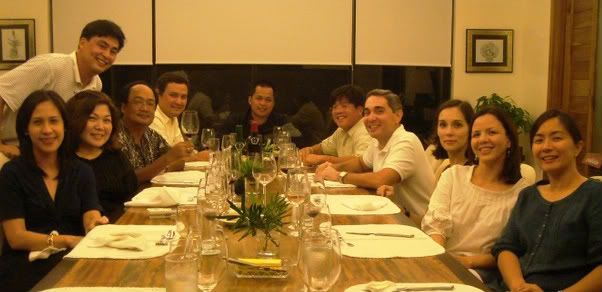 The evening began with glasses of crisp, well-chilled
2007 Bodegas Protos Rueda Verdejo
(for extensive notes, see my post on
JC de Terry's recent Bodegas Protos dinner
) for the appetizers of homemade salmon and cream cheese dip, brie and Parma ham - continuing with the initial course of crab cakes salad (with homemade sour cream).
With thick slabs of US prime grade rib-eye steaks and paella: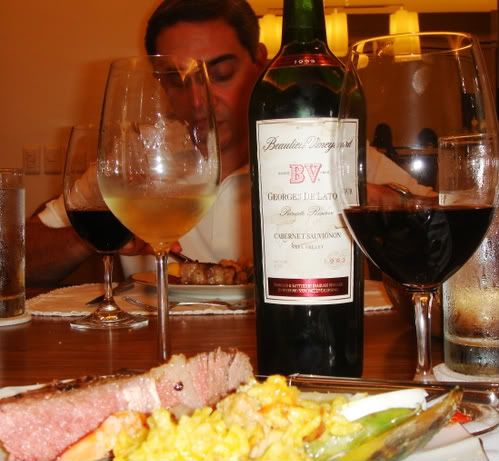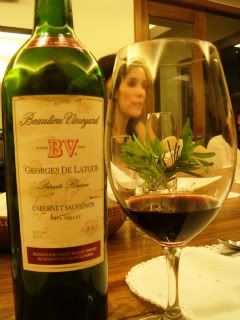 1993 Beaulieu Vineyard Cabernet Sauvignon Georges de Latour Private Reserve
(Napa Valley, USA) -
B
's bottle. Though I've tried the '91, '94, '96 and '97 versions, '93 was a vintage I'd not previously had.
Georges de Latour was a French immigrant who made his money in the US selling cream of tartar. A bit of research shows that in 1900 he purchased a 4 acre property in Rutherford (the historic vineyard area of Napa) for his wife, Fernande, which they named "Beaulieu", which means "beautiful place". He planted rootstock from his native France in this land, and, beacause Napa's phylloxera (a tiny louse that destroy vineyards) infestation reached devastating proportions around 1910, eventually became the biggest supplier of rootstock for the area's wine estates.
In 1938, Georges de Latour brought in Russian-born French immigrant André Tchelistcheff as winemaker who brought Beaulieu Vineyards (where he was fondly called "Maestro") from strength to strength and went on to become a huge influence in Napa's wine-producing history.
Ok, enough with the factoids. On to the wine itself.
This '93 was accurately summarized by my wife as "luscious". It's bouquet of creamy cassis, ripe blackcurrant, kirsch, raspberry highlights, dried herbs, mushrooms and vanilla/oak had the slightest touch of gamy magnétisme animal, all of which were broadly displayed on a bordering-on-full body. Bold, dusty, but 15-years' softened, molten tannins and adequate acidity propped up the wine, gave good structure and kept the palate from being numbed by the steak's richness. I thought I detected whispers of toffee and anise in the long, cedar-laced finish which would ordinarily tip me of that the wine is from Napa, or, at least, California.
Since the wine wasn't served blind, however, I can't definitely say I could have nailed it as such since it was quite suave, the toffee nuance very discreet, and, as a whole, it was reminiscent of a well-extracted, somewhat modern-styled Médoc from a ripe (but not roasted-ripe) vintage. Mature and drinking beautifully. Excellent with the steak.
The bottle was from B's dad's cellar (purchased on release and impeccably stored); this BV-GdL vintage is not locally available to the best of my knowledge.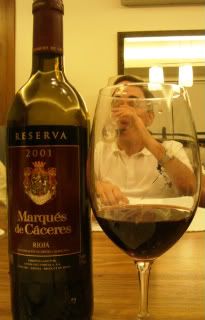 2001 Marqués de Cáceres Rioja Reserva
(Rioja, Spain) - My bottle, 85% tempranillo with the rest made up by grenache and graciano, 22 months in oak. 2001 was a very good year for Spain's wine regions in general.
When I was growing up, until well into the early-to-mid '90s, most all Spanish red wines available in Manila were from Rioja (as far as I could tell, anyway). It was only in the late '90s onward that I could easily find reds from Ribera del Duero, Toro or Priorat (now, one can even find wine from the new "hot" area of El Bierzo - see my post on Pétalos). By default setting, though, I cannot help but find Riojas comfortingly familiar.
Cedar and, to a much lesser extent, camphor, lace the leather-touched, earthy dark fruit, ripe raspberry, strawberry, dried thyme, mild anise and toasty oak. Rustic feel to it. Hint of old violets and drying wood towards the back and in the finish. A shade over medium-bodied, healthy extraction, a bit low on acid (because of the tempranillo, hence, I suppose, the blending in of graciano). The finish, though a bit drying, is acceptable in length. Nice typicity, it speaks of Rioja, albeit in a modern manner as compared to, say, the more traditional 2001 Cerro Añón Reserva. Available at Terry's for a little over P1600 per bottle. I'd buy it again as comfort wine, and its quality-to-price ratio is pretty good to boot.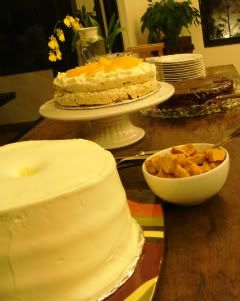 We didn't have any dessert wine that night, which was absolutely fine with me. What with the belly-busting amounts of food the evening's hosts always prepare (we barely finished half of the steaks), I was already staggering to the dessert table for the decadent flourless chocolate cake, peach cream torte and Yulo's coffee crunch cake.
I couldn't resist, I had a slice of the all of them - two of the coffee crunch cake, actually. I did think twice about the second slice, but figured "That's why God created Alka Seltzer", and proceeded to continue over-indulging myself.
A cup of coffee and several cigarettes later, I felt vaguely human again, just enough to engage in half hour more of conversation before thanking our gracious hosts and bidding them goodbye.