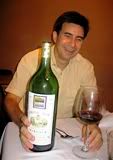 Miguel and Barbara A. treated a bunch of us to dinner at
Elbert's Steak Room
last night (12 September 2009). Including the evening's hosts, we were 5 couples in all: Doc and Mrs. Doc, the spouses Vigneron, Kim and Felicia A., my wife and I. Mrs. Doc rode with the hosts as Doc was busy at the hospital, but he showed up well in time for dinner proper. As you can see, Miguel was in a full-swing celebratory mood, putting a good dent in the Vigneron's magnum of
1983 Château Siran
- an "orgasmic" wine the latter jokingly claimed.
But I get ahead of myself...
By the time my wife and I arrived, the guys already had made headway into a bottle of...
1995 Château La Fleur de Jaugue
- Miguel's bottle. This was the first time I have tried a wine from this St-Emilion producer. It was also the first time I became aware of the producer itself, so a quick check reveals that production is just over 1650 cases a year from a relatively small holding of 5.5 hectares under vine (80% merlot and 20% cabernet franc). The vines range from 35 to 50 years of age, fermentation is done in automatic thermo-regulated vats for 20-28 days and elevage in tank and barrels (new and 2nd cycle oak) for 12 months.
I thought it was a good wine, with a traditional air to it - not overly-ripe, super-extracted or overly dense, concentrated and oaky like many modern St-Emilions (a typical example, of which is, to me, Pavie). This is more my type of St-Emilion. A few notches over medium-bodied with a nice, comforting slight warmth to its dominant, slightly smoky plum, cherry, bit of kirsch, cassis, violets, underlying coffee/mocha, slight herb notes, touch toastiness to the properly discreet oak. The finish is likelwise discreet but with good length. Precise balance.
Next was the Vigneron's aforementioned magnum of...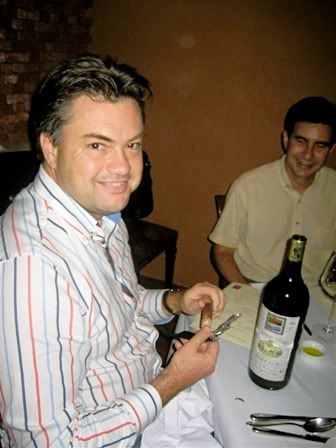 1983 Château Siran
- From his family-owned château straddling Labarde and Margaux. From their '80s vintages, I've only tried the '82 (several times), '88 (once) and '89 (several times), so it was good to try the '83 as, to my knowledge, '83 is reputed to be a particularly good vintage for Margaux producers - moreso than the rest of the Médoc. He related to me that a few days prior, he opened another magnum for some other friends and one pronounced it as "orgasmic".
A fortiori
my curiosity was roused, as were my expectations.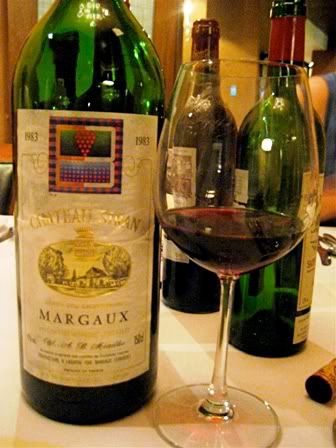 Notably well poised, mature, medium-bodied wine presenting graceful cedar, violets, cassis, with lightly spicy raspberry topnotes, underlying silky dark fruit, fleeting whispers of licorice and minerals. The wine has a peaceful, feminine lilt to it, calling to mind Siran's '53 clearly more than, say, its '59, '79, '82, '89 and it's muscular '00 and '05. I liked it a lot, but "orgasmic"? I'd say "serene", perhaps even "contemplative". Judging from this one magnum, I'd say this should be enjoyed now and within the next 2 to 3 years.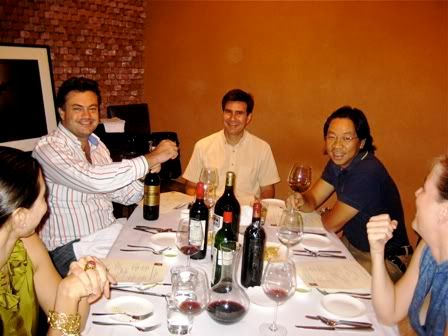 A pair of 1999s followed: another from the Margaux appellation, followed by a St-Julien heavyweight...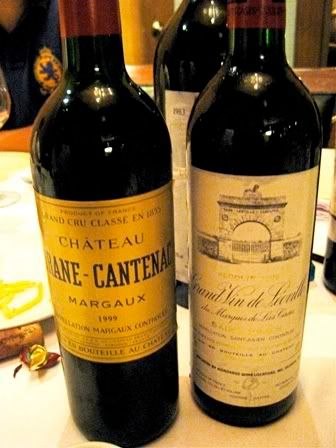 1999 Château Brane Cantenac
- Also from the Vigneron. Without any decanting or material aeration, it displayed an openly alluring nose of lightly truffled, smoky-sweet cedar, raspberry liqueur, plum, cassis, violets and leather. In the mouth, it was moderately muscular, decidedly masculine, the flavors mirroring its aromas but with leather more apparent, some added coffee grounds and noticeable toasty new oak as well. This, together with the following red and the likes of Latour, Margaux, Lafite-Rothschild, Mouton Rothschild, Léoville Poyferré, Lynch Bages, Malescot St-Exupery, Grand Puy Lacoste and Siran serve to confirm to me that 1999 is an under-appreciated Bordeaux vintage.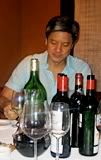 While vintage rains caused many concerns regarding dilution, in my experience, however, with the mentioned châteaux, said concerns are grossly exaggerated. Although few I've tried managed to acheive their usual levels of power and concentration (a notable exception is Latour), I do not think this is a bad thing in light of the general overly (to me) modern thrust of many producers.
This is yet another well-performing 1999. Happily, due to professional reviewers' coolness to the vintage, good '99 Bdx are priced at relative bargains.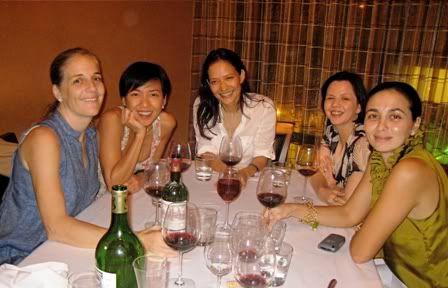 1999 Château Léoville las Cases
- My bottle. Last I tried this was almost a year ago at
Rene's birthday dinner
; and, before that was in
late September 2005 at a blind IWFS tasting
. It is coming along very well. The Doc, who has recently gone through a few bottles of this, agrees with me that this is yet another very good 1999 Médoc. My notes from Rene's dinner (23 November 2008) are as follows:
Now, it is lush, powerful, intensely masculine with deep profiles of cassis, earthy dark fruit, tobacco, lead pencil shavings, leather and violets. Not a big bruiser at all, it is a suave and correct fellow, but one you definitely wouldn't want to mess with. Superior balance, elegantly smooth, finely layered, with a long, confident finish. The red of the night for me, without a doubt.
Because of Rene's bottle, I bought some of my own. Almost a year later, the '99 las Cases (decanted for around an hour) seems to have put on more weight and muscle, but is still very harmonious and balanced. It has an added nuance of gravel and a touch of warm asphalt as well. Its darkly masculine, powerful character is noticeably toned down compared to strong vintages like '96, '86, 85 and '82, and it is materially less severe and tannic as well (especially compared to the '86). The structure/power is undeniably there, however, but in a more approachable fashion.
Very nice now and, in my opinion, with many years of added complexity and depth ahead.
In between all these reds, with our soup and salad courses, I opened a bottle of...
2008 Itsas Mendi Txakolí No. 7
- My bottle, a highly recommended txakolí that Miguel Vecin graciously sourced for me during one of his trips to Spain. For those unfamiliar, txakoli is a traditional/typical wine from the Basque region of Spain (Denominación de Origen Bizkaiko Txakolina) made from the indigenous hondarrabi zuri grape.
Bodegas Itsas Mendi, founded in 1995, is located at the outskirts of the town of Guernica. Though relatively new, Itsas Mendi is now widely recognized as one of the best makers of txakolí, credit going to winemaker Ana Martín (who is also a famous Spanish wine consultant).
This was recommended to me by New York-based Douglas Smith whose better half is from the País Vasco, where they regularly summer. My wife suggested I bring this along for Miguel to try as his family has Basque roots.
After reading my post on the
2008 Txomin Etxaniz Getaria txakolí
that Miguel V., J-Lab and I enjoyed with kokotxas and tapas in La Tienda last 24 June 2009, Douglas advised me to try, if possible, a smaller, more artisanal version. There is no local supplier of any txakolí, much less by Itsas Mendi. I was lucky enough that Miguel V. agreed to buy some for me in Spain.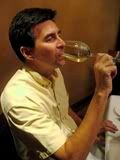 Txakolí is a very dry, light, vaguely spritzy white wine that is meant to be enjoyed casually and young. This particular one was not as spritzy as the Txomin Etxaniz of the same vintage and was notably fruitier, with a more pronounced and rounded middle. The dominant flavors are bone dry ripe grapefruit, green apple, bit of citrus with nuances of fresh grass and white seashell. There is a lip-smacking faint bitterness towards the back and in the somewhat abrupt, dry finish that makes me want to take the next sip as fast as possible. Very recommendable as an apéritif with, I imagine, fresh shellfish. Thanks to Douglas for his recommendation and to Miguel V. for buying it for me.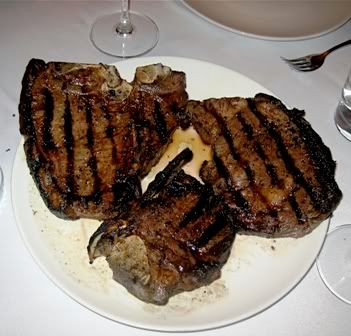 Medium-rare US Prime Grade rib-eye, bone-in tenderloin and T-bone for the ladies...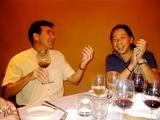 ...and a large, rare US "Super Prime" rib-eye for me (Doc ordered the same thing but barely got to eat at all or have even a couple of quick sips as he was suddenly called back to the hospital), I continued with the Léoville las Cases and the Brane Cantenac as I felt the steak too heavy for the aged Siran. Though the Brane Cantenac paired well enough, the Léoville las Cases' natural power and muscle carried it through as the best match with the steak for me.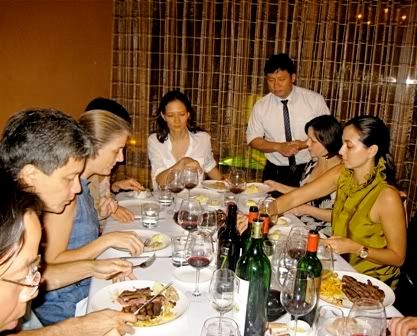 Last to be opened was...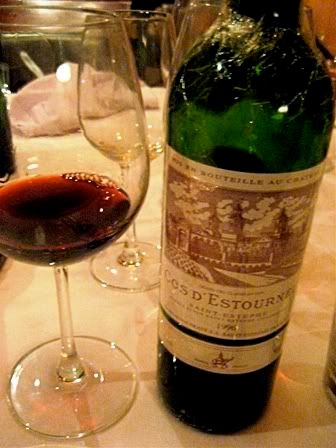 1996 Château Cos d'Estournel
- Felicia's bottle, together with Château Montrose, these are the undisputed two top producers of St-Estèphe. Though I've had this wine around 5 or 6 times to date, the most memorable bottle was Doc's at our
Blind Bordeaux Challenge VIII
. My notes then were as follows:
Wine # 1 - Best nose of the night, an exotically spiced, delicately sweet jasmine tea/plum/raspberry liqueur perfume. I immediately guessed it to be a Cos d'Estournel. In the mouth, it was definitive all the way from the confident attack to the long finish. Rich and generous in the mouth, leaving virtually nothing for analysis or the imagination.
In the Doc's and Sevrine's notes, they indicated that the mouth did not fulfill the bouquet's promise, commenting that it was even a bit short. Edouard liked it best and easily pegged it as a left bank. The Stockbroker commented that it tasted quite fresh. I identified it as a Cos and, for reasons below, ranked it 2nd best.
It turned out to be the Doc's 1996 Cos d'Estournel.
The succeeding few bottles I've had the pleasure of sharing in have not been as openly exotic and alluring. The one last night, though, came extremely close, displaying the distinctive, sweet tea and Indian spice reminiscent perfume of Cos d'Estournel - just a shade less open than the first I tried, but I am sure it would have been every bit as beautiful had the wine been opened earlier and allowed more aeration. It was getting late, though, so people were finishing up quickly, so I followed suit. Still and all, it was clearly the most complex and all-around best red of the night as the Vigneron aptly proclaimed.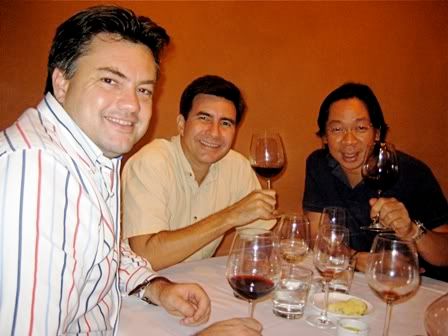 After assorted desserts, we all skipped having coffee, made time for a group photo and started to head off for home.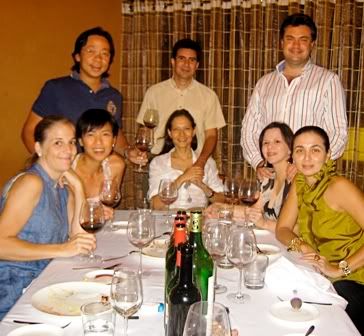 Many thanks, Miguel and Barbara, for such an enjoyable evening. The food was good, the wine fine and the company excellent. Wonderful.