Wednesday, 24 June 2009, I woke up
very
late after the German Beer & Sausages Dinner and rushed to
La Tienda
to catch up with Miguel and J-Lab for lunch. Apparently, the German beers share the same powerful narcotic effects on me as Chimay Blue. Thanks to the usual horrible traffic on the SLEX, I got to La Tienda just before 2pm. The guys had long started, naturally, but had some food kept warm for me.
The point of the lunch was to try out the
Kokotxas al Pilpil
made from the real deal cod ganglions Miguel's mom had sent to him from Spain regionally paired with his bottle of Txakoli. Aside from that, we had other tapas and bottles of wine.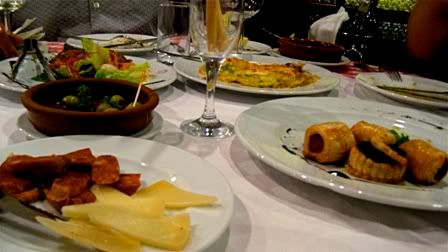 Chorizo, Cheese, Olives, Escalivadas and a couple of specials made for us by the chef.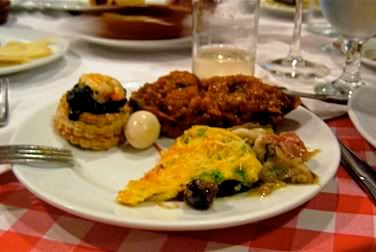 With the Kokotxas de Bacalao al Pilpil, I had a couple of glasses of...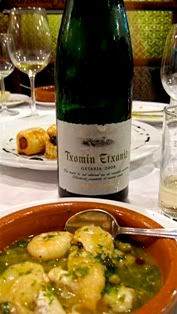 Txomin Etxaniz Getaria 2008
- Miguel's bottle, brought in from Spain specifically to pair with this dish. From the DO Getariako Txakolina located in Getaria, just outside chef Javi's hometown of San Sebastian in the Basque region whereat Txomin Etxaniz owns 35 hectares of sloping vineyards planted to the native hondarrabi zuri (90%) and hondarrabi beltza (10%) grapes. For whatever it is worth, Jancis Robinson considers this producer the best of the area.
Meant to be served very chilled and traditionally poured at arms' length height, this is a wine meant to be enjoyed casually, paired with starters of shellfish and fish - anchovies and tuna in oil particularly recommended by the producer.
Though it is a still wine, it has a slightly fizzy/carbonated feel on the palate, exhibiting very dry and fresh, light, tartish green apple and lime/citrus flavors with high, though not disturbing, acidity and a very slight appetite-enhancing bitterness past mid-mouth. From my readings, this is typical of txakolis.
It is a rather simple, straightforward, refreshing wine well-suited for the tropical heat and, indeed, seafood dishes. I'd guess it is not for everyone, but I liked it well enough for the novelty of a typical Basque regional pairing. Since it is quite inexpensive, I'd likely buy some to keep at home, but, unfortunately, I do not believe there is any txakoli locally available. Terry Selection used to offer it, but they stopped a while back according to JC de Terry.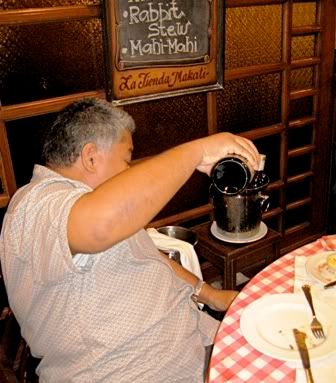 J-Lab pouring out some Txakoli
Othmar Ober, by that time done with his own lunch at another table, stopped by for a short chat and a glass of wine. This fellow is everywhere, I tell you.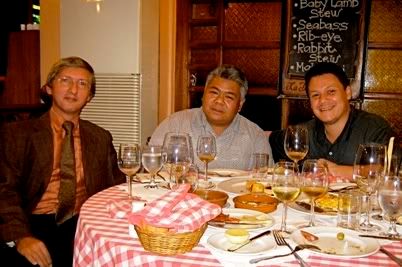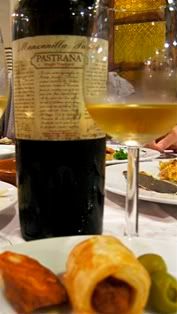 Bodegas Hidalgo
Pastrana Single Vineyard Manzanilla Pasada
- J-Lab's bottle; from the village of Sanlúcar de Barrameda along the Costa de la Luz, in the Anadalucian province of Cadiz in southern Spain. This 217 year-old bodega's holdings span 200 hectares planted to vine, with some reaching 80 years of age. "Pastrana" is the name of the particular vineyard wherefrom the fruit to make this wine is harvested.
According to Miguel, this is the typical drink enjoyed in Spain, after work, before dinner, at a tapas bar, with some olives and slices of chorizo.
It struck me as a rather light type of sherry, quite nicely dry, with a subtle, vaguely roasted-nutty character with faint wood notes. Smooth and comfortingly warm on the palate. I could easily get into this pairing with tapas. Per J-Lab, this is readily available at Uni-Mart in Greenhills at the very reasonable price of only P700++ per bottle.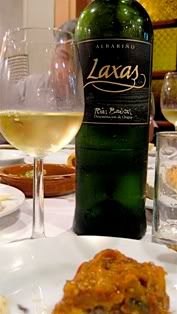 2007 Laxas Albariño
- Miguel's bottle, purchased from Terry selection for sure. I've enjoyed many bottles of this ever since Miguel introduced me to it, and have written about it, as well as the 2006 vintage, several times. For me, it is simply a must with Javi's escalivadas, pulpo à la Gallega and fresh boquerónes.
From
previous notes
:
From Rias Baixas, a D.O. in Galicia that includes Condado do Tea, Val do Salnés and O Rosal. Albariño is a white wine grape that most all authorities consider performs the best in Rias Baixas (and I definitely agree, having tried several Portugese versions, alvarinhos, which have been comparably insipid). Albariño wines are typically dry, brightly/sharply acidic and floral. As such, in Galicia, they are traditionally paired with seafood dishes the area is famous for.
This wine, as before, displayed fresh, brightly dry, crisp, vibrant mineral/flint touched, slightly grassy green apple, guava, grapefruit, gooseberry and a bit of ripe lemon. There is a slight, appetite-enhancing almond bitterness that comes in towards the back. Its sharp acidity gives over-all lift to the fruit, making for a lively and refreshing wine.

After our double espressos, Tito Kiko Vecin, Miguel's dad, a long-time regular of La Tienda, then joined us and poured us some glasses of...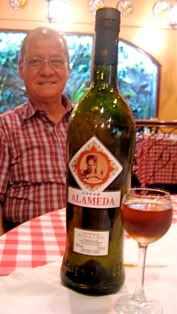 Bodegas Hidalgo Cream Alameda
- From Jerez in the Andalucian region, made from palomino fino and Pedro Ximénez. I understand that this is a blend of Oloroso sherry sweetened by dark rich sherry made from Pedro Ximénez.
After warming a bit in the glass, the aroma foreshadowed the fortified wine's moderate sweetness. In the mouth, it was noticeably darker, heftier, sweeter and slightly more viscous than the above-mentioned mentioned Manzanilla Pasada from the same producer. Surely this is meant to be an after dinner drink rather than an apéritif with tapas - as Tito Kiko confirmed, this serves as a good digestif.
Roasted walnuts, fig, with whispers of candied tamarind, orange rind and wood on a slightly-over-medium body and a nice, long finish - a very enjoyable way to end a rainy Wednesday lunch. My bottle of 2007 Domaine Tempier Bandol Rosé was untouched, left for another day.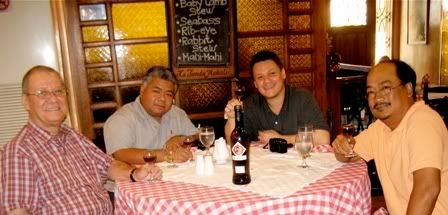 Gracias a todos!