Planned over a week ago, 8 of us gathered yesterday at the EDSA Shagri-La's Chinese outlet, the
Summer Palace
, for a Chinese lunch and wine-pairing called for by the Stockbroker. He, again generously supplied all the wines, save for Rene's and my bubbly contributions. In attendance, other than the day's wine host, were Oscar, Arnie, Johnny R, Sonic Greg, Ariel, Rene and myself. Unfortunately, J-Lab, Miguel and Aaron couldn't join us.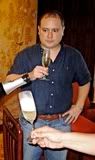 We were all pretty much on time, complete at the private room by around 1pm. The Stockbroker then organized things while Oscar made some last minute changes on the menu.
Our host, though just coming out of a bad cold was as energetic and meticulous as ever, making sure proper stemware was available and the wines were at the correct temperature. Welcome glasses of bubbly were then poured under Rene's watchful eye.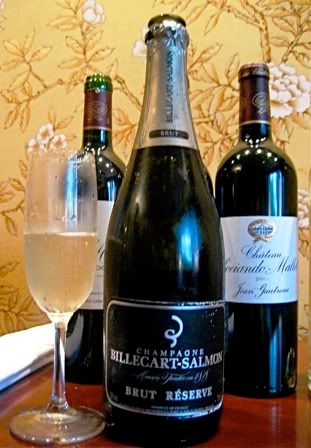 Champagne Billecart-Salmon Brut Réserve NV
- A couple of bottles from Rene and myself. I last had this extremely good value, non-vintage bubbly at the
Ordre Mondial des Gourmets Dégustateurs' kaiseki dinner at Toki
(28th July 2009). My notes then were as follows:
...a nicely hefty, fuller fruited, yet dry, clean and crisp non-vintage champagne. Lots of forward drive and a lively, creamy mid-mouth froth in this wine with precise yeast notes and toastiness coming to the fore thereafter.
These bottles were pretty much the same, save that I noted more pronounced citrus notes this time. Still pretty darn good for good, real champagne. Available at Bacchus for around P3400 per bottle full retail.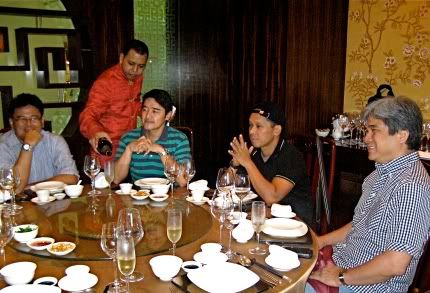 We had barely seated ourselves for lunch proper when the ribbing began, starting off with some good-humored jabs from Arnie at the La Sallites present. Rene and Johnny were more than game, though, and dished back as well as they took.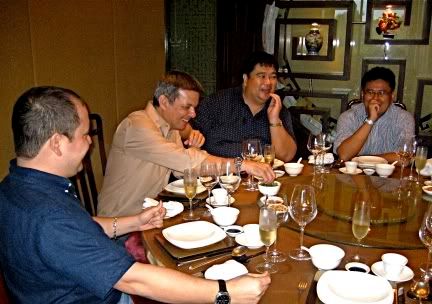 We began with starters of
Cold Fresh Scallops in Mango Boat, Fried King Prawns Coated in Cornflakes & Fried Seafood Rolls in Wasabe Sauce
, which were paired with
Premium Wine Exchange's
newly-available
2005 Leeuwin Chardonnay Art Series
.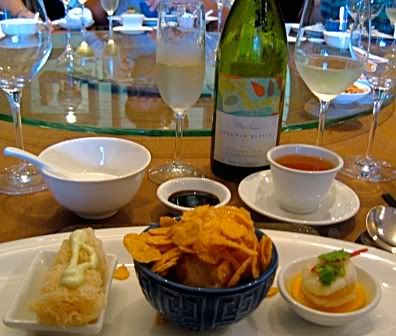 This was immediately followed by bowls of
Braised Seafood Soup "Chef Tony Style",
paired with the immediately preceding vintage
2004 Leeuwin Chardonnay Art Series
. We all paid particularly close attention to the 2 vintages of this chardonnay.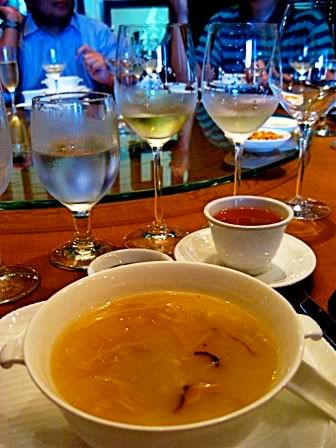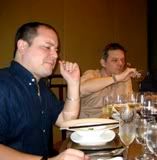 I've mentioned in the past that the
2004
showed quite well in the IWFS's Blind Chardonnay tasting of 24th January 2008. At the time, it was hefty, generous and fruit-forward (round, ripe, somewhat baked apple, pear with mild citrus notes, a good dose of vanilla/oak and a discreet butterscotch nuance) with bright acidic and mineral lift. Now, the vanilla/oak has become very well-integrated, making it, to me, generally more suave than before with better focus and neatness.
The
2005
seemed, to me, more like what the 2004 was over a year-and-a-half ago, but seemingly even heftier, riper and oaky - but, then, again, it is younger as well. I'd guess with a bit of age, the oak will integrate as with the 2004, but the 2005 will always be comparatively more lushly fruited. When the votes were cast,
a tie resulted with 4 preferring the 2005 and 4 of us preferring the 2004
.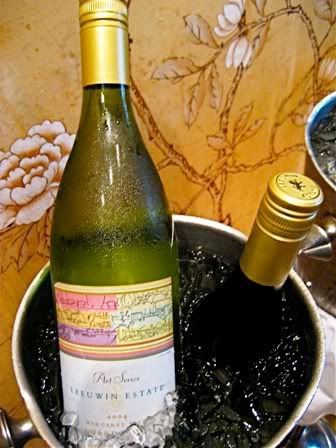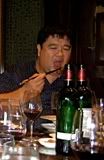 As regards the food, I favored the
Fried King Prawns Coated in Cornflakes
which struck me as a hot prawn salad with an extra textural dimension of crunch and touch of corn sweetness. The 2004 Leewin paired well with it because of the former's now sleeker lines and good focus. The
Braised Seafood Soup "Chef Tony Style"
, was also very nice, thickened, I understand, with long-boiled and pulverised chicken bones. In any event, I always enjoy soups that involve fish maw and shark's fin (just a minute bit of the latter in this case).
Next came
Braised Shredded Abalone with Tofu
adorned with twin asparagus tips that lent an entertaining, vaguely nutty note to the dish, as well as a welcome contrast in texture.
Thereafter, with the next dish of
Pan-Fried Lamb Chops in Satay Sauce
(which I forgot to take a picture of), the Stockbroker served a red to us us blind - one that I noted to be full-bodied, extremely forward, high in alcohol, super-dense, somewhat syrupy, super-ripe, sweet red fruit over dark, with pronounced lashings of toasted-oak with cinnamon, dark mineral and licorice notes. Everyone guessed it to be a new world red. I actually thought it was Australian. It turned out to be...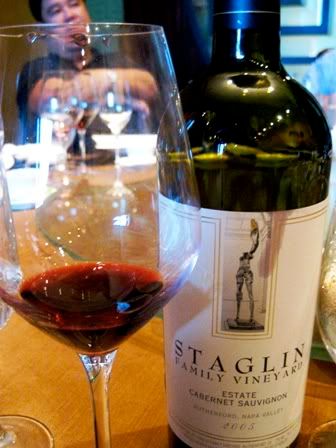 ...
2005 Staglin Family Vineyard Estate Cabernet Sauvignon
, a high-end Napa cab that is available at Premium Wine Exchange at P11,500 per bottle full retail - something high-end Napa heads should check out. For whatever it's worth, Parker bestowed this with 93 points.
Next was one of my favorite dishes of the lunch,
Poached Cod Fish with Spinach
...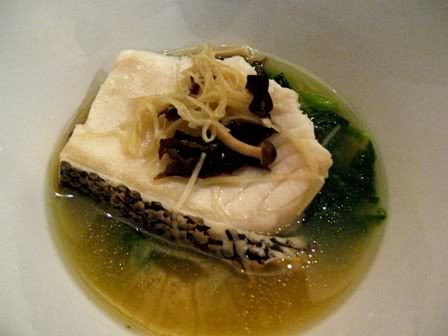 ...impeccably flavor-packed yet admirably clean, surprisingly light-footed and graceful. Simple, yet complex, earthy flavors. Loved it, and I drank all the broth too. With this was paired...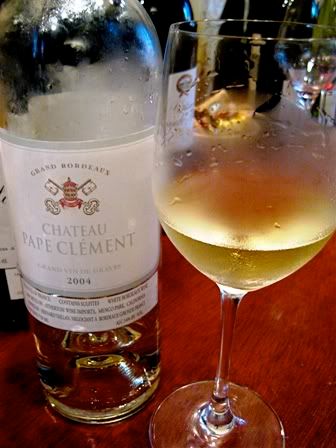 2004 Château Pape Clément
Blanc
- This is a lushly, somewhat tropical-fruited wine that shows off its soft, somewhat waxy-textured (likely the semillon noted Rene), fullish body of soft, baked/ripe, lightly honeyed apple, pear, touch of orange blossom, good dose of vanilla/oak (likely a goodly percentage of new oak), moderate minerality and a pinch of baking spice. Acid is lowish, but sufficient to prop up the fruit. This is an indulgent, luxurious Bordeaux blanc. I, personally, would have paired a leaner, crisper white for cleansing/contrast purposes, but that's just me.
By this time, 2 more reds had already been poured...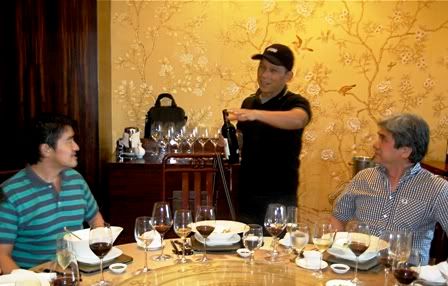 ...namely, two strong vintages of Château Sociando-Mallet.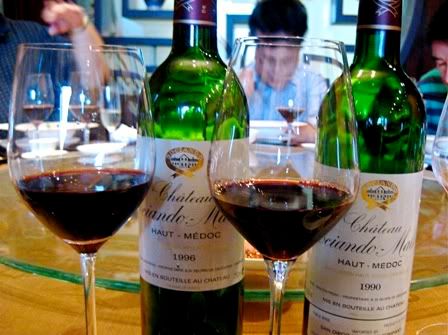 1996 Château Sociando-Mallet
- I've tasted this twice before, in two successive IWFS blind tasting dinners in 2006, so it was a nice to be able to see how this has come along. At 13 years after vintage, this minerally (with slight nuances of iron), earthy wine shows still a somewhat severe visage of cedar, leather, mushroom-flecked cassis, somber (hint of stemminess) dark fruit, ripe raspberry, slight dried herbs - a notably firm grip in this. Fair depth in this. This is not for those looking for fruit-forward, eager-to-please, modern Bdx rouge. This has a challenging, classically cut character. Right and proper rouge.
1990 Château Sociando-Mallet
- I had this last quite a while back, in early December 2005 at Old Manila to be exact, at the Grand Crew's
Blind Bordeaux Challenge II
. My notes then were as follows:
Wine #4 - For some reason, I initially, and, of course, erroneously, thought this was a young, tightly wound St. Estephe with a ramrod cabernet sauginon backbone and hints of leather. Later on, subtle dry herb notes and smoky plum led me to think, again erroneously, it to be a young Graves, but my suspicions of youth were later belied by the amount of sediment that eventually settled in the glass.
This wine confused me to no end, hence my difficulty in describing it. I recall thinking it a bit nervous, a bit too restrained and austere, specially amidst such unabashed company.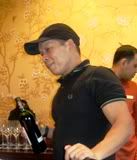 I wound up ranking this 4th place then. It just seemed too nervous and unsettled to me. It turned out that it was the Doc's bottle that had just been delivered from the US that same afternoon. It was, surely, too ragged from the long journey and should have been allowed to rest for at least a month. The bottle at the subject lunch, however, was an entirely different story.
Warming, complex and deep, the ripe black and red fruit (easily riper than the '96) melded seamlessly with notes of cedar, violets, nuances of mushroom, leather with whispers of meat, pencil shavings and licorice. Just a shade under full-bodied, good concentration. Very nice indeed.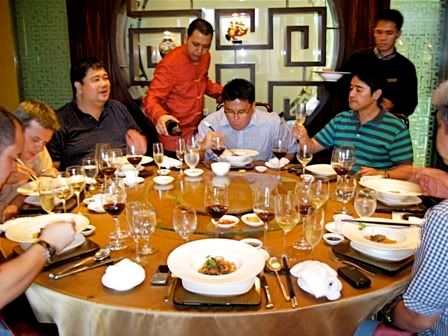 With the '90 I had what was my other favorite dish of the lunch,
Beef Steak with Fried Udon
.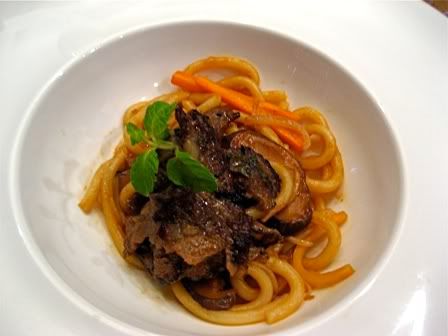 The beef was delectably tender, juicy, with an astounding caramelization. Add that to the savory, slightly chewy udon, and I was sold at the first bite. Excellent, simple, hearty dish.
We then moved on to dessert:
Fried Crispy Banana with Ice Cream, a Mixed Fruit Platter and Buchi
.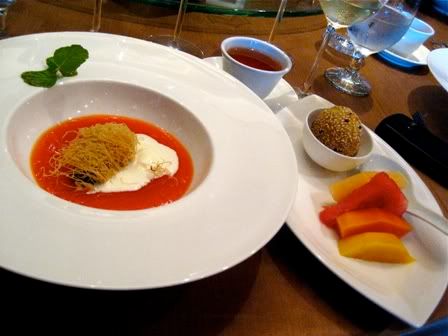 To pair with these, the Stockbroker poured...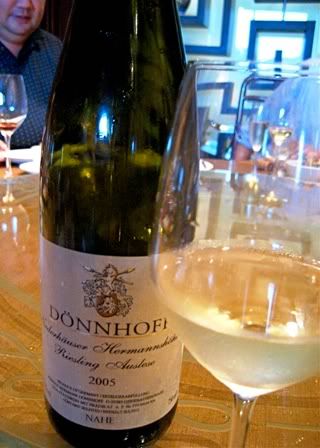 2005 Dönnhoff Niederhäuser Hermannshöhle Riesling Auslese
- Bright, lively and playful. Lightly dancing on the palate with lifting acidity and minerality to its sweet peach, light honey, pear and candied lemon. Great purity and focus. Excellent sweet wine. No doubt about it.
A lot of friendly ribbing and mirth continued, our room booming with distinctive laughter.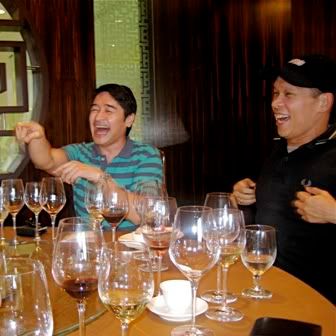 Yet another most successful and generous lunch. Many thanks, buddy. Your wine events are always great treats.