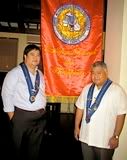 Tuesday night, 28th July 2009, was the
Ordre Mondial des Gourmets Dégustateurs
("OMGD") Kaiseki dinner at
Toki
. As I understand it, the OMGD is a group within the
Confrérie de la Chaîne des Rôtisseurs
that focuses on wine, spirits, beer, etc. in the context of pairing. J-Lab and Arnie organized the event, a multi-course dinner with 3 kinds of free flowing
Gekkeikan Sake
sponsored by
Ralph's
. My wife and I attended last year's OMGD kaiseki dinner as well, that time held at Tsumura, and enjoyed it so much we made sure to attend this year's as well.
Like last year, most everyone brought their own bottles free of corkage - this time I brought a couple of bottles of
Billecarte Salmon Champagne Brut Reserve NV
as I enjoy having bubbly with Japanese seafood dishes. Ken brought a bottle of
2007 Laxas
Albariño
,
another good, cross-continent pairing. Aside from my wife, Ken and I, my youngest brother-in-law, sis-in-law and
bilas
(a Tagalog term without any English equivalent - it means the husband of one's sister in law).
Lots of friends showed up as well, including several of the usual suspects, all there to enjoy and enthusiastically support J-Lab's and Arnie's event.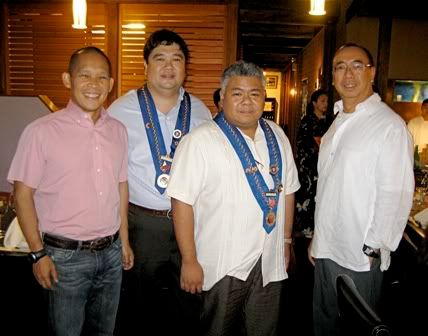 The Stockbroker and Vince flanking the bemedalled organizers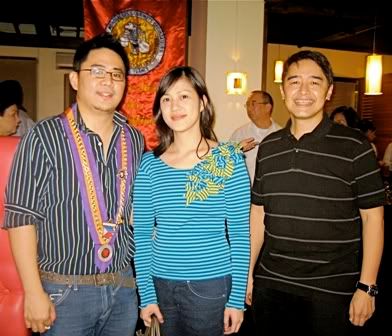 Dinner began with pours of chilled
Nigori Sake
...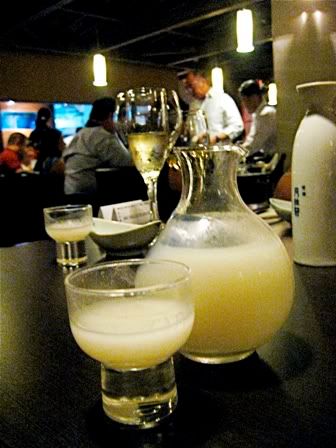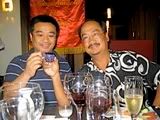 ...an unusual, milky looking, lightly filtered sake with a very accessible sweetish touch. This was obviously my
bilas
', Ron's, favorite sake of the night. Though we had large serving vessels of Gekkeikan regular (warm) and sweet (chilled) sake on our table, Ron pretty much drank this most of the evening. Not that I blame him one bit, I certainly put away a lot of it myself.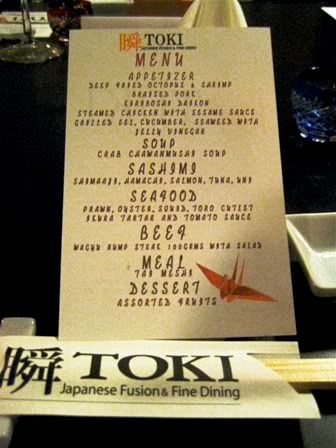 The several appetizers were served in one salvo: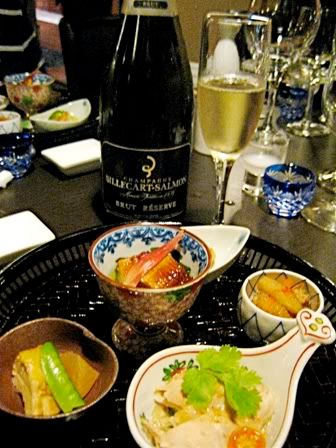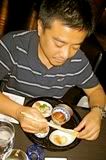 Deep-fried Octopus and Shrimp
,
Braised Pork
,
Kiriboshi Daikon
,
Steamed Chicken with Sesame Sauce
&
Grilled Eel
,
Cucumber
,
Seaweed with Jelly Vinegar
. I had this mostly with my
Billecarte Salmon Brut Reserve NV
- a nicely hefty, fuller fruited, yet dry, clean and crisp non-vintage champagne. Lots of forward drive and a lively, creamy mid-mouth froth in this wine with precise yeast notes and toastiness coming to the fore thereafter.
Next was one of my favorite dishes of the night.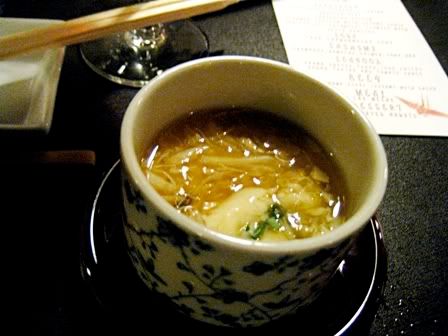 Crab Chawanmushi Soup
. I don't usually like chawanmushi, but this was particularly savory and comfortingly warm. Arnie came by and told us to make sure and try it with the chilled Gekkeikan sweet sake. We did and it was a very interesting yin-yang play in temperature (warm and chilled), flavor (sweet and savory) and even texture (creamy-chunky and liquid-smooth). Quite nice, really. I stuck with that pairing until my bowl was empty.
With the Sashimi Course of...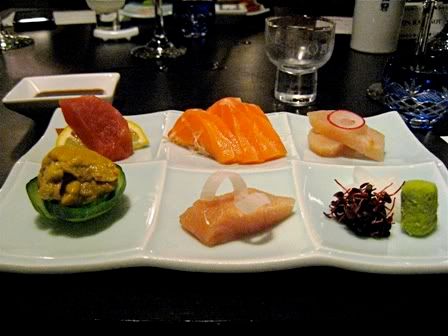 ...
Shimaaji
,
Hamachi
,
Shake
,
Maguro
and
Uni
, I switched to the warm sake and alternated with the champagne. Loved them all with both.
Then came the another Seafood Course, this time, mostly cooked dishes.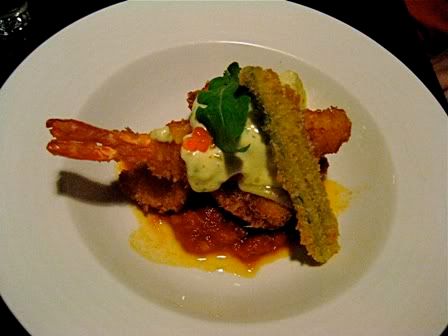 Prawn
,
Oyster
,
Squid
,
Toro Cutlet
with Ikura Tartar & Tomato Sauce
. I then moved back to the chilled sake and continued with the bubbly. I also had some of Ken's 2007 Laxas Albariño. It paired well enough, but I wish I remembered to have some of it with the sashimi course. I'm sure it would have been great (but
sans
the wasabi and soy sauce dip).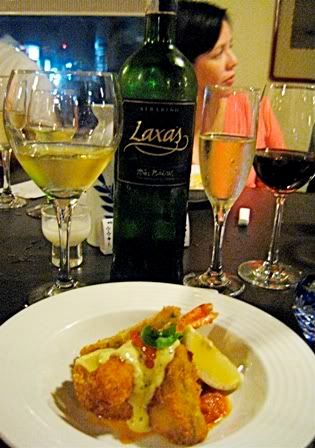 By then, the Stockbroker and Vince started to send me some glasses of red. As I was already getting a bit tipsy by then, I'm not sure that I remember them all.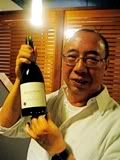 I do recall Vince inflicting upon me a glass of his
2006 Quail's Gate Okanagan Valley Stewart Family Reserve Pinot Noir
- a warm, cinammon-laced, toasty oaky, cola-candied, sweet raspberry and cherry wine from the British Columbia. It was a syrupy-modern pinot noir, unmistakeably new world, and from a screw-capped bottle to boot.
The foregoing notes may lead one to think that I found the wine hideous. Actually, though it is far from my type of pinot noir, it wasn't bad for what it was. I lived to tell the tale, after all.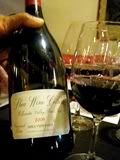 Another new world pinot noir I got to try was the
2006 Shea Wine Cellars Willamette Valley Pinot Noir Pommard Clone
- from the Stockbroker. Not anywhere candied sweet like the immediately preceding wine, though also very full-bodied, it wasn't as heavy or syrupy as the former. It had a somewhat warming, comforting earthiness to it. Though the fruit had a touch of sweetness and I doubt very much I would mistake it for a wine from the Côte de Beaune, I must say that it was surprisingly demure and notably light-footed compared to the Quail's Gate. Very interesting wine. I could drink this with a thick, grilled rib-eye steak.
And, speaking of beef....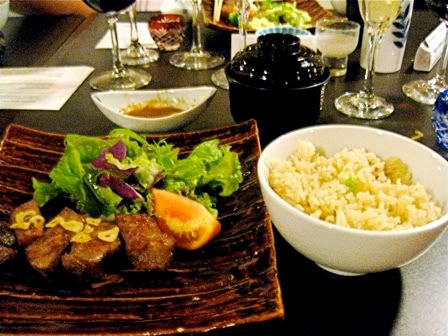 Wagyu Rump Steak with Salad and Tai Meshi
This was one of my highlight dishes of the night, together with the chawanmushi. I must say that, days before, when I read the menu, I didn't expect much at all of this dish since I'm not a fan of rump steak. The Doc, who couldn't join us because of a board meeting, assured me earlier in the day, however that this was a good dish. Very pleasant surprise. Tender, juicy and nicely flavorful without being rich. I never before thought of any steak dish as one with finesse - rich, opulent, hearty - yes, of course, but "finesse" never was a word that came to mind. Well, it did with this one.
I didn't pair the following red with my steak out of respect for the former: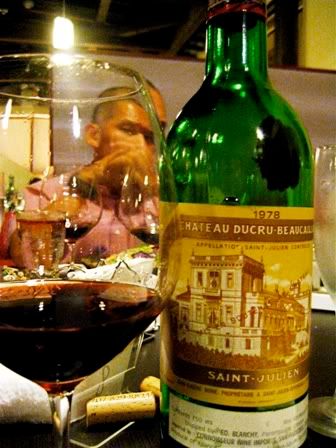 1978 Château Ducru Beaucaillou
- from the Stockbroker. Regular readers of my blog know that, while I have a great deal of respect for Ducru Beaucaillou's wines, I hardly ever buy their wines. They are undoubtedly good, but, at that level and price range for St-Julien, I prefer buying the wines of Léoville las Cases. I also find better price-to-pleasure ratio in those of Léoville Poyferré and Gruaud Larose.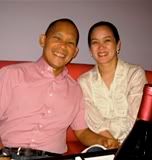 That said, this is the most impressive vintage of Ducru Beaucaillou I have ever had (off the top of my head, I've tried their '85, '86, '88, '89, '95, '96, '99 and '01). Moreover, it was the best from 1978 I have ever had, and I've had quite a few (e.g., Haut Brion, Lafite Rothschild, Pichon Lalande and the less renown La Clusière [in magnum], among others).
Earthy, very deep. Discreet cedar delicately intertwined with deep, somber asphalt, cassis, faint mushroom, slight leather and tobacco, touch of licorice, violets. Quietly self-restrained power. Complex and regal. No "blockbuster" this, rather, a study in depth, complexity and elegance. Excellent, excellent wine.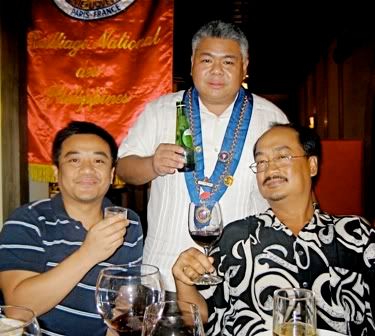 J-Lab also shared with me a pour of his
2005 Ridge Geyserville
- Honestly, by this time, I was already pretty far gone, what with the Nigori sake, champagne, warm sake, cold sweet sake, more bubbly, more sake and some reds. I couldn't do any more justice to any wine with my mental notes. Thus, the following are
J-Lab's own notes
of this wine from the night before:
Perhaps after the Monte Bello, Geyserville is one of the most iconic wines of Ridge. A field blend mostly made of Zinfandel, it never quite reaches the percentage of Zin necessary to have the wine called Zin on the label. The 2005 is the 40th vintage of this wine and is made of 77% Zinfandel, 17% Carignane and 6% Petite Sirah.

Red-violet and not particularly deep. Warm aromas. Strange but rather attractive peachy scent that's carried over into the flavor. Spicy, fragrant wood with a touch of dried herbs. Sweet and ripe fruit that evokes summer. Crunchy plums and a bit of strawberry. Very easy and well-balanced. Later on, a bit of meatiness comes out but it's held in check by all the juicy fruit. The tannins have melted away but the wine is framed by bright but never shrill acidity. Impressive length. Complex and many-layered. Well-crafted and very enjoyable now. Terrific stuff.
The rest of the evening is a bit of a blur. Fortunately, I have my pictures to jog my memory. I do remember, though, everyone having lots of fun.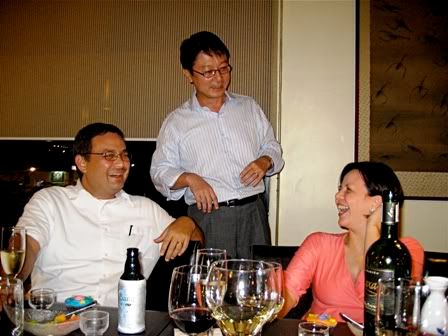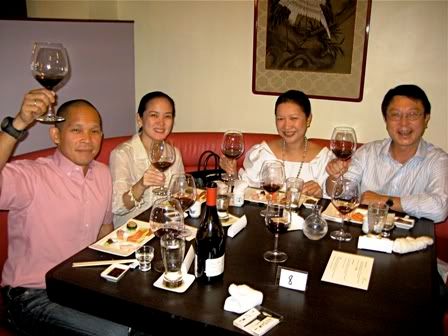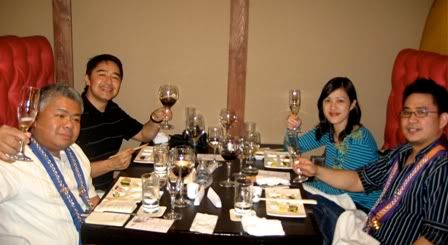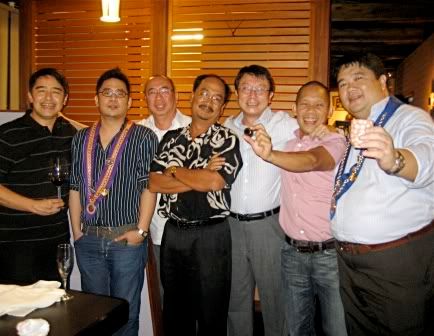 The entire Toki staff then lined up to be acknowledged...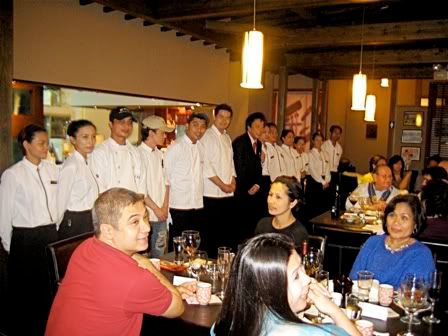 ...all things having run quite smoothly despite a packed house and multiple courses under the omnipresent guiding hand of manager Keitaro Kawasaki.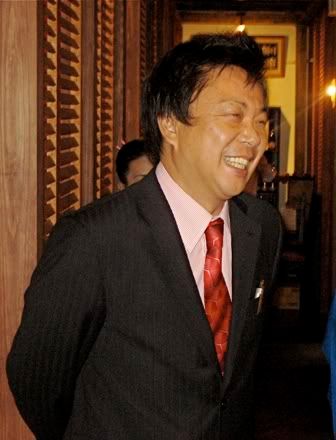 Naturally, the evening would also not have been possible without the skills of young, multi-awarded Master Chef Shinsuke Yonekawa.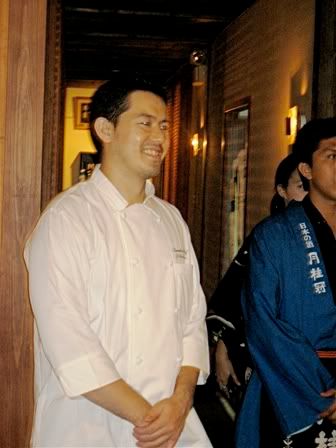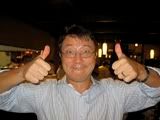 I could blather on about how much fun we all had, how fortunate I was that I sobered up well in time to drive home safely, how well organized, and executed the meal was and how much we look forward to next year's OMGD kaiseki dinner. I could also wind up this post with my usual, though sincere, thanks to the organizers, friends who shared their company and wines, but, I feel that Keiichi's picture simply says it all.