After lunch at Toki, we continued with seafood for dinner at my dad's house last night (Sunday, the 7th March 2010). We were 10 in all, including the kids and, CJ, one of my youngest sister's colleagues in her
Reading Clinic
. After some white wine with the usual pica-picas of assorted cheeses, chorizo, Parma ham, olives at the lanai, we moved to the dining room for dinner proper.
Steamed Diwal (a.k.a., Angel Wing Clams).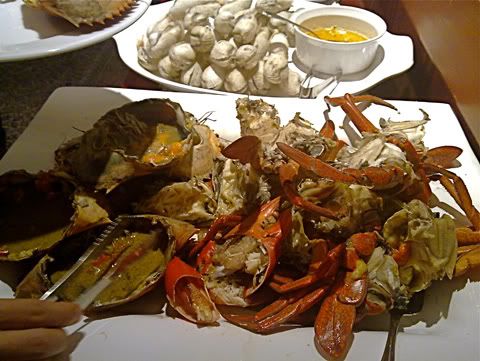 Steamed Crabs.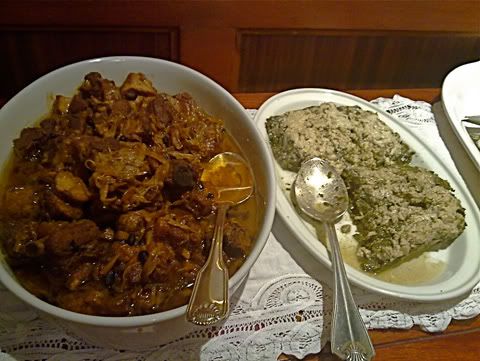 L-R:
Humba
- (a local dish of Pig's Trotter (or Pork Belly) Braised in shaoxing, white vinegar, palm sugar, soy sauce, with garlic, preserved black beans, banana blossoms, etc.;
Pinangat
- a version of laing from my dad's hometown of Daraga, Albay (essentially, a "package" of pork wrapped in layers of young gabi (yam) leaves cooked in fresh coconut cream with long, green chilis).
With the crab and Angel Wing Clams, I opened a bottle of...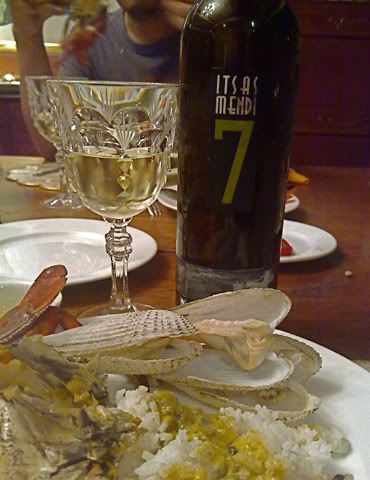 2008 Bodegas ItsasMendi Nº7 Txakolí
- I've gone through probably 4 or 5 bottles of this over the past 6-8 months, ever since Miguel brought me back some bottles from one of his trips to Spain. My last notes were from
a lunch at La Tienda with him, Keiichi and Jean d'Orival
in early October 2009.
2008 Itsas Mendi 7 Txakolí - My bottle, from a batch that Miguel brought in for me from Spain. Txakolí is a traditional Basque wine (made of hondarrabi zuri grapes) from the D.O. Bizkaiko Txakolina, particularly from Guernica (or "Gernika" as the Basques spell it). The only other txakolí I've tried was the 2008 Txomin Etxaniz (24 June 2009, lunch at La Tienda). Of the 2008 Itsas Mendi 7, this is the second bottle I've opened, the first one very recently at Miguel A's (why are so many Spanish-mestizo friends named "Miguel"?) 12 September 2009 dinner at Elbert's Steak Room. My notes of that bottle, still applicable, are as follows:



Txakolí is a very dry, light, vaguely spritzy white wine that is meant to be enjoyed casually and young. This particular one was not as spritzy as the Txomin Etxaniz of the same vintage and was notably fruitier, with a more pronounced and rounded middle. The dominant flavors are bone dry ripe grapefruit, green apple, bit of citrus with nuances of fresh grass and white seashell. There is a lip-smacking faint bitterness towards the back and in the somewhat abrupt, dry finish that makes me want to take the next sip as fast as possible. Very recommendable as an apéritif with, I imagine, fresh shellfish.



Probably due to its fruitier and rounder character, Javi opined that it resembled an albariño and, noting that Itsas Mendi is located in inland Guernica, explained that txakolí is traditionally made in areas closer to the sea - such as in the case of the aforementioned Txomin Etxaniz (located in seaside Getaria, D.O. Getariako Txakolina, which, incidentally, is a mere 30-35 kilometers west of Javi's hometown of San Sebastián). I could easily be wrong, but perhaps the inland terroir of Guernica gives less stress to the vines and, hence, makes the Itsas Mendi fruitier and rounder? I'll have to consult PhD in Oenology JC de Terry (expert in all edible/drinkable things Spanish) about this.

Well, Javi obviously favored the Txomin Etxaniz over the Itsas Mendi. I thought it was maybe because the Getariako Txakolina wines are "closer to home"? Well, I know Jancis Robinson thinks Txomin Etxaniz is the best producer of its area, for whatever that is worth. Personally, I agree with Javi in that the fruitier Itsas Mendi 7 resembles an albariño, but think that it is more easily approachable for it. I do like both, though. Problem is, Miguel and I have no more of the Txomin Etxaniz.
Last night, however, the wine came off notably less fruit-forward, a bit firmer and even drier than before. There also seemed to be a bit of a saline note to it. Closer in character than before to the
2008 Bodegas del Palacio de Fefiñanes Albariño de Fefiñanes
, but not quite as dry, acidic or minerally. Very good pairing with the clams, even more than with the crabs (but good enough with the latter). Nice. I have just one more bottle of this, so I'll probably save it for some fresh oysters.
Desserts were: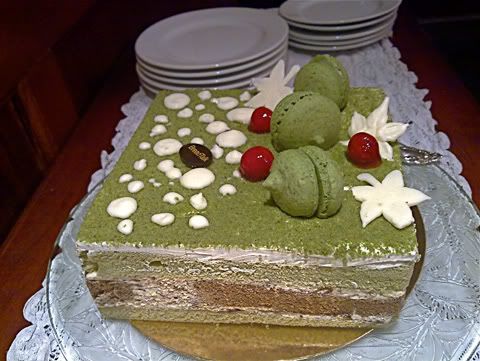 A cake from Bread Talk, from CJ. I forgot to ask what it is called.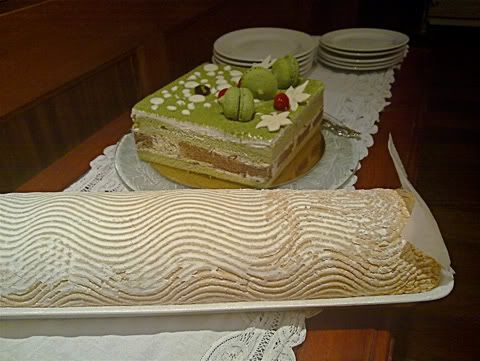 Brazo de Mercedes
Our cups of coffee were accompanied with snifters of...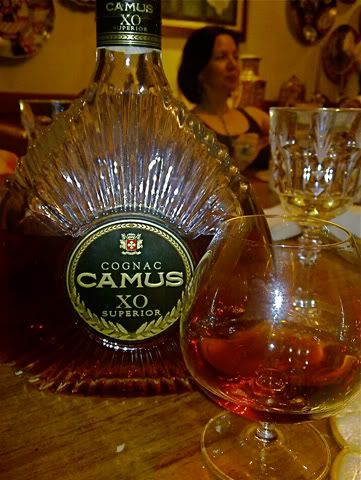 Camus XO Cognac
, with which Tad, Chako and I moved back to the lanai for a few cigarettes. After an hour or two of chatting (the children had already been sent home earlier since the next day is a school day), we called it a night.