Lunch today was with most of the Usual Suspects. Keiichi was the impresario this time, organizing the lunch at
Sushi Kappo Kobikicho
in the Makati CBD, not far from my and the Stockbroker's respective offices. The restaurant is headed by Chef Shintaro Hino who hails from Kobe. As I understand, every single ingredient used is flown in from fresh Japan.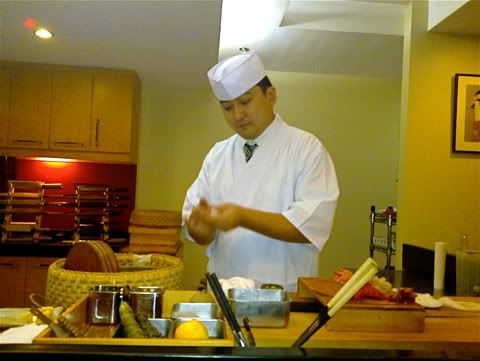 We were 7 in all at the main sushi counter, all having the same
Nigiri Sushi Kaiseki Special
at P2200/person, plus some
Maezawa Beef
, and I got an order of
Prawn Tempura
just to try out.
To start off and with the first few pieces of sushi, we had...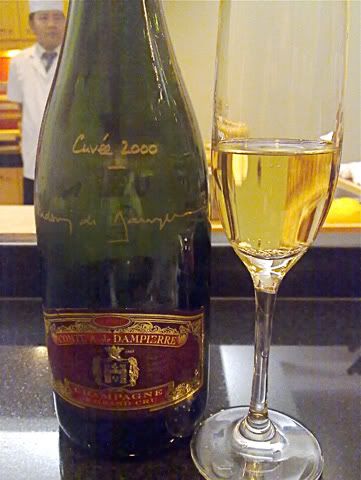 Champagne Comte Audoin de Dampierre Family Reserve Cuvée 2000
- The Stockbroker's. Medium heft, adequate depth of fruit, but incredibly complex with scents and flavors of wild honey, baking spice, some nutiness, café crème and biscuit with some oxidative notes. It could have had more of a pronounced and rounded middle, but that's picking nits. This was a stunning champagne.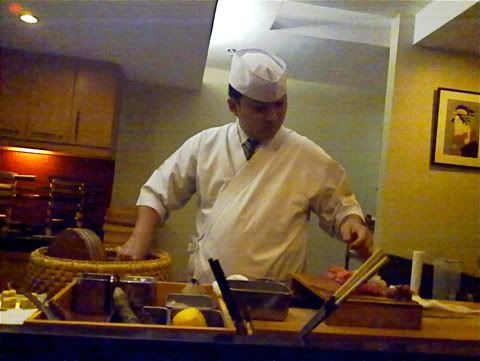 It wasn't long before Shintaro-san's expert hands were laying out our sushi.
Cuttlefish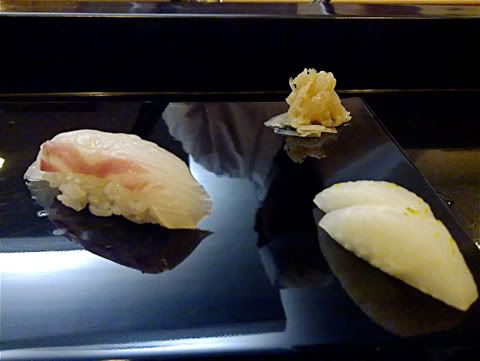 Red Snapper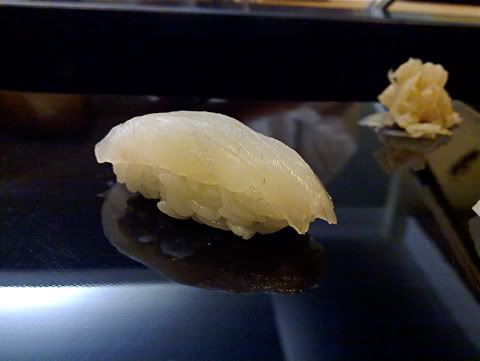 Sea Bream
O-Toro & Hamachi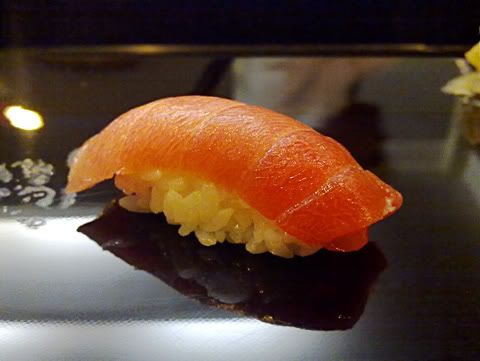 Chu-Toro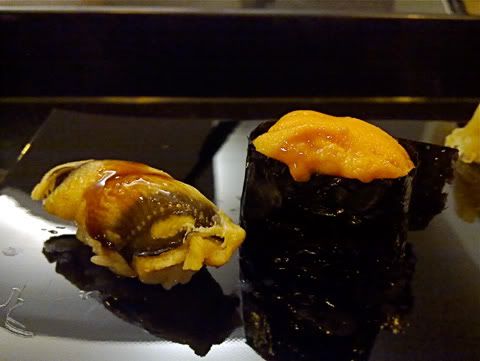 Anago (Salt Water Conger Eel) & Uni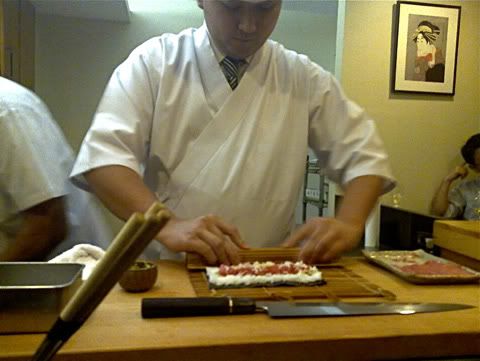 Shintaro-san rolls up some Toro for a special maki sushi.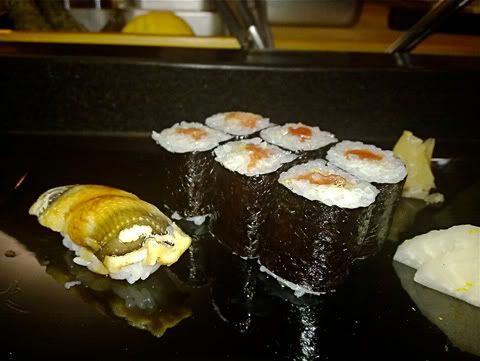 Toro Maki (with bits of white onion) & Anago
Tamago & Toro Maki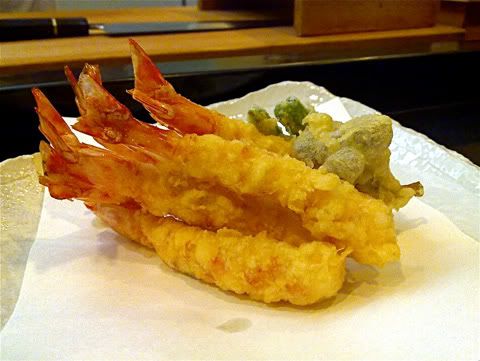 Ebi Tempura
Excellent sushi and tempura, undoubtedly the best I've ever had anywhere. Words fail. Compliments are drowned in the sheer pleasure of eating like tears in rain. Throughout all these ethereal seafood pleasures, we had to pair...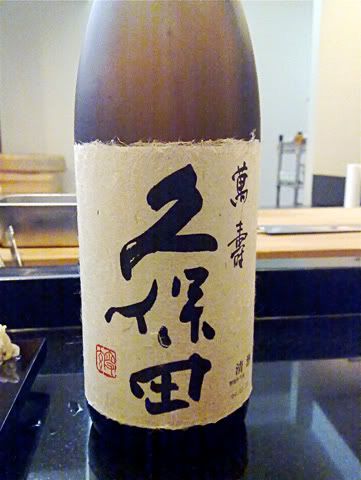 Kubota Manju (Daigin-jo)
- A stunner of a sake. Served cool, its scents brought to mind pure, clean rainwater and incredibly subtle white flowers and whispers of fruit peel. So pure, so clean, so subtly complex - I am at a loss for words. I really must develop a vocabulary for sake as I'm learning tp love it above all for pairing with sushi and sashimi.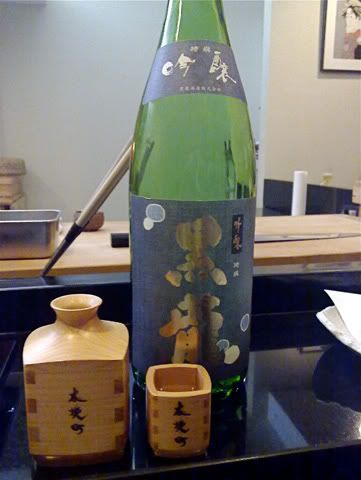 Kokuryu Tokusen Ginjo
- This was served in a wooden "cup". Seemed a little rustic beside the Kubota Manju, it seemed to have a slight toasted rice/carob flavor to it. Keiichi preferred this to the Kubota Manju as a pairing for the sushi, whereas I preferred the latter.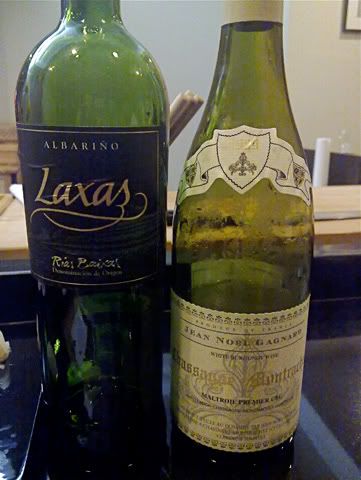 2008 Laxas Albariño
- Miguel's bottle; a no-brainer pairing for seafood. Seems more minerally than the 2006 and 2007 and with more acid lift. Fresh and intense, its fruit seems less forward and not as plump as the previous, but it is still a very good albariño, one I would never hesitate to buy and consume with fresh, simply prepared shellfish dishes.
1999 Jean Noel Gagnard Chassagne Montrachet Maltroie 1er Cru
- Keiichi's bottle. Toasty oak, leesy and biscuity notes gild the mildly baked apple and pear. There is moderate richness/creaminess and notable minerality to the soft fruit. A good enough Chassagne Montrachet, but I do think it was miscast for this lunch. Better with richer and/or cream-infused seafood dish like a lobster thermidor.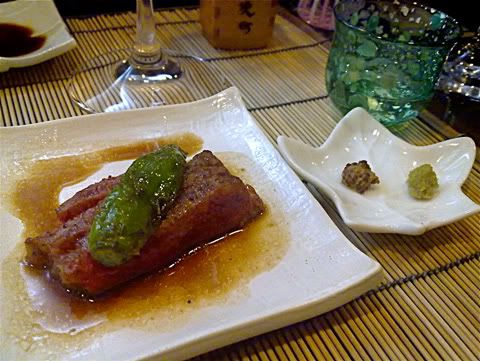 Maezawa Beef
There were 3 reds opened. Unfortunately, Rene's
2000 Château Le Bon Pasteur
was corked. It happens.
Shigata ga nai
.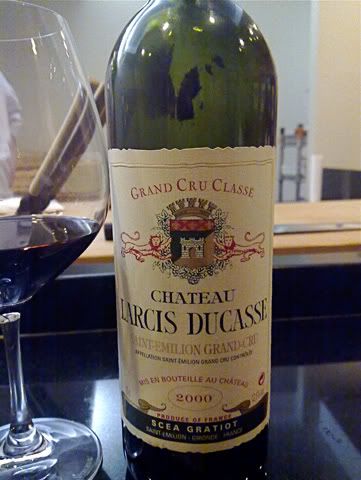 2000 Château Larcis Ducasse
- Greg's bottle. I got to this wine much later than the others (as usual), so it had been breathing in my glass for quite a while. Old school St-Emilion. Nothing over ripe, over new oaked or over-blown here. A few notches over medium bodied with cherries and plum over a bit of leather and cassis; cedar and a bit of violets. More than decent, understated and quietly confident - a correct wine. I liked it.
2008 Red Car Pinot Noir
- The Stockbroker's bottle, a sample from Sonoma said he (sorry, I forgot to photograph it; it had no label). A more restrained type of Cali pinot noir - and I mean that as a good thing - not too hot or over-ripe or overly oaky. Nice dark raspberry, some black cherry, bit of cassis, hint of chocolate. The wood is relatively subtle. Good Cali pinot noir for me.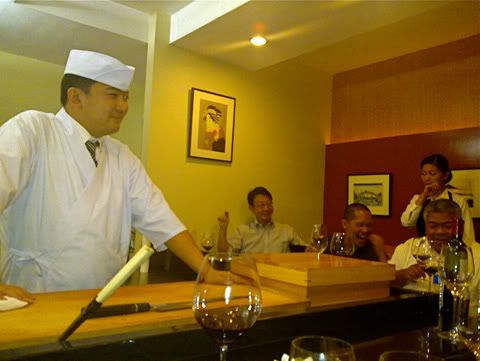 Conversation starts to get on the silly side.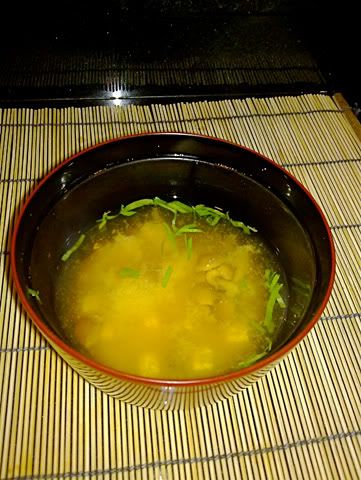 I'd long given up drinking the ubiquitous miso soup offered by local Japanese restaurants - that is, until I tried this one. Good stuff. Not too salty, very flavorful, clean and it actually had chunks of goodies inside - not just the token, rubberized clams and old tofu cubes of other restaurants' miso soup. This was actually quite good.
Dessert was a bit strange for me - reminded me of a warm version of the green icing leaves in Goldilocks' birthday cakes. The chewy chunks inside, I think mochiko balls (kind of like the galapong balls one finds in ginataan) made it interesting though.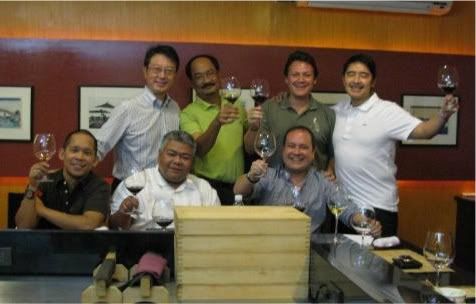 All said, I loved this lunch. The stars, for me, were, obviously, the sushi and the Kubota Manju sake - but I did enjoy everything. Great lunch, Keiichi. Many thanks to Chef Shintaro and everyone who shared their wines. Until the next!