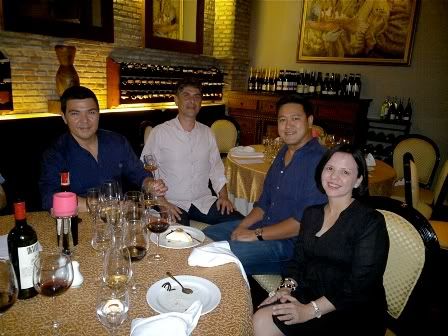 ...Catha, Alex, Jim & I took a short walk to
Craft
to sample some of Jim's new shipment of Unibroue's famous ales. Since it was a work day the next day, and considering Alex's penchant for getting everyone around him more than just a little bit inebriated, we all agreed that we would just try out the world-renowned
La Fin du Monde
and end by midnight. I and some other lucky friends got to enjoy this famous tripel last September at
Elbert's Steak Room
(which now carries it) courtesy of Orange County, CA based Clem Nieto, so I was quite eager to have more.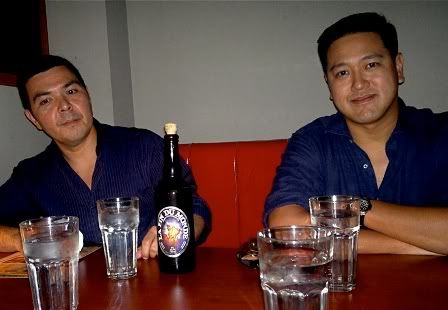 The antici......pation...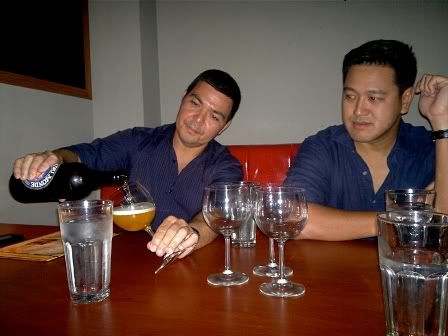 La Fin du Monde
is a Belgian-esque tripel by
Unibroue
hailing from Quebec, Canada (
rated by Beer Advocate as one of the very best tripels in the world
). It presents very fresh, moderately hoppy, floral, mildly yeasty ripe citrus aromas which it mirrors on the palate in a smooth, medium body with ripe yellow apricot, lemon curd, slight ripe orange and underlying vaguely sweetish maltiness. So very easy to drink a lot of. Very nice indeed. Happily, Jim's
Global Beer Exchange
has a healthy stock of this, though it seems to be going faster than anticipated.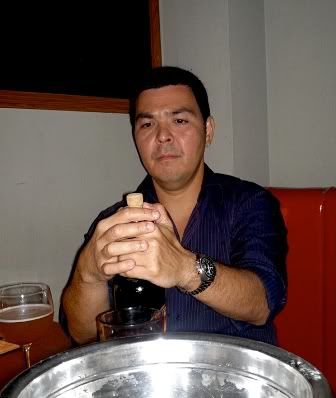 Up next...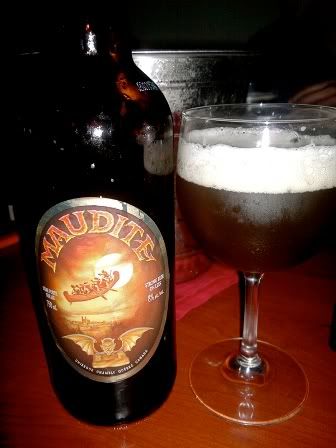 ...Unibroue's
Maudite
- darker, showing notes of malty, slightly nutty and yeasty banana bread, dates, hints of toffee and cloves. Richer on the palate, but not at all heavy or ponderous. Interesting name, I wonder what the story is behind it.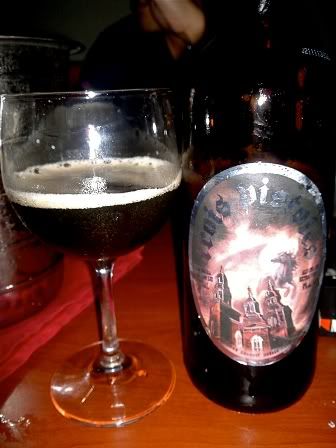 Last, but certainly not the least, was Unibroue's
Trois Pistoles
- a creamier ale that presents dried (as in preserved), slightly smokey, cacao-infused dark fruit, slight raisin, dates, a hint of fig, maltiness, touch of vanilla. It appears very hefty but is actually lighter-footed than it looks and was great way to finish the night (well, and usher in the next day as well). Of course, Alex had a couple of Sculpins more for himself. Jim left ahead as Catha, Alex and I chatted until almost 2am. So much for our pre-agreed limitations, but, what the hell, one's got to have some fun to remain sane, right? Until the next!!!