Dinner of Saturday the 28th April 2012 was back at old favorite Champêtre (Ground Floor, Net One Building, The Fort, Taguig). Marc had texted a few days before saying that he had moules du Bouchot available the coming weekend, so I immediately reserved a table. We were 7 in all: my 3 sons, one nephew, and longtime friends Boozze & Margarita (Catha attended a function with her dad).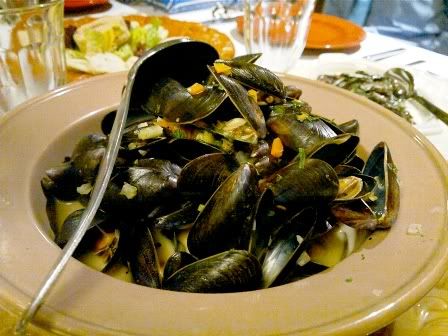 Moules du Bouchot
are mussels from la Baie du Mont St-Michel in Brittany ("Bretagne" in northwest France) falling within its own AOC (Appellation d'Origine Contrôlée in July 2006), now AOP (Appellation d'Origine Protégée in 2012). These mussels are picked young and are relatively small, very tender, with a clean, unique taste. Those interested in the details of how these are grown can click on
this link
.
Marc prepares them
à la Marinière
(steamed in white wine, their own juices, with some butter, etc.) and serves them with excellent fries. I never miss them if I can help it. Champêtre was packed that night, all the way to the tables outside with more than a few tables turning over. Marc mentioned that many people come for the
moules du Bouchot
- and I don't blame them. Flown in live from France, they are not always available. The best way to get them is to ask to be put on the restaurant's SMS alerts. If one has not had this before, one should try them out. The difference with our local mussels and those from New Zealand and other countries/areas is very apparent. We had 3 orders of it.
Aside from the mussels, we had several old favorites: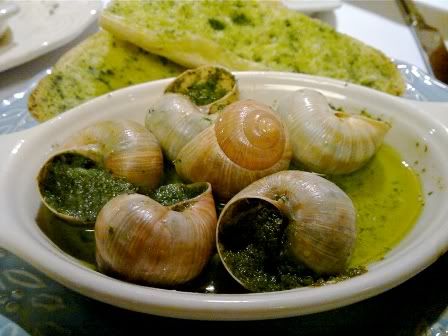 Escargots à la Bourguignonne (3 orders)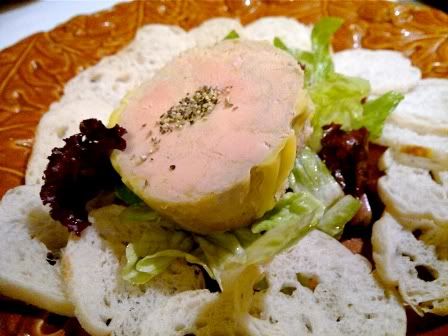 Foie Gras Terrine (3 orders)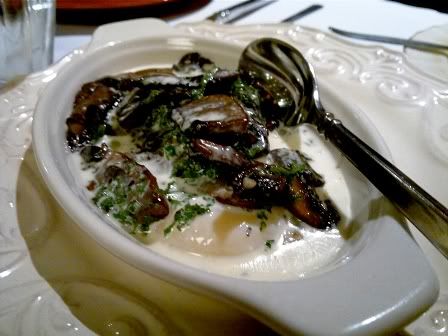 Roasted Portobellos w/ Oeuf Cocotte (2 orders)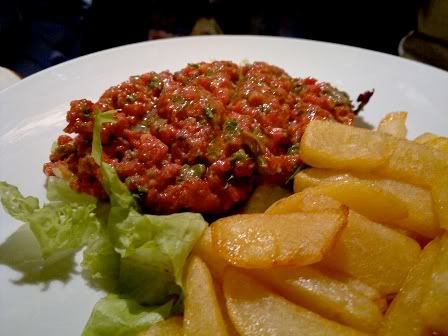 Tartare du Boeuf
Joaqi & Zach really enjoy the beef tartare.
With 4 growing boys at table, one has to act fast.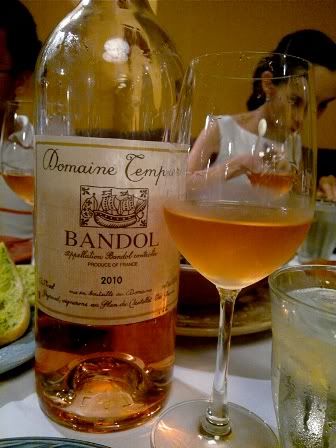 With the foregoing, we enjoyed a magnum (i.e., 1500ml, double the size format of a regular bottle) of
2010 Domaine Tempier Bandol Rosé
- From my notes of 12 November 2011: "This vintage seems, at this point, to be more like their '08 than their '07 or '09 - fruitier and more casual in nature, touches of lavender in the discreet herbs, with graceful orange rind/peel notes in the finish." All know by now that I consider Tempier's rosé the best in the world, and it is obviously my favorite - a wine I fearlessly purchase regardless of vintage (locally distributed by Jerome Philippon's
Sommelier Selection
). Perfect for our hot, humid, tropical summers.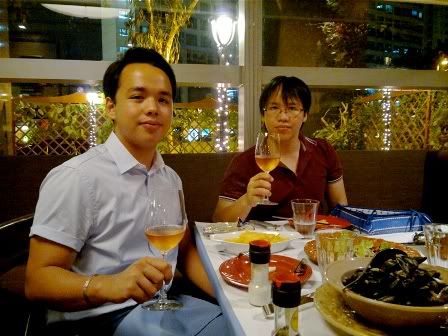 The teenagers.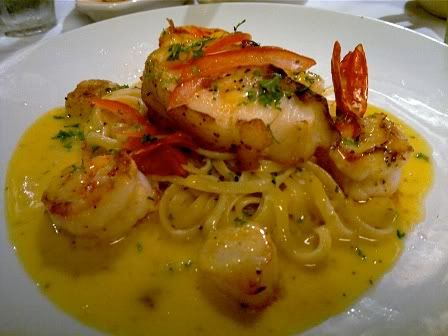 Keeping their mains light, Boozze and Renzo ordered an old staple for their respective main courses,
Trio of Seafood Pasta
(Chilean Sea Bass, Prawns, & Scallops). This is not on the menu (it used to be during the Je Suis Gourmand days), but they will make it for you if you request it.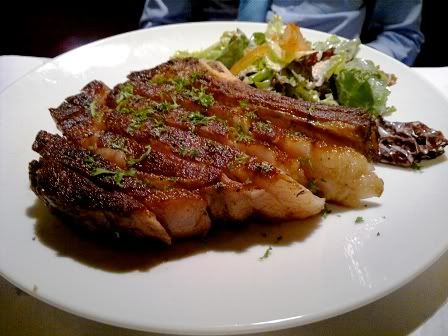 Mauro, Joaquin & Zach went for the Dry-Aged US Prime Grade Bone-In Rib-Eye Steaks (rare) for their main courses (the little ones shared one order, Mauro had one for himself).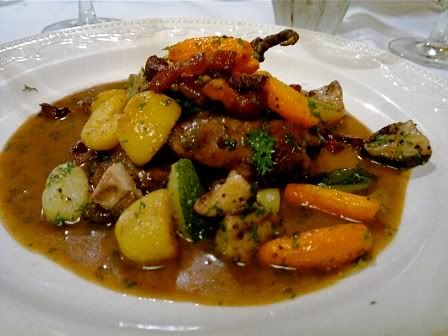 Margarita and I each had an order of the night's special: Roasted French Pigeon. Delicious.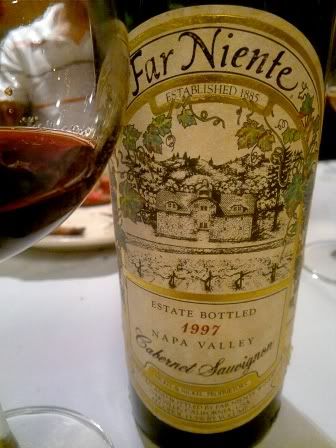 With our mains, we had Boozze's bottle of
1997 Far Niente Estate Bottled Cabernet Sauvignon (Napa Valley)
- So nice to get to have this again after several years. It's crème de cassis, licorice, loam, pipe tobacco, slight cedar are so mellow now. Softly fruited, quietly rich, and notably rounded on the palate. Nice, and I'd say enjoy it now and soon.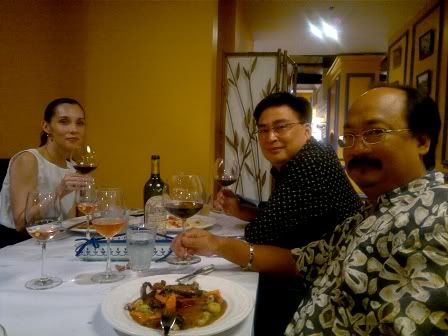 Margarita, Boozze, & I.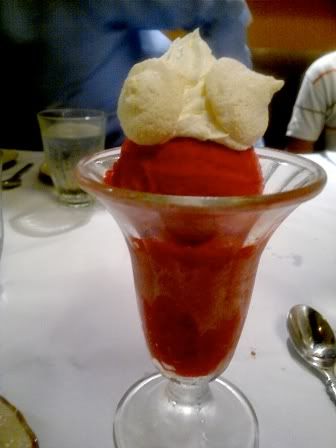 Lorenzo had the Raspberry Sherbet for dessert...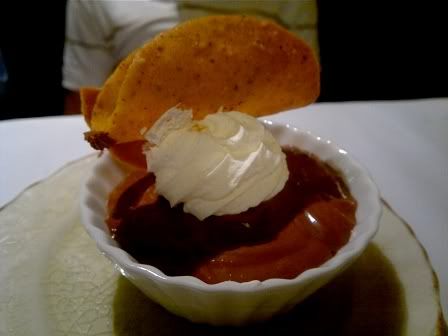 ...Joaqi had the Dark Chocolate Mousse.


Three orders of the Dark Chocolate & Grand Marnier Soufflé - Boozze & Margarita shared one, Mauro & I had one each to ourselves. This is not on the menu, but is available upon request.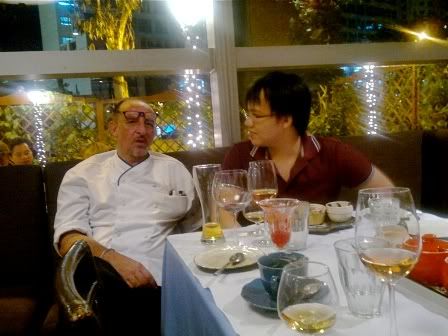 Marc joined us later in the evening for a chat and some rosé as service wound down. Great to see Marc and the restaurant doing so well.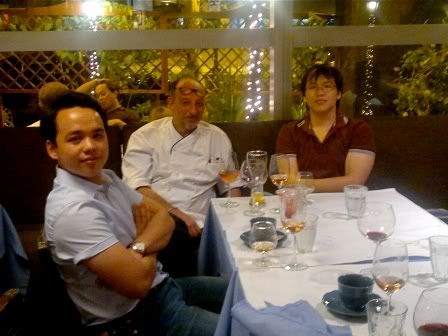 Coffees, espressos and complimentary snifters of plum brandy ended the evening. Thanks so much for yet another excellent dinner, Marc! Until the next!!!