This past Tuesday, the 1st of May 2012, was my 47th birthday; so, after a day of golf (it being Labor Day holiday), I had a quiet dinner at
The Goose Station
. We were just 5 for dinner, Catha, the children, and I.
To start off, we had some
2002 Champagne Dom Pérignon
- it must've been a very ripe vintage for the Champagne region.Toasty, bready aromas mainly with slight white flowers; the ripe fruit is plump, broad, and lush on the palate. Immediately pleasing. I can't guess how long this can age, but it is already more than a little enjoyable now. Notable rounded bottom in this and quite open for barely 10 years from harvest. I should get more of this vintage for early drinking. A cute, precocious champagne.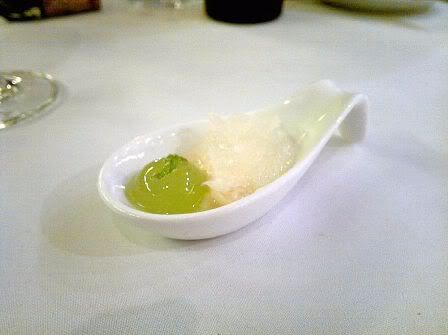 Mojito Amuse Bouche.



The Signature Menu.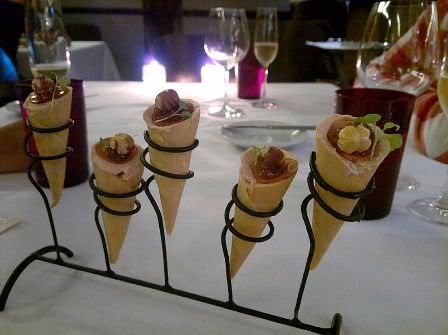 Foie Gras Cones, delicious as always. Joaqi ordered an extra cone for himself after.



Assorted Rice Cracklings with 2 dips: Avocado & Sinamak



Tomato-Capsicum Soup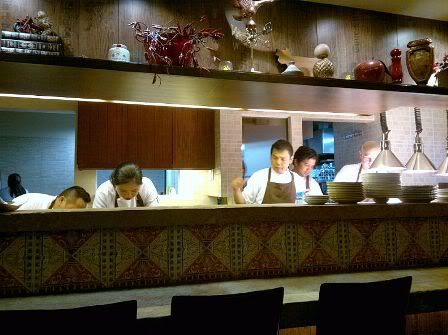 The kitchen was quite busy that night.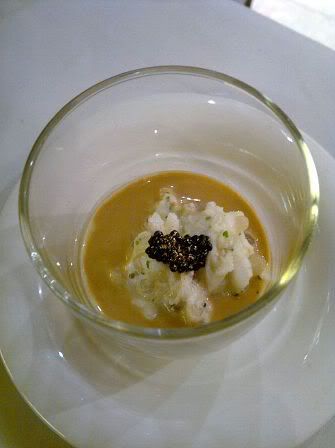 Caviar Parfait (Cauliflower Panna Cotta, Crab Jelly, Tapioca & Crab "Salad", Sea Urchin, & Avruga Caviar)



One of the restaurant's most famous and sought-after dishes: their version of Eggs Benedict.



Catha & Joaqi



Mauro & Lorenzo



A creative and entertaining take on Garden Salad (para healthy).



Fideuà Negra. Always delicious, the accompanying scallops seared to perfection.



Duck Confit. Catha and Joaqi really liked this. I'll try it next time.



24-Hour USDA Shortrib "Steak"


With the duck and beef courses,
1964 Faustino I Gran Reserva
- Superb as usual with a bouquet and flavors of dark red fruit, berries,
sous bois
, ceps, cedar, violets, underlying leather and sanguine whispers, with only the telltale balsamico telling one that this is an aged Rioja rather than an aged Burgundy. Refined, silken, slightly over medium-bodied. A confident, moderately long finish. Beautiful wine, if I do say so myself.

Due to the wine's age, I removed the cork myself, and there was no problem at all - the cork was in excellent shape, though obviously old.


My birthyear is actually 1965, but that was pretty much a crappy vintage all over the planet. Thus, following the advice of Bodegas Contino Wine-Maker, Jesus De Madrazo Mateo (also a '65er), when it comes to wine, I consider myself 1964 - which happens to be a legendary vintage for Rioja (and, anyway, we were both conceived in 1964).

Desserts were Deconstructed Cheesecake...



Panna Cotta with Pumpkin, Chocolate, & Coconut...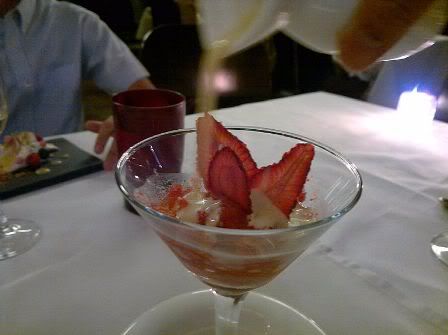 Strawberry Sorbet...



Deconstructed Lemon Meringue with Berries, and...



Dark Chocolate Bar with Raspberry.



Petits fours were assorted (delicious) Macarons.


Double espressos ended yet another deliciously entertaining meal at The Goose Station. The kitchen team does credit to Rob & Sunshine in that, although neither of them were in that evening, all the dishes were very nice, showing the technique, playful and precise use of flavors, and over-all polish their cuisine is known for. Thanks also to Rene who kindly arranged my reservation at relatively (for the restaurant) short notice. Until the next!