Last night, the 6th August 2012, Catha and I braved the rain and floods to make our way to
Brasserie Ciçou
for
Les Toques Blanches Philippines' Charity Dinner
, the menu of which was created and executed by visiting Chef Tony Khoo of Singapore (Executive Chef of the Year in the 2011 Asian Gastronomic Awards of Excellence).
Coming from an afternoon meeting in Pasay City, it took me an hour to get back to my Makati office to pick up Catha - making me hesitate to push through with attending the subject dinner considering the rains, floods, and rush hour traffic. Cyrille sent me a text saying everybody else would be late and that they would wait for us to arrive, so we proceeded to San Juan - and I'm glad we did. With Catha, Cyrene de la Rosa, and Nana Ozaeta, we were four at our table.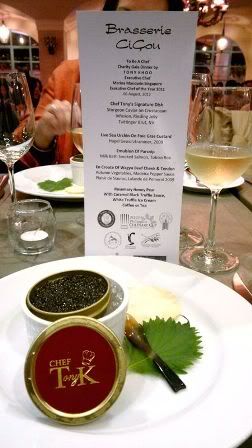 The Menu & 1st Course
The turnout was impressive despite the inclement weather. The place was packed, everyone poured glasses of fresh, bright
Champagne Taittinger Brut NV
as welcome drinks and to go with the 1st course of...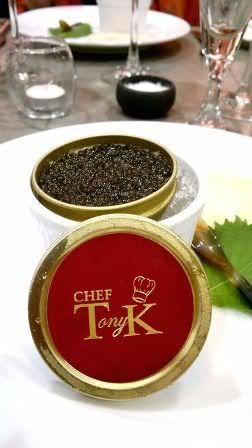 ...Tony Khoo's signature Sturgeon Caviar on Crustacean Infusion & Riesling Jelly.
Next was my and several others' dish of the evening, the 2nd course of
Live Sea Urchin with Foie Gras Custard
, paired with a pleasantly ripe and slightly off-dry, typically lychee and peach noted
2009
Domaine Hugel Gewürztraminer
. Pretty good for an entry-level gewürz, and a nice pairing for the dish (nb: gewürztraminer with foie gras is a typical/regional pairing in/of Alsace).
The 3rd course was an
Emulsion of
Parsnip Milk Bath with Smoked Salmon & Tobiko Roe
. Though pleasant enough, it was my least favored dish of the evening, and I wasn't the only one. Comments were made that the parsnip's flavor didn't come out enough and that the quality of the smoked salmon left something to be desired. With this I opted to have no wine.
The 4th course was the meat course, namely,
Wagyu Beef Cheeks & Tendon En Croute with Autumn Vegetables and Madeira Pepper Sauce
. This was my second favorite dish of the night, one of the best preparations of beef cheeks I've ever had anywhere: deeply caramelized, melt-in-your-mouth tender, moist, wonderfully and earthily gelatinized by the beef tendons, the outer crust adding nice contrasting texture, the vegetables perfectly cooked, adding balance to the dish as a whole.
The pairing wine was the
2009 Plaisir de Siaurac
(the 2nd wine of Château Siaurac of Bordeaux's right bank AOC Lalande de Pomerol, a stone's throw north from Pomerol). Very reticent, closed, exposing its leathery, tobacco-laced, darkly plummy underbelly only with doggedly cruel swirling in glass. "Plaisir" is French for "pleasure". Unfortunately, for me, the wine did not nearly live up to its name. Robert Parker says it may be a sleeper of the vintage. It may as well just go on sleeping, but not in my cav.
The 5th course was dessert, a nice enough dish of
Rosemary Honey Pear with Caramel Black Truffle Sauce & White Truffle Ice Cream
. While all flavors were balanced and undoubtedly pleasing, the white truffle ice cream's casing was much too hard and thick, making it difficult to cut without pieces jumping off the plate (I held mine and bit into it). None at the table, seasoned travelers and gourmands all, could really get the black truffle essence in the caramel puddles (summer truffles are better shaved than chopped). Still and all, I enjoyed it well enough.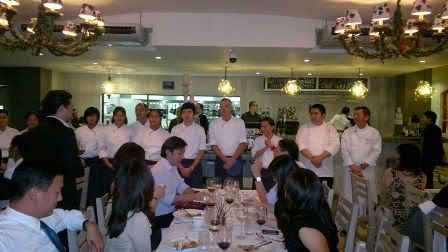 The night's kitchen crew.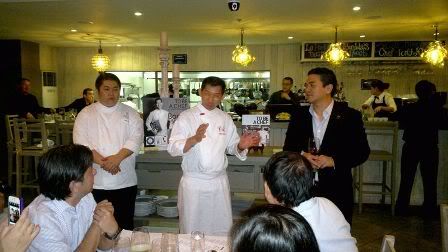 Chef Tony Khoo takes the floor.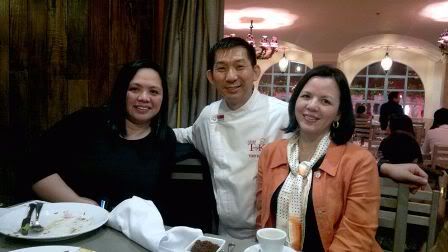 Catha & Cyrene with Tony Khoo.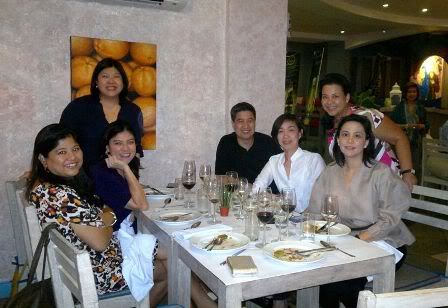 Also in attendance: Berck & Lisa Cheng, Alicia Sy, Katrina Limcaoco, Irene Yu, et al.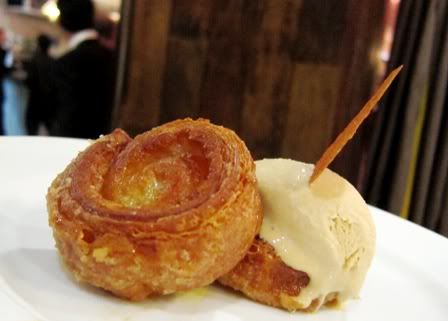 Photo by Cyrene de la Rosa.
Cyrille, knowing Catha, Cyrene, and my addiction to his signature
Kouign Amann with Salted Caramel Ice Cream
, had anticipated that we absolutely wouldn't leave Brasserie Ciçou without having any. Thus, we had a couple of orders of this gem of a dish from Britanny as a second round of dessert. Cups of coffee and double espresso brought an end to the dinner.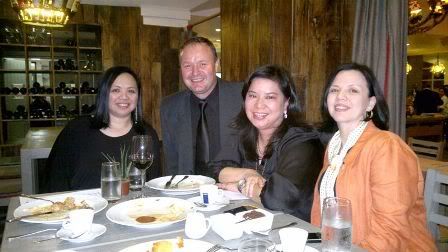 Congratulations to Les Toques Blanches, and, of course, many thanks, Cyrille! As always, until the next!