It had been over three months
since the family had been back to Champêtre
, so a couple of nights ago, the 18th August 2012, we remedied that situation. Marc has since changed his menu, but, of course, many old favorites remain, and he is willing (subject to availability of the ingredients) to accommodate special requests.Thus, aside from the timeless appetizers of...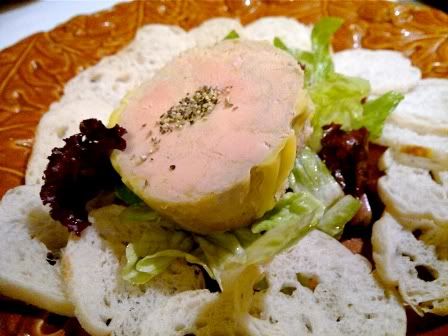 Terrine of Duck Foie Gras w/ Salad & Melba Toast...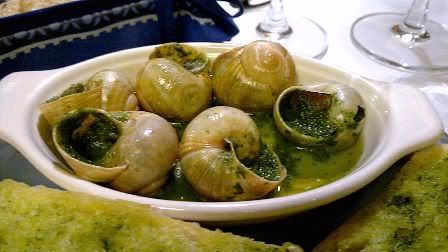 ...a couple of orders of Escargots à la Bourguignonne...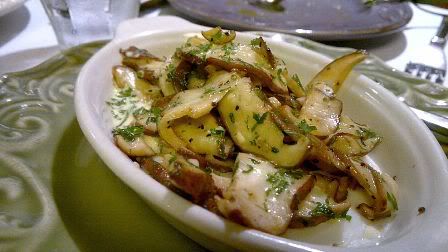 ...Mushrooms w/ Oeuf Cocotte...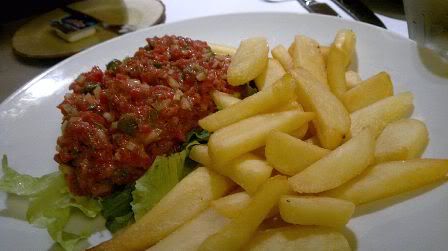 ...and Steak Tartare with Frites...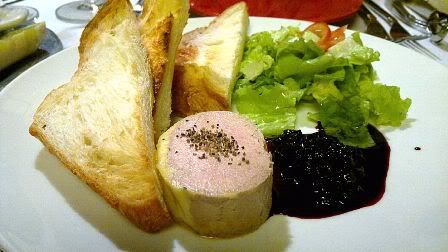 ...we also had Goose Foie Gras Terrine w/ Blueberry Compote & Brioche...
...and Crottin de Chavignol with Salade Niçoise.
We'd had the foie gras d'oie at least twice before, but they were specials at the time and not on the regular menu. The crottin de Chavignol used to be on the regular menu, but in a different version - I recall it was baked in phyllo pastry then, also served atop a salad, but not one à la Niçoise.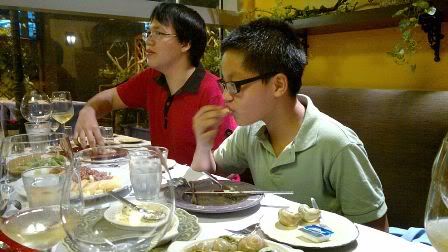 In any event, with Mauro, Lorenzo & Joaquin, plus nephew Zach, all the appetizers were made short work of - conclusive evidence of their gastronomic goodness. We loved them all.
With all the appetizers, we had a bottle of the clean, bright, pure, well-focused, fresh, zippy, roundly-fruited, off-dry, nicely acid-balanced
2007 Dönnhoff Kreuznacher Krötenpfuhl Riesling Spätlese
(available at
Premium Wine Exchange
for P2800/bottle at full retail).
Prost!
I've written about this lovely Nahe riesling many times before, so there is no need to repeat myself now. Suffice it to state that I really like this wine, and so does Catha (and everyone else I have shared it with), so, I, obviously, make sure to always have a few bottles of it at home. It was a beautiful pairing for the foie dishes, as well as the crottin de Chavignol - lending contrasting sweetish fruitiness, and acid lift and brightness to the rich foie and the gamey chèvre.

After a short break, our main courses made their way to the table.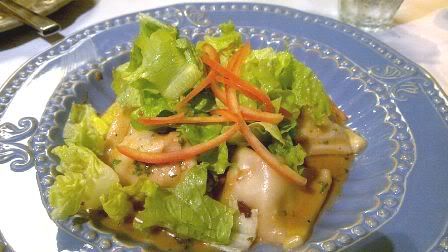 Mauro's Ravioli stuffed with Foie Gras & Chanterelles.
Lorenzo's Linguine with Seared Salmon, Scallops, & Prawns.
Joaqi's Boeuf Onglet.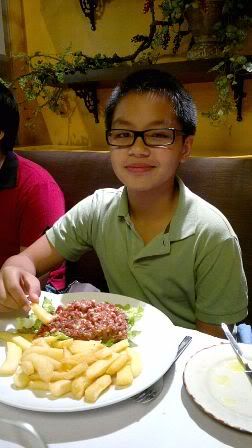 Zach opted to have another Steak Tartare w/ Frites for his main course (he obviously likes it a lot).
Marc, knowing that Catha & I love roast pigeon, happened to have some French pigeons on hand, and thoughtfully prepared us a couple of orders of Roasted, de-Boned, Stuffed French Pigeon. These were tender, moist, juicy, the skin nicely caramelized, the stuffing precisely earthy, the sauce of giblets of notable depth and balance. Needless to state, we loved it. Since I knew we were having this, I had brought along a bottle of...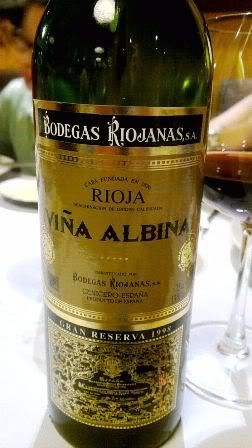 1998 Bodegas Riojanas Viña Albina Gran Reserva - This is another of the traditional gran reservas Aaron and I brought in; one I am especially proud of. Decanted to breathe for approximately an hour before serving, this showed off its Bordeaux reminiscent structure (suggesting goodly dollop of mazuelo in the dominant tempranillo) and balance, yet holding true to its origins with its red-spiced wild cherry, underlying dark plum, licorice, balsamico, pinch of tobacco, leather, slight smokiness, violets, and cedar. Perfumed nose, around halfway between medium and full body, smooth; there is a rustic nuance to its elegance - like that of a gentleman farmer. Love it. Unfortunately, I am down to my last bottle or two, and we have sold out of this many months ago.
I note that Mauro, after having a sip or two of this red, told me he'd continue with the Dönnhoff riesling spätlese for his ravioli, since the foie in the stuffing seemed to call more for the latter. That showed good wine instinct on his part. He did his father proud. We then moved on to desserts.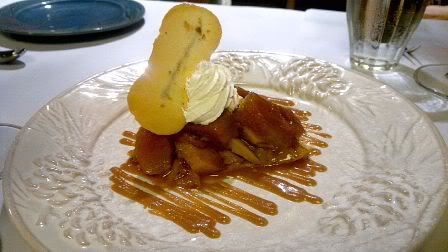 Apple & Mango Tarte Tatin. Lovely with my double espresso.
Gâteau de Riz, a typical, rustic French dessert.
Lorenzo's usual Lemon Soufflé.
My usual Chocolate-Grand Marnier Soufflé.
It was a very hectic night for Marc in the kitchen that night as Champêtre was over-flowing with customers. I saw at least one long extra table had to be set up at the al fresco area to accommodate the crush of diners. Still, after a long service, Marc was able to join us to catch up and take a well-deserved break.
It was great seeing Marc and having his food again. It really had been way too long - I didn't realize how long it's been. We've loved Marc's food ever since the early Je Suis Gourmand days - he's pretty much seen my kids grow up in his restaurant, and I've had countless 6+ hour wine lunches and memorable wine dinners there with my wino friends. Naturally, we look forward to many more in the years to come.
Until the next!