After a tiring work week during which I was completely dry of any form of alcohol,
la
st night, the 3rd August 2012, was a much-needed break, enjoying dinner at my favorite Thai restaurant,
Colin Mackay
's People's Palace.
Cyrene organized the dinner and got us reservations at The Blind Pig for after. Everyone brought bottles of wine and craft ale to share.
We were 7 in all:
Thea Ancheta
, Cyrene de la Rosa,
Alex Tiu
,
Sanju
&
Cutie Gopladas
, Catha & myself.
Tere, the other half of the Ancheta twins,
was supposed to join us, but had to back out at the last minute due to a late meeting.
First of the many, many appetizers was the popular Crispy Catfish & Green Mango Salad, with which I started off with my bottle of...
Unibroue La Fin du Monde
-
an extremely highly-rated Belgian-style tripel produced in Quebec, Canada
. I've written about this versatile ale several times, so there is no need to repeat myself anew. Suffice it to state that I make sure to maintain a ready stock of it at home, distributed locally and exclusively by Jimmyton Araneta's
Global Beer Exchange
. We had two 750ml bottles of this, one from me; the other courtesy of Thea.
I continued with more of this fine ale with the other appetizers, such as the hot-from-the-pan
Vietnamese Style Fried Spring Rolls with Lettuce & Basil Leaves
.
Everyone apparently had German rieslings in mind for the night's Thai dishes, as Cyrene, Sanju, Cutie and I wound up bringing bottles by Dönnhoff, Keller, Schaefer (all distributed by
Premium Wine Exchange
), and M
ü
ller Catoir.
2007 Dönnhoff Kreuznacher Krötenpfuhl Riesling Spätlese - My bottle, and always a crowd-pleaser. I pair this wine not only with German, Thai, Vietnamese, and Filipino dishes, but with Spaghetti alla Bottarga as well. My old notes from back in October 2010 show how very versatile this german riesling can be:
2007 Dönnhoff Kreuznacher Krötenpfuhl Riesling Spätlese

- I've gone through at least 3 or 4 bottles of this in the past 2½ months, having bought a few from Premium Wine Exchange back in August. Dönnhoff is widely recognized as the best producer of Germany's Nahe region (Rhineland-Palatinate). I've been a fan ever since I first tried their wines, and I can't recall a single wine from them that I did not enjoy. My last notes on this were from

a dinner at home for Miguel's mom who was visiting from Barcelona

:
I opened this with the Chili-Garlic Prawns in mind, figuring its clean, pure, light-footed, graceful, off-dry, white minerally, slate-touched pear, bit of peach, apricot, quince, bit of kiwi and slight ripe pineapple notes would balance off the dish's spiciness. It was a good call resulting in a good match (if I do say so myself). Eminently drinkable wine this, and it is available at Premium Wine Exchange for around P2400/bottle more or less. This was my last bottle of it, and I'm definitely getting more.
With the spaghetti bottarga, and even with the salad, the wine was an excellent match, underscoring the inherent versatility of good German rieslings. Its crisp acidity and minerality lent lift and cut to the salad's creamy, slightly gamey cambozola, and, together with its pure, admirably focused off-dry fruit brought a bright, entertaining contrast to the bottarga's salty-savoriness.
2010 Dönnhoff Riesling Qba
- A bottle each from Cyrene and I. This, a Qba, is, naturally, markedly drier and lighter in body than the pricier above-mentioned spätlese. It is, however, also pure, crisp, well-focused with Dönnhoff's always good acid balance. I actually prefer it with the sweeter Thai dishes. Usual Suspect Rene successfully paired this with Tita Bella's sweet-and-sour pork around a week ago, so I figured it would do nicely for the subject dinner. I was not mistaken. At a mere P1000 (after discount) at Premium Wine Exchange, this wine is a definite winner.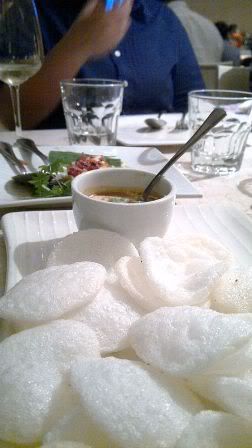 Prawn Crackers w/ Saté Dip.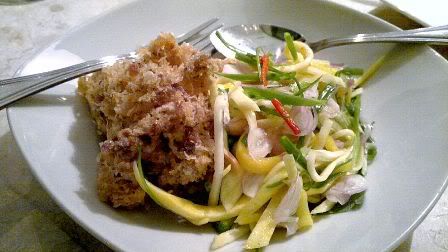 More Crispy Catfish & Green Mango Salad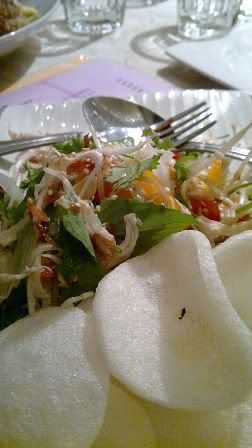 This Vietnamese Salad w/ Chicken was on special that night (not on the regular menu).
We easily polished off three orders of the
Son-in-Law's Eggs
appetizer. Even my kids love this, and it is one of Cyrene's favorite appetizers as well. We teased her that she, apparently, likes her eggs spicy and unwashed.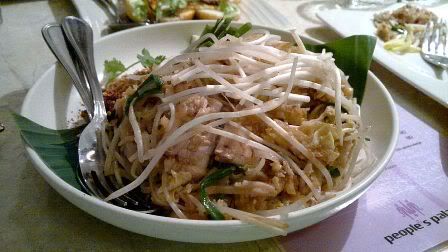 Of course, no Thai meal is complete without Pad Thai.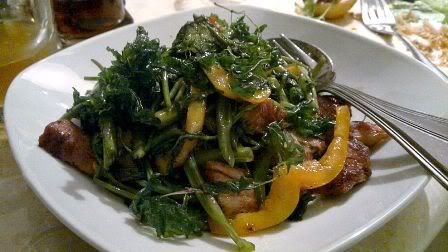 Crispy Water Spinach w/ Pork Belly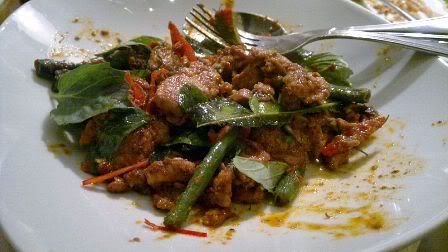 Spicy Pork & Green Peppercorns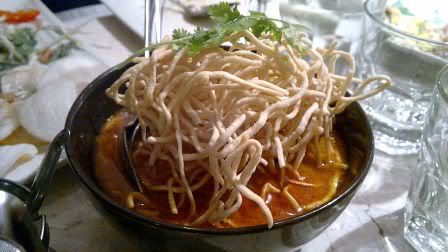 Khao Soi Gai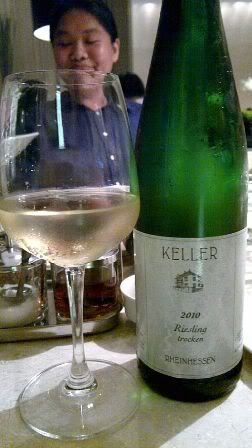 Thea, in the background, is obviously enjoying her wine and food.
An even drier riesling was drank down:
2010 Weingut Keller Riesling
Trocken
- From Sanju & Cutie. Nice minerality to its dry green apple, slight lime and white peach notes; over-all quite a nice, basic trocken riesling. At the same price as the 2010 Dönnhoff Qba Riesling, this is a very good alternative for those who need a drier riesling for pairing.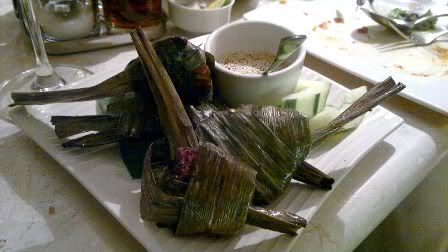 Chicken in Pandan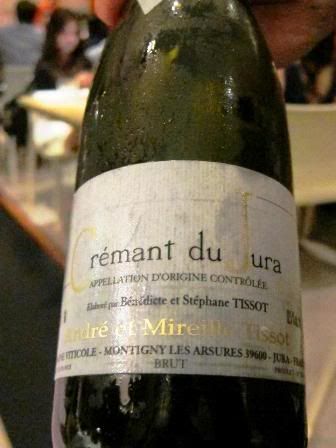 Photo by Cyrene de la Rosa.
Domaine André et Mireille Tissot Indigène Crémant du Jura
- Alex's bottle; one I last enjoyed 10 months ago during
a wine lunch with Jerome Philippon at the Prince Albert
. My notes from that time are still applicable:
We started off with some bubbly of course, the

Domaine André et Mireille Tissot Indigène Crémant du Jura

. I first tried this back in late November 2010. My notes then were as follows:

Hmmm...probably my first bubbly from the Jura region that is not a predominantly poulsard-based Bugey Cerdon. Per Jérôme, this bio-dynamically produced bubbly is a champagnesque blend of chardonnay and pinot noir. Bright, vibrant and lively with well-focused, clean lines of soft, creamy apple, pear, white flowers, slight minerals and a whisper of caramel, this also presented an entertaining, underlying white chocolate- milkiness that I associate with pinot noir in young champagnes. Nice, entertaining and dangerously drinkable, this is a good and, at approximately P2500/bottle, more-or-less, full retail*, definitely affordably-priced alternative to champagne - perfect for Christmas get-togethers.
Now, almost a year later, this bubbly is as lively and charming as ever, its soft, pinot noir-milky, creamy fruit delightful to hold mid-mouth making it very easy to enjoy and drink a lot of. I actually had to hold myself back so as not to get quickly tipsy before lunch proper began. Fortunately, I did not have long to wait.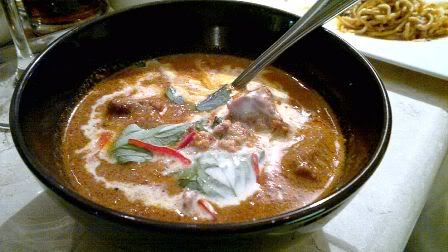 Said Crémant du Jura went quite nicely with the Beef Curry.
This
Domaine de la Bongran Cuvée EJ Thévenet Quintaine Viré-Clessé
, from Alex (I failed to note the vintage), was the sole chardonnay-based wine of the night. Pear, apple, vanilla, slight butter and honey nuances to the fruit, with a hint of underlying orange rind emerging in the finish. Nice balance, though the wine was a bit miscast for the evening's fare.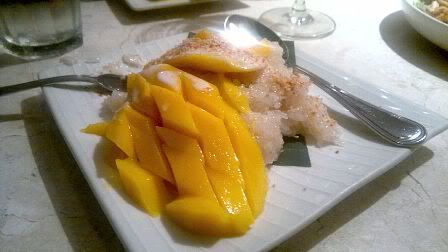 For dessert: Mango with Sticky Rice...
...and Colin's always superb Mango-Passion Fruit Pavlova.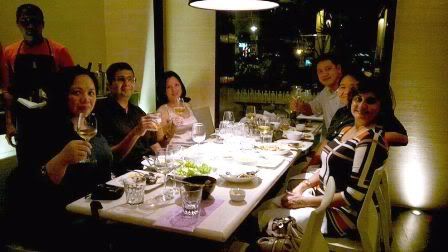 Cheers!
Photo by Cyrene de la Rosa.
We all then moved to
The Blind Pig
for a few (several for some) harder drinks thereafter, where Jim joined in the fun. Great fun that night, which I really needed after the working week. Thanks again to Cyrene who made all the arrangements for the night. Until the next!