Lunch today, the 27th December 2012, was called for by Tokyo-based Usual Suspect, Keiichi Miki, who is in town for the holidays. I was at my Makati office this morning, so just took a leisurely 2 minute walk over to the
Mandarin Oriental Manila's Tivoli
at noon. Since some of the Usual Suspects were either on off on vacation or too busy at work, we were only 6 for lunch: Keiichi, Jojo, J-Lab, Richard, Alex, & myself.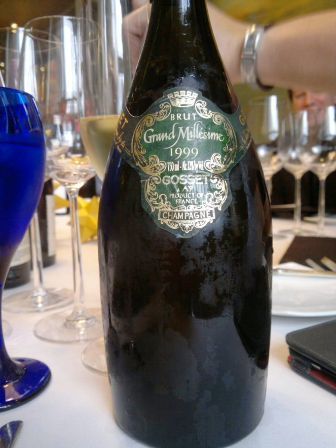 We started off with flutes of
1999 Champagne Gosset Grand Millésime
- J-Lab's bottle (he's the group's champagne expert, so bubbly duty is usually/rightfully left to him). Floral and pastry notes on the nose, luxurious and markedly expressive on the palate. Notable heft, roundness, and hedonism in its ripe, bright fruit, almond cream, slight vanilla, and pastry. Precise acid balance keeps things fresh and interesting. This is definitely the most impressive and enjoyable champagne from vintage 1999 I've come across to date - an excellent way to start off any meal. Loved it.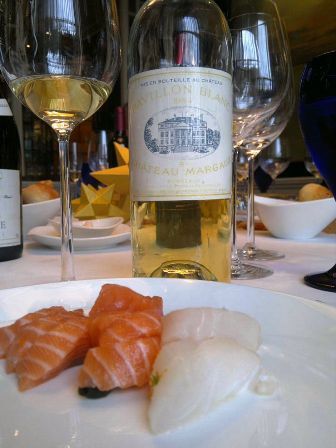 With my first course of
Salmon & Whitefish Sashimi
, Richard served the first white blind. I noted it was sauvignon blanc-dominant with gooseberries and toasty-nutty topnotes in the bouquet. Keiichi and Alex immediately guessed it to be a Bordeaux blanc, with Keiichi going so far as to calling it out as a Haut Brion Blanc. Richard then unveiled his
1984 Pavillon Blanc du Château Margaux
(brought over from his collection in Switzerland) - a white made by this 1855 first growth producer every once in a while, not every vintage. Medium-bodied, it fleshed out later as it warmed, showing properly restrained scents and flavors of mild gooseberry, bit of pear, whisper of peach, with the citrus, peach pit, and citrus rind emerging past mid-palate. Good acid balance. Dry and nutty, it was a good match for my fresh fish.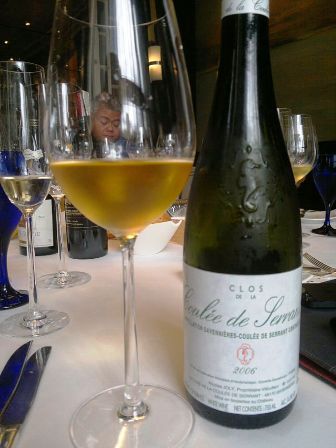 The next white was from Keiichi, a
2006 Clos de la Coulée de Serrant
- a naturally chenin blanc based Savennières (an appellation in the north-western portion of Anjou et Saumur, west of center in the Loire) by Nicolas Joly. Racy, zippy, bright, lively, alluringly spicy, a bit off-dry, wild honey touched ripe apricot, pineapple, bit of peach, underpinned by marzipan. The fruit is off-dry and soft, but balanced well by its acidity. Notable complexity; very intriguing personality. This wine keeps making me want to drink it.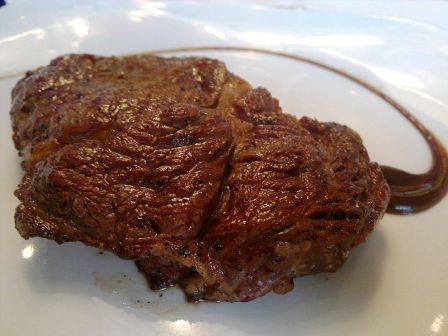 For my main course, I tried out the
Txogitxu Beef
that I've not seen on the Tivoli's menu before - rib-eye for me, rare. From its name, I immediately figured it hails from the Basque country. A quick check on the web shows that Txogitxu is a producer of branded beef based in San Sebastian. Like a lot of Spanish (and even French charolais beef) I've tried, it has, for lack of a better term, a very "beefy", grass-fed flavor - not as fatty as the better US beef I am used to, but, for its relatively reasonable price of P500/100gms at the Tivoli, it is good enough.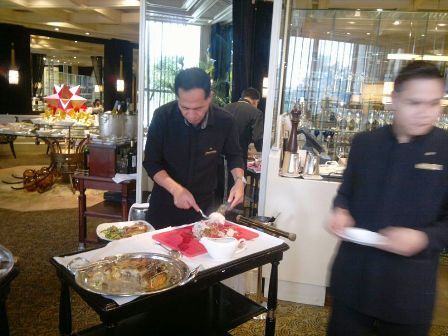 Jojo and Keiichi had the Roasted Chicken (for two), which was served tableside. The reds were: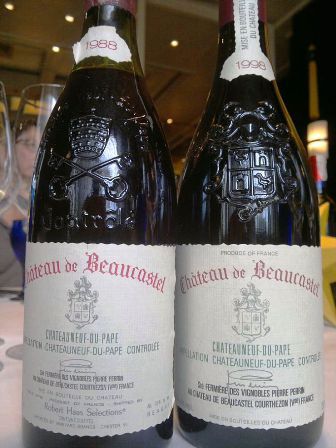 1988 & 1998 Château de Beaucastel Châteauneuf-du-Pape
- from me; I particularly wanted to try these vintages side by side. Unfortunately, the 1998 Beaucastel was corked (more apparent in the nose than on the palate, but definitely corked), and, perforce, immediately set aside. The 1988, however, was in fine form.
Around halfway between medium and full body, smooth and relatively light-footed, it presented a bouquet and flavors of animal-themed (wild boar in particular) in its moderately raunchy, deep, leather-laced black cherry, blackberry, dark raspberry, underlying blackcurrant, gamy roasted meat, bit of licorice, roasted herbs, and tobacco leaf. I'm not really
that
into CdPs these days, but I loved it. Shame about the 1998 though, but it happens.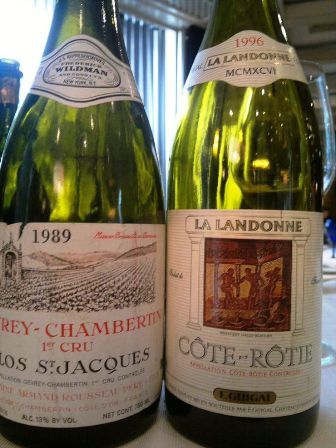 1989 Domaine Armand Rousseau Père et Fils Gevrey-Chambertin 1er Cru Clos St-Jacques
- Keiichi's bottle, yet another special treat. Silken, mild
sous bois
, bit of loam, ceps, violets in its deep, layered, black cherry, raspberry, and underlying dark plum with a whisper of cola and moderate dark minerality. A natural balance. Somber, serious, wonderful. I haven't had a red Burg this good this year.
Domo arigato
, Keiichi-san.
1996 E. Guigal Côte Rôtie La Landonne
- Jojo's bottle. Meat, smoke, and oak spice infused, rich, concentrated, full-bodied, very ripe (almost jammy, but not quite) dark cherries, raspberries, leather, mild black pepper, dried thyme, lavender, violets. Smoothly muscled. This wine makes a definitive statement from the attack to its long, strong finish. Oak well-integrated. Complex. Decidedly masculine. Impressive. Though all reds went well with my Basque rib-eye, this, because of its quiet power, went best.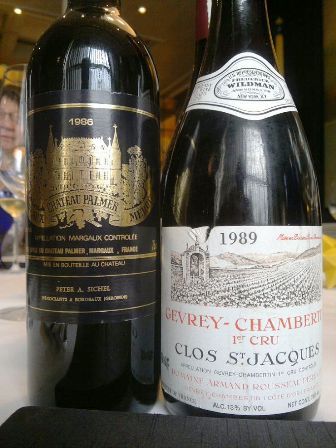 The last red, but certainly not the least by far, was a fine specimen of a Margaux:
1986 Château Palmer
- from Alex. Another silently serious, masculine wine with particularly notable freshness at 26 years from vintage. Wonderfully balanced, smoothly full-bodied, molten dark fruit, walnuts, pipe tobacco, warm black gravel, bit of anise, clean leather, hint of truffles. Impressive depth in this. I could fall into this wine and you'd never find me. Loved it.
Platters of cheeses and walnuts to finish off the reds.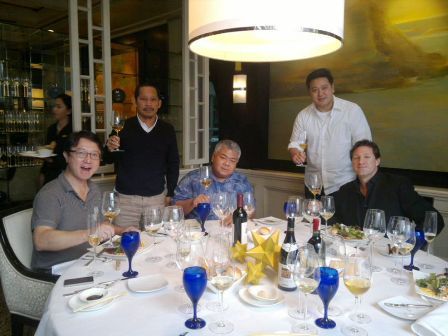 Cheers to the coming new year from Keiichi, Jojo, J-Lab, Alex, & Richard.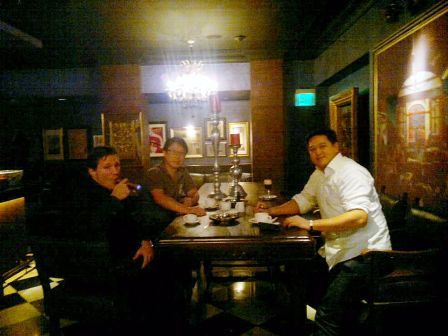 Since Kiplings had yet to open by the time we finished, we settled at the Manila Peninsula's bar and had our cigars (a Ramon Allones Specially Selected Robusto for me, courtesy of Alex - thanks, bud) and coffee there (resisting Alex's single malt temptations). What an excellent lunch. Many thanks again for the excellent wines and company, guys. Here's to a happy and prosperous New Year! Until the next!