After a work-related couple of nights at Subic Bay Yacht Club, I got back to Metro Manila by around 6pm (I rode with Enki), Saturday, the 21st September 2013. Catha & the kids were to pick me up in Cyrille & Anna Soenen's Brasserie CiÇou, so we decided to have dinner there, together with Enki & Mayette.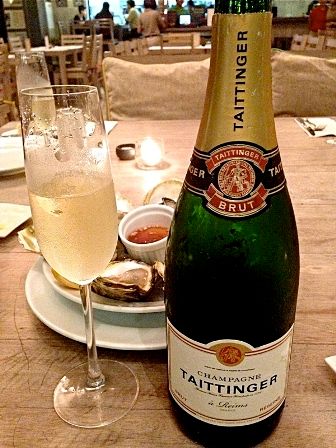 We started off with a bottle Champagne Taittinger Brut Réserve, which was straightforwardly pleasant as usual. Always nice as an apéritif, though nothing special or memorable. Still, at its very reasonable price, it is well worth having around as a casual bubbly (nb: I ordered this one from the wine list; at P3500/bottle, it is marked-up very low from retail as far as restaurants go).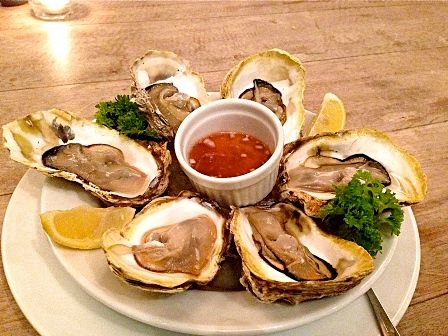 With the aforementioned bubbly, we had some Fresh Oysters, one order of 6 for Enki and I, and another order of 6 for the kids (Catha & Mayette don't really like oysters raw). As Brasserie CiÇou has an on-going French Chanterelles Festival (good until supply lasts), we all pretty much went for the featured dishes.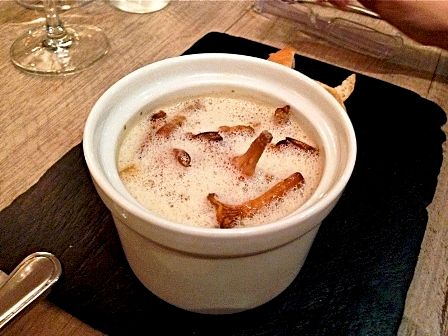 For our first course, Catha, Lorenzo, & I went for the Oeufs Cocottes with Chanterelles & Mushroom Foam. As can be seen, they are certainly very generous with the chanterelles.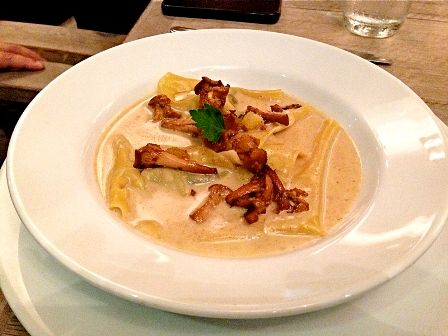 Enki's Ravioli of Oysters in Creamy Chanterelle Soup.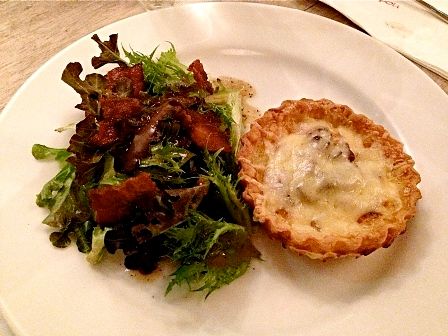 Mauro was probably reminiscing about Alsace, so his was the only course that evening not from the festival menu: Quiche Lorraine.
Joaqi's first course was this rather large Assorted Wild Mushroom Risotto with Parsley Foam. Anna did warn us of its size, but Joaqi was undeterred and finished it off easily with lots of room to spare. Growing boys' appetites never cease to amaze me (though I was one once, a very long time ago).
For main courses, almost all of us went for the meltingly soft, tender, and moist Slow-cooked Pork Belly Sous-vide, Lychee and Honey Syrup, Purée of White Kidney Beans, Sautéed Lychees, Chanterelle, & Black Trumpet Mushrooms.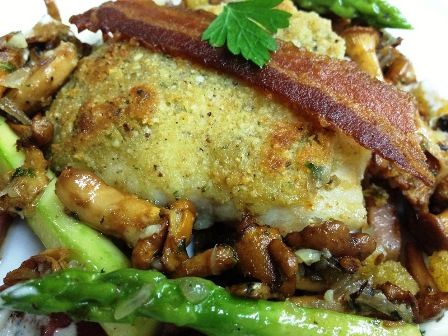 Mayette went for the
Roasted Flounder Crusted with Nuts, Chanterelle, Bacon, Asparagus, Parmesan Sauce
for her main course (photo from Cyrille).
The night's red was 1999 Prunotto Barbaresco Bric Turot
-
Catha brought this over from the house. Having opened at least two bottles of this before, I made sure to decant it for aeration - so it had been breathing for around an hour or so before we got to it. This bottle, probably because of the aeration time, seemed denser/more concentrated, lusher in fruit and bigger in body (at the lower quadrant of full-body, I'd say) than the past two bottles.
It also showed more depth, spiciness, and complexity in its moderately licorice, tar, and toasty oak touched dry, dark, ripe fruit. Acidity was good, no flabbiness there. Very decent Barbaresco; well-worth buying (that is, if this vintage is still locally available at Bacchus Int'l.).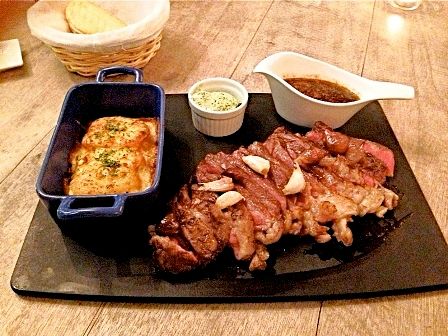 Just to make sure we all had enough to eat, I ordered a large Certified US Black Angus Rib-Eye Steak with Potatoes Dauphine for the middle of the table. It was pretty much wiped out as well.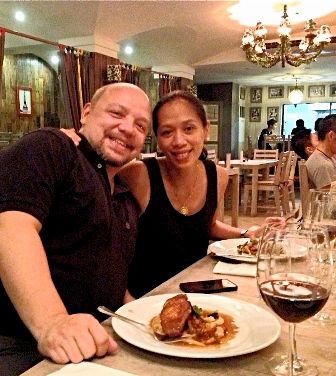 Enki & Mayette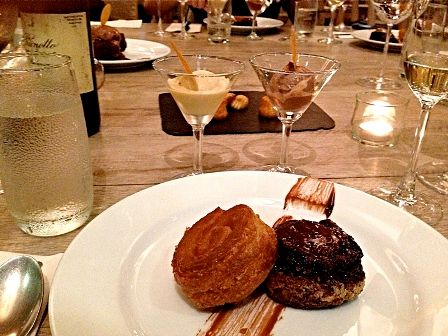 For dessert, we all finally got to try Cyrille's new Chocolate Kouign Amann (5 orders for all of us, plus another full order compliments of Cyrille & Anna for good measure) - a chocoholic's dream - decadently rich, and stuffed with chocolate ganache, with a nice, flaky pastry for textural contrast. What I loved about it most was that it tasted like chocolate, not like many other chocolate desserts in Manila that taste mainly of sugar. Served with a scoop of delicious, in-house dark chocolate ice cream, it was more than wonderful.
Naturally, we also had some of the old favorite, original Kouign Amann with Salted Caramel Ice Cream. I can never leave Brasserie CiÇou without having that. As Anna recommended, the respective ice cream accompaniments were served on the side.
This photo says it all.
Anna & Cyrille join us for a nice after-dinner chat.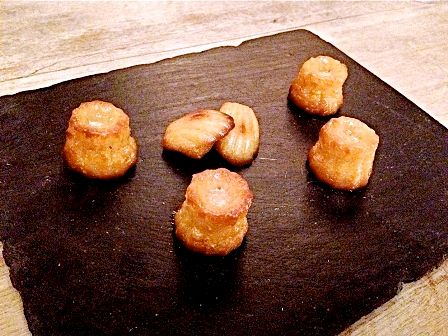 Just like I cannot leave Brasserie CiÇou without having the kouign amann, Catha must always have her Cannelés, and Joaqi, his Petites Madeleines. Cups of coffee and espresso, followed by complimentary pours of good Armagnac brought a close to this lovely, relaxing dinner with family and friends.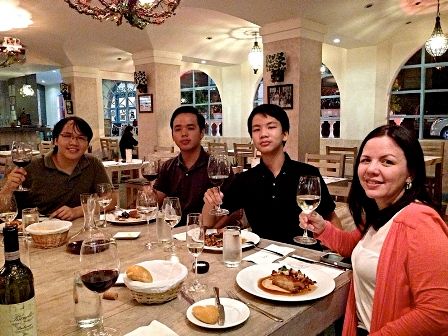 Love it. Until the next!