Thursday evening, 26th September 2013, was the International Wine & Food Society Philippines Branch's Blind Bordeaux Blanc Event - a half-blind tasting of 8 whites from Bordeaux (i.e., we knew what the 8 wines were, but we didn't know which was which).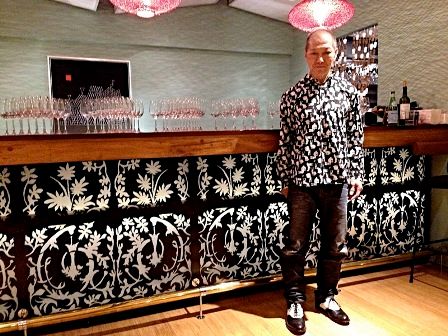 Bernie matches the new Alliance Française bar made by IWFS' own Mike Aguas.
The venue was the
Alliance Française
's new 4th floor entertainment-music lounge - a strictly by-invitation only venue as I understand.
Here, audiophile-oenophile-IWFS director/Wine Master/Alliance Française president, Bernie Sim, occasionally acts as deejay for guests with part of his vast collection of
rare
stereo equipment and vinyl albums.
The glasses, all cleaned, polished and ready.
Stemware all polished and ready for the half-blind tasting of 8 Bordeaux Blancs. The wines for the tasting were:
2001

Château Margaux Pavillon Blanc

2002

Château Margaux Pavillon Blanc

2003 Château Couhins-Lurton Blanc

2004 Château Smith-Haut-Lafitte Blanc

2004 Château Pape Clement Blanc

2004

Domaine de Chevalier Blanc

2007 Domaine de Chevalier Blanc

2008 Château Talbot Blanc.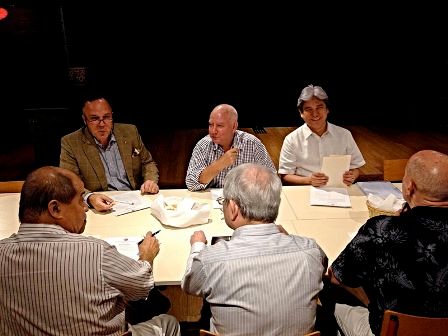 Waiting for everyone to arrive.
The event was meant for only 15 participants. Two (Michael Whiting and his guest), unfortunately, were unable to make it, so we were only thirteen: Bernie Sim, Oscar Ong, Markus Ruckstuhl, Rene Fuentes, Sr., Mon Diokno, Lawrie Martin, Klaus Koppenhofer, Richard & Yuki Joye, Hans Brumann, myself, Michel-Stanislas Villar (the French embassy's new Conseiller de Coopération et d'Action Culturelle)
, & Agustin Que.
With Richard, Yuki, & Hans' arrival...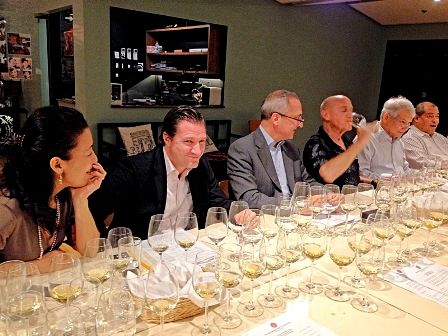 ...the tasting proper went underway.
Because many of the wines were quite similar, ranking was a tough job - especially for me since I've been nursing a bad cold and suffering from allergies as of late. Pumped up with meds; it was exceptionally difficult for me to smell and taste properly.
All wines were decanted at around 4:15pm; poured for the tasting at around 6:45pm. Because of the time pressure, my notes were telegraphic at best; and m
y own ranking was as follows (1st-8th):
1st Place: 2007 Domaine de Chevalier Blanc - Initial stewed/canned vegetable topnotes gave way to fresh, grassy, gooseberry as it warmed; and, with some swirling, released alluring guava notes. On the palate, medium-bodied at best, nicely light-footed, very good freshness of fruit. Medium length.
2nd Place: 2001 Château Margaux Pavillon Blanc - Gooseberry, citrus with matchstick, toasted wood topnote. Fragrant minerality (like talcum powder), vanilla, notably ripe, with good heft, slightly honeyed, long finish. Deeper than most. Not exceedingly fresh, but still quite nice.
3rd Place: 2004 Château Smith-Haut-Lafitte Blanc - Sweet guava, honeyed nose. Vanilla, white minerality, honeyed fruit, nice balance. A bit thin, but good.
4th Place: 2004 Château Pape Clement Blanc - Fresh nose, slight guava, grapefruit, ripe gooseberry. Honeyed fruit, less in body than preceeding wine, not as broad, not as long. Good freshness, quite oaky.
5th Place: 2003 Château Couhins-Lurton Blanc - Shy nose, nice citrus though. Lemon dominates, citrus, gooseberry, oak emerges in the finish. Finish a bit clipped, but a decent wine.
6th Place: 2002 Château Margaux Pavillon Blanc - Bit of burnt matchstick and toasty oak topnotes, sherry-like oxidation/nuttiness, honey, spicy nose. In the mouth, honeyed, soft yellow fruit, good length, good breadth, quite hefty, lemon gets aggressive in the finish, slight oxidation. Lacks freshness.
7th Place: 2004 Domaine de Chevalier Blanc - Nice nose, but a bit mute and simple. Fragrant wood and minerality, talcum powder, oaky, hefty, vanilla.
8th Place: 2008 Château Talbot Blanc - Skunky, garlic nose. Thin citrus, cloying finish. Lacks freshness. Not good.
The Group's Collective Ranking (only 1st-4th were ranked):
1st Place - 2004 Château Pape Clement Blanc
2nd Place - 2004 Domaine de Chevalier Blanc
3rd Place - 2007 Domaine de Chevalier Blanc
4th Place - 2004 Château Smith-Haut-Lafitte Blanc
Thereafter, we descended to the ground floor's Le Coude Rouge for dinner, where the dinner wines patiently waited. Markus was our chef for the evening.
Chicken Liver Pâté & Potted Pork Rillettes, paired with 2010 Louis Jadot Marsannay
- Exceedingly ripe, almost heady, with a good dose of minerals. To me, this was a bit simple, and lacked freshness, liveliness, and acidity. Not bad, pleasant enough, but not my type of white.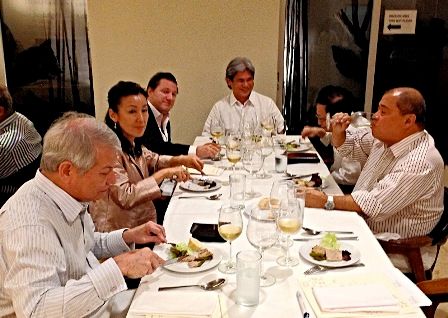 Oscar's table, I sat beside Rene, Sr.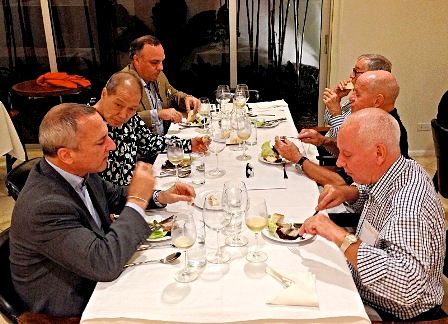 Bernie's table.
Pumpkin Soup enhanced with zingy ginger.
Grilled Buttered Maine Lobster Tails, paired with 2008 Domaine Marc Colin et Fils St-Aubin 1er Cru La Chatenière
- Good concentration, with the moderate heft and richness for the nicely smoky lobster tails. Good balance in fruit, minerality, acidity, and oak. Maintains good freshness/brightness. This is more my type of white, and well-paired to boot.
Grilled Wheel of Fresh Pork with Potatoes, paired with 2010 Louis Jadot Château des Jacques Clos de Rochegrès Moulin-à-Vent
- Decent depth in the concentrated, well-ripened, moderately spiced, intriguingly smoky black cherry and raspberry. Hint of kirsch. The oak is apparent, but not bothersome. Notable structure. A couple of notches above medium-bodied. Decent bones in this; respectable finish. Still quite young, a touch rustic, but nice enough, and good with the pork.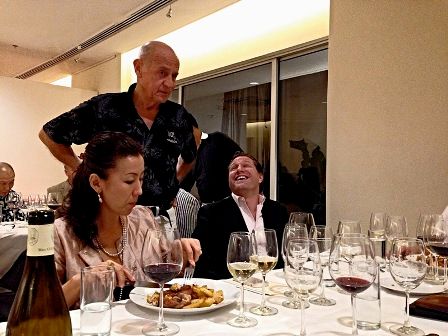 Markus checks out the appreciative diners.
A bonus wine from Bernie:
2007 Louis Jadot Château des Jacques Clos de Grand Carquelin Moulin-à-Vent
- Sweetishly ripe, moderately spiced raspberry and dark cherry. Evidently more ready, tannins more resolved, oak/oak spice more finely integrated than the previous wine. Deeper in fruit, meatier character, suggestions of underlying loam. Nice already, but, I'd say no rush in opening these as it seems to have the capacity to age much longer. Comparisons by others being made to Burgundy and pinot noir. Maybe so.
For dessert: French Farm-Style Apple Tarte with Vanilla Ice Cream, paired with 2005 Domaine Huet Clos du Bourg Moelleux Premièr Trie
- I've only ever had the 2003 of this wine before (as far as I can remember anyway), so I made sure to pay attention to this 2005. "Lively" and "vibrant" just don't seem to cut it; this is a zippy, zingy, spicy wine with remarkable brightness, good heft and roundness in its moderately honeyed, botrytis-touched crisp Korean pear, lemon, pineapple, and quince. Thrilling acidity that balances the sweetness. Very nice. Not very complex at this point, but it is still quite young. Already enjoyable though.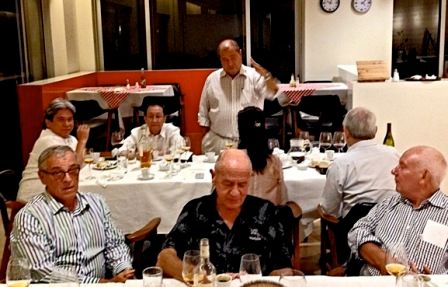 Rene, Sr. took the floor at Oscar's request for a few words.
In the meantime, Bernie opened a couple of bottles of
2003 Château Lafaurie-Peyraguey
for everyone - Quite a dark gold for a Sauternes at a mere 10 years from vintage, we noted. Fat, rich, thick, concentrated, super ripe, it showed unabashed candied/honeyed apricot, cling peach in syrup, bit of orange marmalade, and vanilla. Rather straightforward, but charming enough and immediately pleasing. Like candy.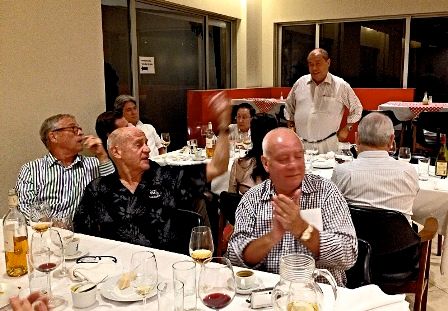 Keeping with IWFS tradition, Markus called out the restaurant staff...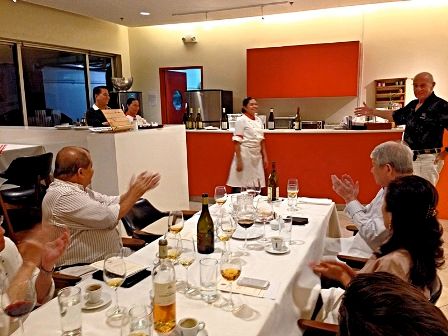 ...introduced them...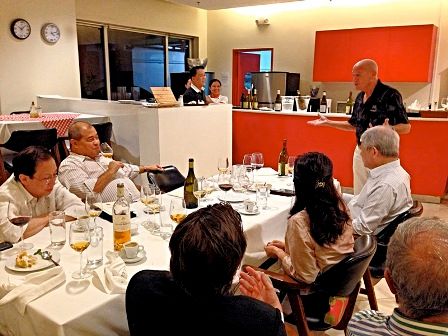 ...recounted how much help they were for the event...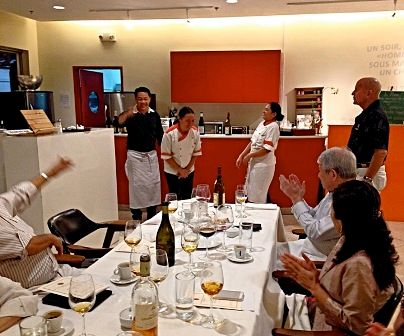 ...for which they received a round of appreciative applause.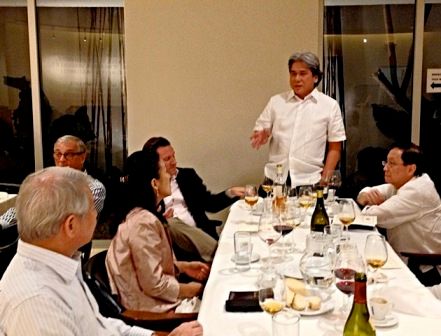 IWFS Philippines President Oscar Ong then took the floor...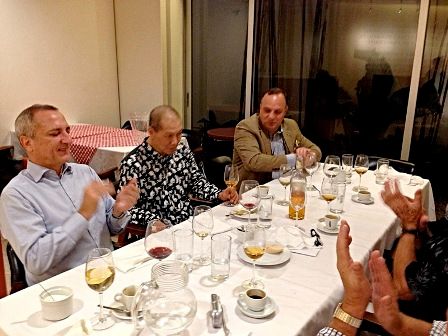 ...and thanked Bernie & Markus for the wine and food, respectively.
Congratulations to Oscar, Bernie, Markus and the rest of the board for a fine event. I've been absent for many events the past couple of years; and I've almost forgotten how much fun I have with my fellow IWFS members. That really will not do. I surely will take extra effort to join more events from hereon in (for so long as work allows). In any case, until the next!