It struck me only today that most of my posts are on wines not locally available. A handful are, but they are scattered about my blog. I figured I'd write one piece just on them. Who knows? Something I write on this blog may actually be of some practical worth.
And since the idea of practicality comes up, I will limit the wines to those under P3000 per bottle. Those willing to regularly spend more than this on a bottle, in all likelihood, already know where to buy the wines they like anyway.
These are whites and rosés I have tried, liked and would buy again. Of course, everyone has their own preferences, so your mileage, as they say, may vary.
Disclosure
: Yes, the owners of the shops I mention (well, most of them, anyway) are friends of mine. I assure you, however, that this doesn't affect my judgment. Like most of my regular drinking buddies, I purchase most of my wines abroad. Prices stated are as I remember them,
an asterisk indicates that the stated price may have gone up recently
.
In ascending order of prices:
Rosés

:
Not many in this country drink or are even aware of rosé. That is a pity as rosés,
good rosés
, are particularly well-suited for our tropical clime. They are versatile in food-pairing and fine for daytime drinking to boot. Rosés may have gotten a bad rap from all the crap marketed in the 70s-80s, but, believe me, there are good ones here and they are very affordable.
2007 Homenajes Rosado
- This
brilliant
, lively, dry rosé presents fresh and well-focused, ripe wild strawberry, raspberry and cherry flavors on a plumpish body. Excellent with a lunch of assorted Tapas at Terry's Segundo Piso, or for casual enjoyment at home or at the beach. Made from grenache by Bodegas Marco Real,
available at Terry's Makati for P390 per bottle
.
2006 Celler Capçanes Mas Donis Rosat
- Marginally drier and less ripe, this was a hit at the Manila Gentlemen's Club's Spanish Night last year paired with Tippi Tambunting's Seafood Fideos Paella.
Available at Premium Wine Exchange for P525 per bottle
.
2005 Rosé de Pavie Macquin
- From the heralded, ripe 2005 vintage of Bordeaux - St-Emilion, to be exact. Ripe-red-fruited, lush, well-rounded feel, typical of the vintage.
Available at Premium Wine Exchange for P650 per bottle
.
Whites:
For me, no dinner is complete without a white or bubbly, at the very least to start off with.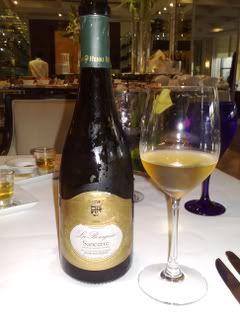 1999 Domaine Henri Bourgeois Sancerre "La Bourgeoise"
- Excellent sauvignon blanc-based wine and reasonably-priced in terms of its quality. Those looking for an ultra-fresh, grassy, gooseberry/grapefruit forward sauvignon blanc had better stick to Marlborough, New Zealand sauvignon blancs as this is a totally different animal. Sancerres, though also crisp, refreshing and palate-cleansing, are more understated, refined and have a subtle, though unmistakable, white minerality to them. I look to them to pair with seafood dishes.
Available at Bacchus Makati for under P1500
*
.
2002 Domaine Emilian Gillet Viré-Clessé
- Light-footed, crisp, pure, mineral-infused, steely chardonnay with pronounced citrus notes. This is for chardonnay purists who eschew aggressive oak flavors. Great with simple, steamed and/or lightly-sauced seafood dishes.
Available at Sommelier Selection for P1485 per bottle
*
.
2005 Domaine Robert Denogent Pouilly-fuissé "Les Reisses"
- A medium-bodied, pure and clean chardonnay. More in body than the Viré-Clessé with more discreet minerality and citrus notes. Again, one for the chardonnay purists.
Available at Sommelier Selection for P2095
*
.
2006 Domaine Laurent Tribut Chablis Premier Cru "Côtes de Lechet"
- Another pure chardonnay by a well respected and traditional Chablis maker lately gaining recognition in the US market. Decant this premier cru for an hour on ice and see how it transforms expands and gains weight.
Available at Sommelier Selection for P2100
*
.
2005 Cuvée du Vatican Châteauneuf-du-Pape
Reserve Sixtine Blanc
- One from Southern Rhône made up of grenache blanc, roussanne, clairette and bourboulenc grapes. White wine from this particular area, as well as from these grapes are, likely, unfamiliar to most.
Take it from me, though, they are more than worth a try. Decant it for 45 minutes keeping the decanter almost halfway submerged in iced water
*
and the wine will reveal its intriguingly complex, vaguely floral and waxy inner-self. There is definitely much more to white wine than chardonnay and sauvignon blanc, and this is a prime example.
Available at Premium Wine Exchange for P2120 per bottle
.
*
Something I learned from Bernie Sim over a Burgundy lunch at Je Suis Gourmand a while back, it allows a white to breathe and open up while being kept at the proper serving temperature .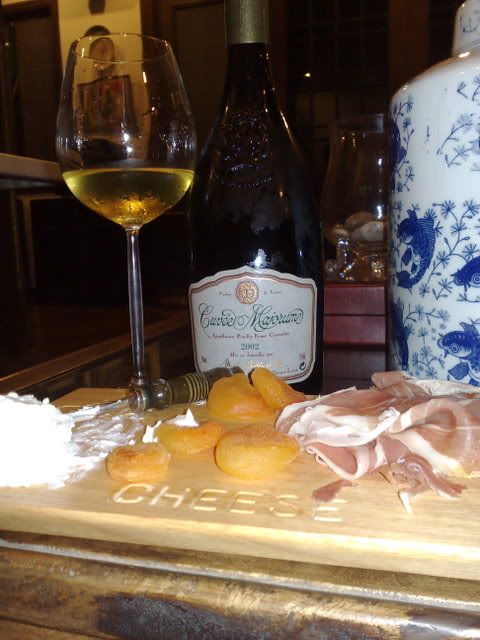 2002 Domaine Redde Pouilly-fumé "Cuvée Majorum"
- Rich and luxurious, but precise and well-focused sauvignon blanc, a "higher-end" bottling by one of the most famous makers of Pouilly-fumé. Not cheap, but worth every peso. In the Loire region from where it hails, it is traditionally paired with goat cheese - an excellent match.
Available at Sommelier Selection for P2920
*
.
--------------------------------------------------------------
It's getting late now and it's a working day tomorrow. To be continued....