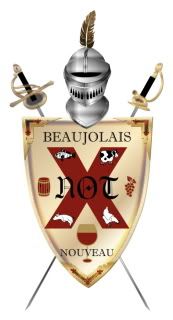 I've never liked Beaujolais Nouveau. I'm sorry, but that's the honest truth. I find the stuff, to put it nicely, utterly bereft of merit. Yes, I've tried many of them in the past, served at parties where it would have been too impolite not to accept a glass - so mine is no
a priori
aversion. Thus, when Manila's resident wine crusader, Jérome Philippon, invited me to his
Beaujolais Not Nouveau Dinner
last night at
Ciçou
, I was so intrigued I made sure to attend.
When Jérome first conceived of this event and mentioned it to me many months ago, I cautioned him that the Manila-based French business community may not take well to it. That some may take this event against Jérome, however, seemed, in my opinion, narrow-minded. Would not it be in the best interests of the wine-consuming public and Beaujolais in general that an event showcasing good Beaujolais wines take place? That question is rhetorical, of course - as a far as I am concerned anyway.

In any event, the evening started off with: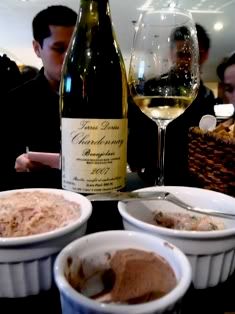 2007 Terres Dorées Chardonnay Beaujolais by Jean-Paul Brun
- served with, among others, Cyrille Soenen's excellent home-made pork head rillettes and pâté (I found that the wine married sublimely with the pâté). Initially, this was dominated by clean lines of tense, compact, somewhat steely-flinty apple, a light touch of grapefruit, with very slight oyster-shell/sea-side nuances that reminded me of Chablis.
After a few minutes in the glass, the wine fleshed out, gained nice heft and a bit more breadth in the middle. The grapefruit gave way to svelt white peach and slightly baked apple, bit of citrus (more towards the rear), white flowers, hints of white minerality. As it continued to open, its fruit components took on a slightly riper, more tropical character and whispers of mildly leesy vanilla. I believe this added ripeness, vaguely tropical ripe-sweetness made it such a nice match with the pâté.
At approximately P990 per bottle at Sommelier Selection, one can back up the truck on this
.
With the comforting next course of
Oeuf Meurette
: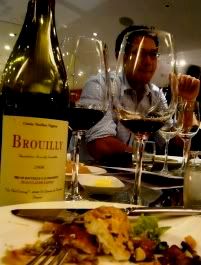 2006 Domaine Lapalu Brouilly Cuvée Vieilles Vignes
- Nice depth to the ripe, vaguely plummy, blackberry, dark fruit compote infused with violets; medium-bodied, masculine, somewhat rustic and earthy feel to it, with nice heft mid-mouth, smooth texture and confident finish. The fruit well expresses the age of the vines.
Those relatively new to good Beaujolais (such as I) will note its admirable weight, depth and power compared to those of ubiquitous makers' bottles that line supermarket shelves. Available at under P2000 per bottle.
I also very much enjoyed the oeuf meurette - so honest, earthy and comforting - which is why, at the end of the day, I always go back to French country cuisine - seeking it out in good bistros and brasseries.

With another sentimental favorite dish of excellent Cassoulet: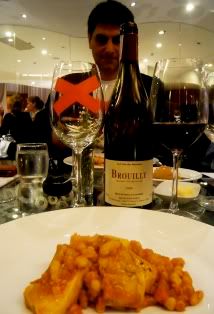 2006 Domaine Lapalu Brouilly La Croix des Rameaux
- Similar to the previously mentioned wine in many ways, also decidedly masculine, but this was notably firmer, with cherry and leather lining its violets and noticeably riper, mildly spiced dark fruit compote. Compared with the Vieilles Vignes, this seems burlier in character with a touch of
sauvage
. With the depth of the fruit, surely the grapes for this particular bottling came from old vines as well.
Marginally heftier, fuller and more powerful than the previous wine, it also seems to have comparatively better focus. This wine could do quite well with heavier dishes like roast beef or steak frites. I know I've tried this wine before, but cannot seem to find my previous notes on it - all I've found was that I mentioned it when discussing Lapalu's 2006 Beaujolais Villages Le Rang du Merle.
Very good buy at around P2000 per bottle. Everyone looked like they enjoyed it.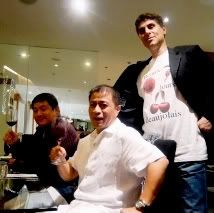 The Mapa brothers with Jérome.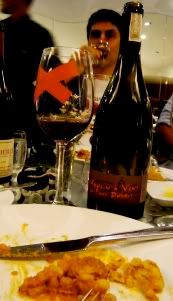 2006 Domaine du Tracot Moulin à Vent Jean-Paul Dubost - Another Cru of Beaujolais - reputedly the very best that Beaujolais has to offer, this was clearly my personal favorite red of the night - as well as the best match with the cassoulet. I remember telling Jérome that I found its character very different from the two previous reds - i.e., comparatively feminine to the Vieilles Vignes and Croix des Rameaux, and that it was very graceful and light-footed, its flavors dancing and gliding on the palate. There is a more notable presence of red fruit - dark cherry, bit of raspberry - to the spiced blackberry/blackcurrant base and there is a fresher over-all feel to the fruit.
The wine is no pansy though. It has superior focus, definitive/sturdy structure and a confident drive/push on the palate without at all being over-bearing or aggressive. On the contrary, it is very suave, poised and polished. Nice silky texture on the palate from attack to finish and a subtle but definite dark minerality exquisitely and finely infused in its fruit.

For the sheer pleasure it gives, it's a definite buy for me at P2225 per bottle.
Yet again, Jérome makes a strong case for Beaujolais wines -
the good ones
- as serious wines that definitely deserve a place in one's cellar or on one's mental list - be he/she a passionate
aficionado
, collector or casual wino. Much praise must be heaped on Cyrille's French country cuisine as well - deliciously comforting and honest. That's the way I like it.