Back at Je Suis Gourmand with the Stockbroker, JayLab and Johnny R. Chef Marc Aubry made us a special menu to go with the wines. Great thing about Marc is that all one need do is tell him a few days ahead of time what wines you will bring and he'll create the matching courses. For example, I named the two red Burgundies I'd bring and, since it is now autumn in France, he sourced some wild French duck for our main course. How can you beat that in this country?

All the wines were brought by me - a very small token of appreciation for the many times the Stockbroker hosted the wines from his considerable collection.
~ oOo ~
To start things off, with a couple of plates of
Escargots à la Bourguignonne
: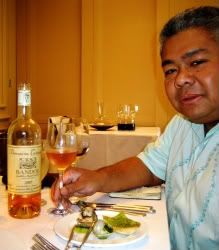 2007 Domaine Tempier Bandol Rosé
- From Bandol in Provençe. I've written about this twice before (and have had it even more times than that), always praising it to high heavens. Today was no different. As I said before, many consider this the best rosé in the world. Alice Waters (world-renowned gourmet and chef/founder of Chez Panisse and Café Fanny) has been quoted as saying that Tempier's is the quintessential rosé. I heartily agree. Johnny and I named this the best wine of the lunch.
Offered by Sommelier Selection at P2050 retail
.
Johnny, after trying the wine before having it with the snails, noted that the snails, butter and herbs brought the fruit even more. I add that the wine delicately cut the butter and refreshed the palate between bites. Excellent pairing, if I do say so myself. My old notes:
An exquisitely pure and clear light pinkish salmon in color, it is a hell of a
pretty wine, one could drink it in with one's eyes. In the nose - and I've never
really bothered to pay much attention to any rosé's aroma before - was alluring
- like a light, cooling summer cologne. In the mouth, it is light and delicately
infused with a fine melange of fresh canteloupe, strawberry, bit of melon,
orange rind and the faintest whisper of lavender. Perfectly balanced. Ethereal.
Astounding. My poor descriptions fail to do it justice. It is, without any shred
of doubt, the best rosé I have ever had.
~ oOo ~
With Marc's signature Home-Made Terrine of Duck Foie Gras on Salad Greens: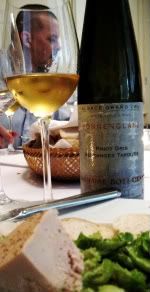 2001 Domaine Bott-Geyl Pinot Gris Grand Cru "Sonnenglanz" Vendanges Tardives - From Alsace. "Vendanges Tardives" (VT) means "late harvest", connoting a touch of botrytis cinerea - short of being a full-fledged "Selection Grains Nobles (SGN). JayLab noted that the the German equivalent to a VT is "Auslese", while an SGN's German counterpart is "Beerenauslese". Last time I had this wine, I liked it a lot and didn't notice a great deal of botrytis influence. My notes then stated:

Good, solid, very ripe, rounded, mildly-honeyed fruit base with a
well-integrated nuttiness underneath, a touch of minerality and an alluring
ever-so-slight tanginess (which, to me, helped balance off the sweet ripeness of
this VT. Nice complexity if one pays proper respect and attention to it.
This time, it was much sweeter, more wild-honeyed and was much more mouth-coatingly viscous than I remembered it. Much more botrytised as well. I thought it could have used a bit more acid, freshness and lift for better balance. However, JayLab, who is much more into sweet wines than the rest of us, and the Stockbroker, who has a lot of experience with fine Sauternes under his belt, both deemed it the best wine of that lunch.
~ oOo ~
With a bowl of
Sea Bass, Scallops and Clams
in a lightly creamy sauce....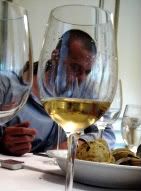 1999 Domaine Brocard Chablis Grand Cru "Les Clos"
- Unfortunately,
this bottle was badly oxidized and, thus, undrinkable
. JayLab and the Stockbroker noticed it right away. I initially thought it was just too cold and that my palate was still out of whack (because of the previous viscous, sweet wine) and let it sit for a while. A few minutes later, I discarded the bottle, it tasted hideous. Such a pity, it was nice enough when I had it last. For whatever it may be worth, though, my old notes from this past 16th August were thus:
Plump but barely firm enough on the palate, with soft, ripe green apple and
pear, slight touches of lemon curd, oyster shell, minerals and vanilla. Nice
medium curves. Pretty good depth of fruit and complexity. The balance, however,
was just slightly above average, I felt it needed a bit more structure and
lifting acidity - but then I personally prefer the leaner, edgier premier crus
than richer, fuller grand crus. In all, pretty good....
~ oOo ~
With our main course of Roast Wild French Duck with Potatoes Dauphin, Mushrooms, Red Beet Purée and Red Cabbage, both wines served blind after a little over an hour in decanters: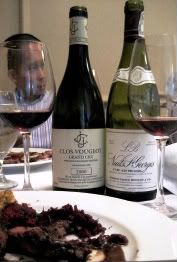 2001 Lucien Boillot Nuits-St-Georges Premier Cru "Les Pruliers"
- Nuits-St-Georges (NSG) is an important town in the southern third of Burgundy's Côte de Nuits, just a few minutes drive south from Vosne-Romanée, which has its own
appellation
which includes the commune of Primeaux-Prissey. NSG wines are, generally, darkly intense, solidly structured, more masculine and tannic than many red Burgundies. "Les Pruliers" is a "premier cru" (the second highest rank in Burgundy wine heirarchy, the highest being "grand cru") designated tract of vineyards. As far as I know, there are no grand cru vineyards in NSG. The fruit of this particular wine, I understand, came from 70 year-old vines.
This wine openly displayed aromas of darkly spiced stewed prunes, sweetly ripe dark (almost dried) black fruit and baked fig, laced with sweet tea, craisin and woody nuances. In the mouth, it was firm, sturdy, slightly over medium-bodied, with cherry ("sour cherry with some raspberries" said Johnny) over dark berry compote, fig, bit of oak, minerals with touches of violets and camphor towards the back. Stylish, with deeply-veined fruit, it seemed relatively straightforward and more fruit-driven compared to the next wine. Noticably bigger tannins, but well-integrated. Johnny said that it seemed to him "more modern" than the....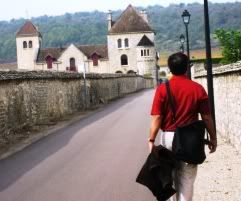 2000 Jean-Jacques Confuron Clos Vougeot Grand Cru
- As its name indicates, this wine is from the grand cru vineyards of Clos Vougeot in the town of Vougeot ("clos" indicates an enclosed, walled area), a short hop to the north of Vosne-Romanée, before hitting Morey St-Denis and Gevrey-Chambertin. The picture of me is one taken by my wife as we were walking to Clos Vougeot on my left (idiot that I am, I insisted on parking down the street and the walk was longer than I anticipated).
Clos Vougeot is co-owned by over 80 different owners, the specific locations of the particular vines are, I've read, determinative of the quality of the wines produced. I understand that those of Confuron (1.23 acres = approx. ½ hectare) are ideally situated at the top of the clos, beside the Château Clos de Vougeot. If I recall correctly, the age of Confuron's vines in this clos is 46 years. Confuron's wines are manually harvested (organic since 1990) and fermented 60%-80% in new barrels. Production of their Clos Vougeot is under 200 cases per year. No fining or filtration is performed.
This wine was the preferred red of Johnny and, I think, JayLab. I found it suave, earthy, broad, medium-bodied, leather and lightly truffle nuanced, dark berries/fruit, red beet and cranberry undertones, with some raspberry and kirsch on top. Nice complexity, delicate layering and comparative finesse in this. What struck me most is that it was loaded with flavors but not at all heavy on the palate. Nice one, if I may say so myself; skilfully crafted to successful results for the vintage.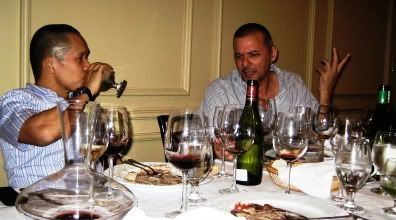 I really enjoy serving wines blind. The idea is not for people to identify the wines, but to be able to discuss and evaluate them without pre-conceived notions, preferences or prejudice which nobody can be totally free of. The discussions over this lunch were animated, enjoyable and stimulating.
With cream and fruit dessert, we revisited with the
2001 Bott-Geyl Pinot Gris Grand Cru Sonnenglanz VT
, complimentary glasses of Green Chartreuse thereafter, and, in closing, some double espressos and a few parting stories.
Many thanks, Marc, for the meal, and to you, guys, for sharing your time and company (not to mention paying for my lunch).