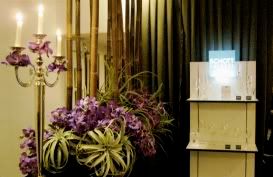 November 21st, 2008 at
Terry's
Pasong Tamo Extension,
JC de Terry
hosted a dinner in honor of visiting
Bodegas
Marqués de
Cáceres
' Export Manager
, Joel Martinez
. As everyone who reads my drivel knows, I never say no to JC's cooking and wine-pairing. Rushing to Pasong Tamo Extension after watching my youngest son's school play, up the stairs to the all-too-familiar Segundo Piso, and, imagine my surprise when I beheld an inside tent resplendent with flowers, chandeliers and candelabra.
I spaced out for a split-second, thinking that I, somehow, walked into a different restaurant. JC's familiar face and warm welcome, however, assured me I was in the right place. It was also a treat to see and renew ties with an old classmate and friend from back in high school, Mike Gayoso, who recently joined the Terry's group. Other friends I saw immediately were Mari, Gema (naturally), Cecile and Nandy, among others.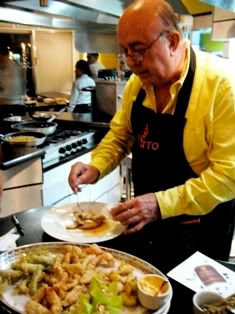 Chatting while enjoying excellent pica-picas of
Tarrina de Cabrales y Dátiles de Alicante al Pedro Ximénez
(Valdeon Cheese & Alicante Dates Terrine with Pedro Ximénez Sherry),
Nido de Cangrejo y Quisquilla con Crema de Anchoas al Brandy de Jerez
(Baby Shrimp Crab Nest with Anchovy & Brandy de Jerez Cream) we had cool, crisp glasses of
2007 Marqués de Cáceres Blanco Viura.
A clean, lean, light, dry, fresh, lively, very quaffable white made up of 100% viura grapes (a.k.a., Macabeo). Aside from dominant green apple, citrus and Korean Iya pear notes, there are slight bitter-almondy nuances towards the back (reminiscent of Italian aperitifs such as some proseccos and Campari, but much, much subtler than the latter). Its clean, light lines suggested to me that it received no oak treatment - and Joel confirmed this. I told him I actually liked the modern, fresher, cleaner, unoaked style of Rioja whites for apéritifs.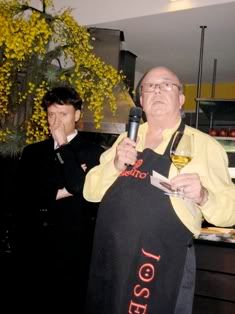 Of all the appetizers, and there were many, I thought this fresh and crisply clean white paired superbly with the newly cooked, still-hot
Pavía de Mero al Ajilimójili
(Lapulapu Fillets - marinated in cherry no less - with Ajilimójili Sauce - an ancient Moorish-influenced sauce) and excellent
Crujiente de Ventresca de Atun al Adobo de Cádiz
(Crispy Tuna Belly with Adobo Sauce).
Very drinkable and,
at a mere P450 per bottle at Terry's, it is easily affordable for pairing with similar fish dishes
. The Doc had arrived by then and joined me in polishing off the dish of tuna belly in adobo sauce that JC was preparing in the picture above.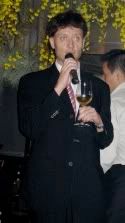 After taking my seat with, among others, the Doc, Gema and Jaime & Ofelia Romero-Salas (such a fun couple they were, Jaime had us all in stitches until the wee hours of the morning), JC and Joel respectively said a few words on the theme of the night's cuisine, the history of Marqués de Cáceres and the different wines it produces.
Joel, it turns out, was born and raised in the Rhône region of France and, eventually, wound up working in Spain - hence, his unmistakable French accent.
~ oOo ~
The feast then began in earnest with
Salmorejo de Almendras a las Hojuelas de Bacalao y Jamón de Teruel
(Almond Salmorejo with Bacalao Flakes & Jamon de Teruel Chips), which was married with: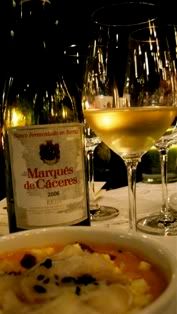 2004 Marqués de Cáceres Blanco Fermentado en Barrica
- Mainly viura grapes with a bit of malvasia thrown in for added roundness, body and structure (I assume). As its name indicates, it was fermented in oak.
Gema easily noted apricots and a honeyed nuance to this wine. I agree, and add a general stone-fruit dominance over baked apple and citrus as well as almond-marzipan and a judicious touch of vanilla (surely from the wood treatment). This was obviously heftier (I'd say medium-bodied) and broader than the unoaked pure viura we had as apéritif, which is why it went well with this gazpacho-esque dish bolstered by thin-pressed slices of bacalao. The Jámon de Teruel also gave it nice salty highlights as well as interesting contrast in texture.
This wine is a more familiar style of Rioja white (to me anyway), though I reiterate that I am growing quite fond of the more modern unoaked versions as well to kick off an evening.
At only P550 per bottle, it's a no-brainer buy for Rioja blanco
.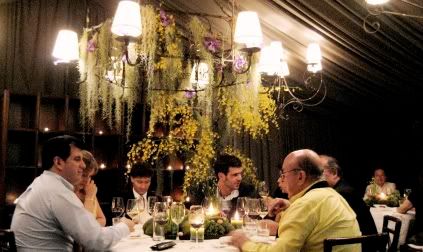 Incredible job of decorating by Antonio Garcia of Mabolo for creating an exotic, languid, intimate "Moorish tent in an oasis" ambiance to Segundo Piso.
~ oOo ~
Next was a
Dueto de Piquillos a la Sobresada y Morcilla de Jabugo Crema de Quesos al Chirimiri de Aciete de Orégano
(Duo of Piquillo Peppers filled with Jabugo Sobrasada & Morcilla Creamy Cheese Sauce with a Drizzle of Oregano Oil) paired with: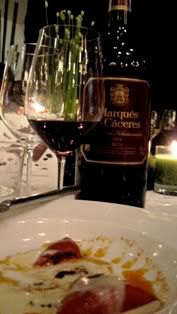 2004 Marqués de Cáceres Vendimia Seleccionada
- a relatively straightforward, unpretentious, typical, mildly earthy tempranillo nose of ripe red fruit, dark spice, cedar and light touches of licorice, red pepper and a whisper of dried herb - mirrored on the palate with well-focused, streamlined flavors on a firm, medium structure with good acid balance (likely from the dose of grenache) This displays a somewhat fiesty, youthfully fruity attitude. I think Joel mentioned this wine was subjected to a mix of French and american oak, but I did not detect traces of the latter (which is a good thing for me).
Very affordable at only P610 per bottle
.
I must say I have a weakness for stuffed peppers, sobrasada and morcilla. So, in a dish involving all three of these, I was in gourmand's (read: "matakaw's") cloud 9. I loved it, probably my favorite dish of the dinner. The Doc must have liked it too because he doesn't usually eat morcilla (or anything else with blood for that matter) but he totally wiped his plate clean. They didn't even have to wash mine.
~ oOo ~
The main course of
Cordero Confitado en Reducción de Tempranillo al Tomillo Fresco Salsa Chilindrón - Ratatouille Riojana y Pilaf de Garbanzos Fritos y Salvia
(Lamb Shank Confit in a Tempranillo & Thyme Reduction Chilindron Sauce - Rioja Ratatouille and Fried Garbanzo and Sage Pilaf) was then presented with: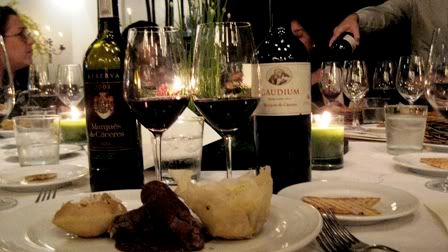 2001 Marqués de Cáceres Reserva
- I tried this not long ago and paired it with grilled US Prime-Grade rib-eye steaks at B's and M's new house on the 12th September 2008. My notes then, still consistent, were as follows:
2001 Marqués de Cáceres Rioja Reserva (Rioja, Spain) - My bottle, 85% tempranillo with the rest made up by grenache and graciano, 22 months in oak. 2001 was a very good year for Spain's wine regions in general.

When I was growing up, until well into the early-to-mid '90s, most all Spanish red wines available in Manila were from Rioja (as far as I could tell, anyway). It was only in the late '90s onward that I could easily find reds from Ribera del Duero, Toro or Priorat (now, one can even find wine from the new "hot" area of El Bierzo - see my post on Pétalos). By default setting, though, I cannot help but find Riojas comfortingly familiar.

Cedar and, to a much lesser extent, camphor, lace the leather-touched,
earthy dark fruit, ripe raspberry, strawberry, dried thyme, mild anise and
toasty oak. Rustic feel to it. Hint of old violets and drying wood towards the
back and in the finish. A shade over medium-bodied, healthy extraction, a bit
low on acid (because of the tempranillo, hence, I suppose, the blending in of
graciano). The finish, though a bit drying, is acceptable in length. Nice
typicity, it speaks of Rioja, albeit in a modern manner as compared to, say, the
more traditional 2001 Cerro Añón Reserva. Available at Terry's for a little
over P1600 per bottle. I'd buy it again as comfort wine, and its
quality-to-price ratio is pretty good to boot.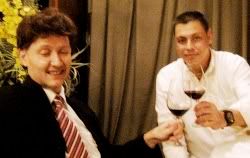 2002 Marqués de Cáceres Gaudium - This deep, dark ruby red wine is Marqués de Cáceres' top of the line bottling as I understand. The aromas and flavor profiles are similar to the immediately above-mentioned Reserva, but comparatively deeper-veined yet more vibrant in fruit, more complex, finely layered, better-knit, with softer/better-integrated tannins and a silkier feel on the palate. I also detected a vague, somewhat toasty-spicy-toffeeish scent. Gema said she didn't smell that, but readily identified cinammon notes - which I recognized only after she pointed it out.
I was puzzling over whether or not it was all new French oak or was there a touch of American oak in there....Because of the notably clean, delicate focus and subtlety of the oak influence, I figured it was all new French oak - this was later on confirmed by Joel. I mentioned to Joel later on that the Gaudium, more than any of the other reds of the evening, reflected the Bordeaux influence of the owners, the Forner family (who, incidentally, also own and run 1855 Classified 5th Growth Château Camensac in the Haut Médoc; and, once owned and ran Château Larose Trintaudon as well until the mid-late 1980s). Very nice. Very suave. Not cheap at P2900 per bottle, but I think it is worth its price.

I must make mention that the Doc absolutely loved the Fried Garbanzo and Sage Pilaf, finishing his helping in a trice. He asked Gema if he could have some and received another serving of it - which he inhaled as well. Doc quipped that what he really wanted was a whole, heaping bowlful of the pilaf instead of another quaintly-sized-and-plated portion.
~ oOo ~
Now, for the dessert. I do not possess a sweet tooth, mind you, most often preferring to spend my calories on wine and savory dishes, but I always look forward to JC's complex, artistic and intellectual creations (I swear he has the soul of a pâtissier deep within the heart of a chef). This time, it was a delicious-as-usual
Sinfonía de Chocolate y Frutos Confitados al Sabayón de Satinela
(a Medley of Chocolate & Fruit Confit with Satinela Sabayon), paired with: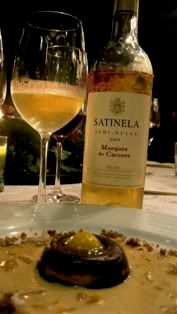 2006 Marqués de Cáceres Satinela Semi-Dulce
- from a blend of late harvested viura and malvasia. Lively, lithe, just slightly sweet, mildly tangy, with a floral character in its fresh, slightly wild-honeyed, peach, mango, ripe apricot, slight passionfruit profiles. Its acidity gave it superior balance, brightness and lift.
Excellent pairing - picking up the mango's sweet-tartness, the candied ginger bits' spice and cutting the chocolate's richness. The confited orange peel bits gave the flavors some roundness and weight on the palate, as did the gingerbread crumbs dusted on the periphery of the Santinela Sabayon (and, the latter, adding an interesting, added dimension of texture as well).
More and more, I am allured by dessert wines, such as this, that are lighter and more agile on the tongue than the richer, heavier Sauternes I am used to - especially after such a large meal.
At a mere P600 per bottle - just go buy it
. Enough said.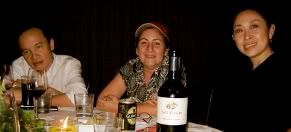 The Doc, thereafter, was called back to the hospital and Gema brought me to another table of Ateneans where I sat with Nandy (the Stockbroker's
bilas
), Mike, Antonio and Rocky (who happens to be the older brother of Jamike). Small world, indeed. The Gaudium continued to flow.
Joel, Gemma and Henny also joined us, the latter sharing some small, deliciously rich carabao's milk cakes. Conversation took a silly turn, lacquered with wine - no doubt, when Antonio and Mike tried to explain to Joel what a carabao was. "¿Búfalo de agua?" suggested Mike, and that just set me off laughing. Even JC couldn't (or wouldn't) tell us what a carabao was in Spanish.
As more guests took their leave, we compressed to one last table where Jaime had us all in tears with his antics. The Gaudium continued to flow - to the point where I started to dread the next bottle being opened - after all, I had to drive myself back home. The world seemed even smaller when I learned that one of Segundo Piso's young chefs was, in fact, the daughter of one of my former bosses way back when I was still in ACCRA.
Christ, I felt old. Old, drunk and far from home. Good thing I had a lot of wine and friends with me to make me laugh. And laugh we all did, my sides started to hurt.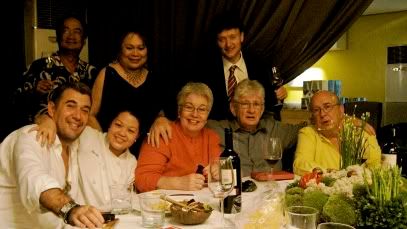 Many thanks, everyone, for making that evening so much fun. I couldn't have asked for anything more.