Back at Old Manila, 15th November 2008 for the Grand Crew's XIth Blind Bordeaux Challenge. As usual, no vintage, price or origin restrictions. Given the group's preference for fine Bordeaux, more than trying to pick the winner from the Médoc, Graves or the Right Bank, the challenge, I believe, is to find a non-Bordeaux wine that can compete at this level. So far, in the three years of this event, only three brave attempts at entering a non-Bordeaux wine have been made.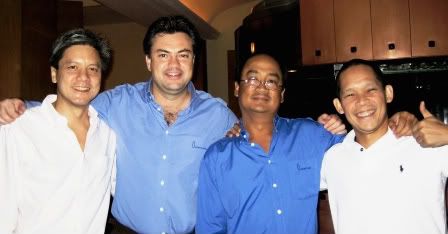 Things started off with: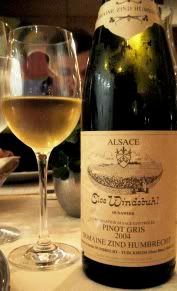 2004 Domaine Zind Humbrecht Pinot Gris Clos Windsbuhl
- From the Doc. A nicely reserved, comparatively lean (and that is a good thing for me), minerally, well-focused, just slightly sweetish pinot gris from a world-famous Alsace producer known for its rich, ultra-ripe-fruited wines with a lot of residual sugar in the more modern style.
The dominant fruit flavors are those of clean apricot and Indian mango (as we know them here in Manila) with nuances of honeysuckle and white minerals. There is also a very slight whisper of spritziness mid-palate and towards the back. Of the hallmark vaguely almond/nutty notes of pinot gris, they become more apparent towards the back of the mouth and on the finish.
Well-crafted with good reserve, with a nice, steely backbone and acidity that gives this wine a bright, fresh and cleansing character.
Thereafter, we moved on to: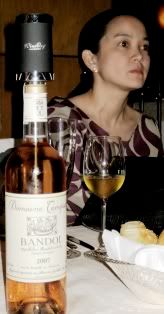 2007 Domaine Tempier Bandol Rosé
- My bottle. I just can't get enough of this wine, and I wanted to see how the Vigneron and Doc found it. I already know the Stockbroker likes this a lot. Since I've praised this wine several times already, I will not belabor the issue: this is an excellent rosé.
Last night, unbeknown to me, the Vigneron tested out his newly acquired Electronic Wine Breather (a contraption that, as claimed by its maker, aerates a wine within one minute - allegedly speeding up decanting for aeration time) on my bottle of rosé as I stepped outside for a quick smoke.

The result was that the lavender, herb and garrigue notes were enhanced, now standing on equal footing with the otherwise leading fresh fruitiness. Gave the wine a more earthy character. The Vigneron said he liked it a lot and wholly agreed with me that it would go beautifully with escargots à la Bourguignonne. That said, personally, I prefer this rosé without the use of the gadget.
~ oOo ~
With various main courses of duck, bison, rib-eye steaks, etc,. the competing reds were served.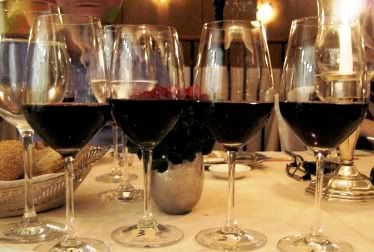 NB: Because of the "competitive" nature of this tasting, I, unavoidably compare one wine against the other. For the record, however, all the wines last night were excellent in their own ways and I would happily and eagerly drink any of them anytime.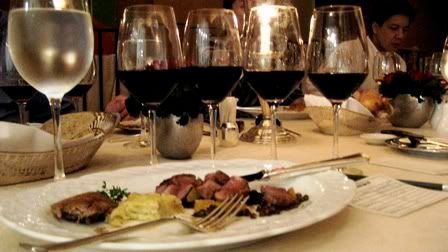 Wine # 1
- For me, 3rd best in the nose. Initial brettiness on the nose which blew off after around 15 minutes revealing a most unabashed, forward, openly generous bouquet marked by black coffee, anise/licorice, spiced super-ripe black fruit and sweet cedar. In the mouth, it was the thickest, most viscous and hedonistic of the lot, with the biggest body and greatest heft on the tongue.
Juicy, rich, opulent flavors, undoubtedly, and low in acid. I felt it was comparatively too boisterous and modern, though. It could use more reserve, elegance and finesse, in my honest opinion. I marked this down as 4th Place.
It turned out to be the Vigneron's 1990 Château Cos d'Estournel.

Wine # 2 - 4th best nose, suave on the palate with elegant, almost creamy, cassis, earth, graphite, licorice and violets. Graceful wine, comparatively light on the palate, it was difficult to analyze after Wine # 1. After several passes, though, the wine developed aggressive anise notes that threw off the balance somewhat. I ranked this wine 3rd Place.
It was my
1990 Château Pichon Longueville Baron
.
Wine # 3
- 2nd best nose. Expansive, broad, big, but nowhere near over-bearing. Cedar, earthy cassis, nice touch of licorice, slightly sweeter fruit but not super-ripe, deft touch of violets. Full-bodied and excellent acidity gave it superb balance. Confident wine, but well-reserved. By far, it went the best with food - also noted by the Stockbroker. I loved eating with this and ranked it
1st Place
.
It turned out to be the Stockbroker's
1999 Tenuta dell'Ornellaia
, the first Italian wine entered in our little competition - a so-called "Super Tuscan" (i.e., using a Bordeaux blend of grapes) from an excellent vintage in Tuscany.
Wine # 4
- Best nose of the night. Very clean, pure, sweetish red fruit-dominated. One of the lighter-bodied wines of the evening. Very elegant and graceful. consistent throughout the evening. I ranked this
2nd Place
.
It was the Doc's
1982 Château Figeac
.
My Own Results
:
1st Place
- The Stockbroker's 1999 Tenuta dell'Ornellaia
2nd Place
- The Doc's 1982 Figeac
3rd Place
- My 1990 Pichon Longueville Baron
4th Place
- The Vigneron's 1990 Cos d'Estournel
The Group's Official Results: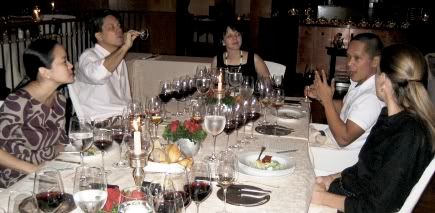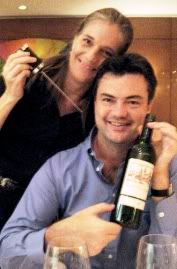 1st Place
- The Vigneron's
1990 Cos d'Estournel
with a landslide total of
26 points
(4 votes for 1st place, 3 votes for 2nd Place, 0 votes for 3rd Place and 1 vote for 4th Place).
2nd Place
- The Doc's
1982 Figeac
with
19 points
(1 vote for 1st Place, 2 votes for 2nd Place, 4 votes for 3rd Place and 1 vote for 4th Place).
3rd Place
- The Stockbroker's
1999 Tenuta dell'Ornellaia
with
18 points
(1 vote for 1st Place, 3 votes for 2nd place, 1 vote for 3rd Place and 3 votes for 4th Place).
4th Place
- My
1990 Pichon Longueville Baron
with
17 points
(2 votes for 1st Place, 0 votes for 2nd Place, 3 votes for 3rd Place and 3 votes for 4th Place).
The winner proclaimed and whatever tension there was dissipated, jokes started flying and raucous laughter ensued amongst good friends.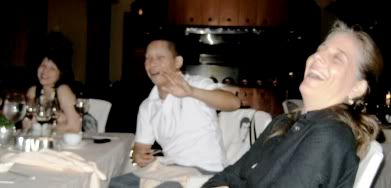 It was a lucky thing ours was the only table left by the time things got a bit rowdy....especially when the Doc lamented our "Yule-timate yoo-miliation" at the hands of the Vigneron....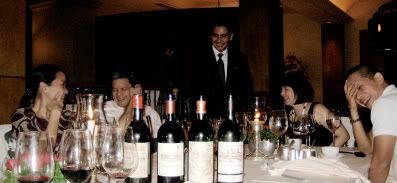 And so it came to pass that the Vigneron once again carries the Crown back to Bordeaux for the coming year's end.
Chapeau
, my friend! A sound and convincing victory. Hail to the king.