I usually help organize a dinner or two for Sandy when she is in town on her annual visit, but, this year, my schedule a bit too hectic, Boozze & Margarita took the lead and held one in Sandy's honor around a week ago. The evening's hosts made it a
Beef Fondue
dinner this time as Boozze (very accurately) pointed out that "We always have steaks."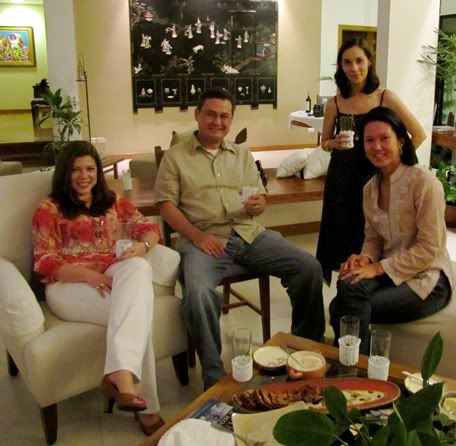 Sandy, Kenny, Margarita & Sylvia
I contributed a dish of my
Chili Garlic Prawns
, but forgot to take any photos of it. My dish took far longer to cook than I had anticipated, so I sent Catha ahead with a few bottles of wine and I caught up by 8pm.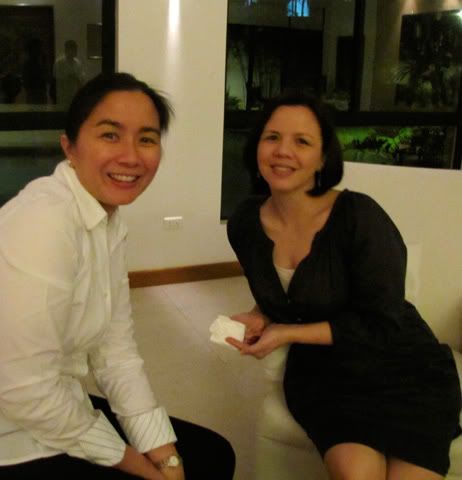 Lisa & Catha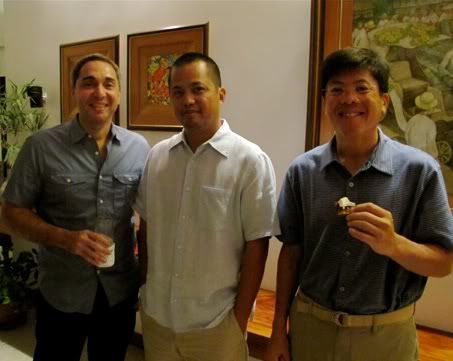 Tonico (Yvonne arrived later), Tonji & Willy (Minnie was out of town)
Johnson arrived around half an hour after I did due to traffic, and Boozze summoned us to the dining room thereafter to start off with some...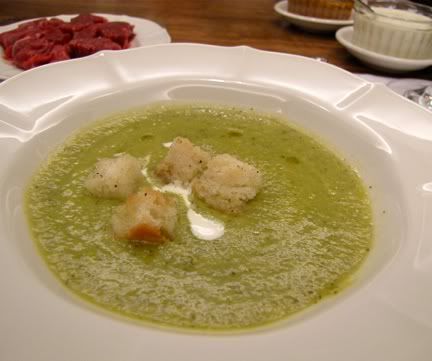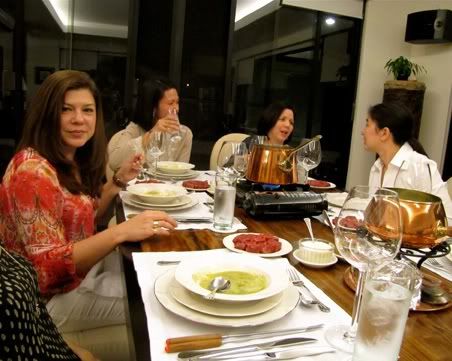 Soup & Sandy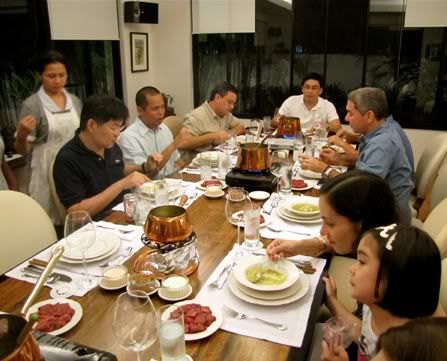 In the meantime, the kids had trooped in and made the rounds to greet all the titos and titas.
I've always found it so charming that Boozze's family has perpetuated the traditional Filipino way of greeting their elders - the children bow their heads to touch the back of elders' hands - called "Mano" (from the Spanish word for "hand"). This old tradition is rarely practiced these days.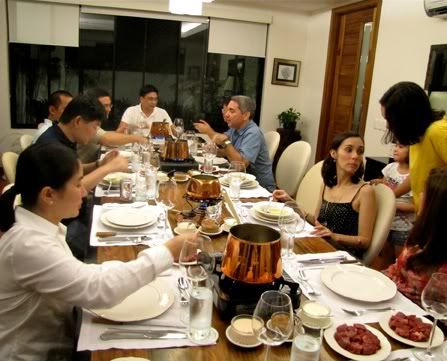 The soup course done, bowls were cleared from the table...
...and we started on the
Beef Fondue
.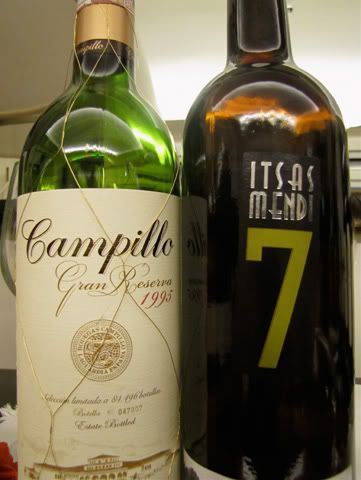 The wines were from me,
2009 ItsasMendi No. 7 Txakoli
(for the
Chili-Garlic Prawns
) and
1995 Bodegas Campillo Rioja Gran Reserva
(for the
Beef Fondue
).
As Aaron and I have recently embarked on a small venture of importing personally hand-picked wines (we taste many wines and bring in only what we personally like, buy and drink ourselves) and these two are wines we sell, I will no longer post tasting notes on them - anyway, I've already written about them before. We focus mainly on aged reds from Rioja, but we have some txakoli (the typical Basque white wine, this, specifically from D.O. Bizkaiko Txakolina), as well as aged Riojan blanco and rosado from the revered bastion of Riojan traditional wines, Bodegas R. López de Heredia.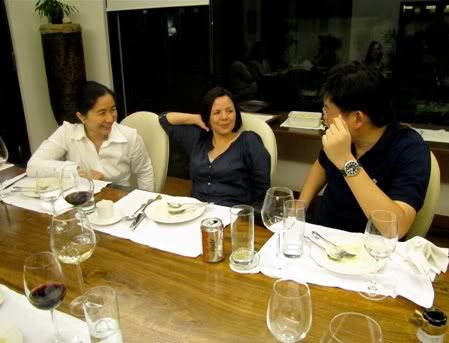 Johnson entertains the ladies.
Desserts were
Frozen Brazo de Mercedes
,
Cheese Cake
and, from Catha and I, a
German Cherry Chocolate Cake
made by Mrs. Doc's sister. Unfortunately, I was chatting with Boozze and Tonico outside for so long, I totally forgot to take pictures of the desserts before they were massacred.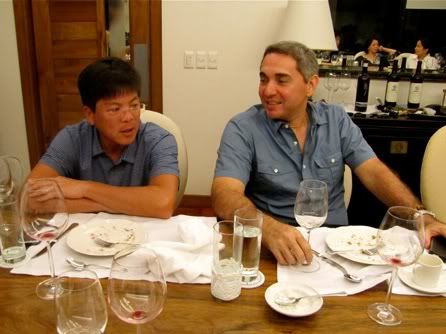 Two of the dessert-killers.
It was, as always, great to see Sandy again. I will definitely see her before she heads back to SF. For now, however, the best I can do is give many thanks to our gracious hosts for opening their home to us yet again to enjoy the company of our dear friend. Until the next!